Pool Holograph Is One of Chicago DIY's Most Promising Upstarts
We talk to frontman Wyatt Grant about the indie band's jangly new album 'Transparent World,' which you can listen to right now.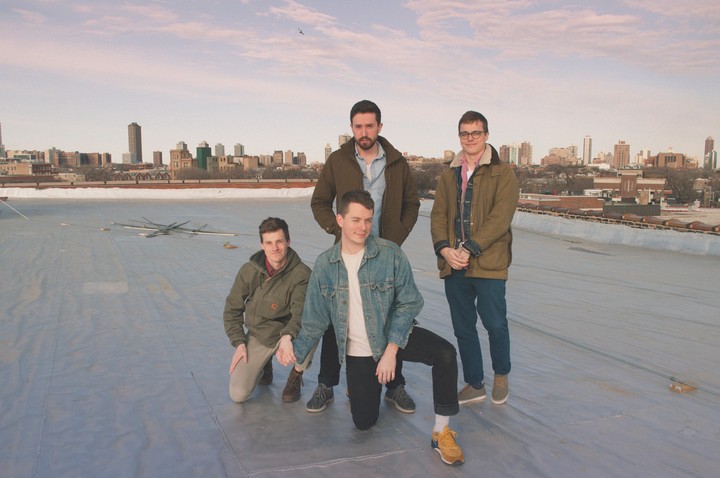 Photo by Clare Byrne
Wyatt Grant's songs have had a heightened sense of urgency ever since the Chicago-based musician transformed his songwriting project Pool Holograph from a bedroom-recorded solo outlet to a full band. His earliest recordings, which date back to 2009, were a series of lo-fi sketches that evoked the moodiness and slapdash experimentalism of (Sandy) Alex G's Bandcamp releases. But as a four-piece, the band's bouncy guitars and Grant's throaty bellow now split the difference between jangle-pop and brooding post-punk. It's an especially visceral and raw combination live and on their latest album Transparent World, which Noisey is premiering below, it makes for one of the most compelling Chicago indie rock full-lengths of the year.
Over a FaceTime call from a Montreal cafe during a day off on the band's fall tour, Grant tells me, "When we have an idea and all of a sudden everyone's cognizant of it, there's this momentum; the wheels start turning but there's no way we can put on the brakes. It wasn't like that when it was just me. When the song is no longer just in my hands, that gives it a sense of vitality." That propulsive motion pervades Transparent World, a nine-song batch of nervous energy and wiry riffs. But what really marks the album more than the angular guitars and the expansive atmosphere is Grant's relentlessly existential lyricism.
The anxiety-laced opener "Codex Hammer" sets the tone for the rest of the album. Grant croaks over a cascading arpeggio, "And now you're at / A loss for words / It hurts to feel like / You're inhuman." That sentiment permeates throughout the LP so much that its persistent longing for understanding is apparent even for people who don't have a lyrics sheet handy. Grant explains of the track, "It was one of the first songs we wrote for the album and I think it was the most indicative of how there's this conflict throughout of being out in the world and feeling misunderstood. There's always this layer to you that people can't see."
Slow-burner "Air Above You" strikes a similarly uneasy and unknowing note. Grant's voice has always been raspy but over the track it sounds especially hoarse as the song reaches its boiling point. He sings with increasing vigor, "I'm patching / Up a flooding horizon / And in a second it's all gone." He explains, "That was written when I was basically wondering about everything we don't see on our periphery." The same is true on the sleepy "Visitation" where he laments, "These days it's hard / To keep my head on straight" as well as the line, "All you wanted / Was to see things straight / For a change" on the highlight "Heat Map."
Grant talks with the same intensity about his music as his constantly yearning songs suggest. After some softball questions about his headspace while writing the album, he'll animatedly jump from explaining the epiphanies found in J.D. Salinger's short story De Daumier-Smith's Blue Period to the joy of the Grateful Dead's early albums or how much he loves Chicago DIY staples the Hecks (guitarist Dave Vettraino recorded the LP). Realizing he's about to go on a tangent, Grant stops himself and says, "I was following these scents all over the album: each song is just reaching out and posing different questions."
Josh Terry is a writer based in Chicago. Follow him on Twitter.

Stories