Former US President Barack Obama regaled 6,000 Montrealers on Tuesday night with a speech about the "temporary absence of American leadership" on climate change and the growing threats to global order.
After that stark warning, it was time to eat, at which point Obama decided to hit the town with his old buddy Justin Trudeau on the Canadian Prime Minister's home turf. The two made their way to Joe Beef's sister restaurant Liverpool House at 7 PM sharp for an impressive four-hour meal that is now being dubbed the "Liverpool House Summit."
According to Liverpool House chef Ari Schor, they ate oysters, Quebec asparagus, dry-aged rib steak for two, lobster spaghetti, and Quebec halibut with morels in a sauce forestière with ham and potatoes. On the drinks side of things, Obama and Trudeau were served Canadian pinot noir and chardonnay from Norman Hardie, as well as a Paper Plane to get things started for Trudeau. Notably absent from the meal were well-done steaks slathered in ketchup, de-crusted pizza, and "beautiful" chocolate cake.
Schor told MUNCHIES that cooking for a former President and current Prime Minister was "surreal" but no more demanding that your average service. "I wasn't any more stressed out than usual," he said. "There's a few people that cooking for is a true, true honour, like my girlfriend or my parents... or last night."

For Liverpool House co-owner David McMillan, it was like any other night—sort of. "Anyone who comes here will get the same lobster spaghetti that Obama had. We didn't give them more lobster or thicker steak. We're just feeding people. It's still just halibut. Morels are morels. The only thing that was different was the security outside."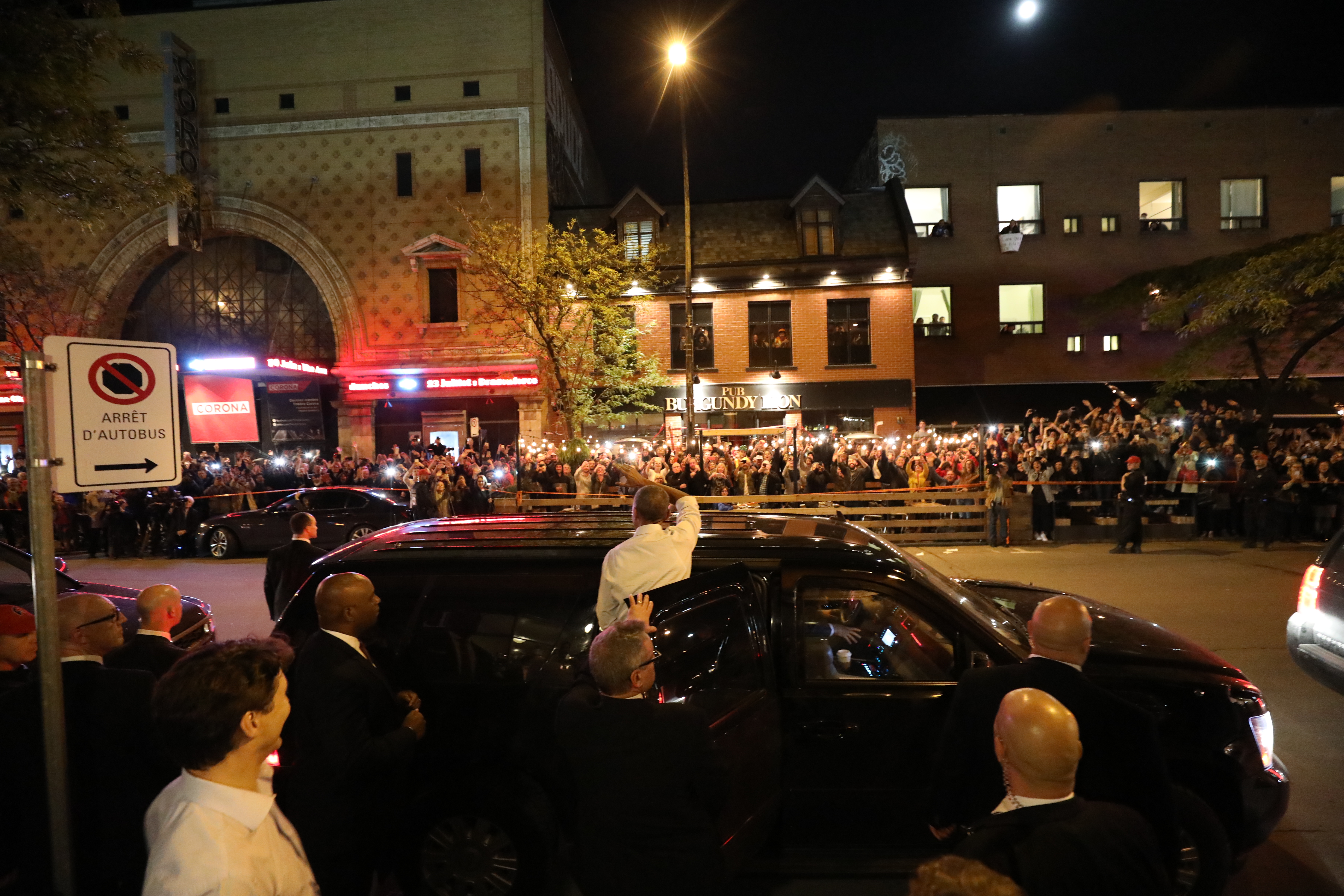 That meant putting the restaurant and a pretty big chunk of Notre Dame Street on lockdown. "They check the back alleys and lock all the pay tolls on the street; there's even security guys standing in the kitchen while we're cooking. It's already pretty high-security when Justin's around, but it's a few more levels with an ex-President."
McMillan said that the pair looked casual, friendly, and had their sleeves rolled up, but the big question that remains is what they actually talked about for almost four hours. When asked if Trudeau and Obama were discussing classified UFO documents or trashing Donald Trump, McMillan was emphatic about respecting his guests' privacy: "Fuck that. I don't know what the fuck they talked about, and even if I did, I wouldn't tell you." Fair enough.
So, while no one really knows what the matters at hand were, Trudeau's tweet suggests that community action was at least one topic of discussion, but here are some alternative theories. Outside, a large crowd gathered to catch a glimpse of a meal that harkened back to a time when diplomatic relations between the US and Canada were about more than who had the stronger handshake.
Appropriately, dinner concluded not with a handshake, but with a bro hug.