It brings me no joy (and no small amount of shame) to admit that when I saw the following tweet from Page Six, my first thought was, "I wonder if I can expense $6,000 French fries cause I sure would like to taste those."
But of course Kim Kardashian did not spend several grand on salty fried potatoes—at least not all at once and not at the "25th anniversary celebration for vintage retailer What Goes Around Comes Around in Beverly Hills on Tuesday night." She did, however, spend several grand on a now-sold-out Judith Leiber purse that she carried with her to the "25th anniversary celebration for vintage retailer What Goes Around Comes Around in Beverly Hills on Tuesday night"—one that looks like a Candyland riff on a fast food French fry container.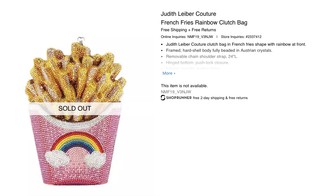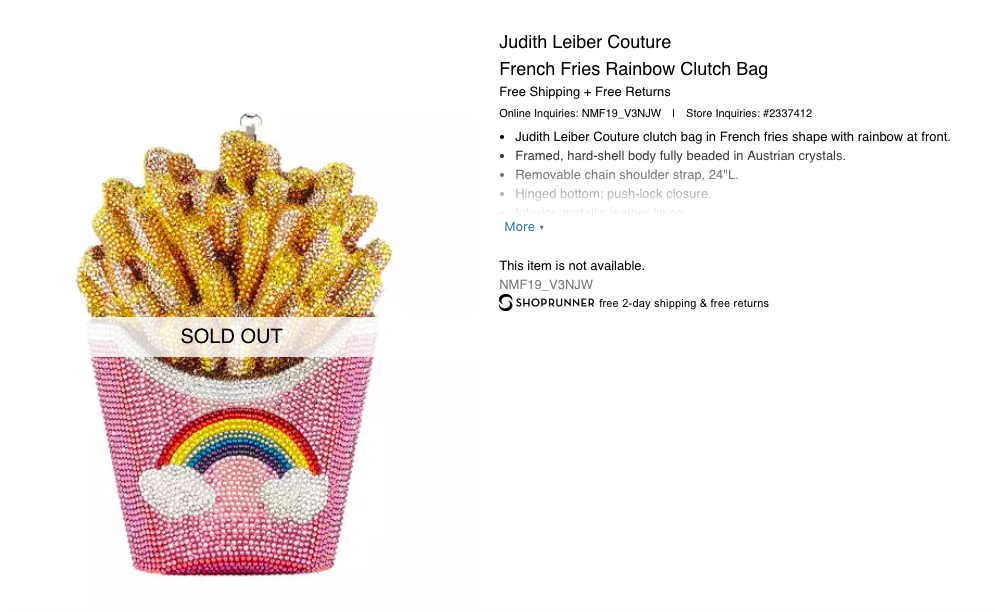 This is tacky, ostentatious, impractical... and, reader, I want one.
At first, I thought, This is just like that totally awful crystal-encrusted Swan bag that Big gives Carrie in Season 2—an obvious glittering symbol that not only does the emotionally unavailable older man not love her, he doesn't even know her.
Next, I thought, "This is just like that moderately awful crystal-encrusted cupcake bag that Lily puts Carrie's phone into when the very same emotionally unavailable older man calls to say that he will not be attending their impending nuptials in the first movie." (On the matter of Judith Leiber's crystal-encrusted cartoonish purses, Patricia Field contains multitudes.)
But the longer I looked at it, the more I realized that while swans are stuffy and cupcakes are juvenile (not to mention fundamentally misshapen), French fries are cheeky. There's possibly some weird classism—or at least Cool Girl-ism—to the juxtaposition between cheap fatty food and expensive status-symbol bags carried by conventionally attractive women. And so we're here to help you reclaim the French fry accessory with these more affordable options:
1.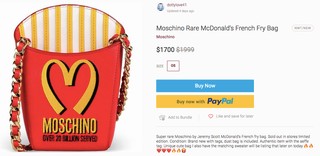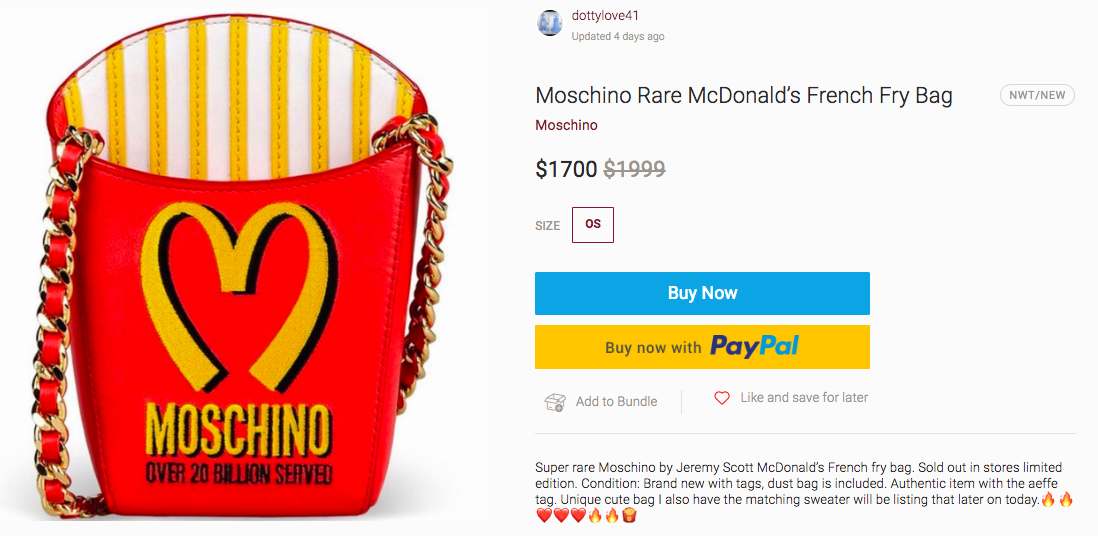 In the designer realm, you can get this limited-edition Moschino fry purse on Poshmark for $1,700—but you would be overpaying in response to the demand, since it was originally $750. If you specifically love the Moschino look, Poshmark also has a bunch of their French fry phone cases for different models, ranging from $7 to around $40. Or shop the whole McDonald's-themed collection—shoes, backpack, sweaters, etc.—on eBay.
2.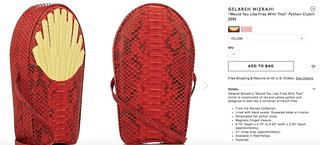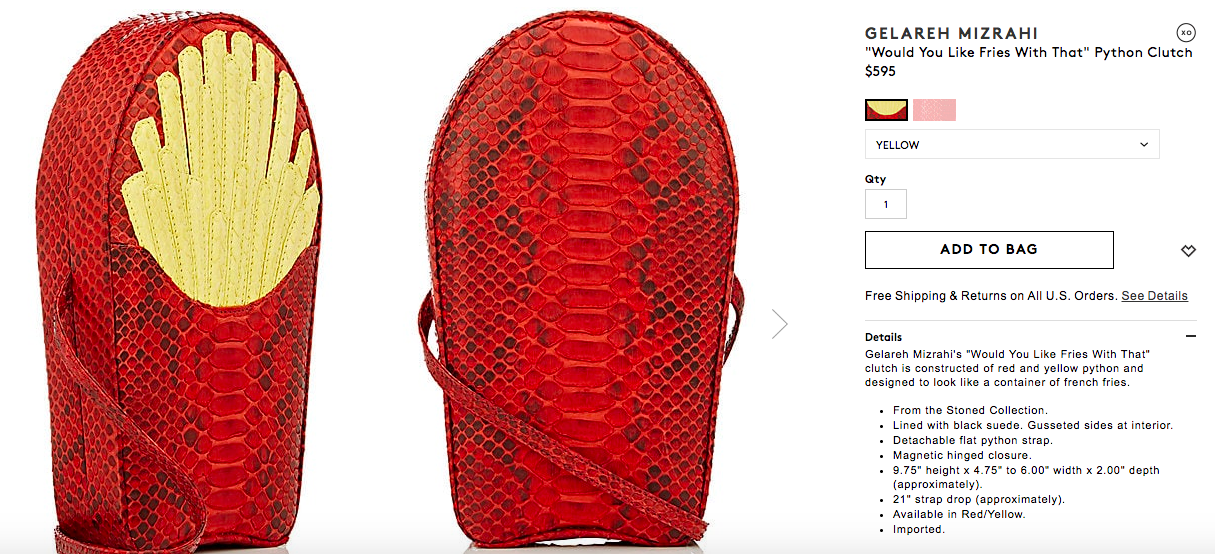 Personally, this feels less fun and more "fries, but make it sexy," but if you're into that—or you want a bag that looks big enough to actually serve as transportation and not just decoration, you can pay almost $600 for this python rendition.
3.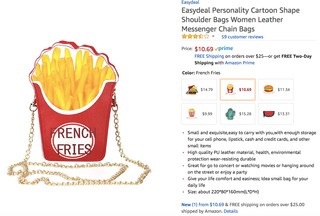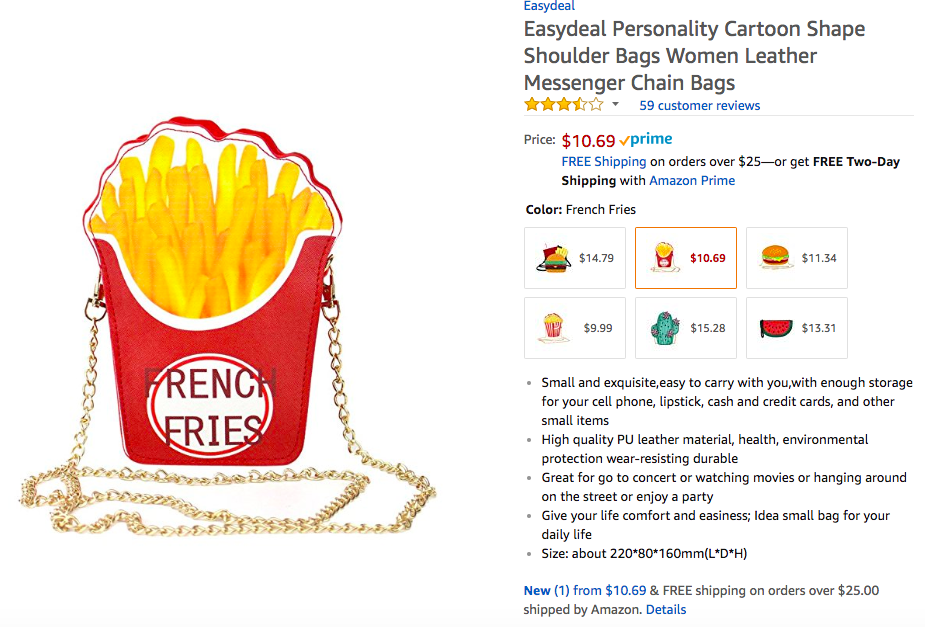 If you don't care about the branding at all (and can stomach mixed reviews) but like the vibe of that Moschino one, Amazon has a polyurethane knock-off for just about 10 bucks—and free shipping with Prime.
4.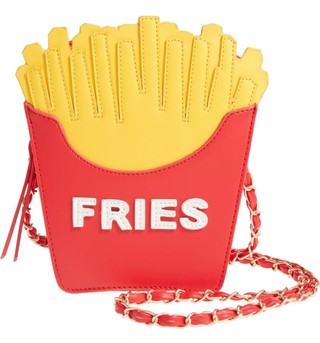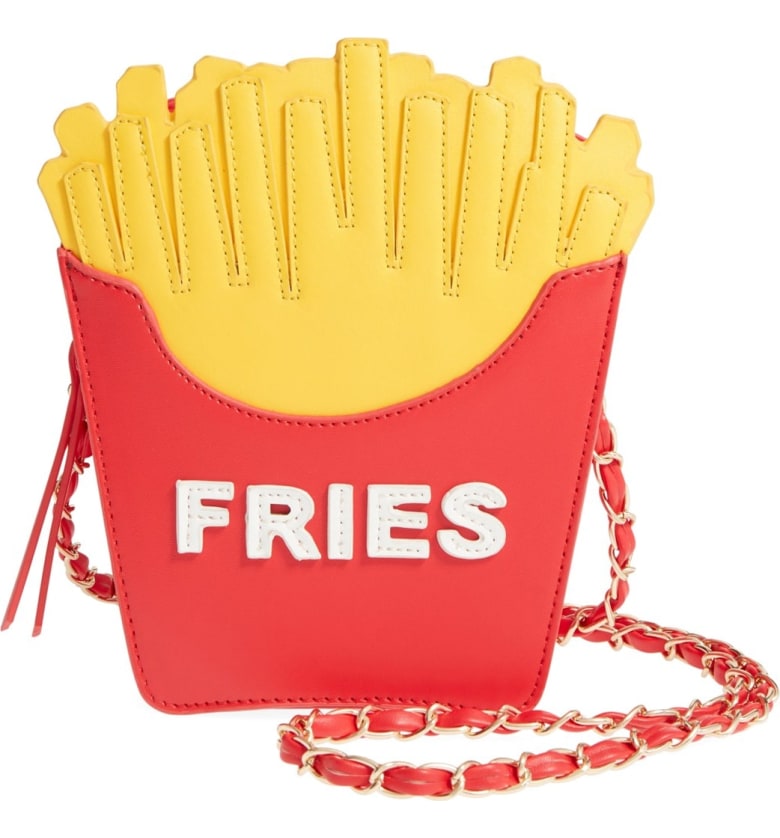 For a mid-tier option that's a riff on the same design (but with minimal branding that, frankly, I'm a fan of) this Nila Anthony bag is perfect—but sadly sold out everywhere I checked.
5.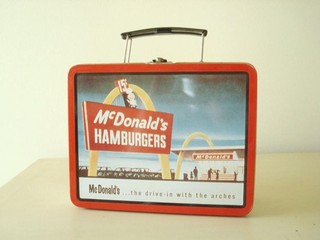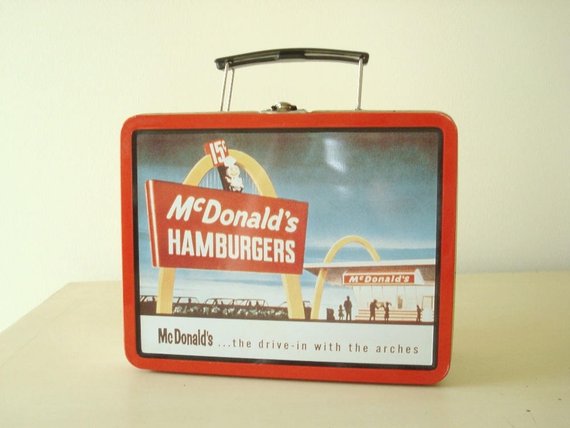 We're admittedly getting a little far afield here, but I'm digging the aesthetic of an assortment of vintage McDonald's bag-adjacent items—like this intentionally-retro-even-in-1998 lunchbox (who's to say it's not a purse?) on Etsy that's just $12. (I do not, however, like this vintage lunchbox because Ronald McDonald is terrifying and unstylish.)
6.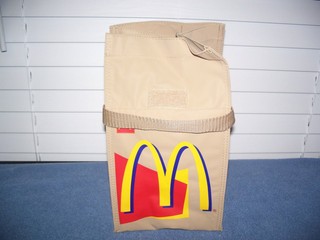 Or this vinyl lunch bag that looks like paper available for $17 on eBay.
7.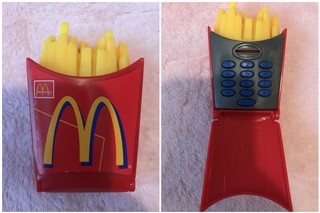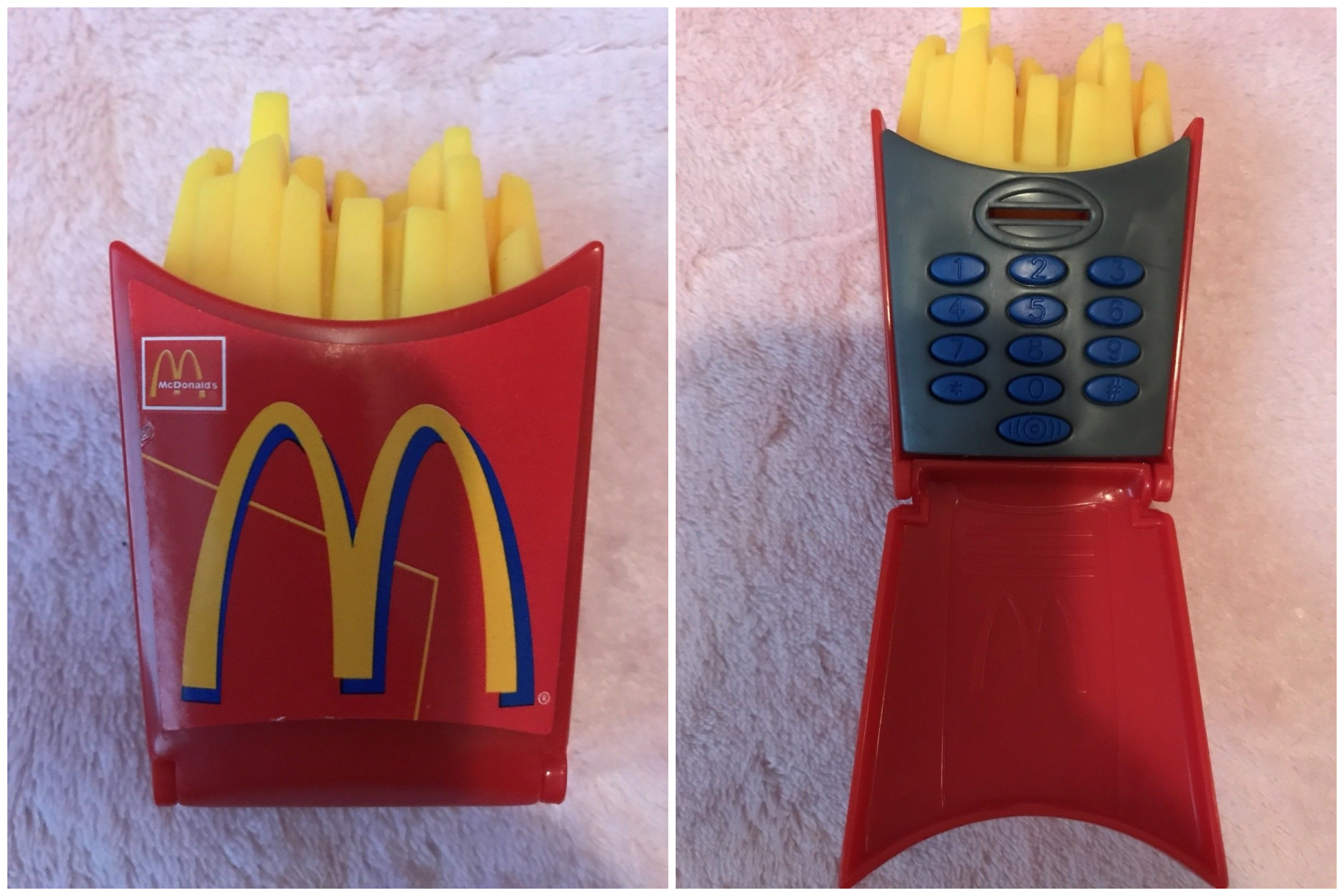 And why settle for merely a McDonald's French fry phone case when you could have a whole McDonald's French fry flip phone for a starting bid of just 99 cents!?
8.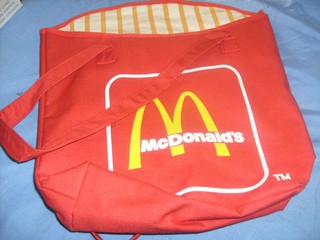 I'm mostly avoiding totes because there's just so many of them in the sort of Society6 style of print, but I do love that this vintage McDonald's canvas bag from the '60s is shaped like one of their fry containers that you can get for $30 (or $65 if that sells out) on eBay.
9.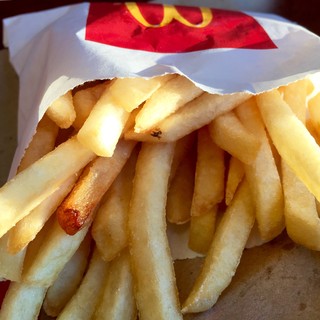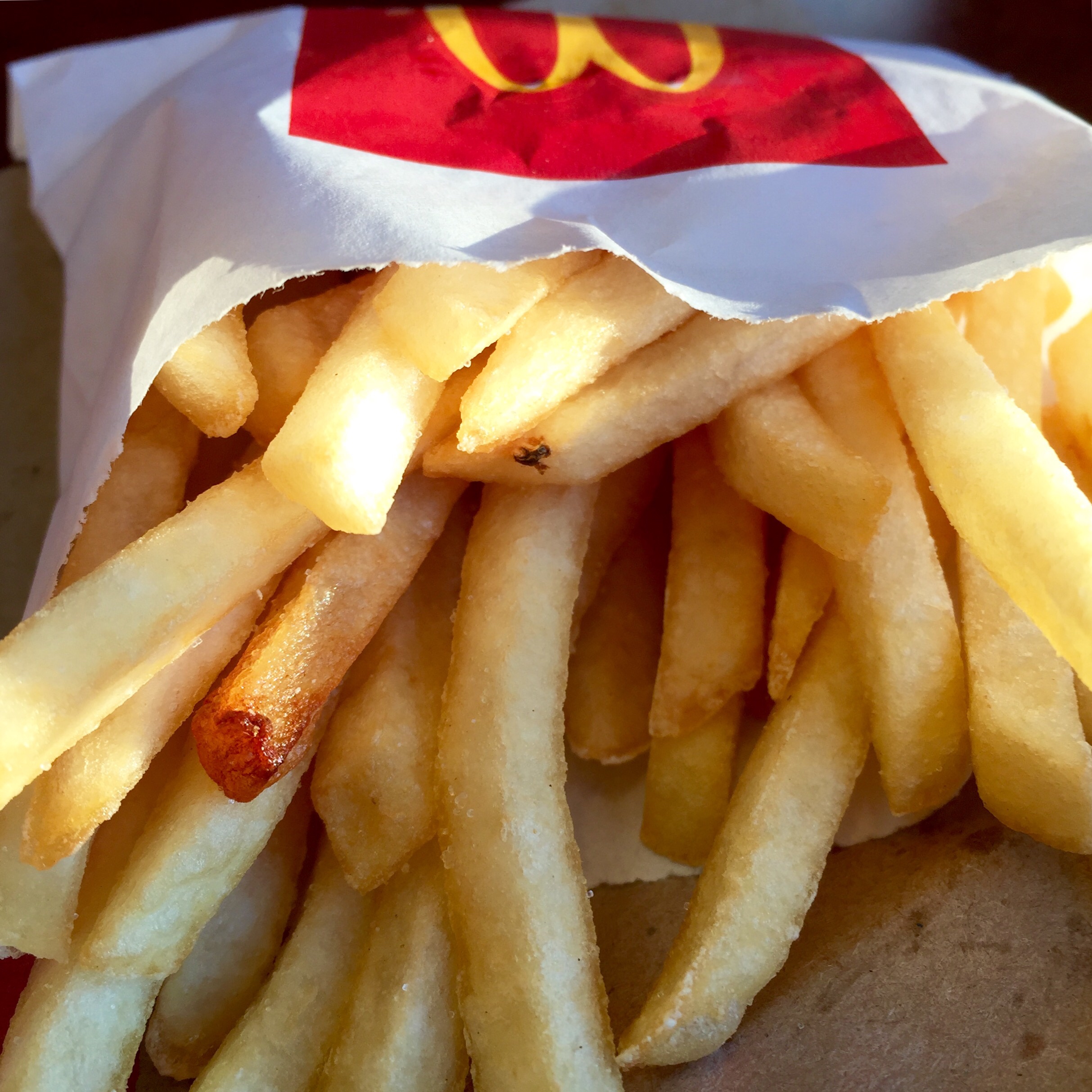 But if you really love French fries, the best buy for your money is easily an order of McDonald's French fries—$1.39 for the small, $1.89 for a large. We recommend the large.