ATL's Transportation Woes Are a Warning for American Infrastructure
Ongoing tension around gentrification has made the Metropolitan Atlanta Rapid Transit Authority a priority in Georgia's capital.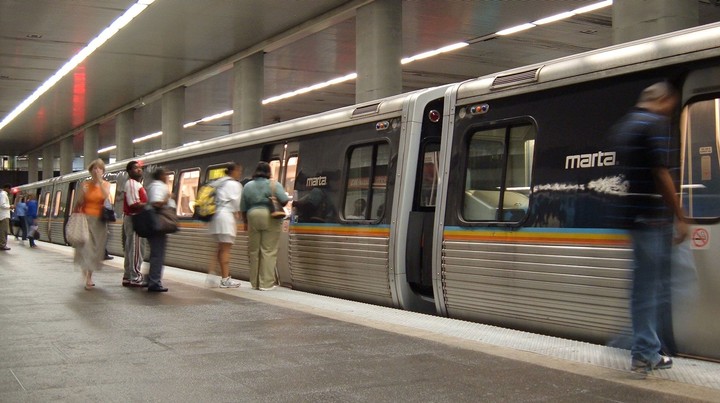 Photo via Wikimedia Commons
This past March, at the height of rush-hour, a highway collapsed in Atlanta. As black smoke plumed and locals looked on in shock, police evacuated the area. Then, just after 6 pm, 350 feet of the northbound lane of Interstate 85 came crashing down. The breakdown could hardly have come at a worse time or a worse juncture. An estimated 240,000 trips flowed through the affected area every day and the collapse occurred just before Atlanta schools went on spring break, throwing travel plans into chaos. The governor declared a state of emergency and federal and state funds poured in to fix the damage.
This was not the first time Atlanta's highway system had made national news. In 2014, cars were stranded on the roads for 24 hours after a two-inch snowfall brought the city to a standstill. But just three years later, the city is in a very different place when it comes to transit. A combination of demographic changes, new industries, and new tax dollars have created an environment in which public transit could finally flourish in the city. But that potential is bound up in long-simmering local conflicts around race, class and what it means to make a city livable.
The Metropolitan Atlanta Rapid Transit Authority (MARTA) was created in 1965, just 6 years after the desegregation of Georgia's buses. Black urban voters disliked it for prioritizing access for suburban commuters over city dwellers. White suburban voters disliked it for, essentially, giving those black urban voters a means to reach their white-flight neighborhoods.
As the city center gentrifies, the toxic classism and racism of that old view of MARTA is changing.
Atlanta is governed by a patchwork of county governments, which means transit expansion is determined by distinct groups of appointed and elected officials, distinct swatches of voters, and hyper-local political calculus. The majority of Atlanta proper falls in Fulton County, with the remaining sections lying in DeKalb. Both counties have been paying into MARTA with local one-cent sales taxes since the 1960s. But three of the five counties originally set to join the transit system -- Cobb, Gwinnett, and Clayton -- backed out via local referenda. The issue was bound up almost entirely in racial animus. Cobb's isolationist impulses in particular have been bluntly and repeatedly attributed to racism, and the lingering dynamics of white flight that first grew Atlanta's suburbs. And MARTA has, since its founding, been derisively said to stand for "Moving Africans Rapidly Through Atlanta."
As the city center gentrifies, however, the toxic classism and racism of that old view of MARTA is changing. New, young residents are keen to use public transit and even plan their home choices around access to it. Victoria Cuneo Powell, a 25-year-old attorney, lives with her husband in Midtown, right in the the heart of city center. She takes MARTA every day to get to work. She says that they chose their apartment specifically because of its proximity to public transportation.
"I really love MARTA, but I think it is a very new/developing thing for people like me (i.e. young professionals) to take the train," she says, adding that she knows "only a handful" of others who take it to and from work. "I think a lot of people (particularly those over 35) think it's strange for me to take the train."
---
Check out more videos from VICE:
---
But an influx of residents like Powell means others are facing new economic pressures. Many working class and poor Atlantans have been priced out of the city center because of both gentrification and the city's experiment in the demolition of public housing. The suburban poverty rate more than doubled between 2000 and 2011 and 88 percent of Atlanta's poor now live in the suburbs.
"People were literally walking on the side of the highway."
Partially as a result of this shift, 40 percent of low wage workers now live south of I-20, while 75 percent of the jobs for those workers are north of I-20, many in the Northern suburbs. The commute from, for example, Clayton County in the South to Marietta in the North can easily take an hour or even an hour and a half at rush-hour by car. By transit, it's even worse, involving at least two buses and a train and taking a minimum of two hours to travel the distance between the two counties. This kind of inefficiency is so common that economists even have a name for it: spatial mismatch, when job seekers (low-income ones in particular) are located at a prohibitive distance from the jobs themselves.
Deborah Scott is the director of Georgia Stand-Up, a think tank and organizing group focused on working class communities. She says that in recent years, they've shifted their focus almost entirely to transit, particularly in suburbs.
"Clayton County didn't even have sidewalks," Scott says. "People were literally walking on the side of the highway." Just to advocate for the buses to come, she says, meant they first had to build the sidewalks that would allow people to get to the bus-stops safely. This can be a matter of life and death. In 2011, a four-year-old died crossing a highway in Marietta with his mother. His mother was convicted of vehicular manslaughter (later dropped). She had, like many others, elected to cross the highway where she was, rather than walking almost two thirds of a mile on an unlit highway, just to get to the nearest pedestrian crossing.
READ MORE: Your Tap Water Could Be America's Biggest Infrastructure Scam
But there are signs of hope. In 2014, Clayton voted to join MARTA, making it the first new county to join since 1971. Gwinnett, long opposed to such measures, now shows signs of softening their position. And in November, Atlanta overwhelmingly supported two sales tax increases to raise $2.5 billion for MARTA and millions more for other transit projects, such as road improvements and buses.
"You really can't be a major city without appropriate transit services," says Todd Long, current Chief Operating Officer for Fulton County and a former official with the Georgia state Department of Transportation. What shape or form that transit takes — be it heavy rail, rapid bus or otherwise — he says, is still to be determined, but the overarching need remains.
"You don't get the Super Bowl, you don't get NCAA Final Fours unless you have those things in place. And from a business perspective, I think a lot of businesses are looking for cities that are connected."
Even with pressure from new businesses like Mercedes-Benz, much construction is still created with cars as the default.
This is already happening in Long's home county. Major companies such as Mercedes-Benz, UPS, and WestRock are all setting up shop in Fulton, specifically citing MARTA connectivity as a major factor in the placement of their new offices. But in order for transit to be truly useful, zoning and land use must line up with buses and rail stations, and density needs to be a priority. Atlanta has the second worst sprawl of any metro area in the country. (The top spot goes to Hickory-Lenoir-Morganton, NC metro-area, home to just under 350,000 people. The Atlanta metro-area, on the other hand, is home to 5.8 million.) Even with pressure from new businesses like Mercedes-Benz, much construction is still created with cars as the default.
Case in point: The day of the I-85 collapse, residents worried that the increased congestion would make it difficult to get to the Braves' new stadium, to watch them play their first exhibition game — SunTrust Park has no MARTA stop.
A transportation crisis of this magnitude requires federal intervention, but the Trump Administration's infrastructure bill still needs fine tuning. Rather than providing federal resources to cities to address more efficient ways for residents to get from point A to point B, Trump is committed to privatizing infrastructure reform. The question here is that without government regulations who really benefits from this infrastructure project? It's a tough sell, especially in a city like Atlanta, where infrastructure is explicitly related to race and class.
Stories