100 Immigrant Women Are on Hunger Strike at a Notorious UK Detention Center
At Yarl's Wood Immigration Removal Center, women are refusing food and staging a sit-in in protest of the abysmal living conditions. We spoke to a detainee there, who has been held for two-and-a-half months, to learn more.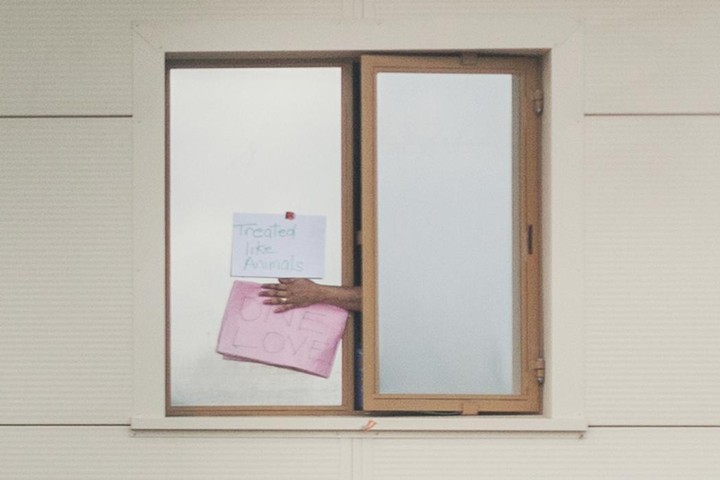 All photos by Christopher Bethell
Up to 100 women have gone on hunger strike at Yarl's Wood Immigration Removal Center, the Bedfordshire, UK detention facility that mainly houses female asylum seekers and immigrants awaiting deportation. Since its inception in 2001, it has become notorious for allegations of sexual misconduct and abuse and its indefinite detention policy.
On Monday, a group of 18 hunger strikers began a sit-in outside the Home Office department in Yarl's Wood to further protest conditions at the detention center. These include the detention of rape survivors, victims of torture and human trafficking, people with disabilities and those in poor health.
In a note published online by immigration rights group Detained Voices, the strikers write: "We believe the Home Office is overwhelmed, not fit for purpose and operates in a rogue manner."
Theresa, a Ugandan woman in her 30s, is one of the 18 women involved in the sit-in. She has been detained at Yarl's Wood for two and a half months. Like many of the detainees, she has no idea when she will be told whether she can remain in the country. Her name has been changed over fears that speaking publicly will jeopardize the result of her case.
"We don't see the outside world," she tells Broadly of her time in Yarl's Wood. "It has affected me so badly… I get nightmares, I am totally, totally stressed. I just hate it."
The sit-in comes just two days after a visit by Shadow Home Secretary Diane Abbott and Shadow Attorney General Shami Chakrabarti. The two Labour politicians had lobbied for over a year to gain entry to the secretive detention center, which had previously denied access to even the United Nations special rapporteur on violence against women.
"These women were clearly desperate. Indefinite detention, with no release date, is just wrong," Abbott told the Guardian afterwards.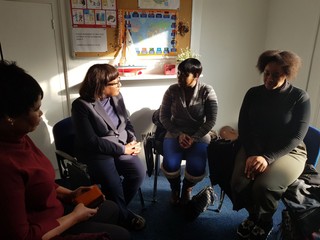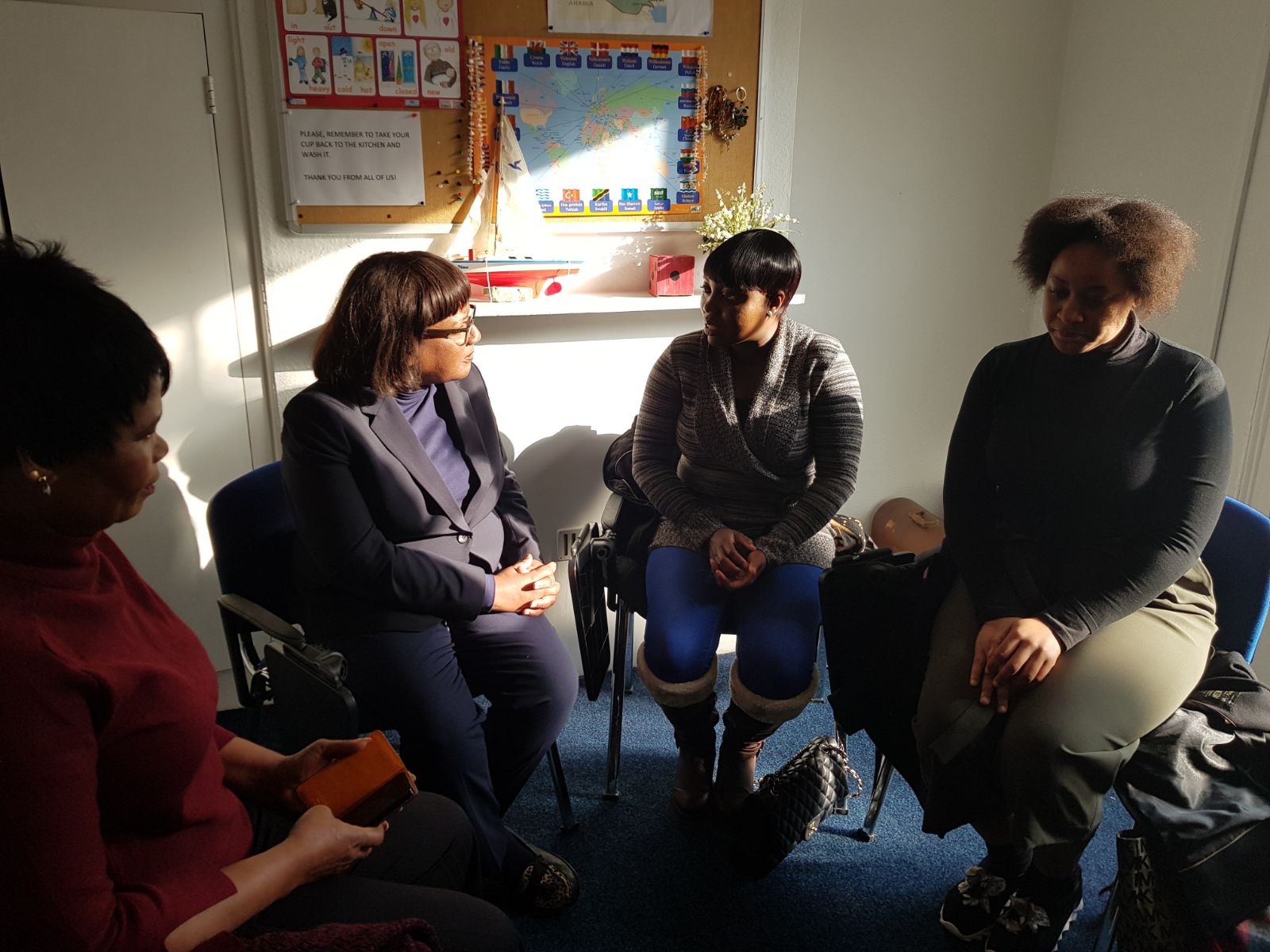 Living in Yarl's Wood takes a psychological toll on its inhabitants, Theresa confirms. "When you find someone in the corridor [and] they show you their old picture, you're wondering, Is this really you?"
One of the chief aims of the hunger strike and sit-in is to call for an end to indefinite detention. The UK is currently the only European country with the power to detain people indefinitely in immigration custody. The UN Refugee Agency and the UK Bar Council and have called for the introduction of a 28-day time limit on detention, a move that is supported by the Liberal Democrats and Labour.
"Everyone who is [here for] 28 days and above should be released from this place," Theresa says. "It's killing us. There are disabled people, vulnerable people, some of us are victims of rape and torture, and we're sitting here. We need to be released and let go."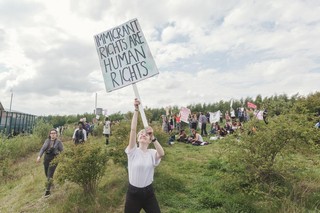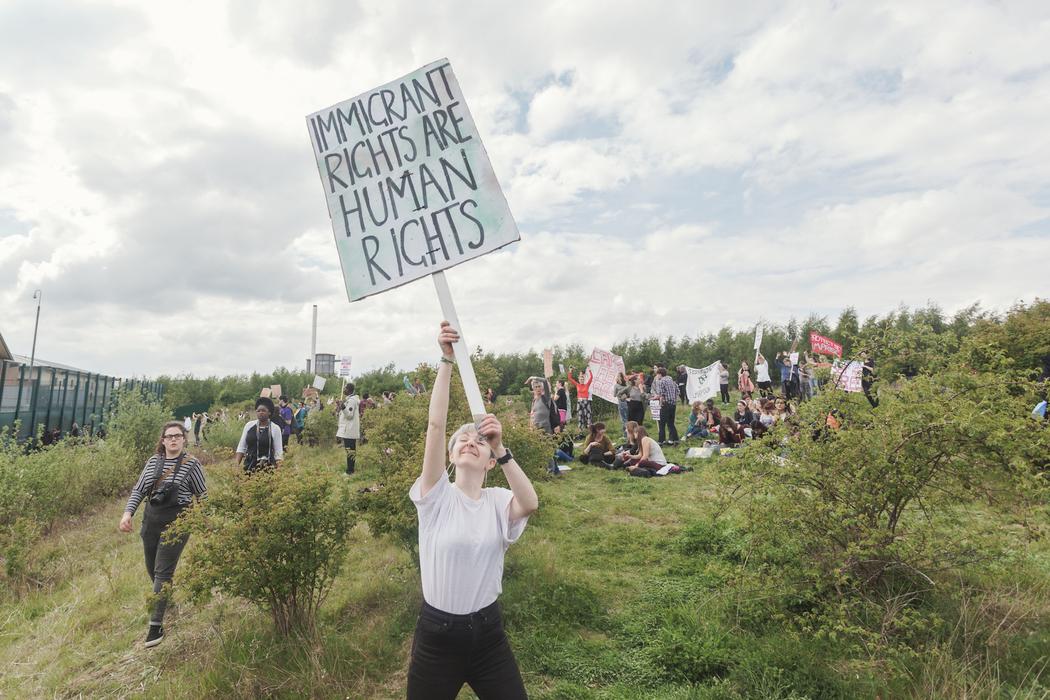 She says that there are now between 80 to 100 people on hunger strike in Yarl's Wood. "We're strong, we're fine. We're not even hungry," she told Broadly. "We just want our voices to be heard. We just want them to listen to us. If they can't listen to us, then we will continue our strike."
Up to 410 people, mainly women, are currently detained at Yarl's Wood. Sky News reports that this is a fraction of the 30,000 people who enter the UK immigration system every year. They face deportation—usually on chartered planes in the dead of night—if they have been found to have overstayed their visa or if their claim for asylum has been rejected.
"We are not criminals, we're not smashing any windows, we've not killed anyone," Therese says of Yarl's Wood. "But this is just like a prison."
A 2015 Channel 4 undercover investigation into the center alleged that staff referred to women as "animals," "beasties" and "bitches."
"They're all animals," one guard was filmed saying. "Caged animals. Take a stick with you and beat them up. Right?" Another was filmed advising other staff to "headbutt the bitch."
In 2017, a report from the charity Women for Refugee Women found that traumatized survivors of sexual and gender-based violence were routinely locked up in Yarl's Wood—in breach of the government's own policy against detaining vulnerable people.
Theresa told Broadly that nobody from Yarl's Wood authorities had spoken to the strikers about their demands. "They're still not taking us seriously," she says. "They're asking us questions like, 'How long are you going to stay here? How long are you going to sit here?'"
"If it can happen to an asylum seeker, who will be next ?"
She said the members of the sit-in had rejected a request to be spoken to on an individual basis. "We want them to address us as a group because what is affecting me is affecting someone else."
A Home Office spokesperson told Broadly, "Detention and removal are essential parts of effective immigration controls, especially in support for the removal of those with no lawful basis to stay in the UK. We take the welfare of our detainees very seriously and any detainees who choose to refuse food and fluid are closely monitored by on-site healthcare professionals."
A Serco spokesperson denied there was a hunger strike at all. "There are a number of women who did not take food in the restaurant. Furthermore, the purchase of food by residents from the shop increased at the same time so we know people have been eating."
Black Women's Rape Action Project, a women's rights organization that has offered support to Yarl's Wood detainees for over a decade, says that the women are striking as a last resort to call out the injustice of the detention system.
"They are defending all our rights," a spokesperson told Broadly. "Because this is not the kind of society we want to live in, where people are stolen and snatched in the middle of the night and put on charter flights. If it can happen to an asylum seeker, who will be next?"