Bullying Prevention Advocate Says Bystanders Must Speak Up
Advocate Jane Clementi speaks about the Importance of bullying prevention on the seven-year anniversary of her son Tyler's death.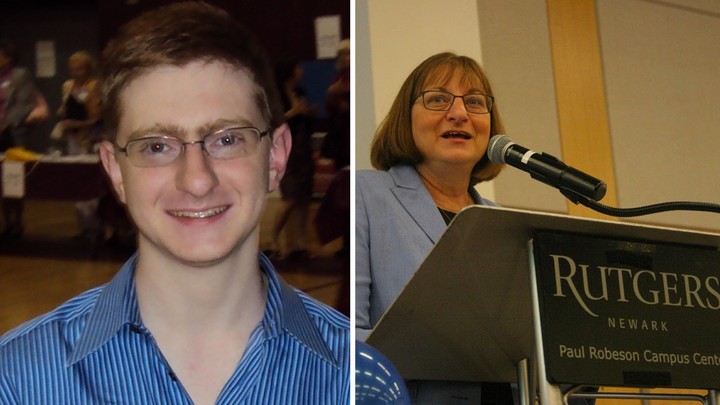 Photos courtesy of the Tyler Clementi Foundation
At the time of his death, 18-year-old Tyler Clementi was a gifted scholar and a talented violinist attending Rutgers University who was dealing with the untold burden of being a victim of cyberbullying. On September 22, 2010, Tyler took his own life after his former college roommate secretly taped and broadcasted Tyler and another male student in an intimate act from a webcam. This year marks the seventh anniversary of Tyler's death, which was nothing less than a tragedy. Despite the enormous loss, his story has inspired thousands of people to stand up to bullying and harassment in all its forms through the work of the Tyler Clementi Foundation--a nonprofit dedicated to bullying prevention.
Unfortunately, stories like Tyler's are all too common. According to the social advocacy group DoSomething.org, 68 percent of teens feel that bullying is a serious issue and that bullying victims are 2 to 9 times more likely to commit suicide. The CDC found that for LGBTQ young people, the statistics around bullying are higher than their straight counterparts. Also, the Trevor Project, an LGBT youth suicide prevention organization, reported lesbian, gay and bisexual south are nearly five times as likely to have attempted suicide compared to heterosexual youth and that 40 percent of trans adults have attempted suicide in their lifetime.
Cyberbullying isn't just an issue for youth either. According to the Pew Research Center, in 2017, 41 percent of U.S. adults admitted to being subjected to online harassment and 66 percent say they have witnessed these behaviors directed at others. The survey also concluded that online harassment can take shape in a variety of ways such as offensive name-calling, purposeful embarrassment, physical threats, sustained harassment, stalking and sexual harassment. Also, the data showed that most people are reluctant to come to the defense of others experiencing cyberbullying with only 30 percent saying that they had intervened in hostile situations online.
Given that September is Suicide Prevention Awareness month and October is Bullying Prevention Awareness month, VICE Impact is addressing the issue of bullying head-on. VICE Impact spoke with Jane Clementi, Tyler's mom and co-founder of the Tyler Clementi Foundation, about the menace that is cyberbullying and importance of standing up for others when you see it happening.


How does cyberbullying differ from traditional forms of bullying? What makes one worse from the other?
One of the many things I have learned is that it appears the effects of being bullied in the digital cyber world are magnified. People behave very differently behind the screen than in person. There seems to have a false impression that one can say anything they want in cyberspace when they think they are anonymous, maybe it is because they do not see the pain they are causing another person.
Also in the cyber world, it is no longer just a classroom or lunchroom of people seeing the bullying behavior but rather in just minutes hundreds or even thousands of people can witness your humiliation and shame adding to the targets anguish and despair. And the worst part is the fact that in this digital age--where we all have easy and quick access to the internet-- once something is said and out in cyberspace, the target can quickly become their own worst enemy. The harassing and bullying remain with them 24/7.
Clicking back into the comments over and over again, the target gets no break from the aggressor. The target can't escape the comments, even in the safety of their own home or dorm room. And quickly a downward spiral begins, as the targets reality becomes twisted and distorted. This was evident with Tyler. He continuously logged into the posts and tweets about himself, even taking screenshots of the comments. Quickly losing sight of the resources he had available to him at school and at home.

When does online communication cross the line of being harmless teasing or a joke and becomes an act of cyberbullying?
It is important to know that words can hurt and can be used as powerful weapons. It is often difficult to differentiate between harmless jokes, harsher sarcasm and hurtful bullying and when that line has been crossed in the digital world. Since there are no visual or auditory cues like facial expression or change in verbal tones, it is often not clear when the line has been crossed.

We should also keep in mind that once something is out in the cyber world we do not know who will see it. What might be funny to you may be very offensive to me. I encourage everyone to stop talk a breath and reread what has been written and if it is or can be read as hurtful or if it tears someone down, as opposed to supporting someone else and building them up, then I suggest rewriting it or maybe just discarding it all together.

How would you recommend someone who's a bystander of cyberbullying to intervene on the victim's behalf?
Witnesses need to speak up whether they see someone being harassed online or off. Saying nothing is condoning the behavior. If a witness feels safe they should intervene at the time, online that would be to make a comment maybe making it known that those words or comments are not acceptable or welcomed in that space. If that does not create change or if the witness did not feel safe to comment they should report it to a trusted adult.
Some social media platforms have mechanisms to report harmful online behavior but, in addition to this, I believe youth need to speak to a trusted adult, in person. Some people need to remember that physical in-person support is needed with most online bullying cases. And reach out to the target of the bullying behavior, to make sure they are safe and that they know where their resources are.
What cyberbullying prevention initiatives has the Clementi foundation started or joined? How are these initiatives being implemented locally or nationally?
We continue to speak out and raise awareness about the harms of cyberbullying through our Upstander Speaker Series, press statements, and on our social media. We strongly believe in prevention and work extensively to promote safe space online and off through our Day 1 Campaign. Another initiative has been partnering with AT&T to continue raising awareness of the incidents and harms of cyberbullying as well as giving support and resources to students and their parents through their film "There's a Soul Behind That Screen."
How does your organization measure the climate around cyberbullying and prevention? Have things gotten better or worse?
It seems that bullying is becoming more of a normative behavior currently in our society. I still see and hear about horrible behavior from both youths and adults alike, especially in the cyber world, but people are talking about this issue more, which is a good thing. Awareness and conversations are the first steps to creating safe spaces online.
How can people support the activist work the Clementi Foundation is doing? What ways can people take action through your organization?
My hope is that people would always use the digital world and social media for good, never using it as a weapon to harm, destroy and hurt another person. For us specifically, I would hope people would stay connected to us by following the Tyler Clementi Foundation on Twitter and Facebook, and going to TylerClementi.org where they can pledge to be an Upstander and not a passive bystander when they see someone being humiliated or bullied.
Also if anyone is in the New York City area please consider coming to our Upstander Legacy Celebration on November 13th, information about our major fundraising event is on our website.
To learn more about the bullying prevention visit the Tyler Clementi Foundation online on how to participate in their anti-bullying campaigns both in school and in the workplace.