"Anybody who's conscious as a creative mind thinks about death 24, 30 times a day." Matt Berninger, the 46-year-old frontman of lachrymose indie rock band The National, often wanders on these internal voyages. Berninger's calling from his home in Southern California, letting out a cough following a hit from a vape pen; it's hard to slow him down once he gets talking—he rambles and stammers, yet manages eloquence, warming up as the sentences progress. He says he's searching for the meaning of it all, contemplating what his legacy would be—as a father, a husband, a human who interacts with other humans—if things were to end suddenly.
"I'm not a touchy feely person," Berninger continues, despite his strong belief that sex and the human touch can impact a person's chemistry. "I wouldn't be described by the band or my wife as being warm and fuzzy, but there's a certain amount of kindness that is a choice we make on every tiny, small level—just the choice to let something go in an argument with your partner, just to be wrong and not defend every detail. And I fail most of the time." He mulls over the tangible release of kindness into the world—like acting warmly towards a server in a restaurant, or resisting the urge to make an unsavory remark—although the task itself can sometimes be difficult. In a country where hate fuels the actions of both citizens and politicians alike, Berninger knows it's kindness and bravery that is the more powerful gesture, that it blooms long after you're gone.
"When your body breaks down, all that kindness and love and bravery doesn't disappear, it's in those people where you put it and it moves on to wherever they spread it. It's the same thing with hate."
For all Berninger's existential musings, his band's seventh album Sleep Well Beast doesn't offer any solutions to society's ailments. Instead, it aims to expose the intricacies and desires possessed by a modern-day civilization: the lust, intimacy, blame, political unrest, and bravery that emboldens those to stomp out the fires that breed fear. Whether it be an instrumental depiction of turmoil, such as the stab of an electric guitar through a distorted amp, or lyrics that paint the feeling of longing—"I've been talking about you to myself/ Because there's nobody else/ And I want what I want/ And I want everything," Berninger sings on "Empire Line"—the emotions on Sleep Well Beast are tangible, much like they are in life.
"Part of the beauty of The National is it has a tension between this lyrical intimacy, an emotional human element," says guitarist/keyboardist Aaron Dessner, "and the engine of the band when it kicks into gear."
The vehicle that carries the record's lofty themes sounds, at times, distinctly The National-esque—weighty piano ballads, light strings and horns, and so on. But overall, any preconceived notions of how an album by The National should sound have been thrown by the wayside. Where 2013's Trouble Will Find Me existed in a lush fog, Sleep Well Beast strips the music to a molecular level, with added flourishes of glitchy programing, murky melodies non-traditional song structures, and ambient spaces. Each instrument serves as its own voice, with guitars singing in harmony with each other, electronic elements a new layer of dressing.

Produced by Berninger, guitarist Bryce Dessner, and Aaron Dessner in the latter's upstate New York-based Long Pond studio, Sleep Well Beast was partially borne out of sketches that came from Aaron's own at-home noodling. But him and his brother were able to brainstorm in the same room before moving into the studio, too. "Having grown up playing music together, we're quite capable of naturally finishing each other's ideas and challenging each other," Aaron says. "It was a good idea to also do stuff together."
At Long Pond, the band traded their usual layered productions for a more weightless collection of songs that were narrowed down from a larger pool of more experimental-leaning tracks. "In the past, we made the songs we could make. There were the ugly-duckling songs limping along, and whichever ones that crossed the finish line would be on the album," says guitarist Bryce Dessner. "This time, it was 'What do we want to do?' We were more creatively ambitious, and we carried these songs across the finish line."
The band's editorial process requires a unanimous consensus on all songs, which sometimes results in an intensive revision process. "The System Dreams in Total Darkness" underwent a last-minute lyrical rewrite—and so did the harsh, electric "Turtleneck," which Berninger returned to after the election. "It's just another man in shitty suits everybody's cheering for / this must be the genius we've been waiting years for," Berninger sings. "It sounded like an indulgent sort of non-song," Aaron recollects. "We finished it after the election—not because of being freaked out about Donald Trump, but because we were saying, 'Fuck it, let's write a ripping rock song.'"
The National are no strangers to writing and recording albums during presidential elections. They mixed 2005's Alligator during the previous year's Bush-Kerry race, while 2013's Trouble Will Find Me was completed during the 2012 election. While their music isn't inherently political, they performed at a 2012 Obama rally in Des Moines, as well as a Planned Parenthood benefit after the Women's March on Washington earlier this year. phone in real time. "The past 20 years have been this incredibly heightened, traumatic phase for all of us in so many ways," Berninger claims. "I don't know how any artist within the last 15 years has avoided chewing on politics. And most have."
"[Artists] have a responsibility to say what you mean," Bryce elaborates. "We're very aware that we exist in the same online world of the president using Twitter as his mouthpiece. Yeah, bands use Twitter—our friends Arcade Fire did a whole campaign around that. We're aware that pop culture created Donald Trump."
The pop culture machine that can make and break figures like presidents and rock bands alike has largely sidestepped The National. The music they create is consumed in the same bubble of content, but isn't shaped by it. The same can be said of New York and the indie rock boom of the early aughts. The National rubbed shoulders with the likes of The Strokes and The White Stripes, but as Berninger later explained in Lizzy Goodman's Meet Me In The Bathroom, figures like Julian Casablancas embodied the cool factor. "Even at the height of indie explosion, we weren't really a part of that," Bryce says. "We've always existed in a separate stream."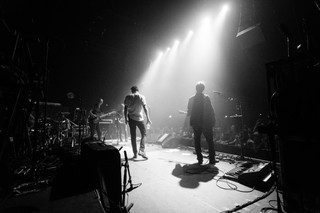 By the time Sleep Well Beast came together, the band's members were spread across the world: Berninger in Venice Beach, Bryce in Paris, Aaron in Copenhagen and Hudson, drummer Bryan Devendorf in Cincinnati, and bassist Scott Devendorf in Long Island. The National have effectively left New York, a notion that's addressed throughout the album: "New York is older / changing it's skin again / it dies every 10 years and then it begins again," Berninger sings on "Born To Beg." "We wouldn't be where we are today if we hadn't done that time in New York City, playing in a band," Bryan Devendorf mentions. "Everything is because of New York. To me, I hear that in the record."
Being a band from New York has been central to The National's identity, from lyrical references to the trajectories of their peers. The band's 2009 contribution to the Dessners' charity compilation Dark Was The Night, "So Far Around The Bend" declares there is no leaving New York. Moving away from that does not mean a break in form, but an opportunity to grow, both sonically and emotionally. Sleep Well Beast proves the band has succeeded in at least one element.
"I'm a heterosexual white, American, middle-aged guy who's been successful in business," Berninger says. "I'm as white bread as they come, and I'm a big hot mess."
Allie Volpe is a writer based in Philadelphia. Follow her on Twitter.
Gene Smirnov is a photographer based in Philadelphia. Follow him on Instagram.