On Spirit Day, Millions of People Stand up Against Anti-LGBTQ Bullying
Your guide to what's working in bullying prevention, what's not and what you can do about it.
Photo via Facebook
On the third Thursday of every October, people around the world wear the color purple to celebrate Spirit Day—an LGBTQ bullying-prevention event in which people show their support for gender and sexual minorities. The day of action was started eight years ago when ordinary-person-turned-activist, Brittany McMillan, discovered through social media that LGBTQ youth have a greater chance of attempting suicide than their heterosexual counterparts. According to the Trevor Project, an organization that offers resources to suicidal LGBTQ youth, young people who identify as LGBTQ are five times more likely to have tried taking their own life.
McMillan's inspiration for Spirit Day came from a similar event in Canada known as Pink Shirt Day, which encourages people to stand up to bullying both in person and online. After the success of Spirit Day, LGBTQ rights organization GLAAD reached out to McMillan to spread her message to an even wider audience.
Now, Spirit Day is recognized by celebrities and LGBTQ advocates as a way to show bullied teens they're not alone and that it truly does get better.
According to GLSEN, an LGBTQ non-profit that works specifically with K-12 students and teachers, at least 57 percent of LGBTQ students feel unsafe at school because of their sexual orientation. Also, at least 48 percent of LGBTQ students have experienced cyberbullying, which is a unique form of harassment since bullies can remain anonymous and the abuse can be 24/7.
What you can do about it:
Several organizations are leading the campaign to end bullying it all its forms. If you agree LGBTQ people should be protected and bullying needs to prevented, here's how you can show your support.
Support Spirit Day by making your avatars on social media purple in order to show solidarity with bullied members of the LGBTQ community.
STOMP Out Bullying is a prevention and education organization that empowers people who have experienced bullying and gives bystanders resources to come to their defense. Learn more about their mission and ways that you can get involved with their latest anti-bullying initiatives.
The Tyler Clementi Foundation is an anti-bullying organization that works with teens and adults to find ways to curb harassment and abuse. The Foundation encourages bystanders to take action when they see bullying happening. Get more information about ways to add power to their cause.
And then some:
In 2016, more than a third of US students reported being cyberbullied according to the Cyberbullying Research Center and at least 41 percent of adults said that they experienced some kind of virtual harassment.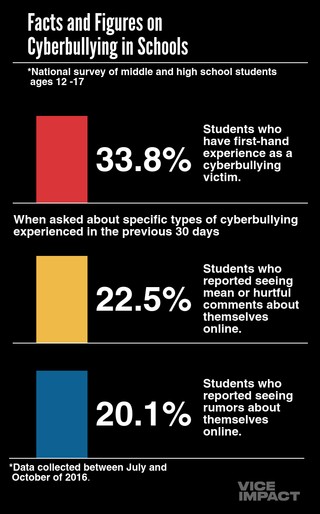 These statistics are troubling, and prove that more work needs to be done combat a culture of intimidation that keeps victims and bystanders from speaking out. Learn more about the laws against bullying in your state and organizations working to educate others on bullying prevention efforts.