What I Discovered Knocking on Irish Voters' Doors for Abortion Rights
I spent the weekend asking people how they were planning to vote in this week's referendum on repealing the Eighth Amendment.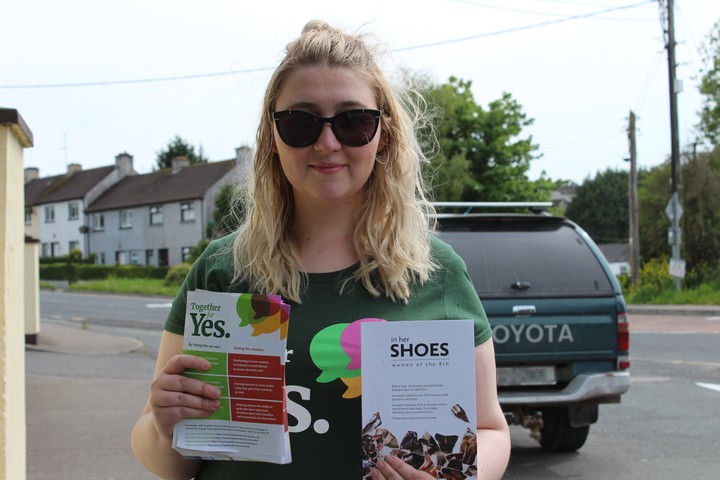 Emma Gallen while canvassing. All photo courtesy of Alliance for Choice
This week, Ireland votes on whether it will repeal the Eighth Amendment, which denies women the right to an abortion in all circumstances except in cases where her life is in danger. In the run-up to this historic vote, Broadly will be giving a platform to the victims of this inhumane law and the activists fighting for change. You can follow our coverage ahead of Friday's vote here.
In the 1983 referendum to introduce the Eighth Amendment to the Irish constitution, eight out of ten people in Monaghan, an Irish county in Ulster province, voted to give a fetus the same rights as the mother. The amendment, which passed by an overall majority of 67 percent, effectively banned abortion in almost every circumstance.

Thirty-five years on, the Irish public is now being asked to vote on whether to repeal the amendment—and with the referendum scheduled for Friday, campaigners are amping up their efforts to get out the Yes vote.
On a sunny Saturday—the same day of the British royal wedding—among over 60 pro-choice activists traveled from Northern Ireland to the border country to help spread the message. In previous weeks, the Northen Irish pro-choice group Alliance for Choice have traveled to several other places, including the neighboring county of Cavan.
Social progress has been slow in the constituency of Cavan-Monaghan, which encompasses both counties. In 2015, voters here approved same-sex marriage in the national referendum by a narrow majority of 50.65 percent, compared to the landslide majority of 62 percent overall.
---
Watch: Drone Delivered Abortion Pills & the Fight for Reproductive Rights

The Monaghan team for pro-repeal campaign Together for Yes numbers less than ten people, but they are looking to get as many Yes voters out for Friday's referendum. As a member of Alliance for Choice, I was among the activists sent from Northern Ireland to lend support to their cause.
Along with three other volunteers, I was assigned to canvass a road with large detached houses and expensive-looking Audis and BMWs in the driveways. We figured that many residents would be outdoors enjoying the sunshine, but about half of the houses we canvassed answered their doors.
About a third of locals told me that they would vote to repeal the amendment; another third said a flat-out no, and a third said they were undecided. Judging from the body language of the undecideds, however, only a handful seemed genuinely unsure. It seemed that most just didn't want an argument.
The first person I spoke to was an older man in his 70s. "I'm pretty confident," he said, "I'll be voting yes." He didn't want to engage further or take a leaflet.
The next was also a man in his 70s who also refused a leaflet. "I won't have anyone tell me how to vote," he declared. A crucifix hung prominently in his hallway. We debated marking him down as undecided or a no, and settled on the former. Reports from the previous canvassers said that signs of faith were no indication of how someone will vote.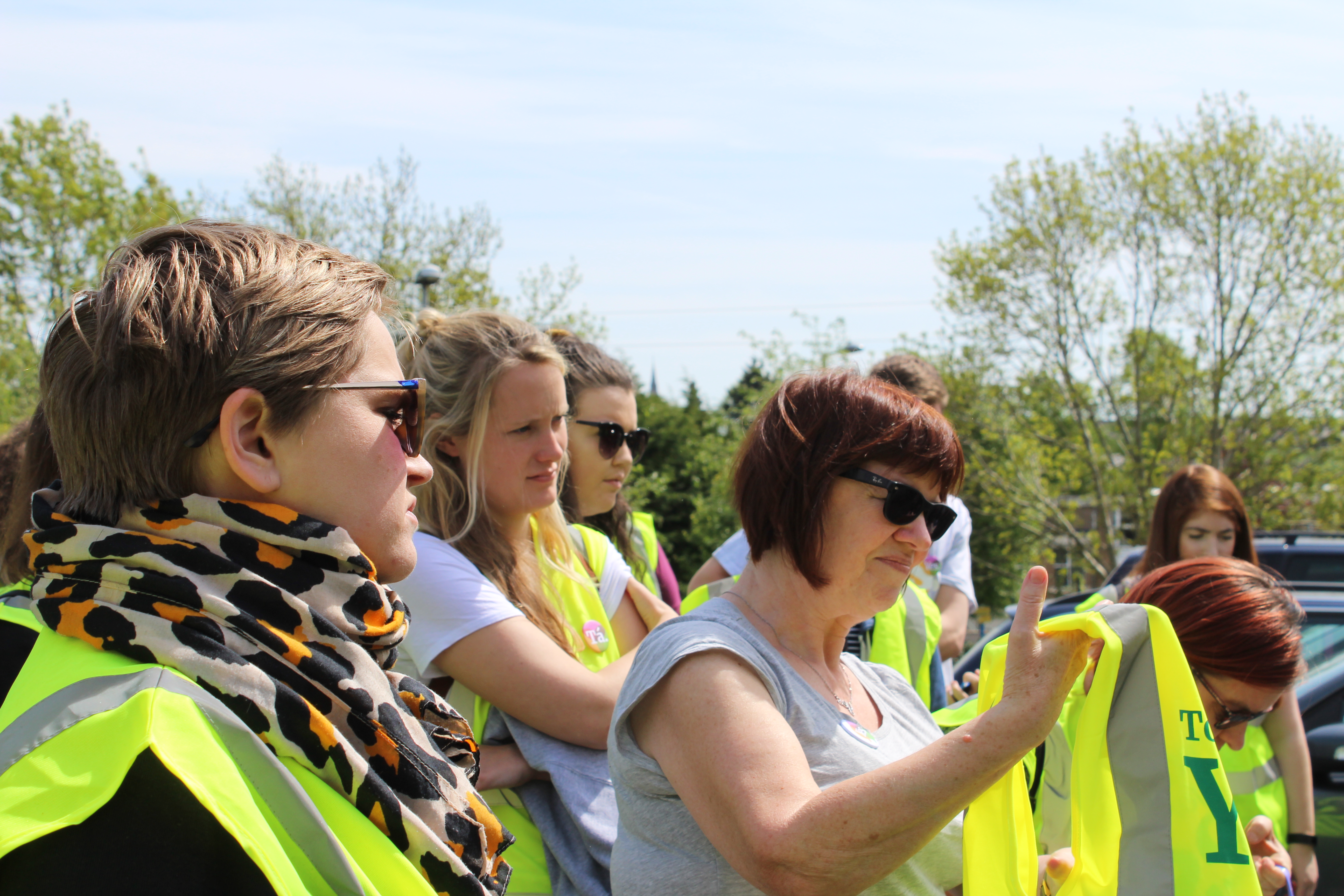 On the third house, a middle-aged woman cracked open the door to say "it's a no" and promptly shut it. That response was followed by a middle-aged man, who answered the door with his teenage son. "I'll make up my own mind when the time comes," the man told me.
Everyone I spoke to on newer housing estate of large, detached houses said they knew how they were voting, but didn't want to talk. One woman was dragged to her door in her dressing gown by her five-year-old child. She refused a leaflet, but said thank you as we left.
At one of the last houses on the road, a former midwife told two men on our team that they were murderers. More cheeringly, I spoke to a young man who had just signed up to Monaghan for Choice and was heading out later that night to canvass.
We swapped stories with the rest of the teams when everyone reconvened for a break—quite a few locals told other volunteers to leave them alone as the royal wedding was on. One woman reported being asked if she wanted to come in and see Meghan Markle's dress.
Round two of canvassing: Ballybay. The village has just over 1,000 people and is home to mostly terrace houses—no BMWs in sight. There were more empty houses here than there were on our morning round—or just more people who ignored our doorbell ringing and knocking. The first house that opened its door to me was an elderly man who announced: "No, I don't believe in murder." He started blessing himself and closed the door on us.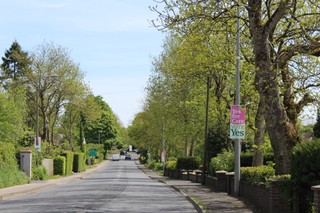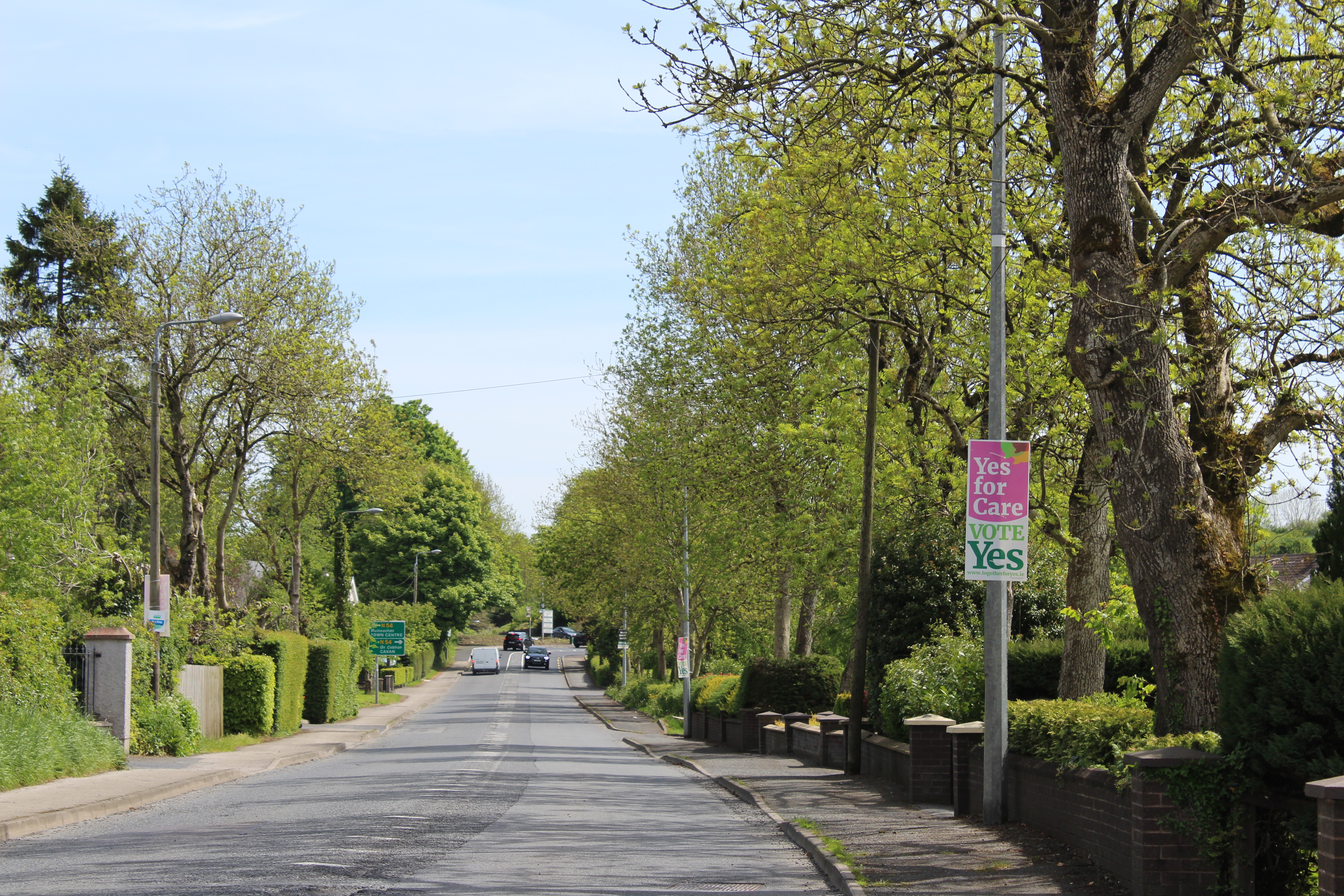 The owner of a beautiful cocker spaniel was willing to discuss the referendum, admitting that he oscillates between yes and no. He said that the 12-week limit "for no reason" worried him. It was a common sentiment we encountered on the doorstep. If the Eighth Amendment is repealed, the Irish government has said that it would introduce legislation to legalize abortion up to 12 weeks. The limit is still relatively restrictive—in England, Scotland, and Wales, the limit is 24 weeks—but some Monaghan voters still seemed to regard this as too liberal.
A man in his 30s saw us on his street and came over to say that he was a definite Yes. "It's a women's issue," he said. "It's terrible that they go away for this. You aren't stopping it, you are just sending them to a back alley. Who knows what can happen taking the dangerous pills?"

The abortion pill is actually on the World Health Organization's list of Essential Medicines and can be taken safely at home. It is the lack of aftercare that can be risky; when pills are illegally obtained in Ireland and Northern Ireland, people are scared to seek hospital treatment if there are any medical complications. As Irish prime minister Leo Varadker pointed out this week, the maximum 14-year prison sentence for taking an abortion pill is seven years longer than the sentence for rape.
The final person I spoke to was another undecided voter. "My daughter is a definite yes," she said, but she still didn't know which way she was leaning. Like the dog owner, she understood that there are many reasons that women need abortions, but she was unsure about the 12-week limit.
Other canvassers who went to Monaghan Shopping Center reported back positively—there were lots of locals who came up to them to engage in conversation, and many asked for badges. People told volunteers of their difficult pregnancies or of needing to travel abroad for an abortion. For some, it was the first time they had shared these stories aloud.
Every "yes" or "unsure" felt as though we were doing something right.
I coordinate Alliance for Choice's weekly stall in the city center of Belfast, the capital of Northern Ireland. Canvassing is an entirely different way of communicating with the public than information stalls, where people approach volunteers to agree or disagree with them, and we are able to correct any falsehoods they may have heard. Being on someone's actual property adds a whole new dimension to the experience—you're on their territory.
It was 4.30 PM by the time we wrapped up. Over four hours, I knocked on the doors of about 50 houses; we covered a total of 3,000 residences that day. Everyone agreed that it had gone well—even those who had been called "baby killers" on the doorstep. At our briefing at the start of the day, we prepared for the worst: we expected arguments and plenty of no votes. Every "yes" or "unsure" felt as though we were doing something right. Hearteningly, the Together For Yes campaigners told us that we did two weeks' canvassing in a single day.
As Ireland enters the final week of the campaign, polls are showing that the movement to repeal the Eighth Amendment leads the No vote by 58 percent to 42 percent—but the margin is now narrowing. Three years ago, same-sex marriage passed in Ireland by a huge majority. This Friday's result is unlikely to result in the same landslide—but I'm still hopeful for a majority. I want a yes vote to tell women across Ireland that their choices are valid, and that their voices matter.
Stories