Vibrant kaleidoscopic mixed-media meets the visual cues of modern pop culture, bringing digital and physical dimensions together to highlight the shrinking gap between them in the work of Nick Thomm. The Australian artist creates hallucinatory neon collages, makes holographic skateboards, and hyper-colors immersive projection environments.
Considering the contemporary era as "a time when a major new art medium has been introduced," Thomm aims to create works that make the digital world more physical. Exploring how much aesthetic control he can have over machines, Thomm makes his works tactile. Different mediums, materials, and printing techniques make his works attractive in the way that your retina display is. "Part of the work always looks like it should be stuck inside a screen, but then it's blended with traditional mediums that make it feel unusually 'real' to the viewer," Thomm explains.
As for the aesthetics, Thomm explores ideas of subconscious and surrealism. "I want everything to feel hypnotic, like a dream that you can't control," he says. The dream begins at the point when a viewer sees a familiar imagery in new combinations like the maneki-neko cat or the fragments of glossy fashion photographs floating amongst psychedelic colors.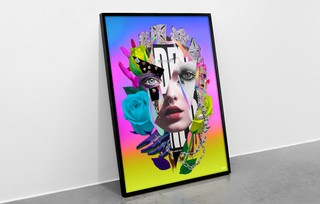 One of the inspirations for Thomm's pop-culture pastiches is an understanding that his bold and bright designs "will exist far longer" that he does. He hopes that this work will help to picture the way our generation experienced the chemistry between art and technology in the hyper-connected society.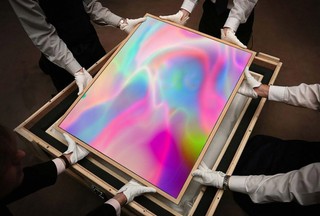 Click here to see more work of Nick Thomm.

Related:
Afternoon Animation: Surge Through An Iridescent, Geometric World With "Gradient Forest"
These Iridescent Graphics Inspire Childhood Nostalgia
Cut-Out Collages Turn Medical Magazines into 'Lord of the Flies' Characters
This Holographic Glitch Art Looks Like an Iridescent Oil Slick