Food & Water Watch Has a Plan to Move America off Fossil Fuels
Progress in Washington is a non-starter, so we must act at the state and local level.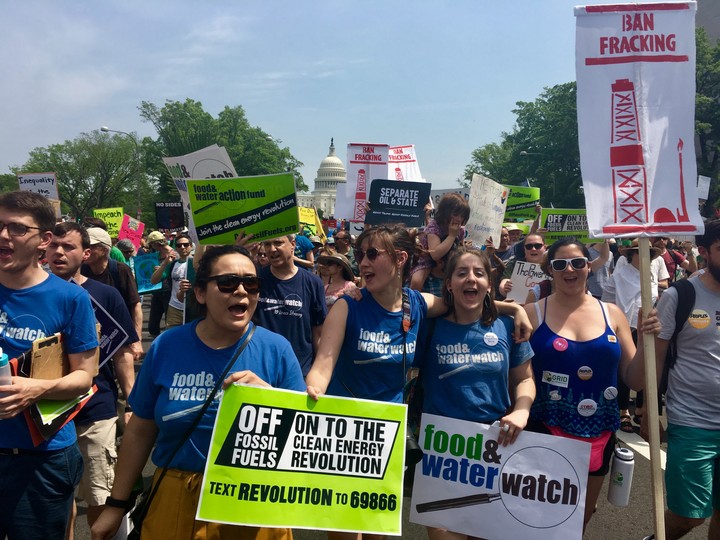 This is an opinion piece by Food and Water Watch.
Among its many reactionary policies, the Trump administration has shown a blatant disregard for environmental protection and established climate science. Trump's cabinet is stacked with fossil fuel titans and pro-industry shills, from former ExxonMobil chief -- and now Secretary of State -- Rex Tillerson, to former Oklahoma attorney general -- and now EPA administrator -- Scott Pruitt.
Back in Oklahoma, Pruitt repeatedly sued the very agency he now runs, hoping to prevent it from doing its job of enforcing environmental cleanup in his state. Since taking over at the EPA, he has scrubbed the agency's website of any mention of climate change, and dismissed a panel of long-serving academics responsible for reviewing scientific standards there. Under Pruitt, the EPA might better be renamed the PPA – the Polluter Protection Agency.
Clearly, climate progress at the federal level will be slow-going (if not impossible) for the time being. And yet, science tells us that we'll see the worst of climate chaos if we do not act now. While many well-meaning environmental advocates and political leaders point to 2050 as a deadline for getting the country off fossil fuels entirely in order to avoid the worst effects of global warming, the reality is much starker. The next ten years, in fact, are a critical period for weaning society off coal, oil and natural gas, and the complete transition to 100% clean, renewable energy must come by 2035.
So we must act with urgency to kick-start the clean energy revolution. Given that progress in Washington is currently a non-starter, we must act locally and at the state level, with a determined, coordinated, and well-structured plan to make change, beginning immediately.
Luckily, we've got a plan.
On Saturday, May 13, Food and Water Watch will launch a brand new nationwide campaign, Off Fossil Fuels. The plan is both simple and robust. It was developed in consultation with alumni from Bernie Sanders' inspiring presidential campaign in blue states and red states alike. It had unprecedented success in using online tactics and tools to help guide and support on-the-ground activism and organizing work in tiny towns and big cities. Now, this expertise and urgency will be honed in on the existential threat of our generation: unmanageable climate chaos.
The OFF Fossil Fuels campaign provides a support structure for individuals anywhere to organize with each other and engage with local elected officials and community leaders in campaigns to fight fossil fuels or to support pro-renewable policies. The program can be utilized to support existing local fights against fossil fuel extraction or infrastructure development – from fracking operations to pipeline construction plans to coastal export terminals – and help concerned residents build new local campaigns where they don't yet exist.
To start, OFF Fossil Fuels plans to distribute a pledge for all elected officials at all levels to hold them accountable. The pledge demands that officials actively resist any and all fossil fuel extraction or infrastructure development in their communities, and use any and all power they have to promote clean, renewable energy systems as well. It's a straightforward ask, and a key starting point for further engagement with all our elected leaders.
Direct engagement with local and state officials is key to the climate movement, and we know from experience that it works. In recent years, through determined grassroots organizing campaigns with local coalition partners and engaged residents, we have made big strides against the fossil fuel industry.
As a movement, we banned fracking in New York in 2014, and have subsequently pressured the state's governor, Andrew Cuomo, to reject multiple interstate pipeline and infrastructure projects, including what would have been an immense fracked gas export terminal off the Long Island coast.
We banned oil drilling and fracking in Monterey County, California, marking an incredible defeat for an industry that has been entrenched in that region for a century, and spent millions of dollars in advertising in an effort to overpower our successful ballot measure in 2016.
And we recently banned fracking in Maryland, where after years of escalating grassroots pressure all across the state, the Republican governor broke party lines to support the ban. Indeed, matters of common-sense environmental protection and climate stability need not be partisan.
None of what we must achieve – climate stability through a quick transition to clean, renewable energy in America – can be accomplished without the help of countless concerned residents throughout the country. That means you.
So join us on Saturday, when thousands of people will join more than a hundred house parties to get the ball rolling for activists and volunteers coast to coast to finally move the nation OFF Fossil Fuels and on to the clean energy revolution.