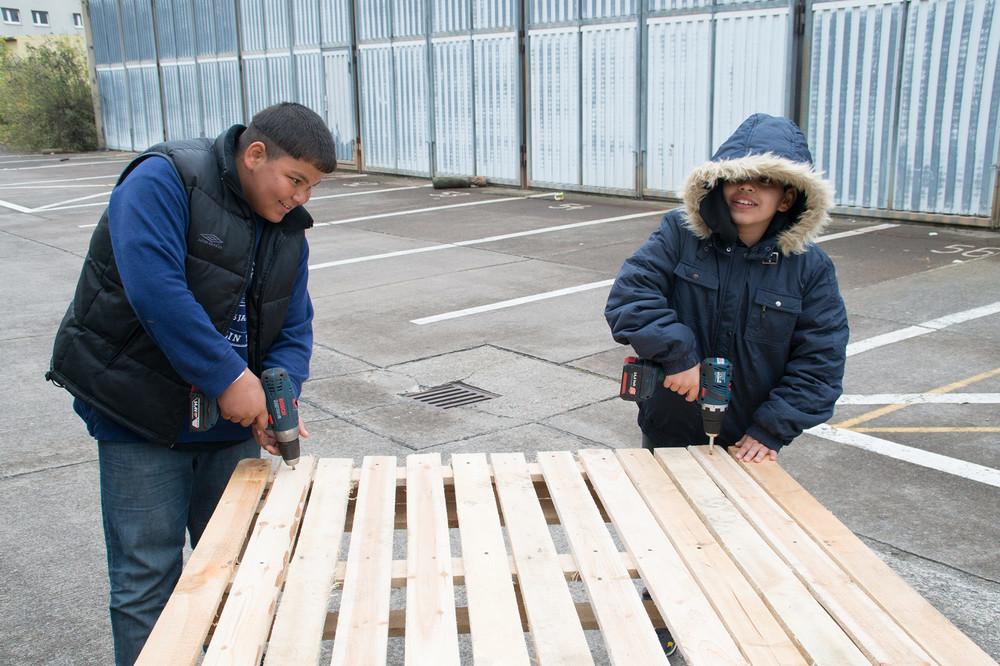 Last Sunday, we published a series of interviews with refugees who finally made it to Berlin after spending weeks escaping war-torn countries. While many had been through hell just to make it to Europe, some have found that their situations aren't much better in Germany: government bureaucracy combined with a lack of resources have coalesced into a nightmarish situation.
Thousands of refugees spend days on end waiting in line outside the State Office for Health and Social Affairs (LaGeSo) in hopes of getting assigned to a refugee camp or finding out when they can officially apply for asylum and German residency. Many of the refugees don't have places to sleep at night, and there is a serious lack of food, water, and medical resources for those who've found shelter at government-sponsored camps.
Many Berliners, however, are lending a hand and helping the refugees start their new lives. From volunteers distributing food outside LaGeSo to people opening up their homes for refugees to sleep in, every little act helps—but a lot more is needed. Photographer Alexander Coggin spoke with a variety of volunteers to learn what it's like to be involved in such a chaotic situation, what type of aid actually works, and what resources are still in short supply.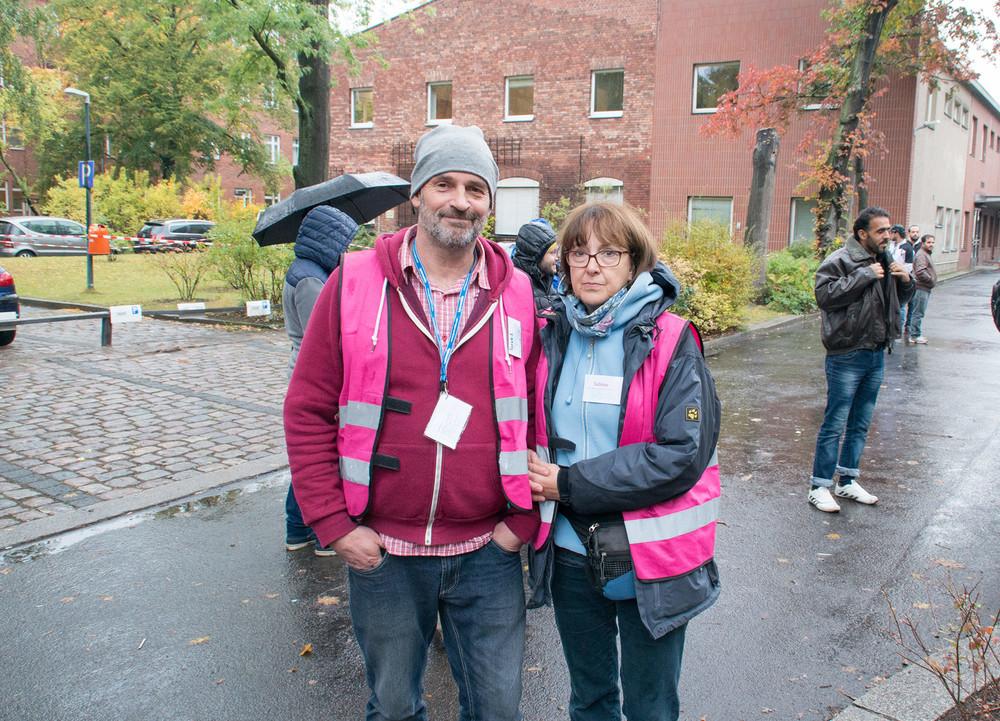 Kurt and Sabine, from Berlin
Kurt: It's getting worse every week. The numbers of refugees are increasing and the donations have been going down because after a few months, most people say they've given enough already. So things like blankets and sleeping bags have already arrived here and now people think that the government should take over and provide financial care for the refugees, but the support is not there. There is not enough accommodation, and there are at least 500 more arriving in Berlin every day, though the number is likely higher. There are between 30 and 100 volunteers every day. At the other camps, I have no idea, but there must be at least a couple thousand. Right now, we're in need of razors most. We get donations for women all the time—hygiene and cosmetic stuff—but roughly 70 to 80 percent of the refugees are male, so this doesn't help them.
Sabine: We also have a lot of private donations, but we need a real solution for this problem. A government solution. The donations are not enough and people aren't giving any more. We also have women who are pregnant and the accommodations here aren't enough. We need a lot more doctors, but they're not coming fast enough.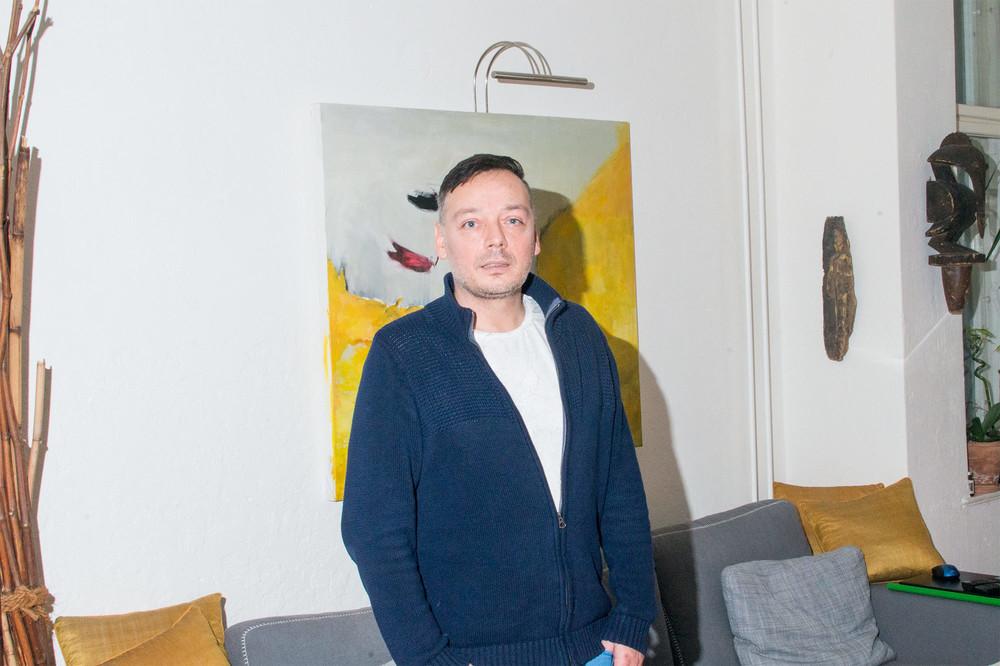 Dirk Voltz, 39, from Saarbrücken, Germany
When the whole crowd of refugees came over to Berlin and I saw pictures from LaGeSo, I wondered what could I do. So I started helping at a camp near Wilmersdorf. I was collecting clothes and giving them out to the refugees. I thought that this was not enough because there were a lot of volunteers already.
I did some research and found a group called Place4Refugees. They try to bring refugees to private houses or hotels. I started to help them by bringing a few of them to my flat, organized through Facebook. Without Facebook this kind of help could never happen. I did more and more work on this and then I suddenly had a lot of guests in my flat—sometimes for only one night or sometimes for two or three weeks. And bringing people into your own house is the best way to start the integration process, you know? They're just normal people. And nobody who I've housed hadanyproblem staying with a gay couple and four cats.Of course they had some questions and were wondering how this type of freedom is possible in Germany or western Europe. They were surprised about that.
There were also a lot of refugees arriving during the night at LaGeSo and they had no place to go, so I started helping refugees find private housing, too. We made a list of housing volunteers that had extra rooms available and we began coordinating private housing for people. We try not to prioritize men or women, but, of course, if you see a woman with a child it's more important to get them housing because men are safer in the streets. We also had a lot of homosexual or transgender people from Syria. You had to check the list to see if people offering sleeping rooms or living rooms only want to offer accommodations for women or for families or something like that. Imagine if you are a girl and you are living alone in your flat—of course you want to help, but sometimes you only feel comfortable helping women.
I really think things are going to get better. I know places in other parts of Germany [outside of Berlin] that have had no problems at all managing the refugees. But if you go to Berlin, it's still overcrowded and you have this feeling that nothing is getting better. People are telling the media that they can handle this crisis and will improve conditions, but, to be honest, I can't see this happening. I cannot see that the government of Berlin is really willing to improve. It's not about a will, it's about an organization structure. They are not being provided with the things that they need and everything takes too long. We saw this crisis coming—maybe not this amount of people, but we knew. We knew for more than two years that people would come to Germany, especially to Berlin, the capital. And they were not able to plan in that time?
Now winter is coming and I see that there are less volunteers because it's getting colder. This is one of the big challenges: to keep people active in this crisis. We still need to have private rooms for refugees to stay in. I don't want to see anyone die in the street because they don't have a place to stay.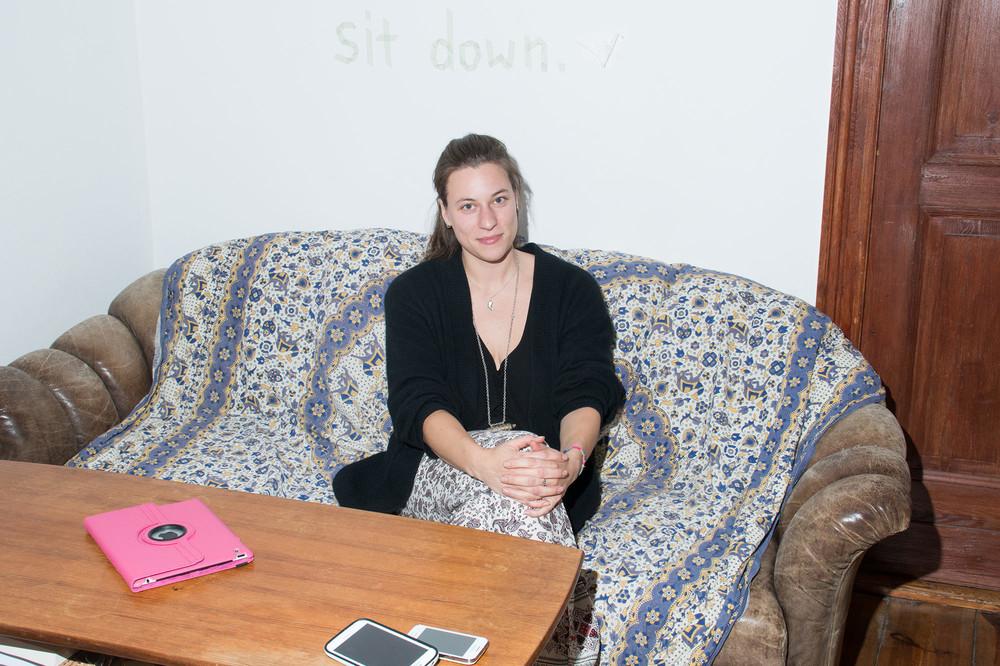 Carolina Waldner, 24, from Berlin
I'm working with refugees at LaGeSo. Sometimes I host refugees just for one night if it's an emergency. If they arrive too late at LaGeSo and the buses are already gone to the emergency accommodations, I will get a call from a volunteer coordinator. They may ask, for example, if five Kurdish guys can sleep at your place tonight, and then I say yes or no. There are other volunteers working as drivers, there are some who host refugees, there are some who organize the hostings.
Dirk [another volunteer] asked on a Facebook group if anyone had space in their apartments, and I have an extra room. I was looking for a roommate anyway, but I wanted to host a refugee because I know how difficult it is for them to find an apartment. Even when they have all the papers and even when the job-center pays for rent, it's still really hard for them to find an apartment. I know refugees that have already gone to about 50 apartment showings and they only heard back from two. Some people told me that they even have to pay more monthly rent than Germans. Apparently there are some people that take advantage of other people's misery.
I've hosted people just for one night maybe four or five times. I started doing it in September. Once, while my sister was staying with me, 300 refugees showed up at LaGeSo with nowhere to sleep after the office was closed. My sister said she'd sleep in my bed and we should host people. I was hesitant because we didn't know these people. But we did it anyway and I haven't had a bad experience hosting anyone yet. For two girls to have five guys stay with them... you're on your own and it can be nerve-wracking to think about. The first night a Syrian man came to stay with me and he cleaned everything in the apartment. I was writing my bachelor thesis so he said, 'OK, you write and I'll clean the house.' We became friends and really supported each other while he stayed with me.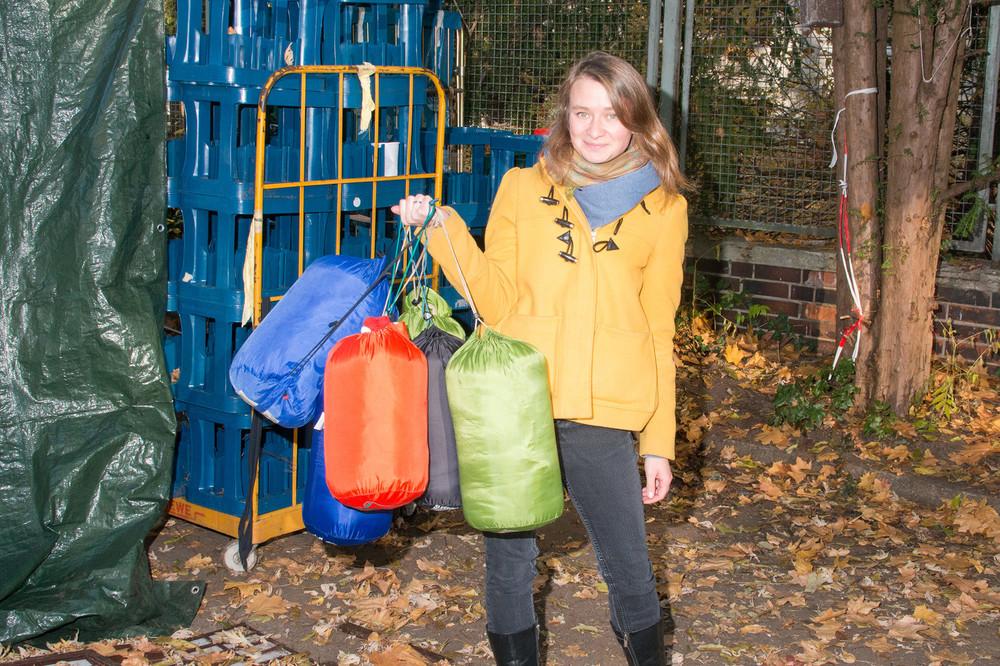 Anna Alboth, 30, from Poland, lives in Berlin
I was here [at LaGeSo] so I saw how people were sleeping on the ground. I talked with one of the refugees who I hosted at my flat and asked him what could be useful. I wanted to focus on one thing because I think it's difficult to ask people for everything. So I decided to ask people from Poland, where I'm originally from, to donate sleeping bags. When I started, I posted information about it on my travel blog and I was sure that some friends of mine from Warsaw or Kraków would help. But then people started to spontaneously help from different cities, which was super cool but very difficult to coordinate because all of a sudden I was getting 500 emails or more every day. People were trying to find out where in their cities they could help to drop off sleeping bags. I'm very old school so I don't use all the online tools. I had a big map on my wall with pins in it to highlight the cities we've been coordinating with. Maybe if I had time to plan it in advance then I could think of having a coordinator for south Poland or north Poland or something, but there's no time!
I had people put notes inside the sleeping bags for the refugees. Sometimes they were in Polish or English, sometimes people even wrote in Arabic. It was very important to me that the sleeping bags were a gesture of giving something that was very useful, but I also wanted it to be symbolic and have Polish people consider what they were doing. I was absolutely scared of the Polish reaction to the topic and I wanted to have people talk about it a bit.
So, after one week, I brought almost 400 sleeping bags to LaGeSo—which I thought was a ton—but there were over 3000 refugees waiting! I opened the doors and it was so emotional for me because that whole week I was feeling crazy about what was happening. I was crying when I was giving the sleeping bags out. It was just so emotional.
We've brought maybe 2000 sleeping bags so far. There was a small boy who got a sleeping bag and after he got it he brought it back because he found a letter in there and thought it was someone else's sleeping bag. Those moments are almost beautiful.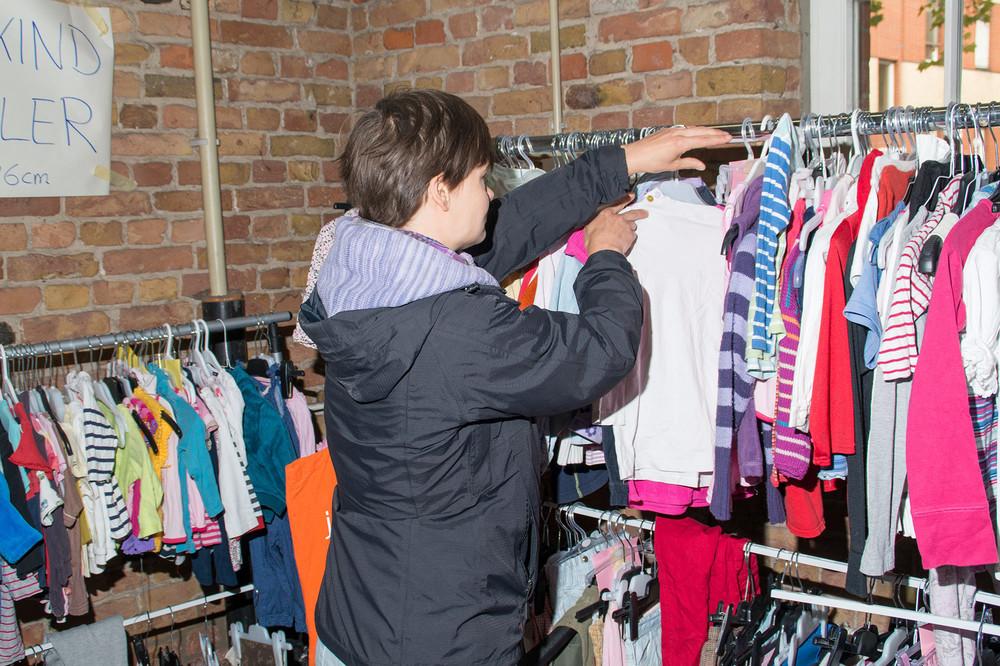 Aviv, 33, from Berlin
"I have many different roles here. I work in the children's clothing donation center. I work with the LGBT community. I find flats and housing for refugees, but also teach German and English at classes I organize. The most challenging thing I've come across while volunteering is that it's difficult to respond to people who come to the donation centers who are not really refugees, but rather very poor people who also want things. We have to send them away and try to explain to them how they have other options in Berlin and that we don't have the resources to help them. It's a complicated situation to deal with because they likely need support, too."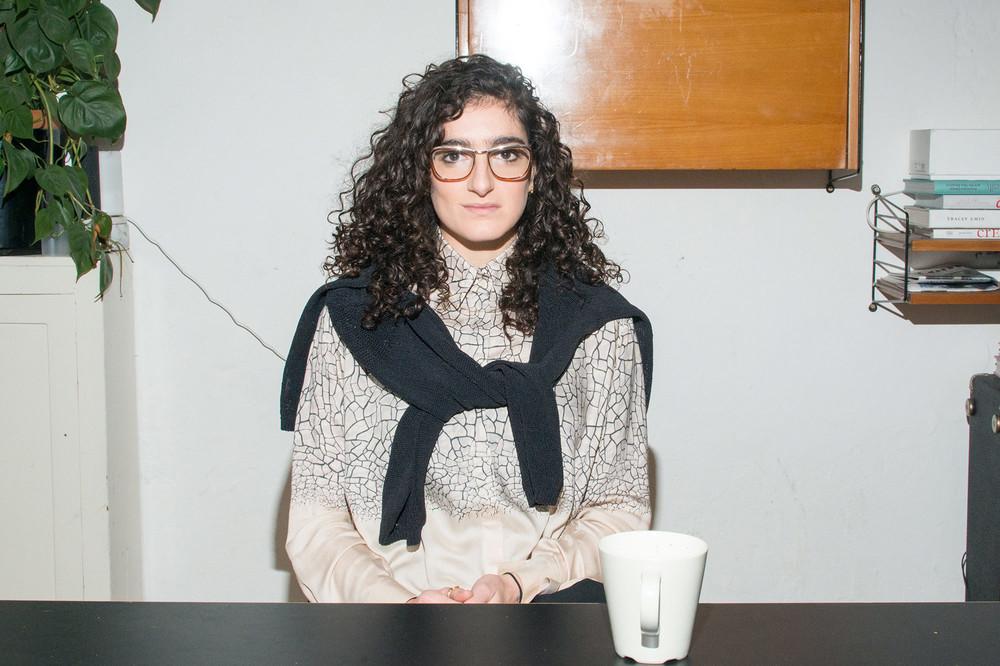 Adina Bier, 30, from Chicago
I'm the granddaughter of Holocaust survivors so it's absolutely unacceptable for me to just sit here and watch awful things happen to the refugees and sort of be on the sidelines. My perspective has always been that I'm an ex-pat, my German is not up to standards, so what can I do to actually help here? How can I teach or educate or bring people to all the different offices that they have to go to? I can't. I can't be their translator. So I was struggling with ways in which I could contribute and engage with the volunteer work for this crisis.
After I came back from this trip, I started looking at my options and trying to figure out where I wanted to volunteer and how. Within that time frame, a friend of mine posted that her company, Kayak.com, was organizing a collection. They were specifically requesting to collect for LaGeSo and they had a long list of things they needed. Without thinking twice, I thought, OK, I can do this. It's simple. I know exactly where the items are going; I know exactly what they need; I have my deadline. I just sent out a very small, friendly message to my community on Facebook and an email to maybe 20 people. I also sent it to my colleagues at work so that was another 30. Within a couple hours, I had about 400 responses, internationally and within Berlin.
Everyone was contacting me about what they can bring, when they can drop off, all of these things. So then my house instantly became a drop-off zone. People were just ringing my doorbell every hour, every half hour even, for four days straight. I had a team of friends that would come over every night and help me sort the donations. My entire living room and floor was covered, my couch was topped with bags and boxes. It was really impressive, actually. We ended up needing a much bigger truck than expected to pick everything up.
What I noticed, though, was that this is just the tip of the iceberg. This is the smallest nugget of things that one can do to volunteer and people were thanking me and supporting me. But for me it was like... this was just the start of something much, much bigger that needs to happen. I don't necessarily feel engaged yet.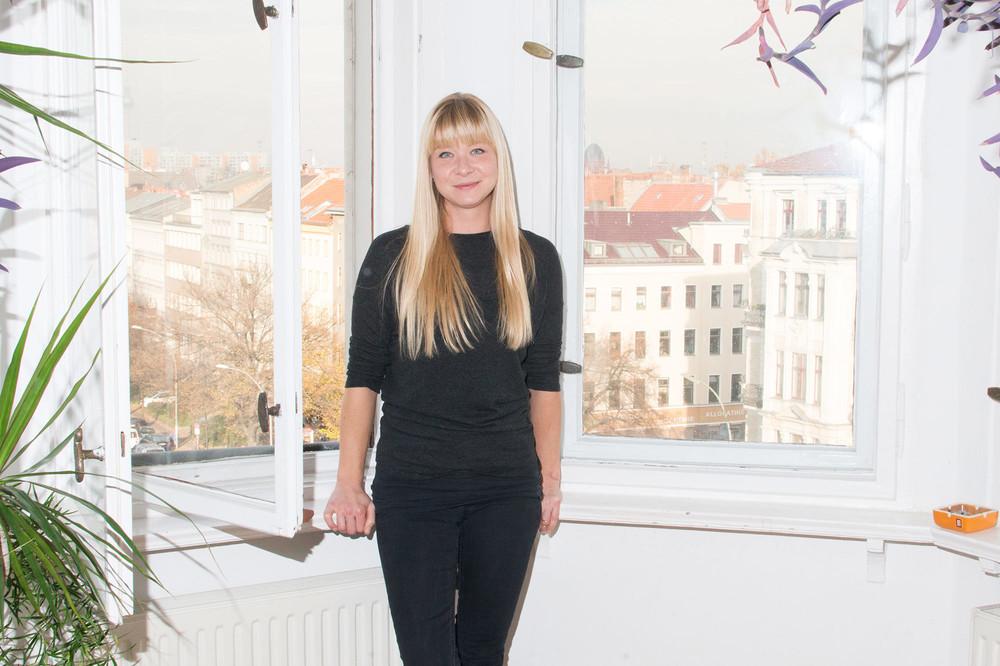 Alicia Reuter, 38, from Pittsburgh
"I went hiking and backpacking alone for two weeks in Greece and was super disconnected from everything, including current events. I came back to Berlin in the middle of August and it was like this crisis had exploded. Within two days of being back I realized that things needed to be done. I still had time free in August before I had to get back to work, but I wasn't sure what I could do.
I did a ton of research but, still, I couldn't figure out what I could do or who I could help. Who was collecting clothing and who was taking food? One morning I just said forget it! and went to LaGeSo. Within five minutes I met a refugee woman there and her baby was not moving in her arms and looked unconscious. The woman had been carrying the baby for days so I helped get her milk and a baby carriage. Basically, from there, I just got thrown right into doing food-related volunteer work, including sorting food donations and distribution.

I would go LaGeSo at 8:30 or 9 in the morning and every day I would think I could go home and do a little bit of my own work by 2 PM. But at 5 PM I would still be there. I would think, There's just one more thing I can do. And then another thing I can do... Then another... But there are people volunteering who are way more hardcore than me in terms of commitment.
Volunteering is long-term. It's not just going to be this year or next year. This is going to go on for many, many years and people shouldn't burn themselves out or get to a point where you start to have hatred for the situation, you know? Which I've seen happen. We've all seen opinions change.


Below are links to organizations and initiatives trying to help the refugees in Berlin if you'd like to get involved.
For donations:
Clothes or monetary donations
German Red Cross
Refugee Phrasebook (for printing and organizing language bibles)
LGBT Refugees
To volunteer:
Volunteer Planner
Online translation volunteering
Information Guide
Flat Sharing with Refugees
For more of Alexander Coggin's work, visit his website here.