Kris and Sarah Yenbamroong have had a "very Loire-focused relationship" for the last six months.
As the chef and owner of Los Angeles' Night+Market empire, Kris may be best known for his (literally and figuratively) spicy, inventive Thai food served in a (literally and figuratively) colorful setting, which has been winning over critics—as well as locals, travelers, and celebrities both food world and Hollywood, from Rene Redzepi to Daft Punk to Gwyneth Paltrow—since 2010. But when he and his wife/partner Sarah think of what makes their restaurants special, it kind of comes down to the wine.
"I look at Night+Market restaurants as wine places," Kris told me over glasses of Champagne when he and Sarah visited New York in April.
"You can go to any Thai restaurant in town and have a Tsingtao with your meal. When you come to Night+Market, maybe you should have a chenin blanc instead," Sarah added.
When Kris and Sarah come back to New York (Kris went to NYU, and the couple met at Corner Bistro in the West Village when they were both living on the East Coast years ago), one of the things they most look forward to is stopping into laid-back, wine-focused restaurants like Four Horsemen and Wildair. The food at these places might be delicious, too—sumptuous little tartares, burrata-smothered toasts—but it's meant to complement, not outshine, your glass or bottle of choice. While they're both well-seasoned oenophiles, Kris and Sarah are happy to sit back and take recommendations from the staff, since that type of experience is hard for them to find in LA.
"There are places right now in LA that technically have good wines but are sort of like… douchey. I don't know how else to say it," Kris told me. "When I go to a place and get a sense that the proprietor could just as easily be selling used Chevrolet parts, or like, kiddie pools, or vintage Pez dispensers or something, what the fuck?"
The duo deserves a vacation, too. For the past year, they've been busy opening up Night+Market's third location in Venice. And after hustling for eight years to keep customers happy, Kris wants to have a little fun again.
"In terms of what we're doing now in Venice, [Night+Market Sahm] is identifiable as a Night+Market restaurant, but it's different. We loosened up a little bit with Song, our Silver Lake restaurant, and with Venice we want to loosen up a little bit more," Kris said. "My idea for it is 'cocaine Thai.'"
And no, he doesn't mean a literal dusting of blow on your noodles. Instead, he's been taking inspiration from the lively, buzzy restaurants of LA in the 80s, the Wolfgang Pucks and the Nobus. Enough with the quest for ultimate authenticity: Bring on the California decadence. "We're in fucking Venice, California; we're not in northern Thailand. What's relevant here isn't necessarily relevant there," Kris explained. "At a certain point I wanted to do [Thai food] in a super rigid way, but then it got to a point where it wasn't fun anymore. Running a restaurant is a super headache enough. You might as well have some fun while you're doing it."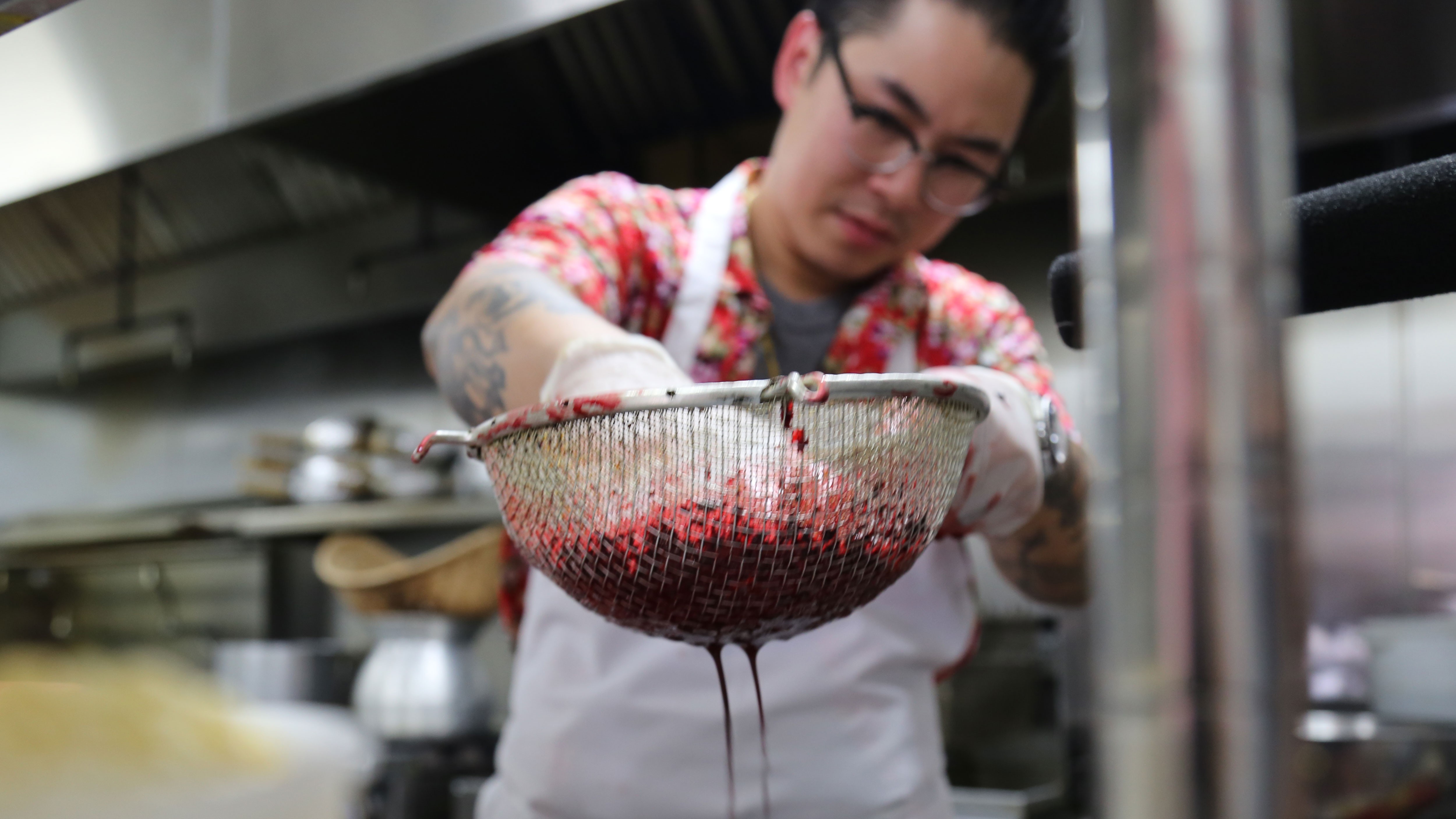 Damn right. Kris's dream is for wine-lovers to "come in, order a bottle of wine, drink it, and leave," but he wants the food to keep guests on their toes, too. Maybe that means something outside the box and not particularly Thai, like a grilled rib-eye smothered in housemade XO sauce.
Regardless of what's on your plate, Kris and Sarah both hope you get groovy with your wine selection, at all of their restaurants. They have a refreshingly straightforward strategy to picking wine when dining out, and one that's easy to emulate.
Step one: Find a restaurant with a staff that knows what the hell they're doing. That might be somewhere casual and unpretentious like Wildair, or it might be somewhere buttoned-up and Michelin-starred, like Le Bernardin (to name a couple favorites on their New York to-do list). But when you seek out a spot that is known for its wine program, finding something tasty "is like throwing darts," Sarah says. And don't be afraid to ask for help picking something. "If I came in completely blind, if it was my first time, I would talk to the people," Kris says. He knows his wine. If he can throw some questions to the staff, so can you.
Step two: Keep it simple, stupid. That's Kris's motto for ordering wine, and also a good philosophy for steering clear of cloudy descriptions of "ripe blackberries" and "wet moss." At their best, these types of descriptions provide context for people, but at worst, they alienate people. Instead, start with the two most important qualities: body and sweetness. Do you want something big, rich, and full-bodied, or something light and thirst-quenching? Do you want something dry or sweet? Start with these variables instead of "white or red," and you're more likely to find something that hits the spot. Think of it as the board game Guess Who—flicking down the different characteristics you don't like, and keeping your eye on the ones you do. "Maybe to start out, you could say, 'I'm looking for a zippy, bright, white,'" Kris says. Then tell your sommelier or server your price range, and let them know what other grapes and regions you know you like. Something that Sarah likes about Wildair is that they don't list the grapes on the menu, because "it forces the guest to have a conversation." Yes, that's a good thing, and it doesn't mean you're wine-clueless—it means you care what you're about to drink.
Step three: When you're traveling, take a "when in Rome" approach. Of drinking in New York, Kris just goes for stuff he can't find in LA. Or, pick a region (any region!), dig into it, and see how you feel. Sarah recently told Kris that she wanted to taste wines from Etna. "Italy was too broad, so I just picked one region. Then I can figure out that region from ordering wines, what I like and don't like about it."
Most importantly, Kris says, "It shouldn't really require research to enjoy food, or wine. You should be able to have an open, visceral experience with it."
Here are the wines they enjoyed on their recent trip to New York. (We're pretty jealous.)
1. Les Foulards Rouge at Wildair
"Whenever I visit New York, I book an Airbnb within blocks of Wildair. Wildair isn't just a wine bar, it's a way of life. We landed and went straight there and ordered this wine. We pour Jean-Francois Niq's red wines at my restaurant, but I had never tasted the white. A lot of what I like about his red wines exist in this white. Easy and elegant, depth of flavor but with high drinkability."
2. Le Brutal de Jean Marc at Wildair
"Completely floored by this wine. My suggestion: if you see a 'Brutal!!!' wine on a wine list, order it. Essentially, Brutal is an open source concept where likeminded winemakers bottle under the Brutal label: a wine that is wild, pure, unadulterated, and brutal. Technically, anyone is welcome to do it, so long as they get approval from the 'committee,' and the rules are simple: extreme wine made in one barrel and zero sulfur added. The wine may be white, red, rose, orange… doesn't matter."
3. Marseille Amaro Forthave Spirits at Wildair
"I don't order amaro that often, but even so, it somehow always arrives when I need it most. The server explained that the botanical spirit had notes of honey and cinnamon which is lovely to hear, but all I know is that it made me more fucked up but settled my very full stomach."
4. Zerlina, from Domaine L'Octavin at Ten Bells
"Left dinner at Wildair pretty hammered, but met up with Randy Moon for more wine. Randy ordered this bottle at Ten Bells. Blend of Trousseau with Pinot Noir. Lively, light-bodied. An example of 'energizing' wine. This gave me enough of a boost to stumble to the next stop on our itinerary."
5. Els Jelipins Rose at The Flower Shop
"If I were still single, I'd go here to pick up girls, eat a good meal, and drink great wine. This was a blend of sumoll and garnacha and drank like a very, very light-bodied red. A cerebral wine."
6. Vignobles Bulliat Morgon at Lucien
"This is my mother-in-law's favorite spot, and my wife and I met her for a glass of wine before our reservation at Le Bernardin. She insisted I order a bottle for the table, so I chose something I figured they could enjoy after we left. It's parent wine. Approachable and inoffensive. And, It goes with anything on a French bistro menu (I already knew she orders the filet mignon)."
7. Bérêche "40 mois de cave" Grand Cru Blanc de Blancs Champagne at Le Bernardin
"We weren't celebrating anything in particular, but this place demands Champagne. I told the sommelier I was in the mood for something rich and toasty. This particular wine is aged 40 months in-bottle. Sarah drank most of it because I'm a geezer and bubbles give me heartburn."
8. 1978 Stony Hill Gewurztraminer at Le Bernardin
"I first tasted Stony Hill wines at Lou Wine Shop in LA. I immediately planned a trip to Napa to visit the winery. The wine was vibrant and alive. It was the most beautiful dark amber color and very soothing after the Champagne. I feel like no one's looking for a blockbuster gewurztraminer, and we should be. Chose this bottle because I wanted to take advantage of Le Bernardin's deep cellar, and wanted something that would add a different dimension to a very decadent and rich meal."
Spritzette at Frenchette
"I had to take a full 24 hours between eating and drinking after Le Bernardin. I stayed in the Airbnb watching Homeland and Billions in my underwear to recuperate and to prepare for our meal at Frenchette. Our pal Arnaud, the host with the most, started us off with some spritzes made with pet-nat. That brought me back to life."
Organic Anarchy from Aci Urbajs at Frenchette
"I love that Jorge always asks, 'maceration or no maceration?' when you tell him you want to start with a white. He chose this skin contact white from Slovenia. Hardcore."
11. Trousseau from Domaine de Marnes Blanches at Frenchette
"I drink a lot of light-bodied red from the Loire, but it also excites me to drink a light red that's not gamay and not from the Loire. Fruity, but not big and not showy. You get the fruit qualities, but it's light and super easy to drink. The fruit aspect can make a wine approachable, and I'm all about approachable wine."
12. Le Balaise from Gilles and Catherine Vergé at Frenchette
"Old-vine chardonnay. Don't remember too much about this one."
13. Domaine de la Tournelle Macvin du Jura at Frenchette
"Jorge made the right call to serve this for dessert. labeled a 'vin de liqueur,' this is very rich and loads of natural sweetness, which I appreciate. My wife and were properly toasted."
14. Jean-Yves Peron "Les Barrieux" at Contra
"Yes, more orange wine. Changed a lot after opening, which is why I try to order bottles over glass pours when I go out to dinner. It's a treat to witness a wine evolve over the course of a meal."
15. Les Foulards Rouges "Soif du Mal Blanc" and Yvon Metras Fleurie at Contra
"OK, I just told you that I order bottles, but Sarah and I wanted to have a glass of red at the end of our meal, but couldn't commit to another bottle. So we each got a glass. Plus, when a restaurant has dope glass pours like this, you shouldn't resist."
16. Catherine & Pierre Breton's Bourgueil "Les Perrières" 1993 at Momofuku Ko Bar
"We knew we'd order the classic cold fried chicken, and this was a nice one to drink alongside that. Earthy and savory. 1993 was 25 years ago. I feel old, but this wine is still alive and well. Side note—I felt redeemed since a few weeks back I had opened a 2006 Breton wine that was totally DOA."
17. Jean-Baptiste Souillard Cornas at Momofuku Ko Bar
"Out of my comfort zone, but I am never going to force my wine preferences on a restaurant with a list like this. Is this any everyday guzzler? No. But I don't eat foie gras duck pie every day, either."
18. Dauvissat Irancy at Momofuku Ko Bar
"Red wine from a famous Chablis producer. This was delicious and makes me want to commit to trying more [wine from] Irancy."