The 2010 Olympics in Vancouver were a watershed moment for women's hockey. Everything came together to make the sport more visible than ever: the hype from the games being in Canada, where hockey is more like a way of living than just a sport; better technology making it easier to stream games online; and a favorable time zone that made the games available live and in primetime for all of North America.

Now women's hockey is more high profile than ever. There are two professional leagues operating in North America, and the games between Team USA and Team Canada have become must-watch events.
The 2010 Olympics in Vancouver were also the first games for Hilary Knight. At age 20, she was the youngest player on Team USA—and had not even graduated yet from the University of Wisconsin. Canada took gold that year, but Knight picked up eight points in five games.
Four years later, in Sochi, Team USA and Canada were back in the gold medal game. Knight assisted on a goal by Alex Carpenter that put her team up 2-0 in the third period. Team Canada rallied to tie the game after pulling their goaltender and a missed shot at the empty net by the Americans. They would eventually notch the overtime medal-clincher with Knight in the penalty box. The outcome was devastating for U.S. hockey fans, but it was and remains one of the greatest hockey games ever played.
At PyeongChang 2018, the stage for women's hockey will be bigger than ever—especially without NHL players suiting up on the men's side. The 28-year-old Knight will be an old guard player on a team USA squad that is trending younger.
Last year, Knight was one of the loudest voices in a labor action that the women's national team took against USA Hockey ahead of the 2017 IIHF Women's World Championships. The team went on strike and united every women's hockey player in the country to boycott USA Hockey until the organization made a commitment to better financial support of their women's national team and development programs for girls. And she's done this before—in 2014, she supported her Canadian Women's Hockey League teammates on the Boston Blades in a strike against the league, asking for more flexible contracts and better resources.
VICE Sports talked to Knight about what it feels like to be on the precipice of making history, again, and the incremental but steady growth of women's hockey. (This interview has been edited and condensed for clarity.)
VICE Sports: Team USA has been training in residency in Florida since September, and now it's just a few more weeks until you play your first game. How does this waiting period feel when it's so close?
Hilary Knight: It's so interesting, because I feel like we wait so many years. It's been so many years since 2014. But then this latter half before we actually set foot on the flight over has really been a whirlwind and a flurry of activity. It's been quite the balancing act [between] the two extremes. But it's definitely coming quickly, and I think everyone is really really excited to get over there and just have a lot fun.
What was the centralization process like?
To be honest, I think this process has been more grueling than previous processes. And I just say that just because there was quite a bit of shuffling around of different personnel, and a lot of highs and lows since the spring. At the same time, the centralization year is awesome because we get to build an even greater team chemistry and greater camaraderie. And this year, we were able to live pretty much on the same campus, so that's definitely something I'm going to miss the next year and the year after, being able to walk over to someone's apartment, knock on the door, and going over for dinner or whatever it may be. But you know, training for the Olympics is tough. We've done our best to prepare ourselves and now it's sort of the wait game, and get over there, and compete and make plays.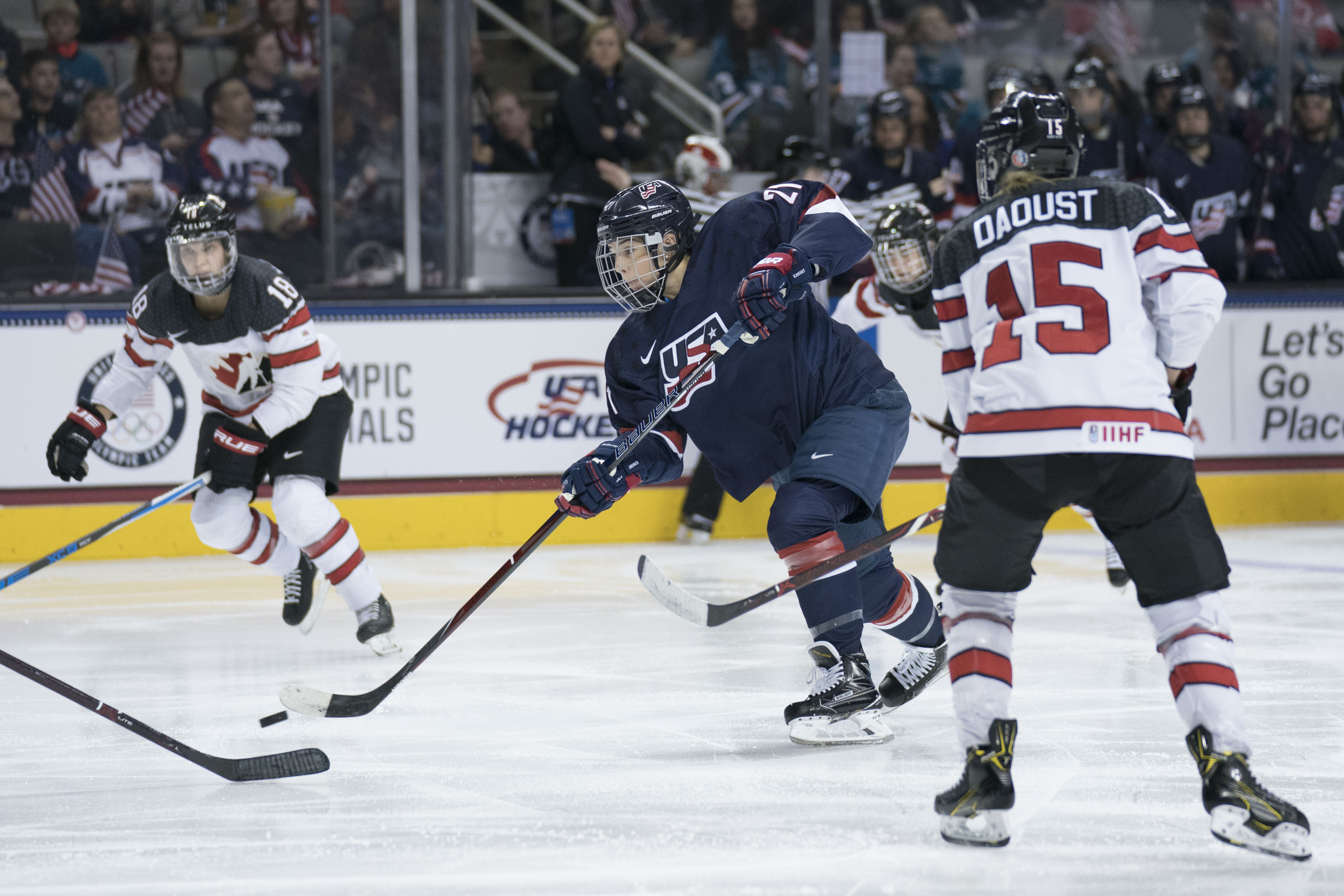 I feel like there has been a constant ramp-up since 2010, with hockey fans getting more and more excited and more interested in this American women's Olympic hockey team. Has the public perception or the increased attention had any effect on the team and the way you are seeing yourselves?
Yes and no. I think we're a very strong and empowered group of women. We want to change the world for the better. In our locker room, this is the strongest team atmosphere that I've been a part of. But at the same time, it's also great to have support of outsiders too. People who are sharing the journey and cheering us on outside of our immediate family. It's been cool to see how the country has really rallied behind us. And I think that's where a little bit of the pressure now comes in. We've accomplished these great feats on the Worlds stage and now it's sort of this elusive gold medal at the Olympics... It's been 20 years since we've brought home a gold. There's definitely the eye on the tangible success at the end of this journey, because it's not necessarily about us, it's about everyone else that's along for the journey with us. [Team USA has won seven of the last ten gold medals at Worlds, beating Canada each time, but hasn't replicated that success yet at the Olympic level—not since the inaugural Olympic women's ice hockey tournament in 1998.]
Something that I've been noticing for years now, and I'm sure that you've been noticing as well, is that a lot of the conversation in mainstream media outlets about women's hockey is often in comparison to men's hockey. Sometimes that's just incidental, and other times it's unfavorable—recently, a story came out about Marie-Philip Poulin calling her the Sidney Crosby of women's hockey. What are your thoughts on why people are always comparing the achievements in your sport to men's achievements?
It's not by chance that you become a fan of women's hockey. You have to seek it out. And I think if we bridge the gap between the amazing players and the talent we have and the viewer, a lot of that stuff will go away. I think my dream is to really continue to market the game but also increase the visibility on all fronts.
Earlier you spoke to the personnel changes and shuffling that's been going on with USA Hockey. Not to mention the labor action that you took last year at Worlds. Do you feel that the USA Hockey side of the bargain is being upheld and do you feel confident that you are getting the support from them that you need right now?
Yeah, I think the things that we were fighting for in the spring was a great step in the right direction. Obviously, things don't happen overnight, so it's sort of bit by bit, piece by piece. We're hopefully assembling this amazing platform for the next generation and the next team to come up. There have been a lot of great changes, but things aren't built overnight. So it's also on us to have some accountability and see what we really need right now and what we need in the future, and continue to build on that platform.
What is really special about women's hockey that makes it different for you, compared to any other game?
It's a very tactical and technical sport. And there's a lot of nuances that us players take for granted because we've been in the game for so long. Different things people might not necessarily know about, whether it's the type of steel you're using, or the type of tape, or the way you tape your stick, the way you're stripping a puck off of an opponent... there's a lot of technical things that go on behind the scenes to finally produce that end goal, which is the puck in the back of the net, or the game being won. When you can appreciate it as a full entity, it's such an awesome and fantastic sport because it is so fast and it is so skilled and so technical.
Is there anything that you're hoping to do or see in Korea, other than bringing home Gold?
I'm excited to experience a new culture. I've never been to Korea, so it's super exciting for me to travel. And I've heard there are some awesome coffee places, so I'll probably check those out. But aside from that, the opening ceremonies [are] always my favorite. Unfortunately last time through, we weren't able to walk in 2014. Having the opportunity to walk with the rest of Team USA is so powerful, and I'm really looking forward to it.
What has the impact been of having a dramatically different and younger final roster on your team?
I think what's exciting is that our younger players are playing huge roles. And what we've done as a team, our team culture, is that it might be your first time, or your third time, but everyone's the same, essentially. [We're] getting rid of that whole rookie aspect of things and really trying to figure out how to maximize one another's potential. I'm excited for the young women who haven't competed at the Olympics before. Because it's obviously everything we dream of to be able to represent our country on such a big stage. This time through, with this type of group, it's going to be incredible.
---
Team USA plays their first game of the Olympics in the preliminary round on February 11th at 2:40 AM Eastern against Finland, followed by matchups against the Olympic athletes from Russia and Team Canada. Preliminaries are followed by a quarterfinal and semifinal single elimination round. The gold medal game is scheduled for 11:10 PM on February 21. Team USA and Team Canada are #1 and #2 in the world respectively, per IIHF rankings, heading into the tournament.