One night in late 1975, Marina Muhlfriedel went to the Whisky a Go Go on LA's Sunset Strip to check out the Runaways, a new girl band fronted by Joan Jett. Her excitement quickly faded when she realized their notorious manager Kim Fowley had the band playing into sex kitten stereotypes.
After the show, Muhlfriedel gathered her girlfriends at the Rainbow Bar & Grill and they decided to do better. As fate would have it, Rodney Bingenheimer—a DJ and radio personality famous for breaking bands like Blondie and the Ramones—passed by the table. "Hey Rodney," Muhlfriedel called out, "I just started a new girl band!" He asked their name, and she blurted out the first thing that came to mind: Backstage Pass.
The band started getting buzz before they even started rehearsing. But by 1976, they were on their way, becoming one of the earliest bands in the LA punk scene and the city's first mostly-female punk band. (Aside from a male drummer, the four main band members were women.)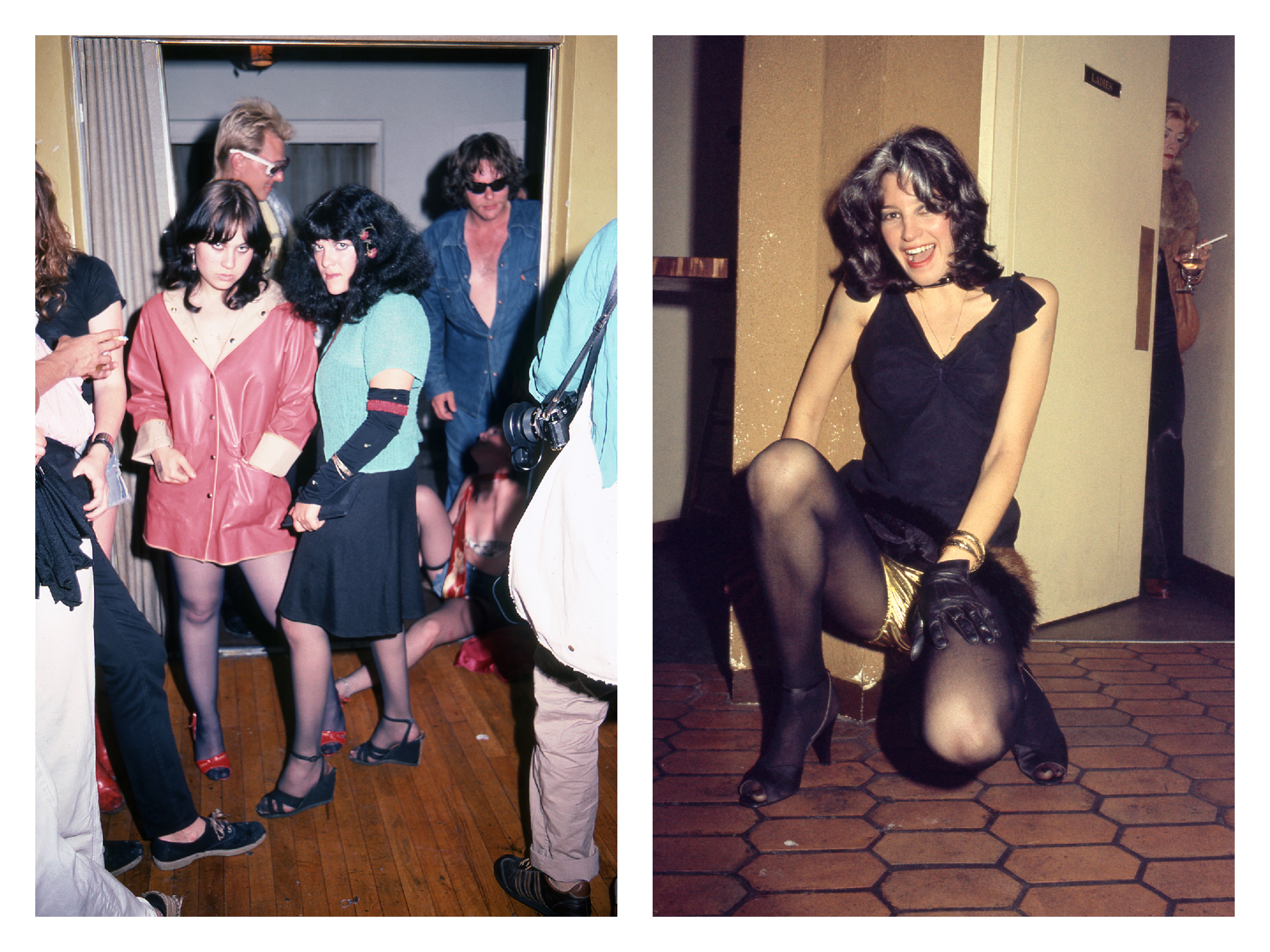 In its heyday, Backstage Pass toured California, playing alongside bands like Devo, Elvis Costello, the Screamers, the Weirdos, and the Nuns. They also helped build and launch The Masque, a legendary Hollywood punk club, before the band dissolved in 1979.
VICE recently caught up with two key members of the band, Muhlfriedel (Marina del Rey) and Genny Schorr (Genny Body) about what it's like being a punk pioneer and a woman in a male-dominated scene.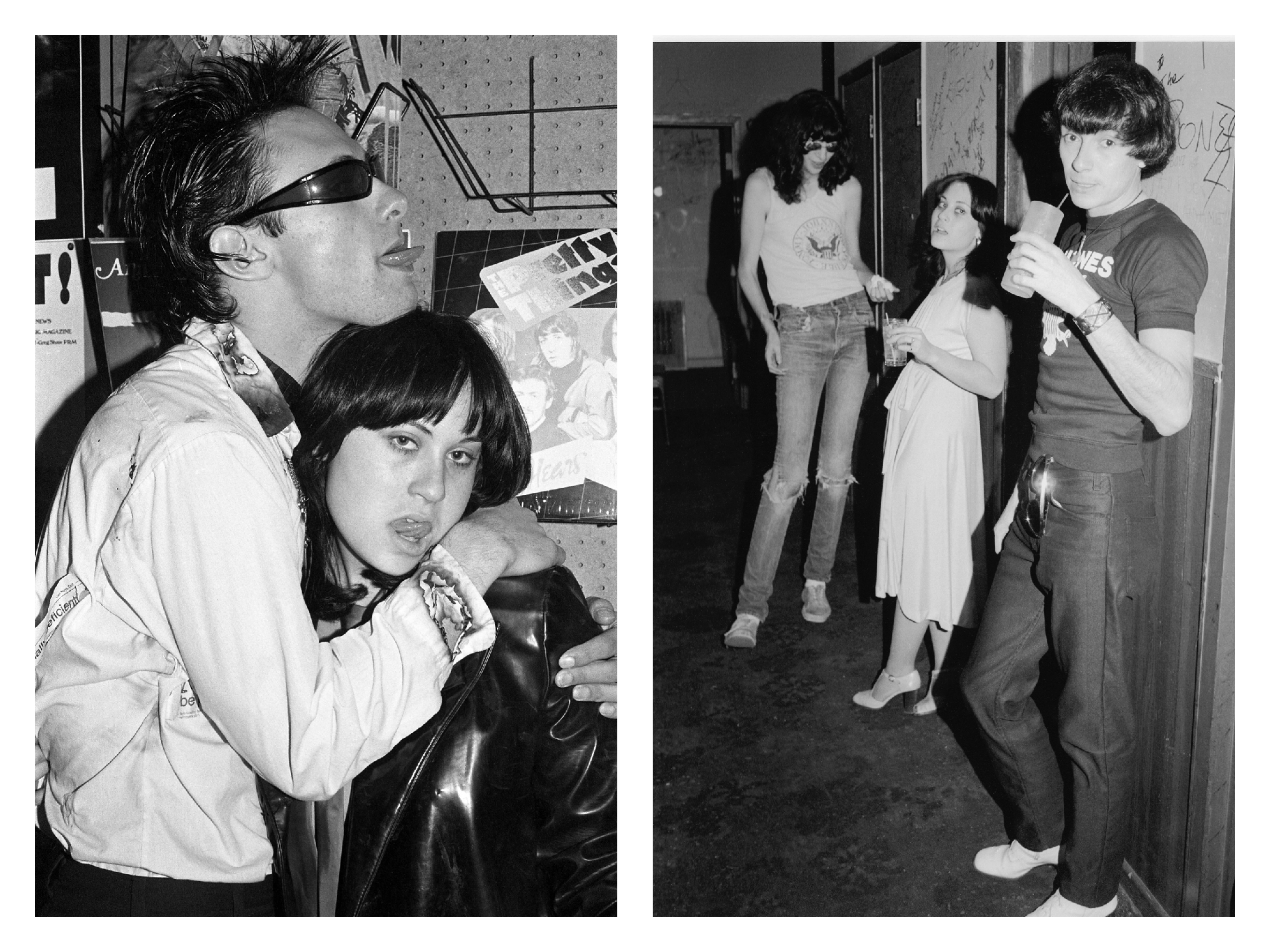 VICE: How did Backstage Pass begin?
Marina Muhlfriedel: I moved from London to LA a couple of years before the punk scene opened up. In late 1975, Kim Fowley invited me to see his new band, the Runaways. I went over to the Whiskey to see them and I was really appalled. I thought they could play their instruments, but there was this "Cherry Bomb" bullshit going on—the way men want you to act. I didn't believe in them as women. I didn't think that was their creative instinct and I found Kim's control objectionable. I went over to the Rainbow, sat with my girlfriends, and decided right there and then, "Let's start a band!"
Genny Schorr: I grew up in the San Fernando Valley. I was playing guitar in high school, and there weren't a lot of female guitar players back then. My mother died of breast cancer in 1975, and a year later, I ran away to Hollywood with some friends. I met Marina at a Dr. Feelgood concert. Marina became my first roommate and the band was like my new family.
Muhlfriedel: Jake Riviera was super instrumental in the band. He and Brian James of The Damned moved into our apartment after they got kicked off the Television tour in the spring of '77. He kicked our butts to take what we were doing seriously. He put out a single of ours on Stiff Records and it took off really quickly.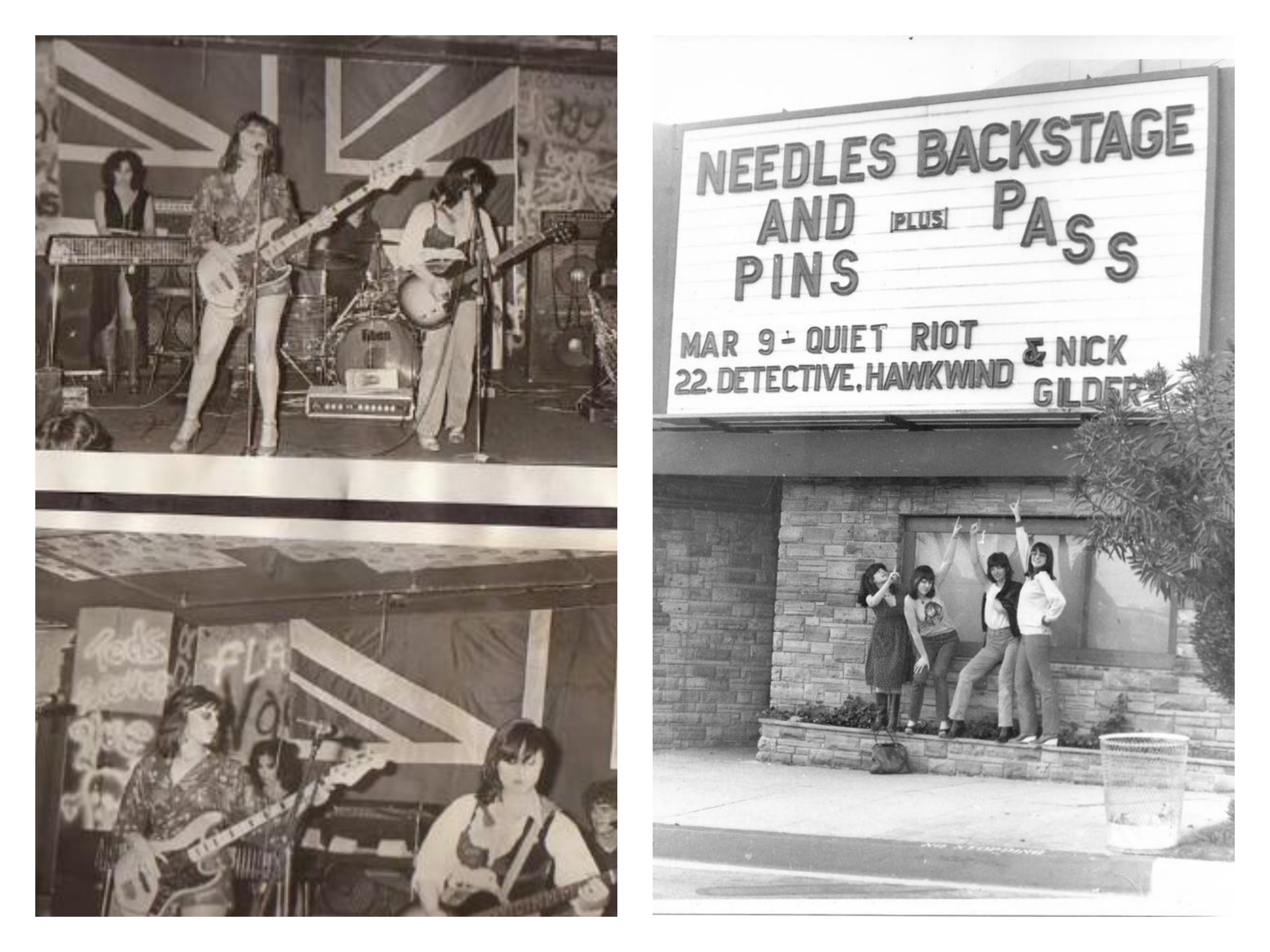 What were those early days like?
Muhlfriedel: A guy named Con Merten worked at Cherokee Studios said we could use the small recording studio upstairs for free. The weird thing was, downstairs Alice Cooper and David Bowie were both recording. Our rehearsal space had a one-way mirror so they would come up and watch us try to figure out our instruments and write songs. At the time, none of us had been in real bands, and people from other bands would come and hang out at our rehearsals to help us, listen, and suggest stuff. It was kind of crazy, almost like a lab experiment. After we'd practice, we'd go out and chase rock stars—that was a big part of our lives.
Schorr: It was the end of the big rock n' roll and glam period with Pete Townsend, Led Zeppelin, and the Kinks. I'd go and get my picture taken with Tom Petty and say that we were going to go on tour with them (laughs). I was the goofiest because I was the youngest. The girls were always rolling their eyes at me. The first thing that I saw that was so punk was Jake Riviera, who became the road manager for Dr. Feelgood, kicking this rental car. I had never seen anything like that. There was a lot of backlash from the older, "dinosaur" rock scene.
Muhlfriedel: It was bourgeois bullshit. Punk had a lot more self-starters. You figured it out yourself. You went to thrift stores, brought your stuff home, tore it up, painted it, and went out. There was a lot going on in the world and people weren't happy about it. The rock n' roll scene was illusionary and punk called it out.
---
---
How did the scene at the Masque take shape?
Muhlfriedel: We found the Masque because we needed a space to rehearse. A girl I didn't know told me about a guy renting space. I went over to this dump, a porn theater in Hollywood, and I met this Scottish guy named Brendan Mullen. He wanted to be at the epicenter of an artistic scene. My feeling was he wanted to create something more like Andy Warhol's Factory than what it actually became.
I explained to him that we needed a rehearsal space, and while he hemmed and hawed, Chas Gray, Holly Beth Vincent, and I went ahead and built a room with a door and a lock so we could start practicing. We signed the lease and gave him $150 a month. Backstage Pass, the Skulls, and the Controllers moved in, then other bands followed. The first shows started after someone broke into our rehearsal space, took our PA system, and set it up on the corner of the stage.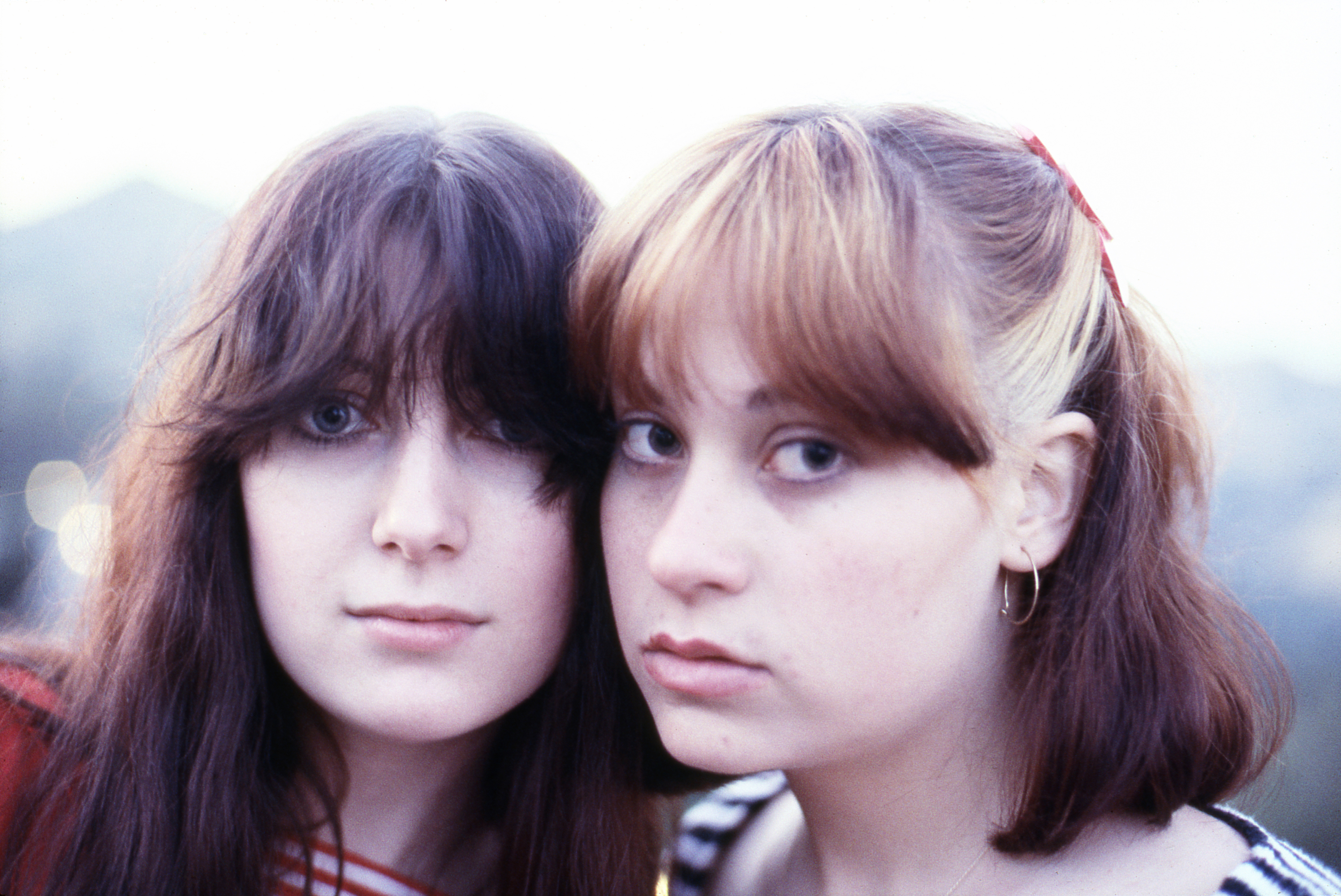 What was the LA punk scene like once it got going?
Muhlfriedel: There were kids coming from the Valley, the South Bay, and the East side. It was a convergence of kids who wanted to be a part of something new. When you went downstairs, it felt like a secret clubhouse. Then it rolled over to a couple of nearby apartment buildings and it became a scene.
Schorr: It was a cast of characters: Fay "Farah Fuckit Minor" Hart in a clear plastic mini skirt and a little toy gun, Belinda Carlisle, Pleasant Gehman, Trudie Barrett, Helena "Hellin Killer" Roessler—kids that needed an outlet and a place to fit in. We were hanging out and taking over.
Muhlfriedel: The punk scene in LA was a product of Hollywood: there was something theatrical and glamorous about it. There was a great sense of self-celebration. People really put themselves out there. We put on whatever bizarre outfit we wanted and went outside. We loved to shock each other.
Schorr: Yeah! I yelled, "I hate your fucking band!" at Clive Langer of the Deaf School from across the street. Then I said, "Do you want to be friends?" ( Laughs). People were just bouncing off each other. There was so much creativity. We made everything ourselves: the clothing, the flyers, and the shows. It was very immediate—people self-developed on the spot. I always wanted it to be positive because I was coming from this heart-wrenching thing.
As a mostly-female band, did you have a mission that you wanted to convey?
Schorr: I didn't like being told what to do or what not to do. I was like, "I'm going to play electric guitar," even though it was mostly men. I was driven to do it and it made me feel empowered.
Muhlfriedel: I felt inspired by artists and writers like Judy Chicago, Yoko Ono, Anais Nin, and Marina Abramovic. I feel like they were punk in their own way. It was important to me to be a woman who could express herself fearlessly. There was a consciousness of opening the door for other women. You live by example. If you have the balls as a woman to do something that people normally tell you that you shouldn't, you allow other people to do it and take it another step. Knowing I had the nerve to start a band without knowing what I was doing made me feel powerful. It was premeditated then and it is now.
What was it like to disregard the male gaze in the creation of art?
Muhlfriedel: Once you commit to not being constrained by male rules, you don't have to fight anymore. You can be sexy or you can be a bitch and you don't have to worry about anyone judging your behavior. I remember Genny dive bombing off a stage at the Mabuhay and starting a fight.
You have to declare yourself no matter what you do, then you step out and you do it. Typically you get much less resistance than if you ask for permission. Maybe that's the punkness of being female: don't ask for permission, don't seek male approval, just do it for yourself. Have the courage to continue and don't let anyone put limits on you.
Sign up for our newsletter to get the best of VICE delivered to your inbox daily.
Follow Miss Rosen on Instagram.