This is an opinion piece by Bryce Perry, International Rescue Committee's Emergency Deputy Director.

2017 was a record-breaking year, for all the wrong reasons. Today more than 65 million people are unable to return home because of conflict and violence. 2017 saw Bidi Bidi in Uganda become the world's largest refugee settlement, home to more than 270,000 South Sudanese refugees, only to be dwarfed by Kutupalong camp in Bangladesh where some 650,000 Rohingya refugees have fled. Conflict continues to rage in Syria, Afghanistan, DRC; South Sudan risks renewed famine and cholera has reached 1 million civilians in Yemen. As war, famine and disaster loom on the horizon for countries around the world, 2018 will be an arduous year for civilians caught in conflict and disaster.
In the face of growing global need however, the IRC projects that the Trump administration will miss its own refugee resettlement target of 45,000 for the 2018 fiscal year, resettling just less than 22,000 refugees - far below the historical average of 95,000 - further endangering the prospects of safety for the world's most vulnerable people.
As we head into 2018, the IRC's Emergency Team is monitoring situations across 23 countries - and based on conflict and natural disaster indicators and consequent humanitarian risk factors, our emergency responders have ranked the following ten countries at highest risk of humanitarian crisis this year.
Afghanistan
After almost four decades of violence, the conflict in Afghanistan is active once again with 1,200 civilians displaced every day of 2017. With both the Taliban and ISIS on the rise, insecurity and continued violations of international humanitarian law are expected to force thousands more to flee in 2018 - as Afghan refugees in Iran, Pakistan and Europe are pressured to return to a conflict zone.
---
Watch some more video from VICE Impact:
---
Central African Republic
In the Central African Republic (CAR) - as attacks on aid workers worldwide continue unabated - targeted attacks resulted in the deaths of 13 aid workers and 14 UN peacekeepers in 2017. In CAR 2.4 million people rely on food aid to survive, the largest population in need per capita in the world, and these attacks make it increasingly difficult for aid organisations to reach those already so vulnerable.
Democratic Republic of Congo
With fighting renewed in Democratic Republic of Congo (DRC), an already long-overlooked humanitarian crisis is set to deteriorate. Three of DRC's provinces have been declared "Level 3" emergencies by the United Nations – the highest possible emergency rating – as long-delayed elections scheduled for this year are likely to spark renewed conflict and displacement.
Iraq
In Iraq, the fight to end ISIS' territorial control is over - but nearly 9 million across the country remain in humanitarian need having endured years of brutal rule and violence. 3 million remain displaced by the campaign to defeat ISIS, and reconstruction - including in cities like Mosul - will require years of support.
Myanmar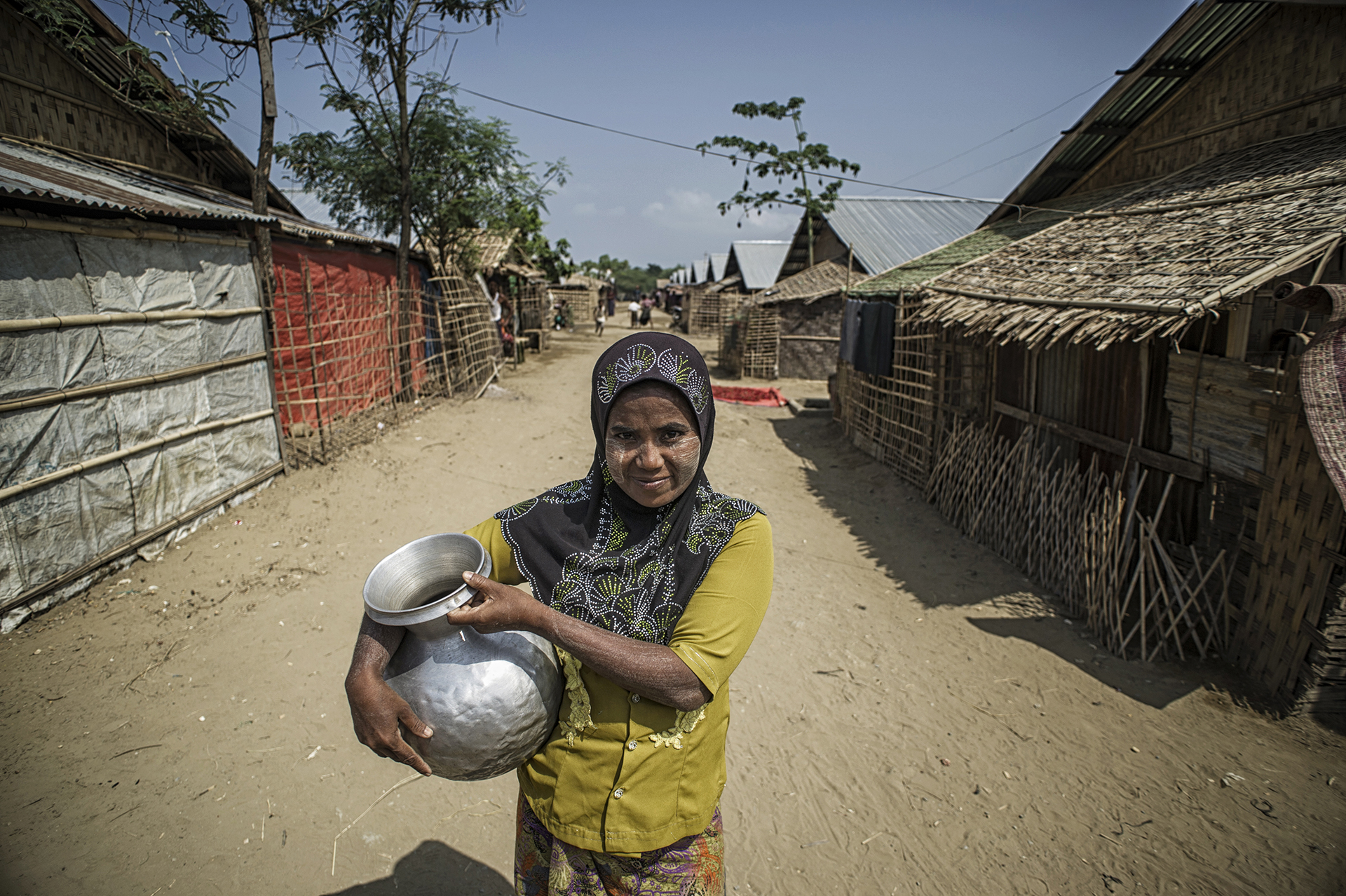 Crisis in Myanmar's Rakhine state continues, as over 650,000 Rohingya Muslims have fled violence in the country to seek safe haven in Bangladesh. Access in Rakhine state remains limited for aid agencies, leaving tens of thousands cut off from much-needed healthcare and other life-saving services - as pressure on Rohingya to return to Myanmar mounts.
Nigeria
In 2017, victory was announced over Boko Haram in Nigeria. Despite this, attacks continue to threaten to the lives of people in the north-east. 1.7 million people are currently displaced within the country, many of whom are not able to access the food they need. 2018 could see famine levels of food insecurity in inaccessible areas.
South Sudan
South Sudan remains volatile, with limited hope for peace in 2018. Half of the country's population – 6 million people – now don't have enough to eat. With all states in the country at crisis or emergency levels of hunger, it is highly possible that for a second year in a row a famine declaration will be announced.
Syria
Nearly seven years in, the war in Syria is far from over. Last year saw 1.8 million people flee within Syria, and already this year around 250,000 have fled fighting and airstrikes in the north-west of the country. In the Damascus suburb of Eastern Ghouta, nearly 400,000 more are trapped under siege - cut off from food and healthcare.
Venezuela
Venezuela is experiencing its deepest crisis in recent history, as economic downturn has made basic necessities and food chronically scarce - with 75% of hospitals reportedly lacking essential medicine. Political instability, violence and poverty drove over 100,000 to flee in October of last year alone. The situation is set to deteriorate with elections scheduled later this year.
Yemen
Yemen is facing three emergencies at the same time, with war, food insecurity and disease threatening millions in a man-made disaster. Eighty percent of the country lacks adequate food, fuel, clean water and health care, and over one million people have been exposed to the latest cholera outbreak. There is no end in sight to the conflict this year.
Last year was a tough year for millions, torn from their home by conflict and hunger. But if the world does not focus on long-term solutions to crises including better aid and better access, 2018 runs the risk of being much, much worse. With more people in need than ever before, and budgets under pressure, the aid system is being stretched to a breaking point. It is vital that in 2018 governments around the globe commit to supporting the 135 million in need around the world.
Last year, the International Rescue Committee responded to humanitarian emergencies in 21 countries around the globe. Find the IRC's full 2018 Emergency Watchlist - and donate to help the IRC's life-saving work reach the millions in need this year at Rescue.org.