President "David Dennison," also known as Donald Trump, is facing a lawsuit because he didn't sign the "hush agreement" that would have kept Stephanie Clifford, also known as porn star "Stormy Daniels," from talking about their alleged affair over a decade ago.
In the alleged non-disclosure agreement between Trump and Clifford, Trump is referred to throughout as "David Dennison" and Clifford as "Peggy Petterson." Only in a separate, code-breaking document is Dennison identified as Trump. That part of the document in the court filing Clifford brought forward on Tuesday is blacked out, but Clifford's attorneys says "David Dennison" refers to Trump.
Notably absent from the document is Trump's signature.

The heart of the legal matter here is whether "Dennison" in fact needed to sign this agreement, given that his longtime personal attorney, Michael Cohen (who does not have a nickname in the alleged non-disclosure agreement), did sign.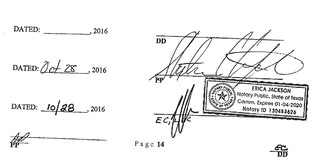 Clifford's lawsuit alleges that Trump avoided signing in order to plausibly deny any knowledge of the deal down the line.
Clifford had already talked about her relationship with Trump long before she signed the non-disclosure agreement. In a lengthy 2011 interview with InTouch magazine, she gave full details of hers and Trump's relationship.
Another salacious detail of the suit: There's an allusion to some photographic evidence of Trump and Clifford's alleged affair. The lawsuit makes reference to "Images and/or Property and/or other Confidential Information relating to DD" that Clifford might have, and, if her suit is successful, she could sell whatever she has.
Clifford also confirmed that she was shopping her story around before the election, and claims that her January 2018 statement that she received no cash from Trump in order to keep quiet about their affair was coerced.
And Wednesday, Clifford's lawyer Michael Avenatti appeared on NBC's "Today" show to say she would be returning the $130,000 payment, which was part of the alleged non-disclosure agreement.
Regardless of the outcome of this case, life won't ever be the same for the real-life actor David Dennison — whose IMDB page includes such apropos credits as "Indictment: Dead Witnesses Can't Talk" and "Divided We Unite."

Cover image: Adult film actress/director Stormy Daniels attends the 2018 Adult Video News Awards at the Hard Rock Hotel & Casino on January 27, 2018 in Las Vegas. (Photo by Gabe Ginsberg/Getty Images)