Remembering Bill Tolley, New York's Fire-Fighting Death Metal Hero
Friends and fans remember the Internal Bleeding drummer, NYFD firefighter, and pillar of the New York death metal sound.
Bill Tolley led a humble double life as a respected New York City firefighter and quiet leader of influential underground death metal band Internal Bleeding. In the wake of his tragic death while battling a blaze in Queens last month, Tolley's firefighting brothers are struggling with the void left behind by one of the leaders in their firehouse while his band is moving on with a tour they say he never would have wanted them to cancel.
"He was my best friend for 26 years. He was my musical soulmate," Chris Pervelis, guitarist and co-founder of Internal Bleeding, told Noisey. "One of the great things about Internal Bleeding is that we're a family. We always have been. We're very close to each other and we lean on each other. We've been doing that a lot lately."
The seminal slam death metal band was formed in 1991 when Tolley answered an ad posted by Pervelis in their hometown in Long Island. They hit it off immediately and created an iconic underground band that has toured the globe repeatedly and released five full-length albums, with a sixth on the way. Over the years, members have come and gone but Tolley always pressed on to keep the band going, even when he himself couldn't attend shows or tours because of his day job as a New York City firefighter.
In fact, the band had enlisted Kyle Eddy of Foaming At the Mouth as a potential fill-in drummer for the upcoming U.S. tour because Tolley was unsure he would be able to get all the necessary time off from the NYFD. He and Pervelis had discussed the possibility of him not making the tour on April 20—the morning Tolley, 42, was killed in a fall from a five-story Queens building.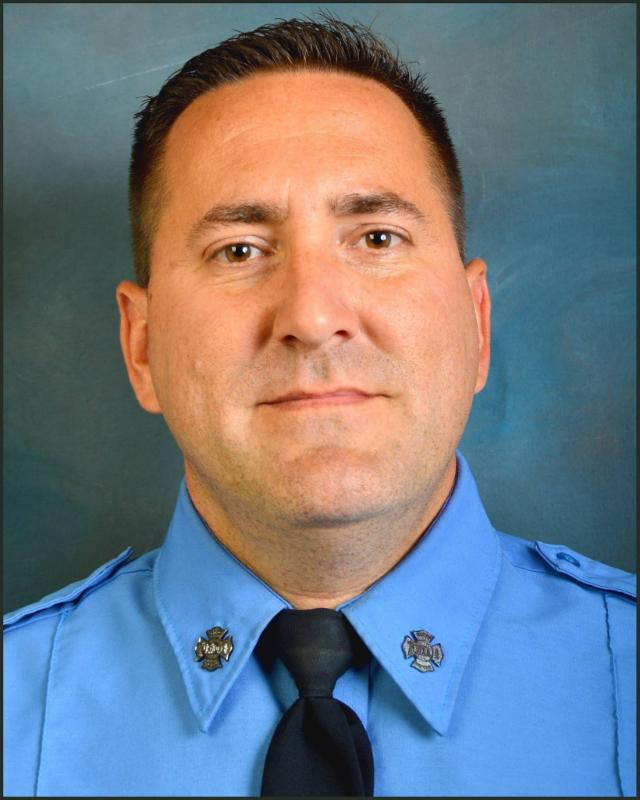 "He said 'I'm going to try and get my vacation days. I think it's going to work out. But let's get Kyle in place just to be safe. It's got to happen. You've got to go," Pervelis recalled. While their final phone call now takes on an ominous tone, Pervelis says it was a "typical conversation" that shows Tolley's dedication to the band. Despite the tragedy, Internal Bleeding is headed back out on the road with vintage Polish death metal band Vader for an 18-show tour that starts May 27 in South Carolina and ends June 16 in New York City. They've also released a new single, "Final Justice," from their forthcoming new album for Unique Leader, Corrupting Influence.
The band added a dedication to the video, reading, "Rest in Peace Our Brother William 'Bill' Tolley. Drummer. Brother. Firefighter. Hero, Friend. Life will never be the same without him. We love you, Bill. Slam On."
Pervelis said he's bringing a framed picture of a smiling Tolley that he'll keep on his amp every night to honor his fallen friend. "There are certain parts in every song where Bill and I would lock eyes. Maybe there was an inside joke in a song that has meaning to me and him," he explained. "It's going to be hard when it gets to those parts of the songs and I look back and don't see him. I don't know how I'm going to handle it. It's going to be real tough… But he'll be there with me."
Tolley's firefighter friends are grieving right along with his metal family. NYFD firefighter Jarrett Kotarski started on the job a few weeks after Tolley and they worked together every shift for the past 14 years on Ladder 135 out of the Myrtle Avenue firehouse in Queens. Kotarski, who gave the eulogy at Tolley's memorial service, recalled Tolley as a meticulous and well-trained firefighting "nerd" who took equipment maintenance to heart and thrived on "tricking out" their fire rigs with custom sirens, lights and gizmos. And while most of the guys in the firehouse knew about his side gig as a death metal drummer, few knew of the band's broad impact on the metal sub-genre.
"His double life, it took a lot of us by surprise. None of us really understood how big he really was in the death metal scene and how Internal Bleeding was so respected," Kotarski said. "When we saw the outpouring and saw how many fans he had, it was insane, because he never talked about it."

Tolley was quiet about his music career, despite the fact that Internal Bleeding was a driving force in the early 1990s American death metal scene, forging an often mimicked "slam" sound that was largely the result of Tolley's distinct percussive style. "He'd say he had a show and then we find out he's playing Moscow," Kotarski said. "He'd say he was going away for a couple weeks and then we find out he played all of South America. He was very humble about it. He was so nonchalant about it."
Colin Conway, drummer for Soul Remnants, was just 12 when he met Tolley and interviewed Internal Bleeding for the now-defunct RIP Magazine at the Milwaukee Metal Fest in 1994. Conway, a former member of Cannae and touring drummer for All That Remains, shared bills with Internal Bleeding and cites Tolley as a mentor.
"They had a real impact on me when I saw them live out there (in Milwaukee)," Conway said. "Their second demo CD— Perpetual Degradation—it's still one of my favorites. Bill's drumming on that is unreal. With the style on that, they cemented the genre of slam death metal and really immortalized the New York style of death metal."
While some may view the double career of firefighting and death metal drummer as an odd dichotomy, Pervelis said he lived exactly the life he wanted. "He wanted to do two things as a kid: be a drummer and a firefighter. He did both," Pervelis said. "He only lived 42 years but he did more than most people do in their whole life. And he lived out his dreams. He lived it out passionately."
Tolley leaves his wife, Marie, and his 8-year-old daughter, Isabella. A fund for the Tolley family has been set up and donations can be made here: https://www.gofundme.com/fdny-william-tolley-charity-game.

INTERNAL BLEEDING tour dates with Vader, Sacrificial Slaughter, Voices Of Ruin, Micawber:
5/27/2017 Ground Zero - Spartanburg, SC
5/28/2017 Brass Mug - Tampa, FL
5/29/2017 Masquerade - Atlanta, GA
5/30/2017 Siberia - New Orleans, LA
5/31/2017 Acadia - Houston, TX
6/01/2017 Curtain Club - Dallas, TX
6/02/2017 Rockhouse Bar - El Paso, TX
6/03/2017 Blu Phoenix - Albuquerque, NM
6/04/2017 Club Red - Phoenix, AZ
6/05/2017 Malones - Santa Ana, CA
6/06/2017 Oakland Metro - Oakland, CA
6/07/2017 Brick By Brick - San Diego, CA
6/08/2017 Las Vegas Death Fest - Las Vegas, NV
6/09/2017 Metro - Salt Lake City, UT
6/10/2017 Bluebird Theatre - Denver, CO
6/11/2017 Riot Room - Kansas City, MO
6/12/2017 Opinion Brewery - St. Paul, MN
6/13/2017 High Noon Saloon - Madison, WI
6/14/2017 Reggies - Chicago, IL
6/15/2017 The Foundry - Lakewood, OH
6/16/2017 Webster Music Hall - New York City, NY
Dave Wedge is on Twitter.
Stories