Iceland's glaciers are melting, so in January I made a trip there from my home in Toronto, thinking it was time to go see them. I stood at the bottom of the Mýrdalsjökull glacier in my crampons, harness, and snowsuit, marvelling at the monstrosity of this giant natural ice cube.
Glaciers are melting at an alarming rate because of climate change, the guides said. No wonder tourists like me are rushing to see them.
Between 2010 and 2015, the number of foreign tourists to Iceland more than doubled, partly due to cheap flights from WOW Air, the low-cost airline based in Reykjavík. Another reason was to see the glaciers: 80 percent of visitors decided on the destination because of "Icelandic nature," according to a 2014 report from the OECD. Among Icelanders, 75.7 per cent surveyed by the tourist board in 2016 said that tourist pressure on Icelandic nature is too high.
In fact, Iceland has become so overrun it's been compared to Disneyland. The government recently introduced a new tax on tourists, with up to 2.3 million people expected to visit in 2017.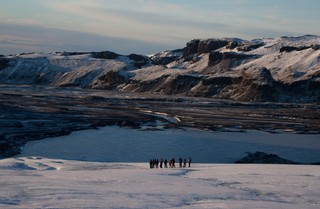 Tourism companies market day trips by telling visitors that it might be their last chance to see the glaciers, since they could disappear in another 100 years. Travel sites and blogs encourage people to come see the Icelandic glaciers before they're gone.
"Due to climate change, the perception is out there that the glaciers will be gone tomorrow," wrote Edward Huijbens, a professor at the University of Akureyri and researcher at the Icelandic Tourism Research Centre, in an email interview. "So this has generated a type of last chance to see tourism, and also a general fascination with glaciers."
Björgvin Hilmarsson, the operation manager of the Icelandic Mountain Guides (IMG) expeditions department, wrote in an email to Motherboard that every year there is an increase in the number of visitors coming to Iceland.
"Some tourists are probably thinking that now might be one of the last opportunities [to see the glaciers]," he wrote. He thinks many tourists are going on glacier tours because in Iceland it's very easy to access some of the outlet glaciers, and it's the thing to do.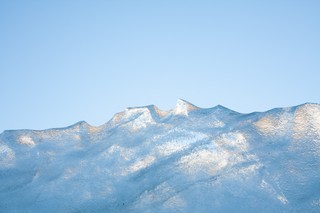 He said that when he's conducting tours, he tries to get people to think about these issues and how climate change is impacting the environment.
"I'm telling them that it's actually not that long until all the glaciers in Iceland will be gone," he wrote, adding that IMG is focused on nature-friendly tourism. "It's always quite surprising, to them, to hear about how much the ice is receding."
Most glacier tourism in Iceland takes place in the national parks, which are protected by the government. The south-east part of the Vatnajökull glacier in Vatnajökull National Park is the hotspot, because it's the largest in Europe, said Johannes Welling, a PhD student at the University of Iceland. This is where Welling has been conducting research for his thesis on the impact of climate change on glacier tourism in Iceland.
Read More: Iceland's Plan to Get Energy from Hot Magma Is Really Cool

Tourism companies are adapting to the new realities of climate change, extending their glacier tours with new kinds of excursions like boat tours on glacial lakes. Welling told me this is to make up for the fact that there are fewer places for people to go. Other companies have seen some of their glacier outlets close due to unsafe conditions.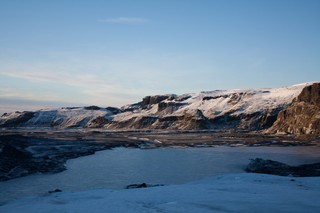 "Glaciers are, by nature, very dynamic landscapes, but tourism needs a degree of stability," wrote Huijbens. "Climate change is making this dynamic environment even more dynamic (and) not helping in sustaining business or product development."

Welling said that some sites are fortunate enough to only be closed temporarily, like the Sólheimajökull glacier, which closed for a couple of days in 2014 because a huge chunk of ice fell off and into the lake, causing a big wave. The same glacier was also shut down in mid-2016 due to seismic activity.
Closures don't seem to concern tourism companies too much right now, according to Welling.
"There is so much demand at the moment," Welling said. Today, at least, business is booming.
Get six of our favorite Motherboard stories every day by signing up for our newsletter.