Photo by Joanna Spinks.
Lobster rolls, summer camps, blueberry pie, picturesque coastlines. Maine through and through. But wine? It may not be the first thing that comes to mind, but Brian Smith is ready to change that.
It's early in the afternoon on a late summer day when I arrive in Warren, Maine to meet Smith, probably the state's best-known natural winemaker. Smith and his wife Allie, a native Mainer, moved here eight years ago to open Oyster River Winegrowers and began planting grapes, splitting their two-acre vineyard equally between two French-American hybrid white wine grapes, Vidal Blanc and La Crescent.
Walking past the rustic white barn that serves as the winery and into those vineyards behind, I'm surprised to find Smith's grapes just barely forming while even other cold-climate regions seemed much closer to harvest. But I'm even more surprised later on when I taste the remarkably delicious product of that slow-to-ripen Maine fruit, Oyster River's flagship 'Chaos'—a richly-textured champagne style sparkler, with bracing acidity, notes of red apples and toast, and a slightly salty finish.
Smith explains that the challenges of making wine in Maine are "really hard to compare to anywhere else cause we're so tucked up against the coast here. Places like Vermont, Quebec, and Ontario are colder than we are in the winter but hotter in the growing season. It's less about survivability here, and more the ripening that's an issue." This is especially difficult if, like at Oyster River, you make natural wine—eschewing the added sugar, artificial yeasts, and chemicals many conventional winemakers employ to mask imperfect grapes.
Peter Hale—along with his wife Orenda, the co-owner of the natural wine shop Maine & Loire and wine bar Drifters Wife in Portland, Maine—says that while Maine's climate and terroir may be different and largely up to Brian to decode alone, he still sees Oyster River as part of "a Northern 'frost hearty' crew" making natural wine in cold climes, "that would include La Garagista in Vermont and Pinard & Filles in Quebec."
Pushing the limits of Maine's climate, Smith has recently planted small amounts of traditional vitis vinifera varieties like Chardonnay and Pinot Noir that have found success in other cold-climate regions. The Pinot, especially, reflects a shift in thinking for the state. "I really thought Maine would be a white wine, sparkling wine kind of climate, which is what we're doing, but also I started experimenting with reds a little bit," Smith relays while pouring a light red wine straight from the barrel. Made entirely of grapes grown in Maine—four different red hybrid varieties, along with the hybrid white grape Cayuga—it's an aromatic red reminiscent of Gamay, teeming with red fruit and a touch of spice. "The red hybrids have very little tannin, but Cayuga has a lot of tannin so we threw them all together," Smith explains, offering a peek at the method behind what he sees as another potential signature wine for Oyster River. "I'm just planting a bunch of red now," he says, half-joking, "this traditional method sparkling is a lot of work!" But the wine is no joke: this supremely sippable red points to a bright future for wine made from grapes grown in Maine's tricky climate.
The Chaos might be Oyster River's flagship wine, but its biggest seller and most well-known wine is actually made from Cayuga and Seyval brought in from the Finger Lakes region of New York. Dubbed Morphos, it's made in the on-trend pétillant-naturel style, or pét-nat for short, where wine is bottled before fermentation is complete, creating a natural fizz from the carbon dioxide released as the wine finishes fermenting in bottle.
Fresh, zesty, and yeasty with a subtle cidery note and bright acidity, the Morphos has become an especially big seller in New York, which came as both a surprise and somewhat of a happy accident. "When a distributor first contacted us about bringing our wines to New York, I almost laughed," Smith reveals, "like really, people in New York would be interested in us?" What's more, the distributor actually helped guide him towards selling pét-nat in the first place. "I love drinking white wines while they're fermenting," Brian recounts, "So I was like, 'Oh I wish I could just bottle this somehow.' I started doing some experiments and when Chase [Granoff, the distributor] came up for the first time I poured it for him."
---
WATCH: Action Bronson Eats and Drinks Paris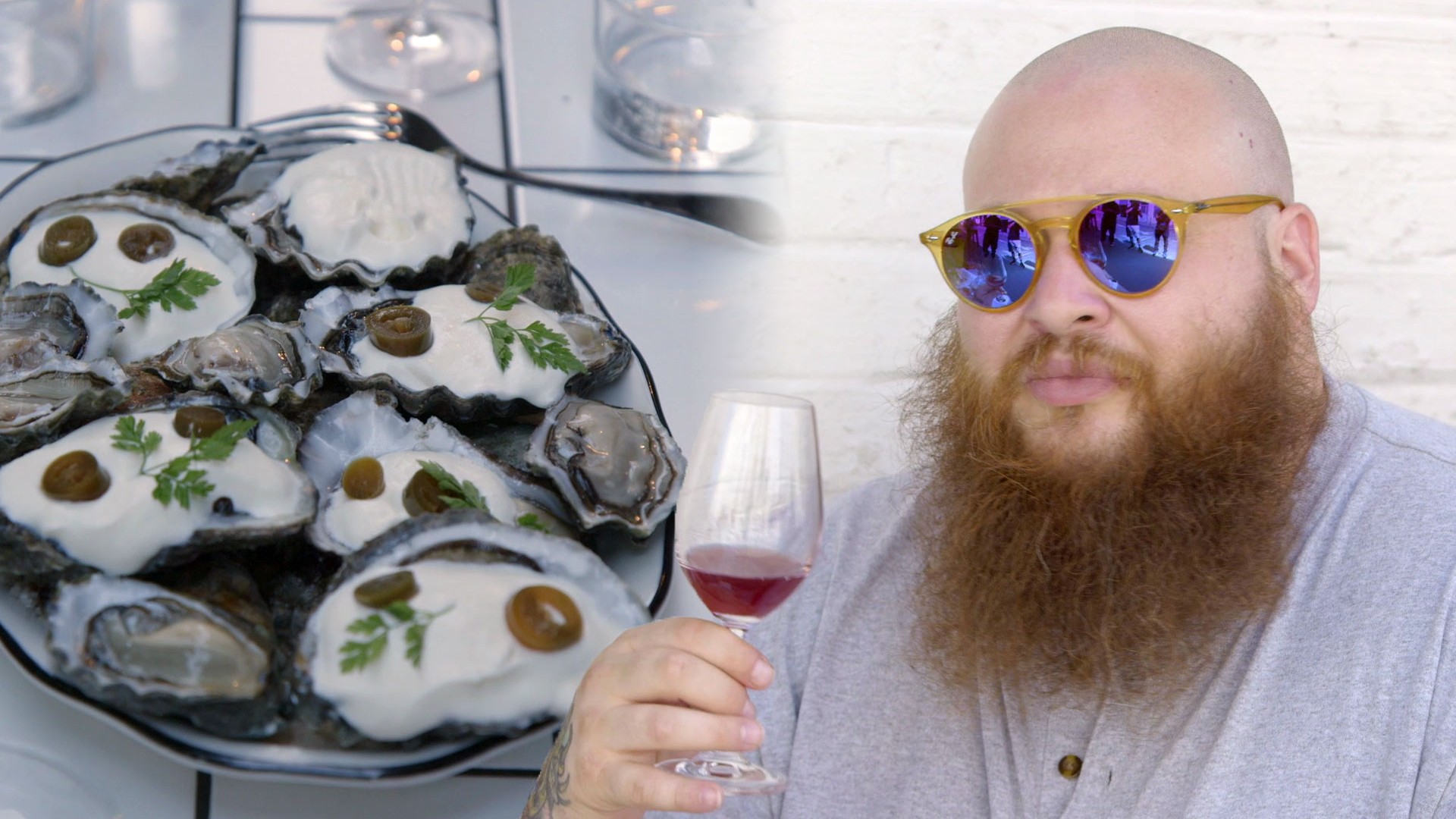 ---
"I told him, you're making a pét-nat," Granoff recalls. "Funny enough, Brian really just hadn't heard the term, but he opened some and I thought, oh my god, this is amazing and so cool. Brian asked, 'so people will buy this kind of wine?' And I was like, 'yeah, I think this could be a huge thing for you.'"
Even though Maine is home, Smith admits the "reception out of state has almost been better. More people are experimental in their palates and want to try new and different things, while some older restaurants in Maine actually turn their nose up at us for being local." But that tide is turning as a new generation of local wine-drinkers emerges. Orenda Hale says "it was really exciting to learn that Brian was making real wine here," when she moved to Portland three years ago to open Maine & Loire. The shop stocks only natural wines, and only Smith's hail from Maine. "We meet new customers every day," Hale says, "so the word is spreading, slowly but surely."
READ MORE: A 'Boiling River of Wine' Flows Out of the Napa Wildfire Devastation
Responding to the praise now coming from both in and out of state, Oyster River is growing this year, moving from about 1,200 total cases produced to 1,800. "And it's not enough," Brian laughs sheepishly. "We'll still sell it immediately." The ultimate goal, though, is to produce more homegrown wine, so he's slowly planting more vines each year, hoping to eventually quadruple his haul of Maine grapes. But even as production grows, Brian's committed to making his wines with the same low-intervention, pre-industrial methods he always has, with nothing added, and nothing taken away. He says rustic, natural and wild is the only way he knows and the only way that feels true to life in Maine.
"I've always just been doing this. I didn't even know that there was a term like natural wine. I didn't know that was marketable, didn't even know that was a thing," he says, "I was just trying to make better wine than everybody else."