You Need to Check Out 'BoJack Horseman,' 'IT,' and More This Weekend
Catch some waves, too—if you can avoid the evil clowns along the way.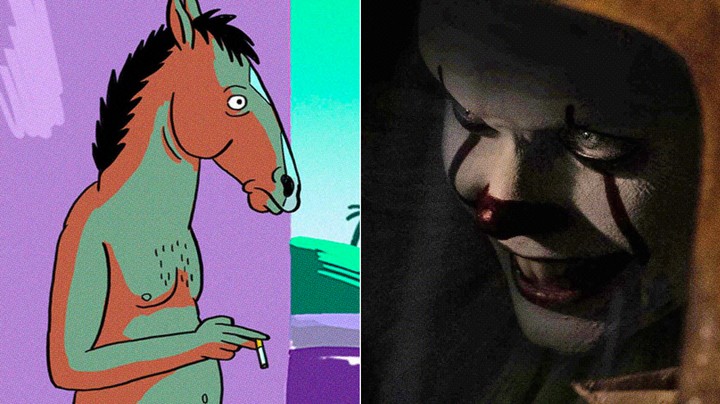 Looking for some stuff to catch up on this weekend? Whether it's TV, movies, books, or anything in between—VICE has you covered. Read on for our staff recommendations on what to take in during your downtime:
BoJack Horseman
When last we saw BoJack Horseman (Will Arnett), the horse comedian-turned-horse movie star was gazing off into the distance at a stampede of Mustangs galloping across the open desert. Reeling after an Academy Awards bait and switch, season three saw Netflix's most surreal anti-hero descend into a mind-crushing bender that ended in pain, loss, and trauma. We already know that Bojack is missing, and the world is moving on without him. His cat ex-girlfriend, Princess Carolyn (Amy Sedaris), is settling down with her mouse husband. His best frienemy Mr. Peanutbutter (Paul F. Tompkins) is launching a Reagan/Schwartzeneggar-style gubernatorial campaign. His on-and-off crush—and Mr. Peanutbutter's wife—Diane (Alison Brie) is dipping her toes in the blogging game. His bumbling, estranged ex-roomate Todd Chavez (Aaron Paul) is... cool?
While it's been a pleasure this past year to see the all-star cast get up to online antics like Tompkins grilling TLC about their current position on scrubs, it will be a relief to have one of television's most emotionally intelligent shows on mental illness, addiction, and modern relationships back. With hints that BoJack will be reunited with a long-lost daughter, both the show and the man horse have a huge opportunity this season to grow up. Maybe fatherhood will give BoJack the peace his masochistic, ego-driven lifestyle has never offered. —Beckett Mufson
IT
This thing's gonna make a ton of money, huh? Like, Beauty and the Beast live action remake-level money. You watch the trailer? Of course you did—the entire fucking earth watched it, it broke records. Real actual clowns are protesting because of this, a goddamn adaptation of a Stephen King novel that previously existed as a 1989 TV miniseries you probably thought was good because you were a child when you saw it. Hey, though, now you're an adult, right? You can go see movies by yourself, without a parent in sight. Why not see this one? —Larry Fitzmaurice
Psychedelic Surf Films
Summer might be winding down, but you can still enjoy some sun and sand this weekend at Manhattan movie theater Metrograph. A selection of screenings dubbed The Innermost Limits of Pure Fun: Psychedelic Surf Films, 1966–1979 touches down Saturday and Sunday with matinee and evening presentations. Guest-programmed by Harvard Film Archive's assistant curator Jeremy Rossen, the films include legendary surfer George Greenough's titular The Limits of Pure Fun; 1973's Crystal Voyager, itself a biographical portrait of Greenough; globe-trotting environmentalist paean, Morning of the Earth, which features a 23-minute sequence set to the entirety of Pink Floyd's "Echoes," trippy, bro; Australian Bert Deling's meta cop-acid freakout, Dalmas; and of course The Endless Summer, perhaps the greatest surf film of all time. "At the heart of all of the films in this program is an underlying message about the sanctity of nature and the desire to create a world of one's own," Metrograph writes, so turn on, tune in, and, for the love of God, leave your flip-flops at home. —Emerson Rosenthal
KPOP
The scarcity of tickets to Hamilton proves that people who can stomach musical theater also like R&B and rap, but it takes real imagination to meld immersive theater and Korean pop music. One can only assume that KPOP, an experiential off-Broadway show now in previews at A.R.T./New York in Manhattan, is a mashup of Sleep No More and "Gangnam Style," with the added treat of factory-made superstars and saccharine pop beats. Produced by Ars Nova, possibly the most innovative incubator of actually good theater in New York City, along with Ma-Yi Theater Company and Woodshed Collective, the show bills itself as an all-access backstage pass to a K-Pop music factory. KPOP boasts street cred, too; the cast includes an actual competitor from "Superstar K 2016," South Korea's answer to "The Voice." Currently in previews; performances are scheduled through October 7. —Kara Weisenstein
Stories