2016 was a turbulent year which not everyone will remember with the same passion Bomba Estéreo will. Amidst a rising tide of worldwide intolerance, the Colombian duo released an audiovisual gem titled "Soy Yo," a celebration of individuality which places the brown Latina woman on the center stage, with a blunt anti-bullying anthem. Thanks to the video, they gained unprecedented international praise, including recognition from the Cannes Film Festival and a certain Barack Obama, representing another step forward in Bomba Estéreo's fruitful 12-year career towards world domination.
Formed in 2005 by Simón Mejía, Liliana "Li" Saumet, and former members Enrique Egurrola and Julián Salazar, the band boasts five studio albums so far, through which they have found an essence of their own, strongly rooted in the Latin American culture. According to Mejía, ever since its beginnings, the band has been looking to make electronic music that sounds from Latin America, not from Europe or the US. "In order to do so, we had to use our own sounds as a starting point, sounds from the Colombian folklore, like cumbia, champeta," he explains.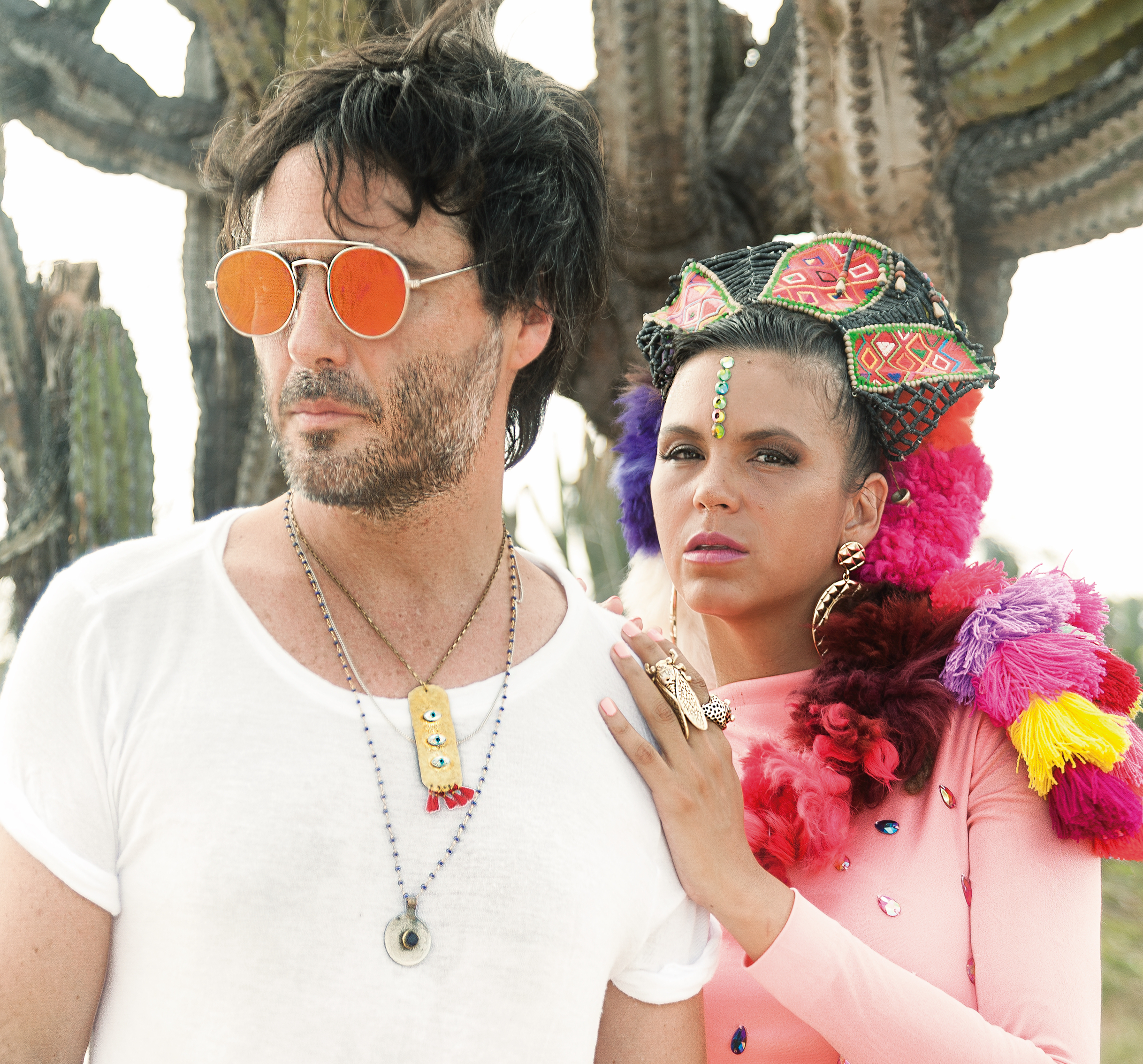 And they have been successfully doing so. Even though they renew their musical vocabulary with every album, Bomba Estéreo's identity is based on the folkloric elements from Afro-diasporic genres such as cumbia, champeta and bullerengue –genres that originated in the Colombian Caribbean region, where Saumet comes from– and their traditional instruments. This mix reached its boiling point back in 2008 with their ubiquitous single "Fuego," which took over the world with its irresistible flavor and opened for them the doors to international success.
But don't make the mistake of thinking they're a cumbia band. "I'd say it's a tropical electronic music band," says Mejía. "It isn't even just Latin American –it's from the whole world, because we like and are influenced by music from many parts; as much as cumbia, we like electronic music, hip-hop, rock, reggae, certain things from reggaeton. Music nowadays is very broad, and to only tackle one genre is to kill its essence."
In a career marked by Grammy nominations –on both the Latin and American editions– and even a gold record in their native Colombia, Mejía highlights their first shows outside their country as turning points when Bomba Estéreo's level of success really sunk in. "Both Liliana and I hadn't traveled abroad before Bomba. So, on those initial trips, when we saw ourselves playing international stages and festivals, we realized there was something strong there," he says. "Every time we do a concert or a tour, or we go play in new places, we get more and more surprised; we realize this is something that keeps growing, it's constantly building up." This is how they have participated in important festivals such as Coachella, Glastonbury, Lollapalooza, and Roskilde, among others, and they're about to embark on a joint tour with Arcade Fire.
2015's Amanecer was their debut with major label Sony Music, introducing elements from mainstream pop and club music to their mix under the guidance of producer Ricky Reed, which resulted in tracks so explosive they brought the Fresh Prince himself, Will Smith, out of musical retirement. In the process, Bomba Estéreo haven't compromised an inch of their vision; on the contrary, they have found a possibility to keep experimenting so they don't get stuck in formulas. "Evidently, a major label will want your music to be bigger and that it reaches more people; they want it to be more popular and commercial, because that's their job, that's what they do for a living, and that's why they're a multinational label," shares Mejía. "So there's more pressure on our side, but we have managed to balance out and handle that pressure at our will."
This year, Bomba Estéreo returned with Ayo, an album sparked by a spiritual ceremony at Sierra Nevada de Santa Marta, which was also the place where they recorded half the record before leaving for Los Angeles to finish it. After the ambitious Amanecer, Ayo represents a balance between the facets explored by the band throughout their career, with strong earthly inclinations. "On one part, which was made here in Colombia, we consciously tried to return to the sounds of the original Bomba Estéreo circa eight or nine years ago," Mejía tells us. "Then, the other part, which was made in Los Angeles, sounds a lot poppier and more commercial." He singles out "Duele" as a melancholic rarity they hadn't tried on their party-oriented discography, as well as the tracks "Siembra" and "Vuelve," which connect the album's beginning and end like a cycle, injecting mysticism and experimentation.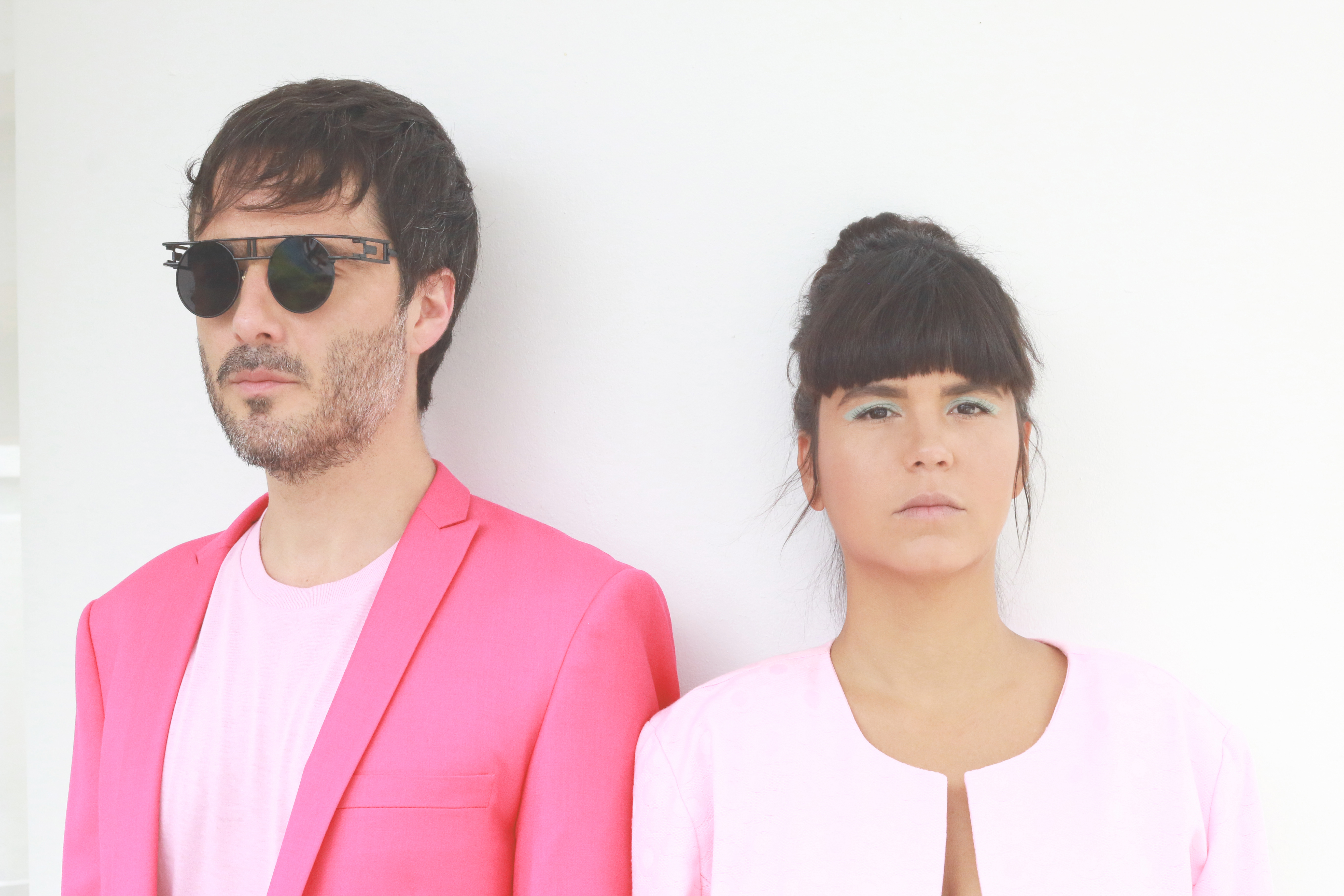 Ayo's second single is "Internacionales," which displays the mestizo quality of both Bomba Estéreo's music and latinidad in general, and reinforces the importance of that universal language they use to communicate with audiences all around the world: dancing. "We play in many places where people don't even understand what Liliana is singing about, but they connect through dancing, and that's beautiful; it's an almost ancestral phenomenon in humankind, to connect through our bodies and through movement," says Mejía. "And nowadays, when we are living through so much separation because of race, culture, and religion, it's beautiful to think again about those kind of things that, in one way or another, make us all human beings equal."
For its music video, exclusively premiered here at Noisey (and which you can see above), the Colombian pair once again recurred to Danish director Torben Kjelstrup, who previously did the "Soy Yo" video. These images, filmed around the globe in places like Canada, Morocco, and Hong Kong, show an American lady who is able to travel from country to country thanks to Bomba's music, and connect with different cultures through their similarities. "Simón and Lí are kind and very open to ideas, which makes them amazing to work with. I am happy they came back for another round and hope we can keep making films together in the future," says Kjelstrup about the experience.
"This video is not inspired by anyone in particular, but it's more a message about preconceived notions and how the main character breaks free from her own and other's notions about her," he continues. "I strongly believe that smiling is the best way of meeting the world and meeting others and this film is simply an extension of the lyrics –dance, be happy and add your flavor to the party that everyone is invited to." Mejía points out the importance of taking the risk of shying away from the Latin American aspect of the song in the images in order to avoid being redundant. "It's cool, because the visuals take a different route, remaining on the same theme, but in other parts of the world; and the lyrics talk about Latinxs, so it rounds up the message. The lyrics are complemented by the visuals," he says.
Bomba Estéreo's star keeps on shining brighter and brighter, and "Internacionales" sums up, in its music, words, and now images, the duo's message in its purest essence: it doesn't matter where you come from or what your identities are, "Dance, because you don't need your tongue to dance." Yes, it's a Latin American party, and that's exactly why everyone fits right in.
UPCOMING BOMBA ESTEREO TOUR DATES
October 6 - Breakfest Festival - Medellin, Colombia
October 7 - Club Colombia Oktoberfest - Bucaramanga, Colombia
October 14 - Club Colombia Oktoberfest - Villavicencio, Colombia
October 21 - Club Colombia Oktoberfest - Manizales, Colombia
October 25 - Pepsi Center - Denver, Colorado (with Arcade Fire)
October 27 - Silverstein Eye Centers Arena - Independence, Missouri (with Arcade Fire)
November 5 - Club Colombia Oktoberfest - Cartagena, Colombia
November 29 - Auditorio Nacional - Mexico City, México (with Arcade Fire)
December 2 - Arena VFG - Guadalajara, México (with Arcade Fire)
December 5 - Carpa de las Americas - Bogotá, Colombia (with Arcade Fire)
December 8 - Arena Rio - Rio de Janeiro, Brasil (with Arcade Fire)
December 9 - Anhembi - Sao Paulo, Brasil (with Arcade Fire)
December 11 - Movistar Arena - Santiago, Chile (with Arcade Fire)
December 13 - Parque de la Exposición - Lima, Perú (with Arcade Fire)
Algodón Egipcio is on Twitter .