Remember When Republicans Condemned Donald Trump for the Way He Treats Women?
A slew of Republican leaders withdrew their support for Trump's campaign immediately after the 2005 'Access Hollywood' tape was released in 2016. So why aren't more speaking out against the accusations against him now?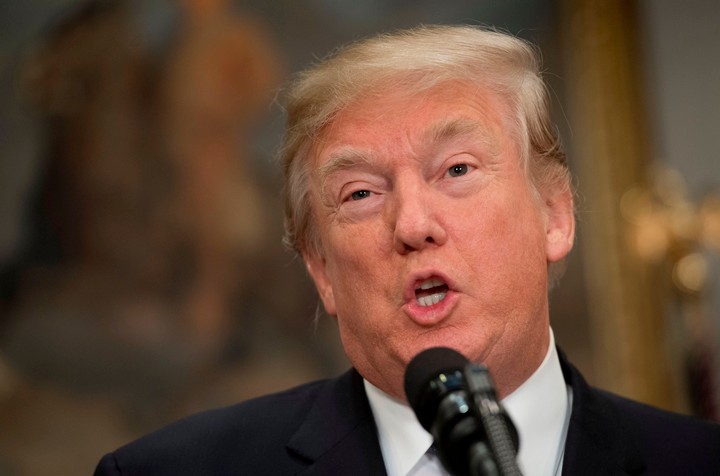 Photo by SAUL LOEB/AFP/Getty Images
Three women who have accused the sitting president of sexual harassment and misconduct have joined together to call on Congress to investigate their claims.

"We're at the position now where in some areas of our society, people are being held accountable for unwanted behavior, but we are not holding our president accountable for what he is and who he is," said Jessica Leeds—who says Donald Trump groped her on a plane more than 30 years ago—during Monday's press conference. To her left was Samantha Holvey, a former Miss USA contestant who recalled Trump inspecting each of the girls like sex objects before the 2006 pageant, and rounding out the trio was Rachel Crooks, who accused Trump of kissing her without her consent in 2005.
The White House continues to dispute these allegations, saying in a statement that the "timing and absurdity of these false claims speaks volumes and the publicity tour that has begun only further confirms the political motives behind them." Holvey, however, insisted that their call for an investigation isn't about politics. "It's not a partisan issue, it's how women are treated every day," she said.
At the same time, with the rise of the #metoo movement and the recent "reckoning" for men in positions of power who have been accused of sexual misconduct, many have wondered why Trump has been immune—despite the allegations against him, and the fact that most Americans believe them to be true.
Last year, when these allegations and others first surfaced, many Republicans agreed with that sentiment—particularly after the Access Hollywood tape from 2005 was released, featuring Trump bragging about pushing himself on women and "grab[bing] them by the pussy." The release of the video recording, and the way he minimized his comments during a presidential debate a couple days later, encouraged a number of women, including Leeds and Crooks, to publicly accuse Trump of harassing or assaulting them. To date, at least 19 women have shared their stories.
According to one New York Times report, 51 Republican leaders withdrew their support for their party's candidate immediately after that tape was released in October 2016. Utah congressman Jason Chaffetz was one of the first. He told his local Fox affiliate: "I'm out. I can no longer in good conscience endorse this person for president. It is some of the most abhorrent and offensive comments that you can possibly imagine." (Nineteen days later, he tweeted that he was still going to vote for Trump.)
---
---
Several Republican lawmakers—including Nebraska Sen. Deb Fischer, Ohio Gov. John Kasich, Minnesota congressman Erik Paulsen, West Virginia Sen. Shelley Moore Capito, and Virginia congresswoman Barbara Comstock— described Trump's comments and actions as "disgusting." Idaho Sen. Mike Crapo tweeted that these "repeated actions and comments toward women have been disrespectful, profane and demeaning," adding that Trump's "locker room talk" explanation was "completely unacceptable." (He also later re-endorsed him.)
Wisconsin Sen. Ron Johnson called Trump's statements "indefensible" while Utah Gov. Gary Herbert thought they were "despicable." Former New York Gov. George Pataki called the whole campaign a "poisonous mix of bigotry and ignorance." (His tweet has since been deleted.)
Arizona Sen. John McCain, New Jersey Rep. Frank LoBiondo, Colorado Sen. Cory Gardner, and Tennessee Gov. Bill Haslam all also said they couldn't support Trump after his remarks—but they said they didn't want to see Hillary Clinton in the White House either, so they'd simply write in their own candidate.
The backlash against Trump last year was surprising, though it ultimately didn't stop him from winning the election. And while the recent outpouring of #metoo stories certainly seems to have made an impact on the culture, Republicans today continue to support alleged predators. After a bombshell report from the Washington Post revealed US Senate candidate Roy Moore had an alleged penchant for underage girls when he was in his 30s, many Republicans say they're still behind the former Alabama Chief Justice, even though he was also accused of molesting a teenager when she was 14 years old at the time.
In the last few days, several Democratic senators have called on Trump to resign because of these allegations. On Saturday, for example, Sen. Cory Booker said that in light of Sen. Al Franken announcing his resignation last week because of his own allegations of misconduct, Trump should do the same, considering "the fact pattern on him is far more damning than the fact pattern on Al Franken."
Yet it wasn't until this morning that Trump responded on his favorite platform—and picked New York Sen. Kirsten Gillibrand, who's actually the fifth Democratic senator to suggest he step down, as his target. Not only did the president post on Twitter that Sen. Gillibrand is a "lightweight" and "a total flunky for Chuck Schumer," but he also said she came to him "begging" for campaign contributions and that she "would do anything for them."
For More Stories Like This, Sign Up for Our Newsletter
As if his comments earlier today weren't offensive enough, he also reinforced his support for Moore in today's Senate race.
During a press conference this afternoon, Gillibrand called Trump's attacks on her "a sexist smear." She continued: "I will not be silenced on this issue. Neither will the women who stood up to the president yesterday."
Stories