President Trump announced the shrinking of two national monuments in Utah today. And, by doing so, undid public land protections made by three presidents before him.
"Some people think that the natural resources should be controlled by a small handful of very distant bureaucrats located in Washington," Trump said today at Utah's State Capitol. "And guess what, they're wrong."
Bears Ears National Monument will be downsized by more than 80 percent, from 1.3 million acres to just 230,000 acres. Grand Staircase-Escalante National Monument, meanwhile, will be reduced from 1.9 million acres to nearly 1 million acres.
Trump, along with many Republicans and Interior Secretary Ryan Zinke, supports state control of public lands. The federal government oversees roughly two thirds of Utah land, which has been set aside to safeguard environmental and Indigenous heritage.
While 58 percent of Westerners oppose the transfer of public lands to state governments, according to a 2016 Colorado College survey, local lawmakers have tried to wrest power from federal hands nonetheless. Many are lobbied by the fossil fuel industry, which stands to benefit from the privatization and deregulation of public lands.
One of the lawmakers defending private interests is Utah State representative Michael Noel. In an interview with NPR this month, Noel was asked why he endorses Trump's plan.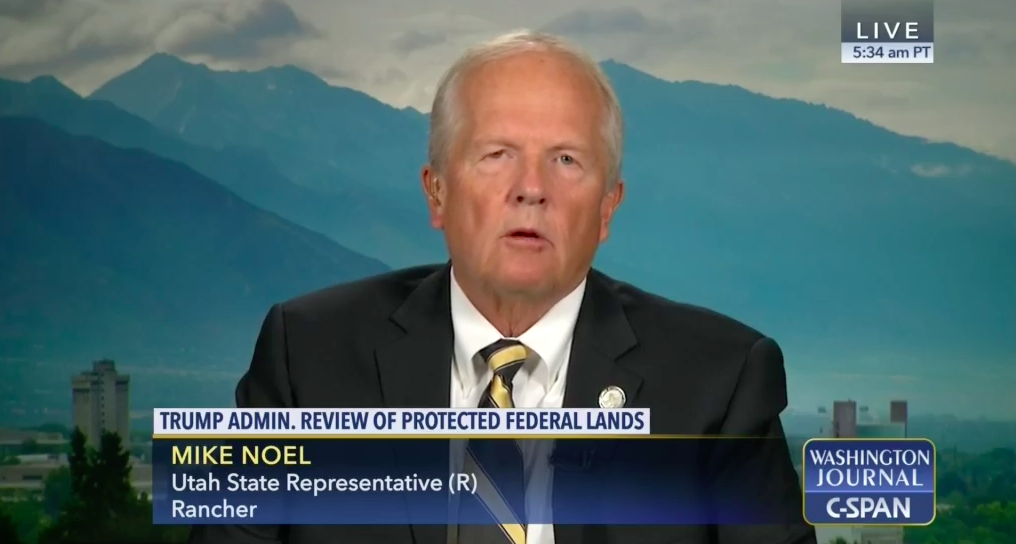 "Well, because of the fact that the limitations that are given on [Bears Ears National Monument] don't allow us to do the things that the Federal and Policy Management Act passed by Congress allow us to do," Noel replied.
"For instance, we're getting people killed every year here that get lost. We can't even put in a cell tower."
Noel's justification for opening the monument to development may sound bizarre, but it's not unprecedented. The push to connect wild places—via cell coverage and Wi-Fi—is a messy debate among environmentalists, lawmakers, outdoor recreationists, and coverage providers.
For example, as I reported earlier this year, Yellowstone National Park plans to go 4G. The National Park Service, which is working with AT&T and Verizon to improve service in remote areas, insists the update won't detract from the park's environmental integrity. But conservation organizations say the agency is violating its duty to keep backcountry "disconnected," and have accused it of not being transparent during the planning process.
I spoke to several outdoor recreationists about cellphone footprints on public lands. The small group I interviewed largely agreed that coverage is not only useless in backcountry (you're better off with a satellite phone or GPS emergency beacon), but also doesn't belong there, with a few exceptions.
National monuments, by designation, are intended to be remote. Visit any national monument website, and you'll find some warning that cell coverage is limited. In fact, these are the virtues that make them so special.
Utah's outdoor recreation economy generated $12.3 billion last year, thanks to places like Bears Ears National Monument. Approximately 110,000 jobs were directly created, "more than twice as many as the mining (32,000) and energy (18,000) sectors combined," reported Utah's Salt Lake Tribune.
And to Indigenous peoples, like the the Navajo Nation, Ute Mountain Ute, Ute Indian Tribe, Hopi and the Pueblo of Zuni—a coalition that has vowed to fight Trump's proclamation—these monuments are priceless, holding sacred value and cultural identity.
"Presidents don't have the power to wipe existing monuments off the map and Republicans know it," Rep. Raúl M. Grijalva of Arizona, Ranking Member of the of the House Natural Resources Committee, said in a statement today.
"This is an unpopular president making unpopular decisions without proper legal authority on behalf of ideological extremists and the oil and gas industry. This is the damage that results when we leave Republicans in charge."