It is May 31st, and the Milwaukee Brewers are the best team in the National League. They have gone the entire month of May without losing back-to-back games. They are a solid 4.5 games up on the Chicago Cubs, their closest division rivals. They are off to their best start through 50 games in franchise history. Only the Red Sox and the Yankees boast better records. The Milwaukee Brewers are the best team in the National League, and right now it's not even that close.
When the Brewers acquired Christian Yelich and Lorenzo Cain in quick succession this past offseason, it was seen as an indication that the team was committed to winning now. They had, after all, come ever-so-close in 2017. Given the weakness of the Brewers' projected rotation for 2018, which rested precariously on the injured right shoulder of Jimmy Nelson, the expectation was that the Yelich/Cain acquisitions would precede some impactful addition to the Brewers' starting pitching. There was hope of landing Shohei Ohtani, but then the Japanese star's team told Milwaukee they were out of the running.
And, so, no such move came. The needle on the Brewers, then, seemed to have moved but little since the end of 2017. They were a good team, even a contending team. The PECOTA projection system had them at 84 wins; Fangraphs had them at 85. But they would need a lot of things to go very, very right for them in order to have a decent shot at the playoffs. They would need to walk a tightrope.
The Brewers' rotation, while perhaps better than expected, has actually not performed that well. They are 21st in baseball in both WAR and innings pitched. While Jhoulys Chacin and Junior Guerra have put together surprisingly good starts to the season, Chase Anderson and Zach Davies have struggled. Wade Miley, picked up late in the offseason as rotation depth, has appeared in all of two games and Jimmy Nelson, of course, has yet to appear.
The offense hasn't blown away expectations either. The Brewers have averaged 4.32 runs per game, with a team slash line of .247/.315/.408—not a terrible offensive performance, but a rather pedestrian one. Lorenzo Cain and Christian Yelich have proven to be great additions; Travis Shaw has continued to show the fine form that he has since his move to Milwaukee, and Jesus Aguilar seems to have broken out. But the offense has taken some knocks, too, with heavy hitters Ryan Braun and Eric Thames injured. If it's not the rotation and it's not the offense, then, where has the Brewers' world-beating success come from?
Consider this: the Brewers have played in 20 one-run games this season. In these games, they have a 15-5 record. They have played in five extra-inning games, out of which they have won four. They have made 16 comeback victories. In games where they have entered the seventh, eighth, or ninth with the lead, they have lost only once. And the largest lead that they've blown this season? One run. One measly run.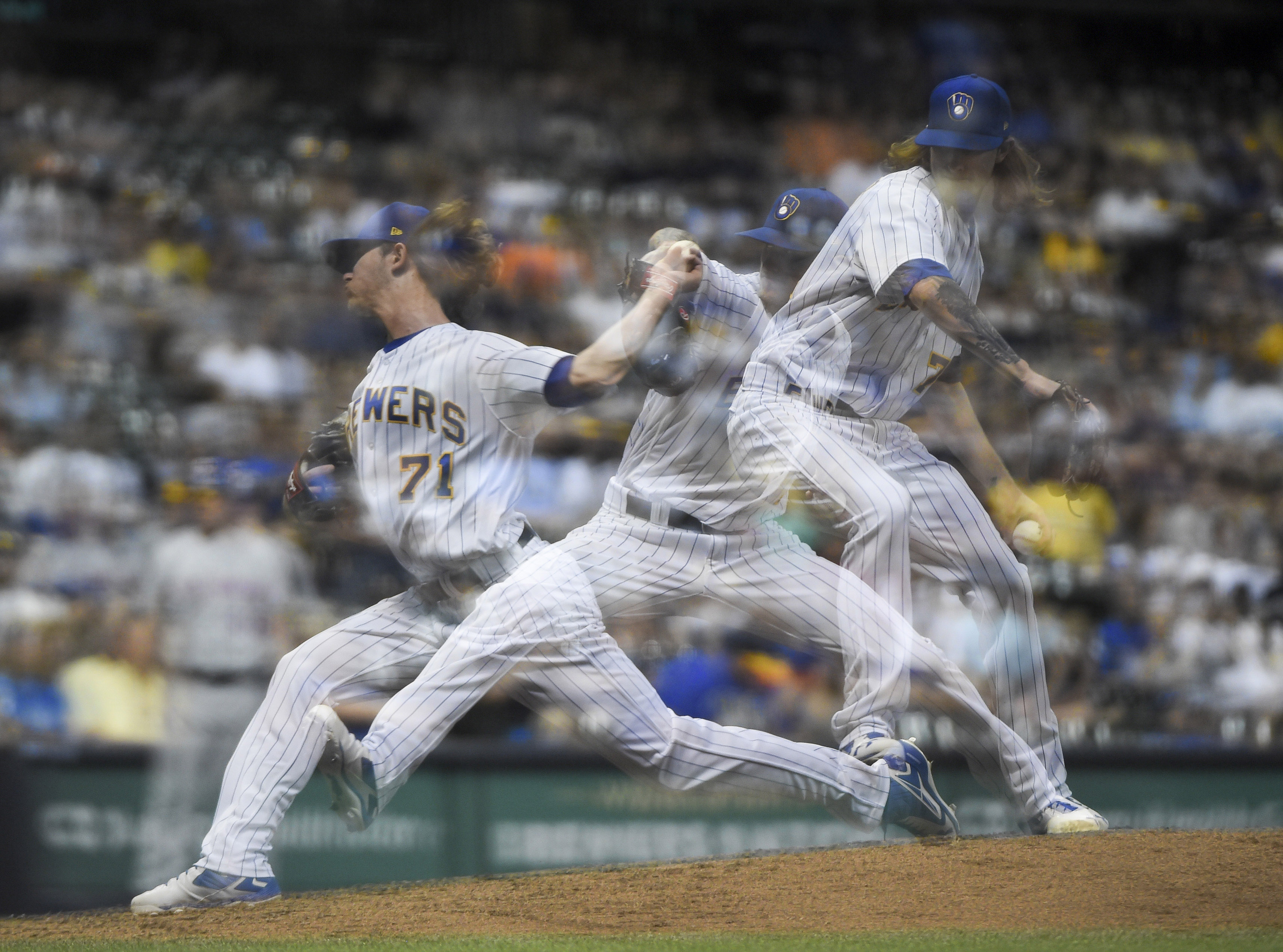 Apart from being mind-boggling, all of these numbers speak to the extraordinary performance of the Brewers' bullpen. Despite the fact that 2017 All-Star closer Corey Knebel missed much of April to injury, the Brewers have had the best bullpen in baseball—whether you measure by ERA (2.44), Wins Above Replacement (3.4), or even Win Probability Added (5.23). The two most valuable pitchers on the team this season have been relievers.
There's 24-year-old revelation Josh Hader, whose beyond-belief 56.9 percent strikeout rate—which translates to almost 18 strikeouts per nine innings—and ability to pitch multiple innings at any point in the game make him a terrifying weapon out of the bullpen. And then there's Jeremy Jeffress, who, after bouncing from organization to organization and struggling with drug suspensions, has found fulfillment in his dog Domino, in playing Fortnite, and in allowing a mere two earned runs in 29 innings pitched this season.
The Brewers' bullpen has more than made up for the weaknesses of their starting pitching this season, and has managed to convert almost every lead handed to them by the hitters—no matter how narrow—into a win. When the Brewers have scored three runs or more in a game this season, they are a ridiculous 32-5.
Is some of this due to luck? Absolutely. No team can so consistently rack up one-run wins and late comebacks without having some number of breaks fall their way. But it is just as much the will of the baseball gods as it is a testament to the quality of this Brewers team: the shockingly dominant relief pitching, the excellent defense, and the offense and rotation that, while not overwhelming, have come through at the right times. This is a team that has seen significant players go down with injuries, that has obvious weaknesses, and that has nonetheless continued its precarious climb to the top.
On Wednesday afternoon, the Brewers faced their division rival St. Louis Cardinals in the final game of a three-game series. Starter Junior Guerra held the Cardinals scoreless through six on four hits and seven strikeouts; the Brewers, though unable to score off young Cardinals fireballer Alex Reyes, got a run off reliever John Gant on a Christian Yelich RBI fielder's choice. It was yet another one-run lead for the Brewers heading into the top of the seventh.
It was Jeremy Jeffress' turn to take the ball, and he did the unthinkable, giving up an earned run for just the second time this season, on a homer to Harrison Bader leading off the inning. Another run would come home after Travis Shaw whiffed on a probable double play ball, giving the Cardinals a 2-1 lead. It didn't last long. Christian Yelich annihilated the first pitch of the bottom of the seventh to dead center. Tie game. And, with two out, Orlando Arcia gave the Brewers a one-run lead again. Josh Hader came out to pitch the top of the eighth and blew by the Cardinals, striking out the side.
The top of the ninth began with another Hader strikeout, but from there, things began to get stressful: a walk, a possible double play ball that became a fielder's choice, a possible lineout that became a deflected infield single. The tying run was at third with two out, and Craig Counsell brought out Corey Knebel to face Jose Martinez.
Knebel fell behind Martinez 3-1. Then he struck him out on two more pitches: curveball looking, fastball swinging. Miller Park exploded. Knebel roared.
It was another impossibly narrow one-run victory, another comeback, another nail-biter—right down to the final strike Knebel threw. It was 2018 Milwaukee Brewers baseball.
The Brewers' run so far this season has been full of razor-thin margins of error, narrowly held leads and edge-of-your-seat late-inning stress—the threading of needle after needle. This might not be the most sustainable way to put together a championship season, and they might not be able to keep it up forever. But if you like high-stakes drama, there have been few better teams to watch.