With a Starbucks and a CVS on nearly every corner today, it's hard to imagine New York City was once the murder capital of the United States. In 1988, the record for homicides in a single year in New York City was broken with 1,842. To put that into perspective, in 2017, the city neared a record low with 278 homicides.
Assuredly, things have changed. This, of course, includes past crime scenes themselves. I took a trip down memory lane to photograph the sites of some of New York's most horrific and infamous killings.
596 10th Ave and 43rd St.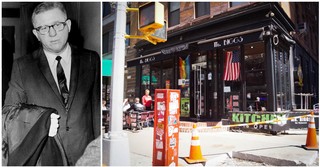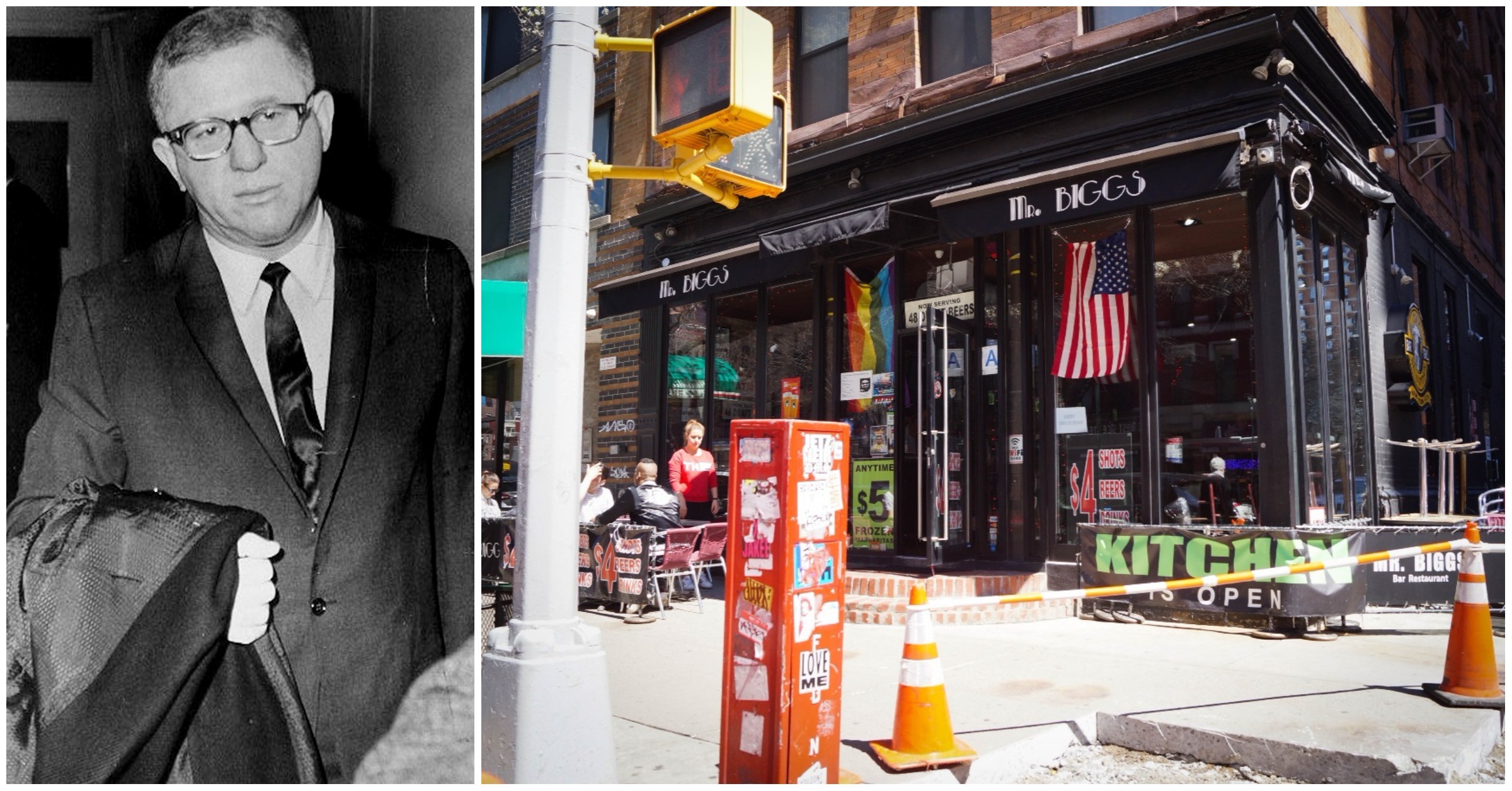 An episode of The Facts of Life was playing on the big-screen TV over the bathroom door behind which, back in 1977, the fresh body of loan shark Ruby Stein was dismembered. Located in the heart of Hell's Kitchen, what's now Mr. Bigg's Bar and Grill used to be called the 596 Club. Its owner was Jimmy Coonan, the leader of the notorious Irish gang the Westies.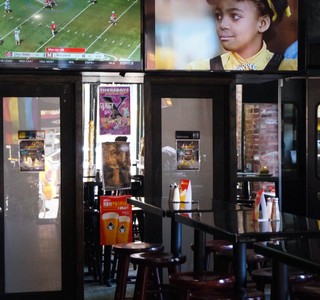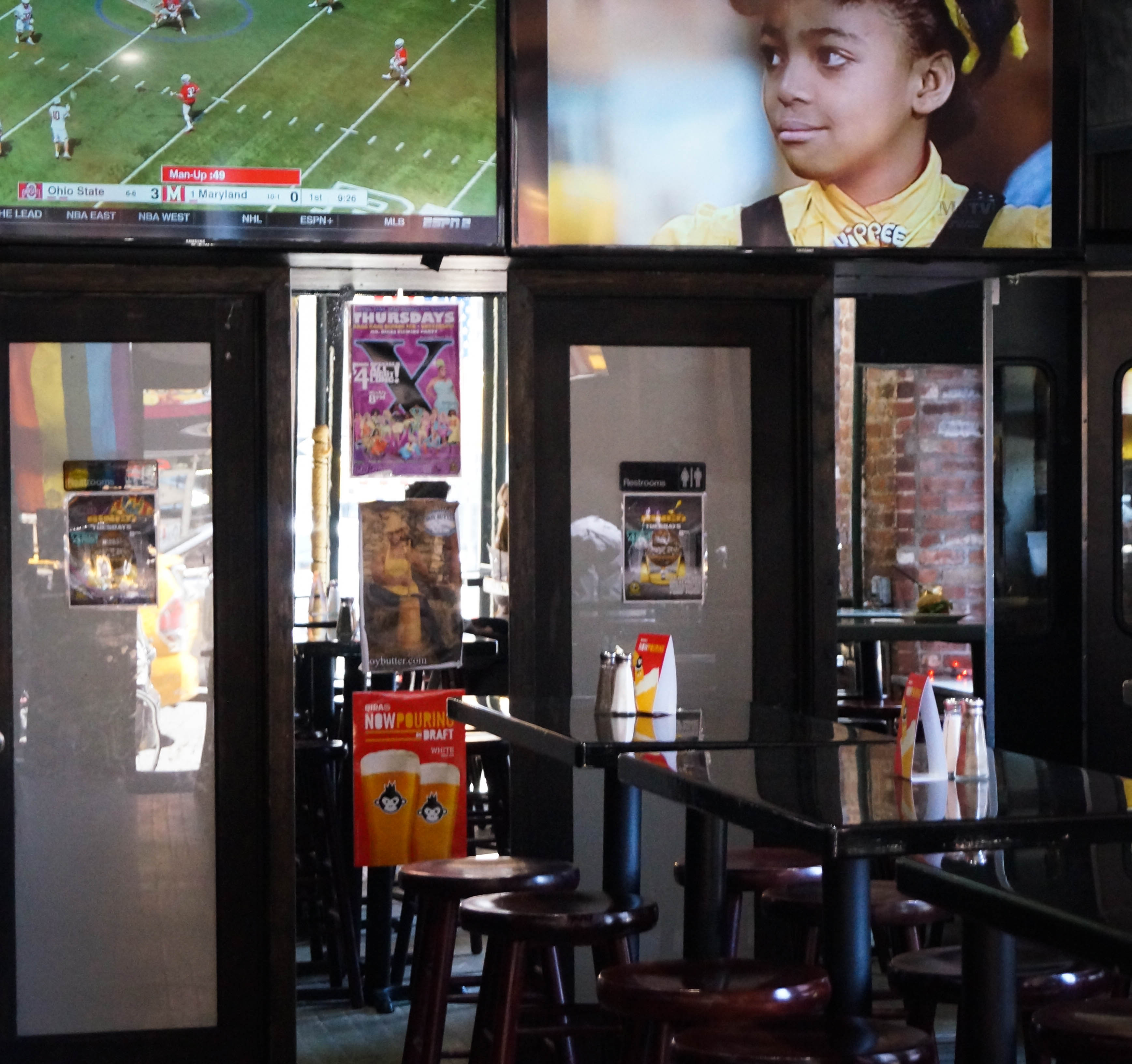 I ordered the vegetarian quesadilla and glanced behind the bar, where, as legend has it, the gang kept jars of severed fingers of its victims. In Stein's case, once the man had been lured into Coonan's drinking lair, the front door was locked, and the blinds were shut. A hitman emerged from the kitchen and shot Stein dead on the spot. His body was dragged into the restroom, where Coonan gave his cronies a demonstration of the fine art of dismembering. Stein's body was later discovered stuffed in trash bags and dumped into the East River.
As the bartender set down my food, I recalled the most gruesome legend of the 596 Club: the time members of the Westies once rolled a severed head to-and-fro down the bar. Most likely on the very spot where I was now eating my quesadilla.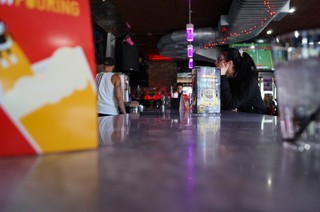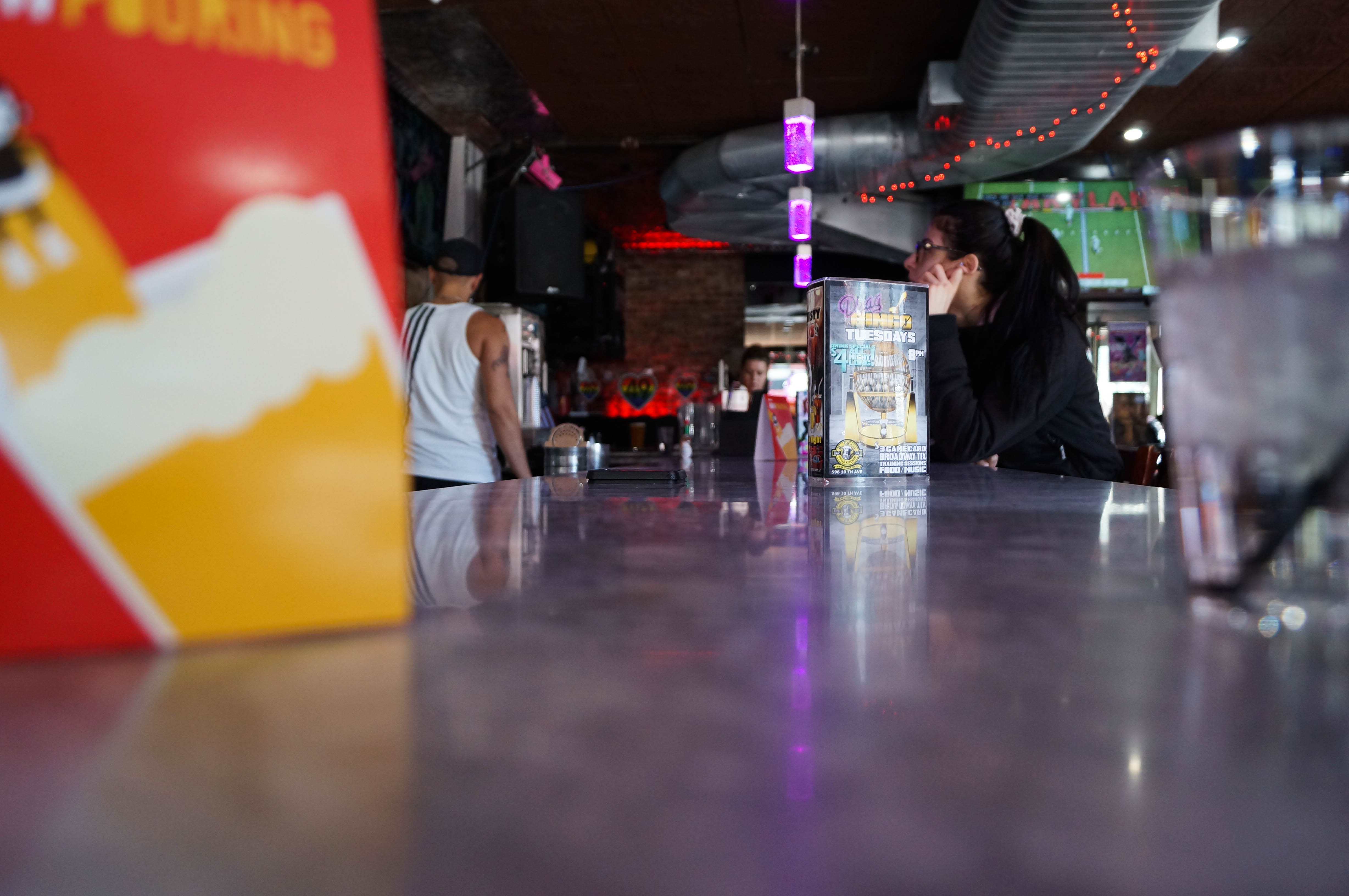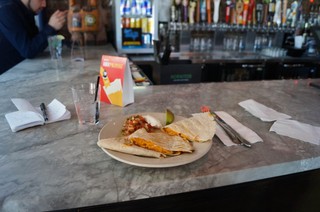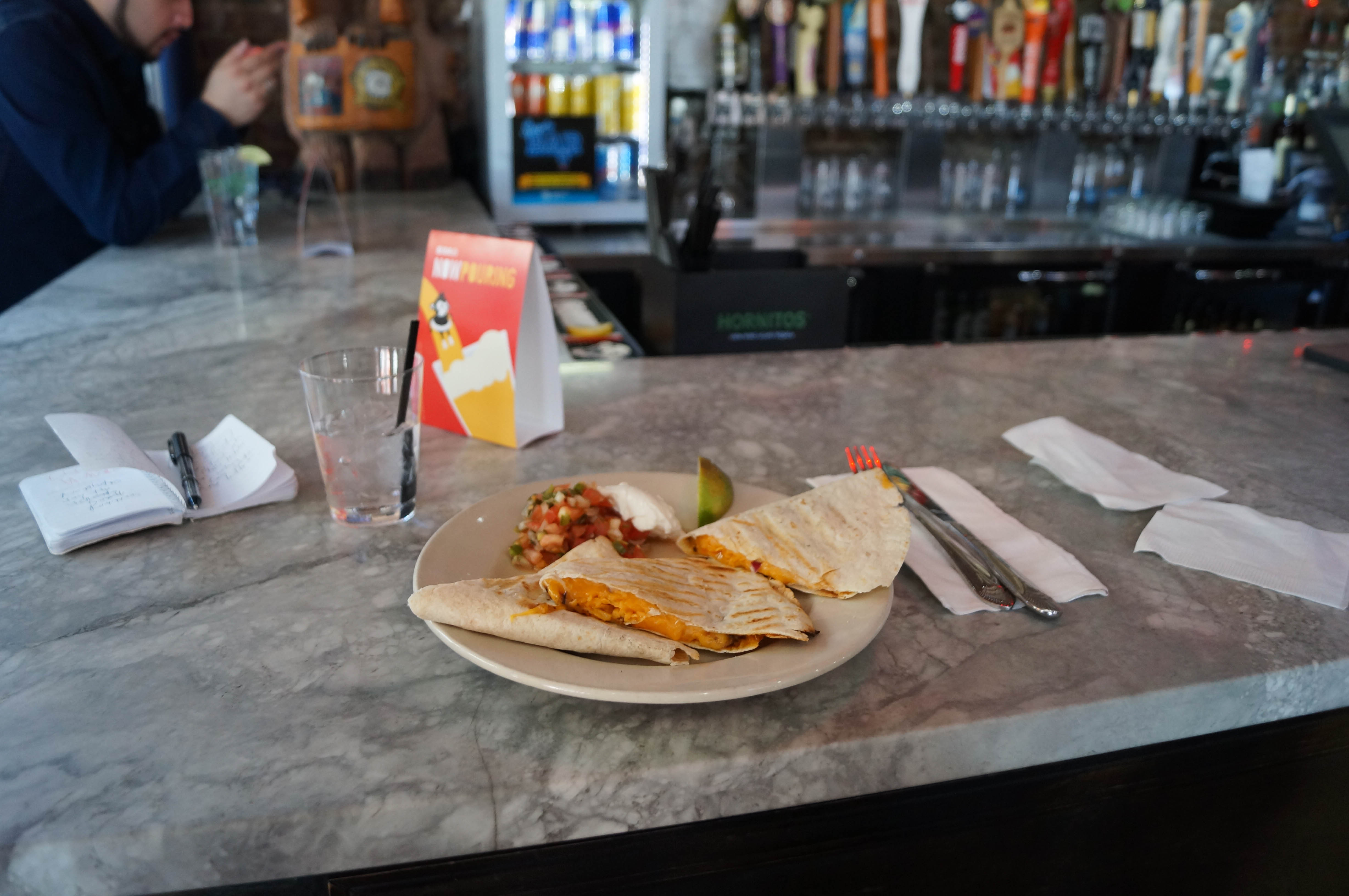 312 W 23rd St. and 8th Ave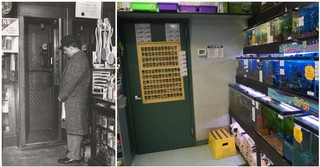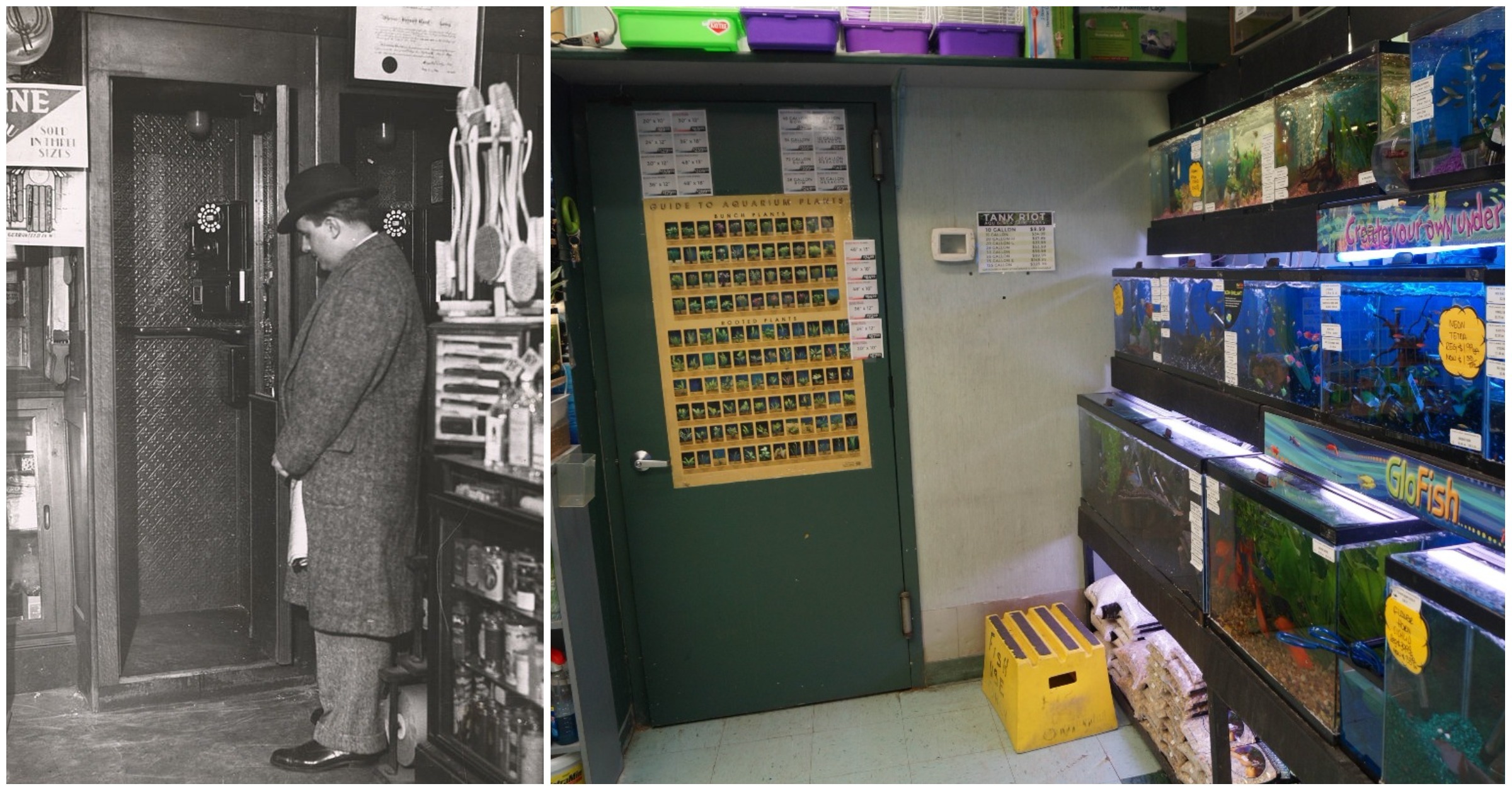 Next up was Petland in Chelsea, where I found myself marveling at an exotic parrot fish that cost $250. In this very same location, on February 6, 1932, a hitman by the name of Vincent "Mad Dog" Coll was gunned down inside the phone booth of London Chemists drugstore. Early in the morning, Coll entered the booth for a call. Acting on the orders of mob boss Dutch Schultz, a gunman entered the store, telling the cashier and customers to "keep cool now," drew a tommy gun, and opened fire.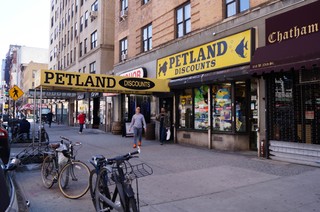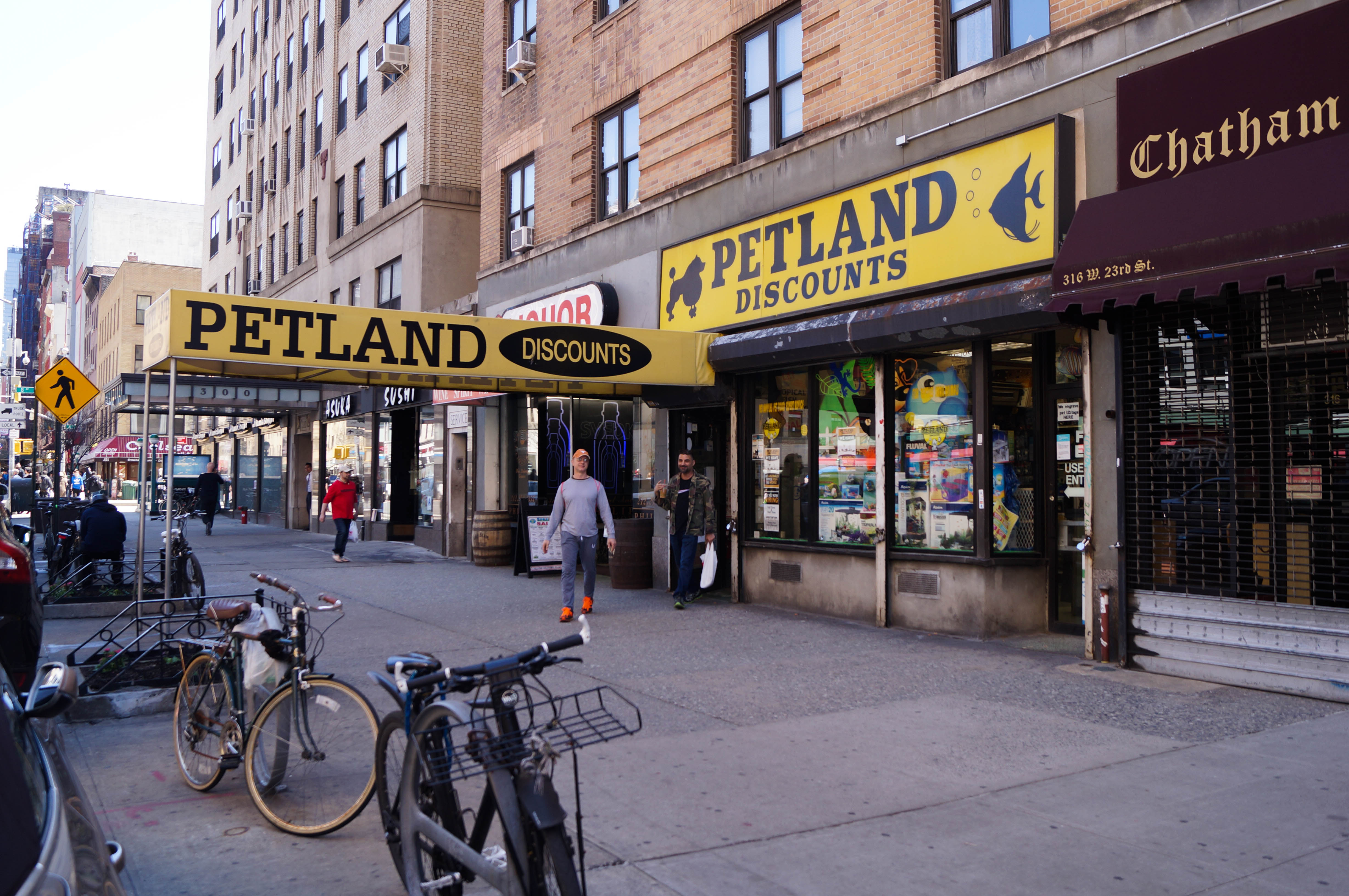 According to the New York Times, at least ten shots were fired. As I looked at the aquariums, I imaged Mad Dog Coll's body slumped somewhere near the Japanese fighting fish.
560 W 43rd St. and 11th Ave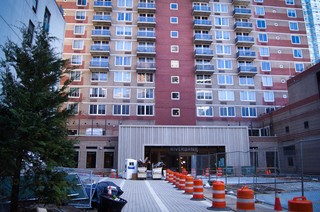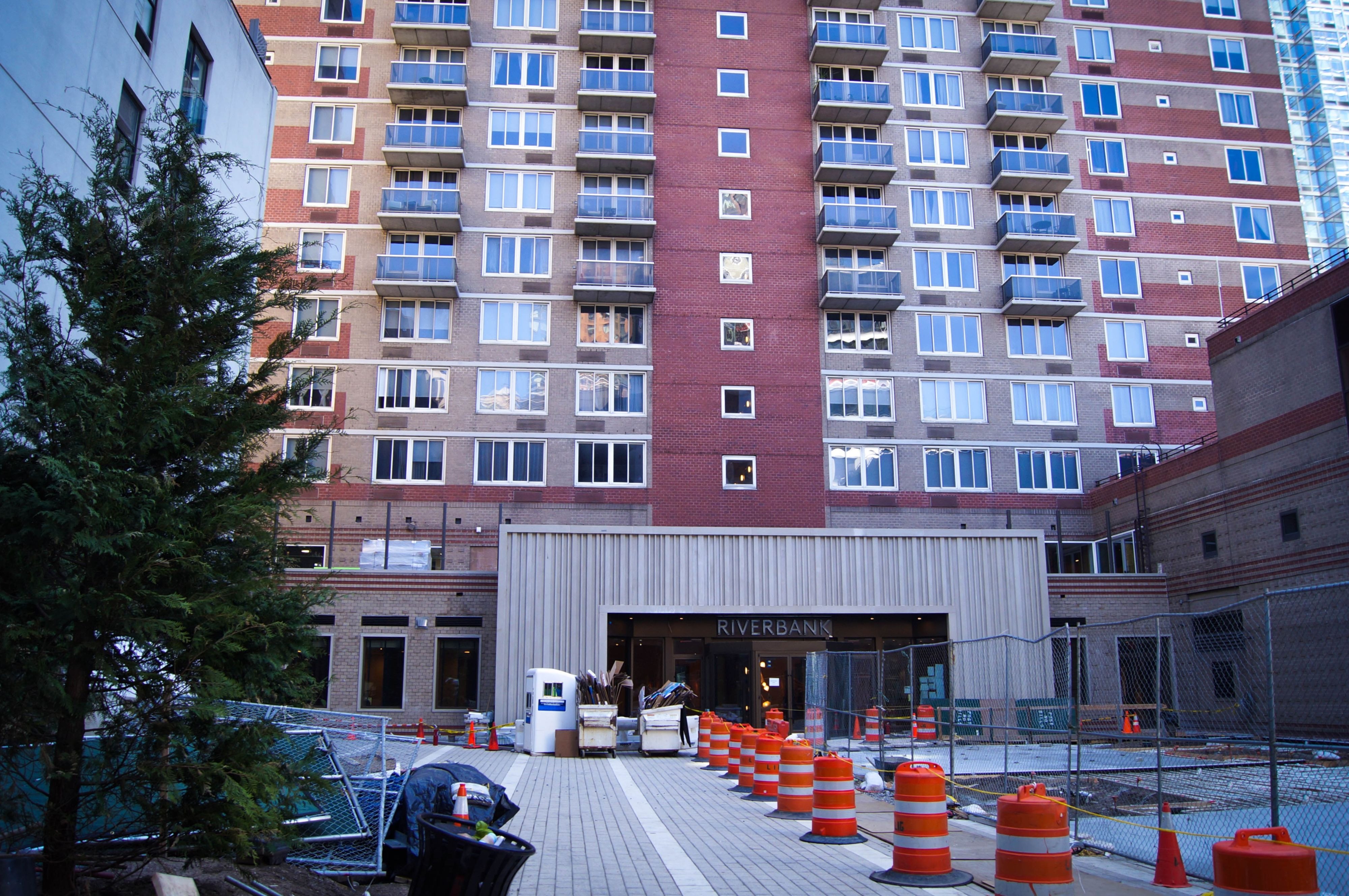 In order to take a gander inside the building where, on March 17, 1996, club kids Michael Alig and Robert "Freeze" Riggs murdered Angel Melendez, I asked the doorman at the Riverbank West to see some real estate listings.
It was through this very lobby that Alig and Riggs carried a cardboard box containing the dismembered body parts of Melendez, a purported drug dealer. Coming off a four-day drug binge, Alig, a promoter for the famous Limelight nightclub, had a confrontation with Melendez over money and narcotics, and beat the man to death with a hammer.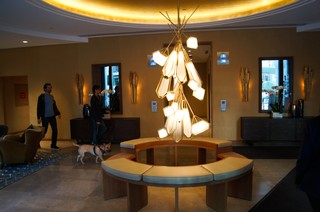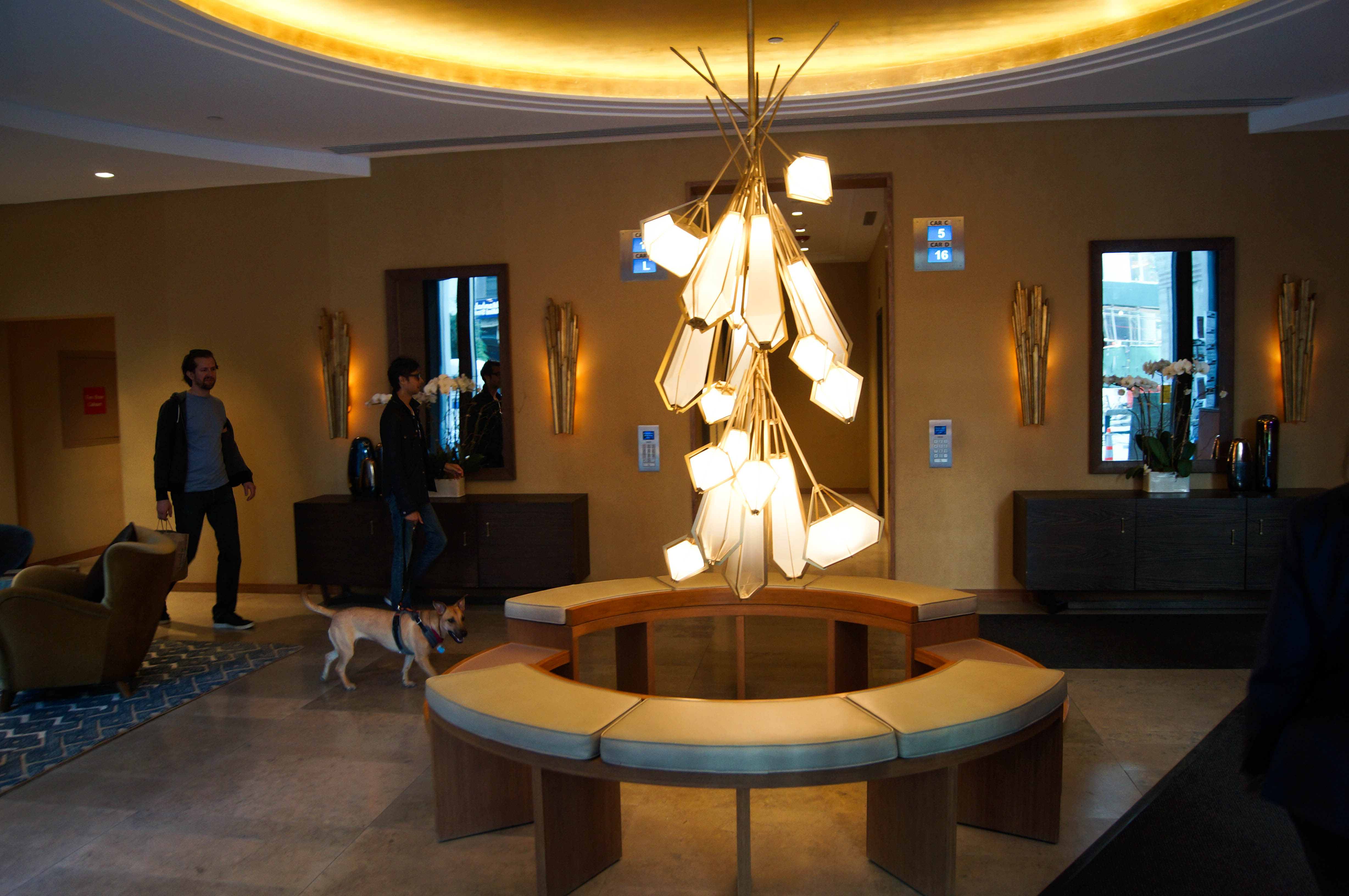 The duo stashed Melendez's body on ice in the bathtub, covered it in Drano, and shut the bathroom door for "eight or nine days" until they could think of a solution. Riggs went to Macy's to purchase butcher's knives, and after going through many bags of heroin, he and Alig chopped up Melendez's body and placed it into a TV box.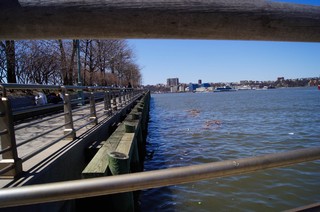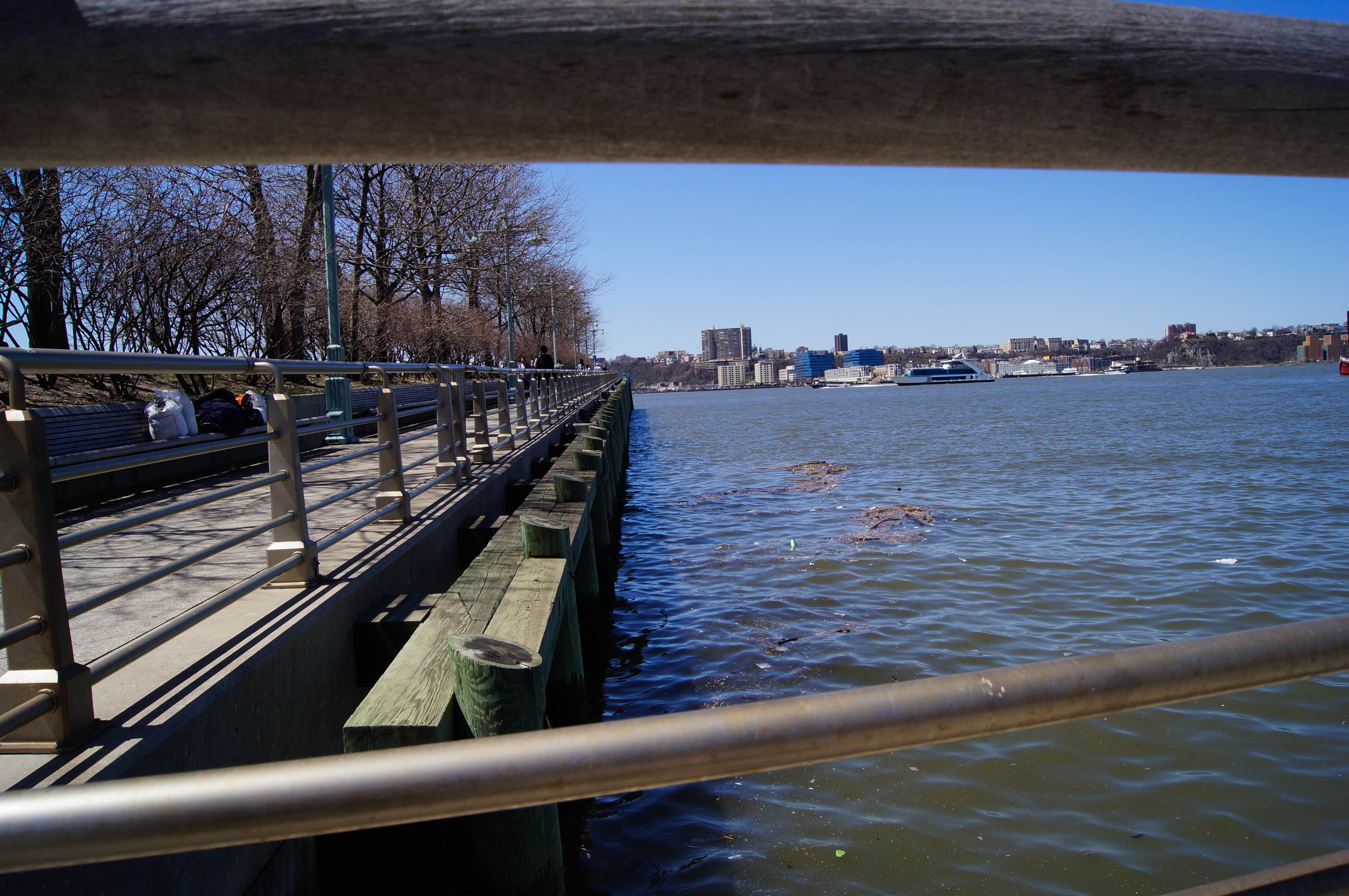 Off the West Side Highway near 25th Street is the spot where Alig and Riggs chucked the dismembered corpse into the Hudson River. Alig served 17 years in prison, while Riggs was released on parole in 2010. These days, Alig is no longer chopping up bodies, but he is joking on YouTube about how the apartment was listed for sale at $2.1 million.
222 W 23rd St. and 7th Ave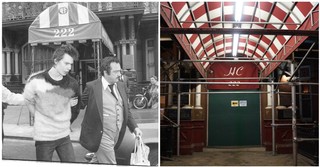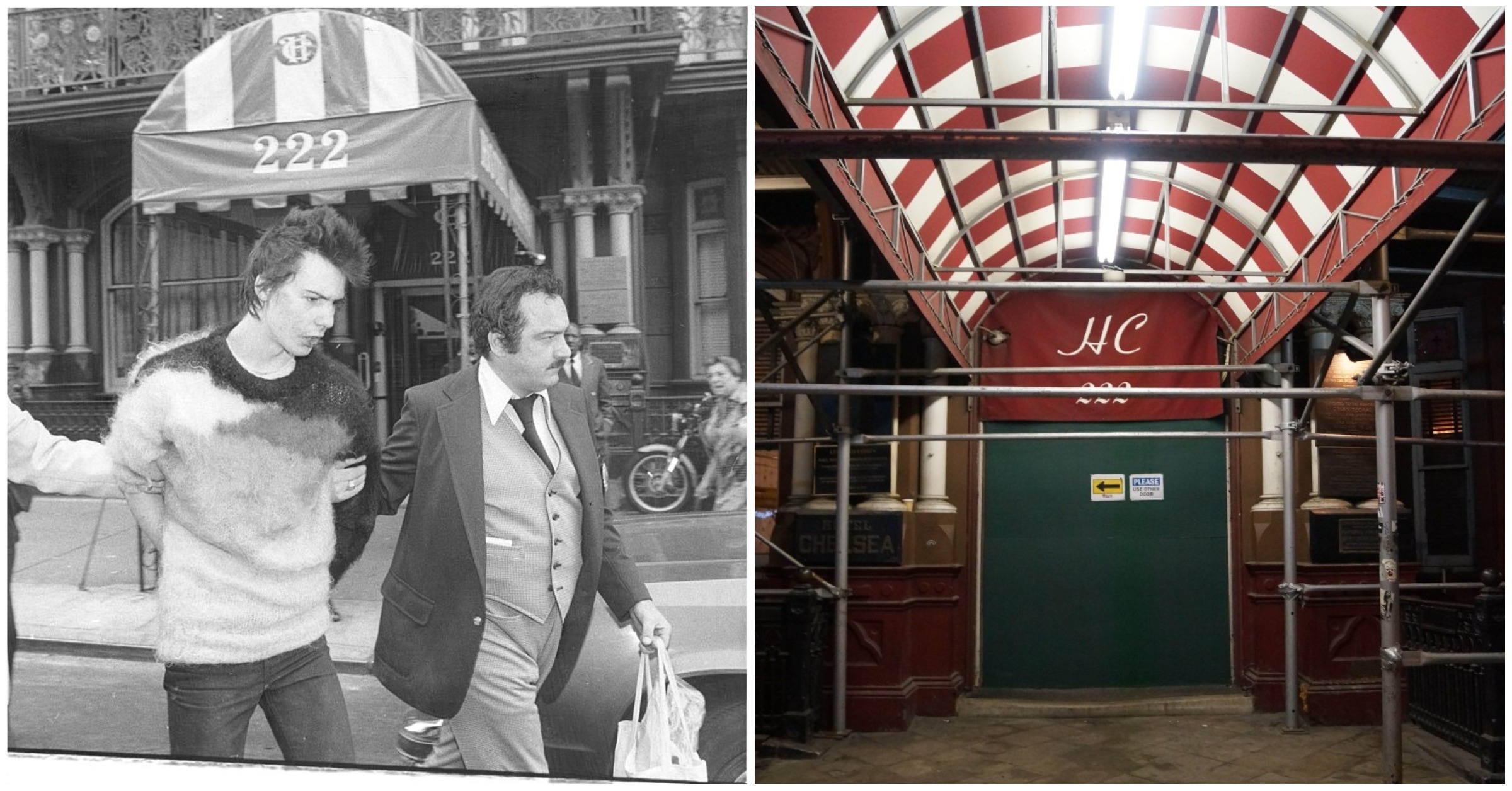 On October 11, 1978, Nancy Spungen, the girlfriend of Sex Pistols' bassist Sid Vicious, was found stabbed to death on the bathroom floor of Room 100 at the Chelsea Hotel. Though Vicious claimed to have been passed out on drugs at the time of the murder, he was arrested and taken to Riker's Island. Months later, while out on bail and before he could stand trial for the murder, he died of a heroin overdose.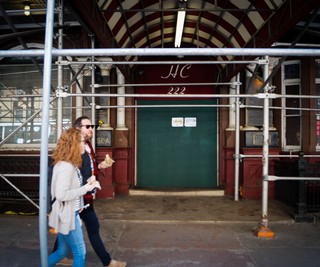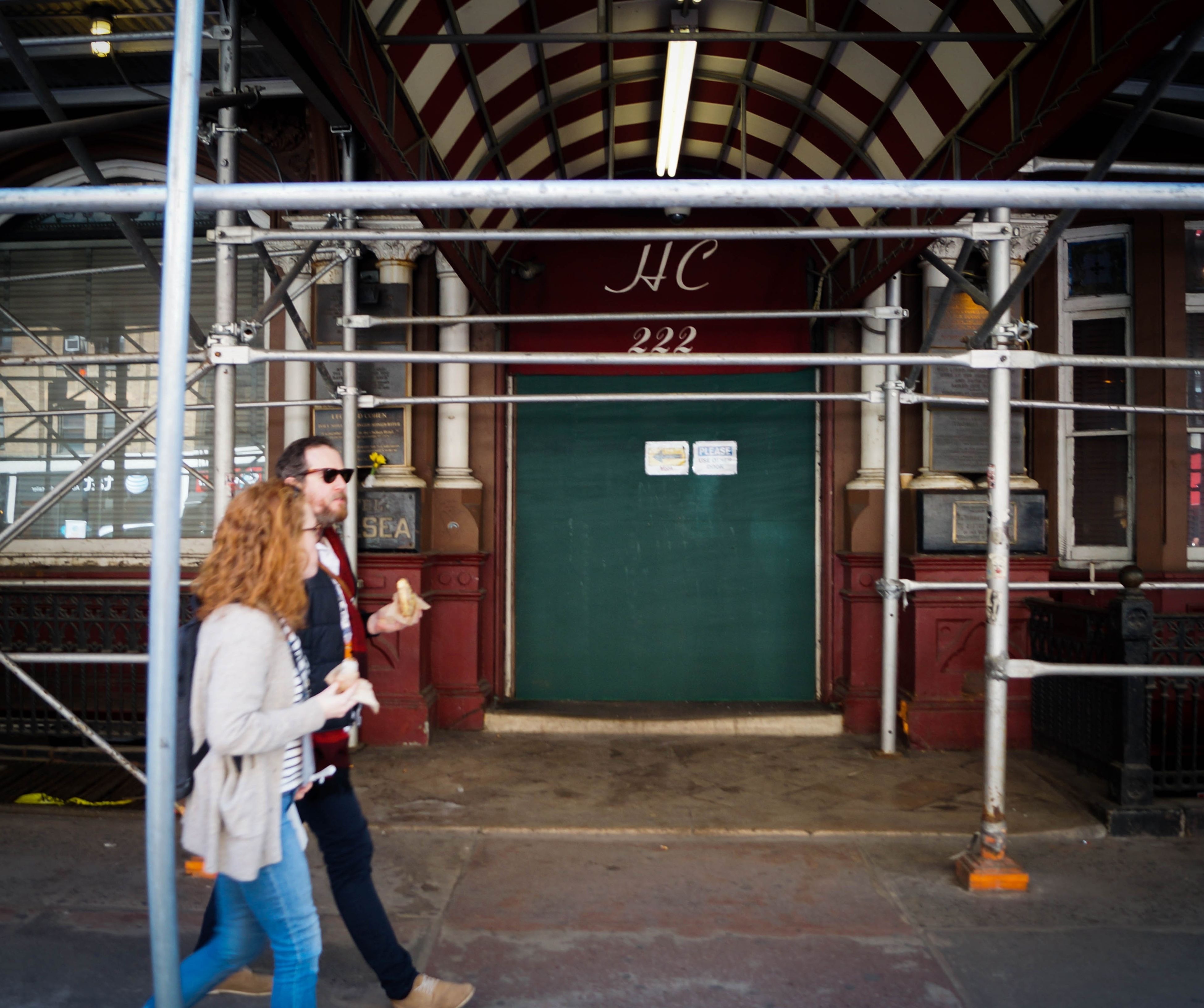 The front door of the Chelsea Hotel, out of which Spungen's body was carried by coroners, is now sealed. In 2016, a hotel group bought the former bohemian haunt for $250 million. And the times, they are a changin': At a recent auction, the door to Bob's Dylan's former room was purchased for $100,000.
210 E 46th St. and 3rd Ave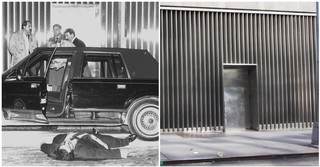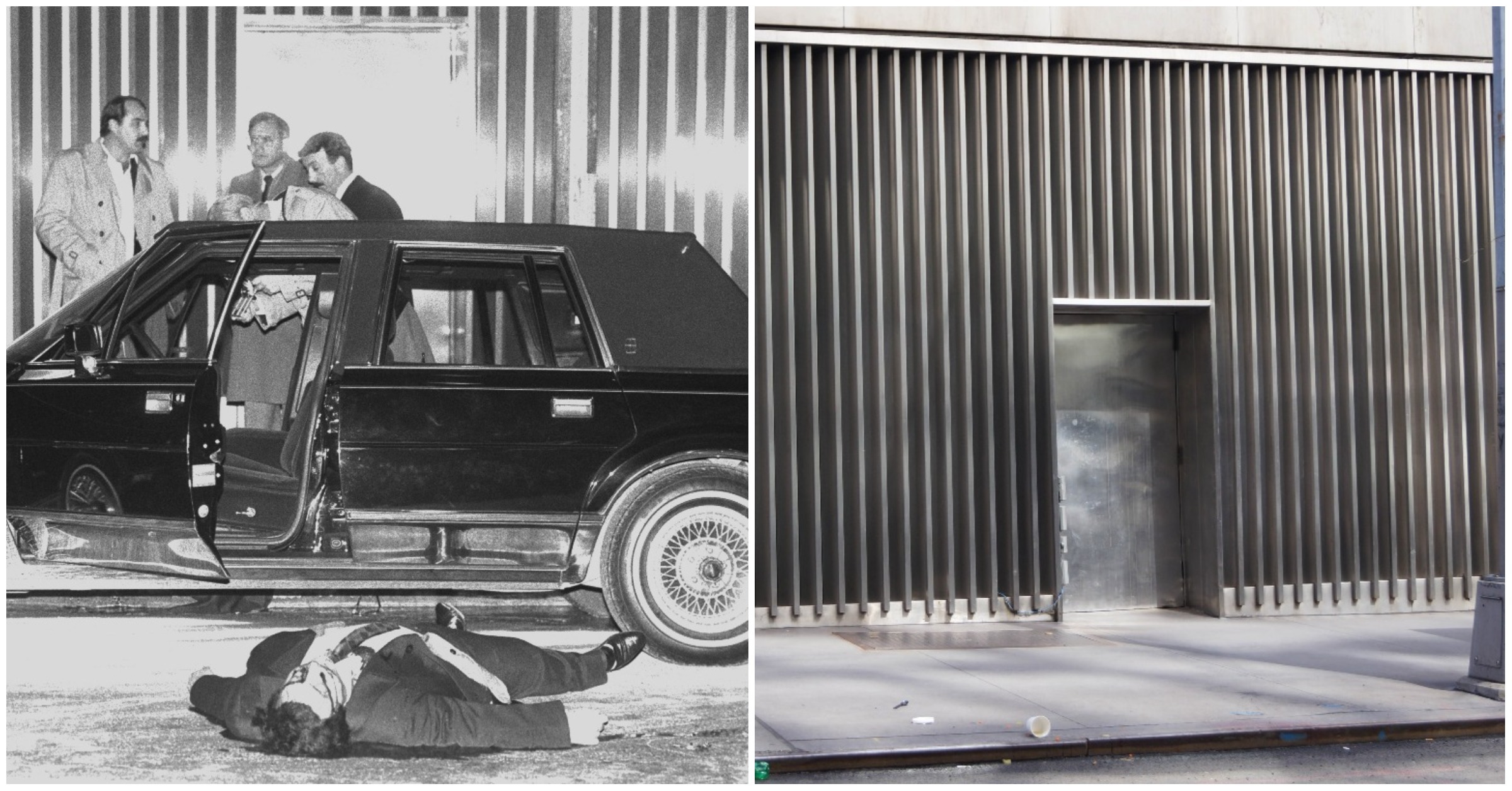 On December 16, 1985, Gambino crime family head Paul "Big Paulie" Castellano and bodyguard Thomas Bilotti headed to Sparks Steak House in Midtown for a prearranged meeting. A group of hitmen orchestrated by John Gotti waited near the restaurant's entrance. As Castellano exited the car in front of the restaurant, the gunmen shot him and his bodyguard several times.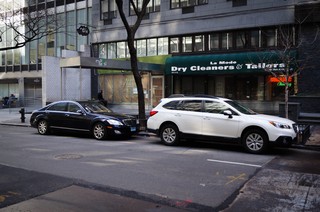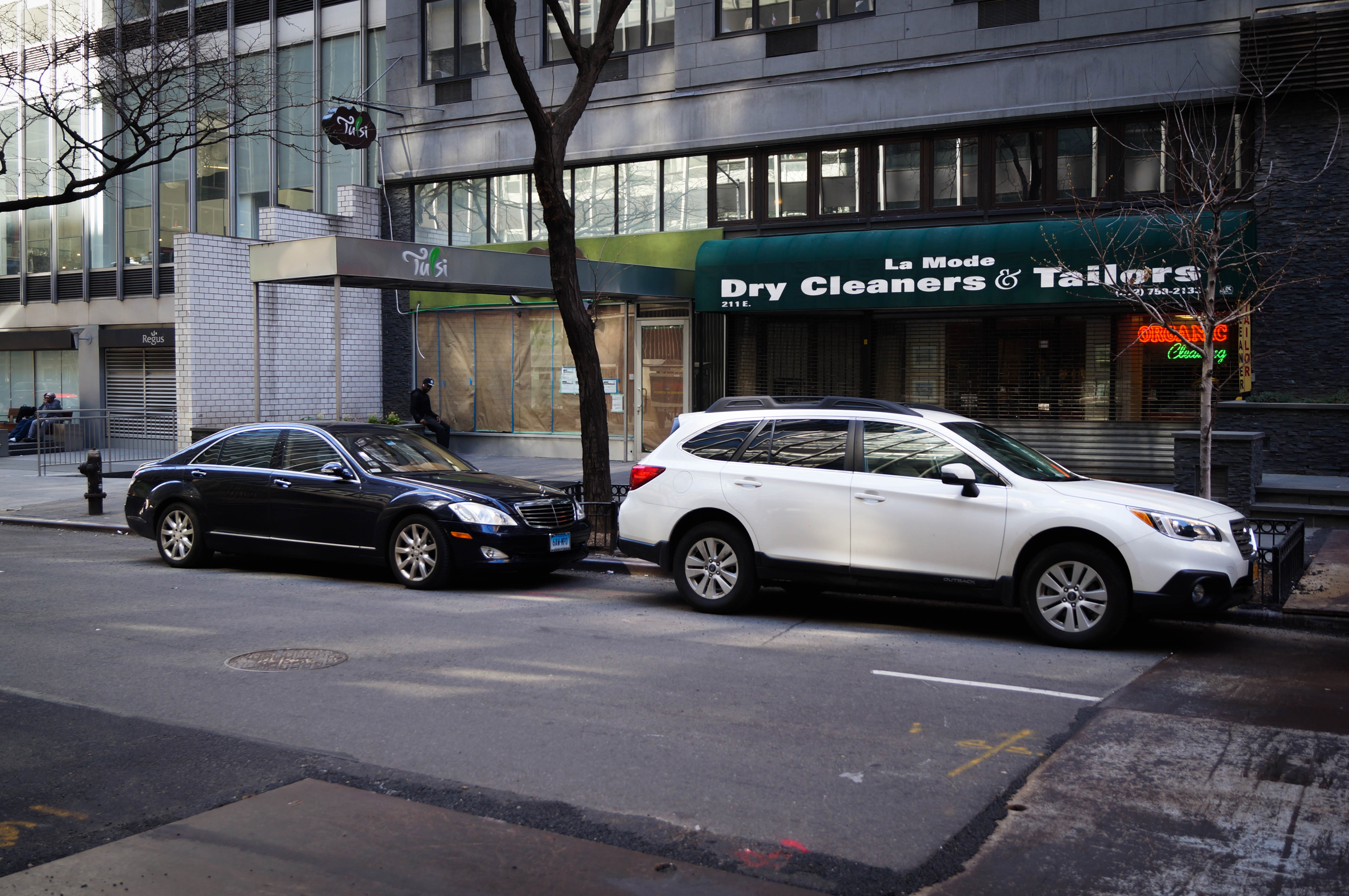 As a former aide tells it, Gotti watched on from a Lincoln sedan parked across the street, in front of what's now La Mode Dry Cleaners & Tailors. Before leaving the scene, Gotti drove past to view the dead bodies.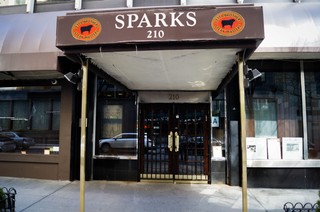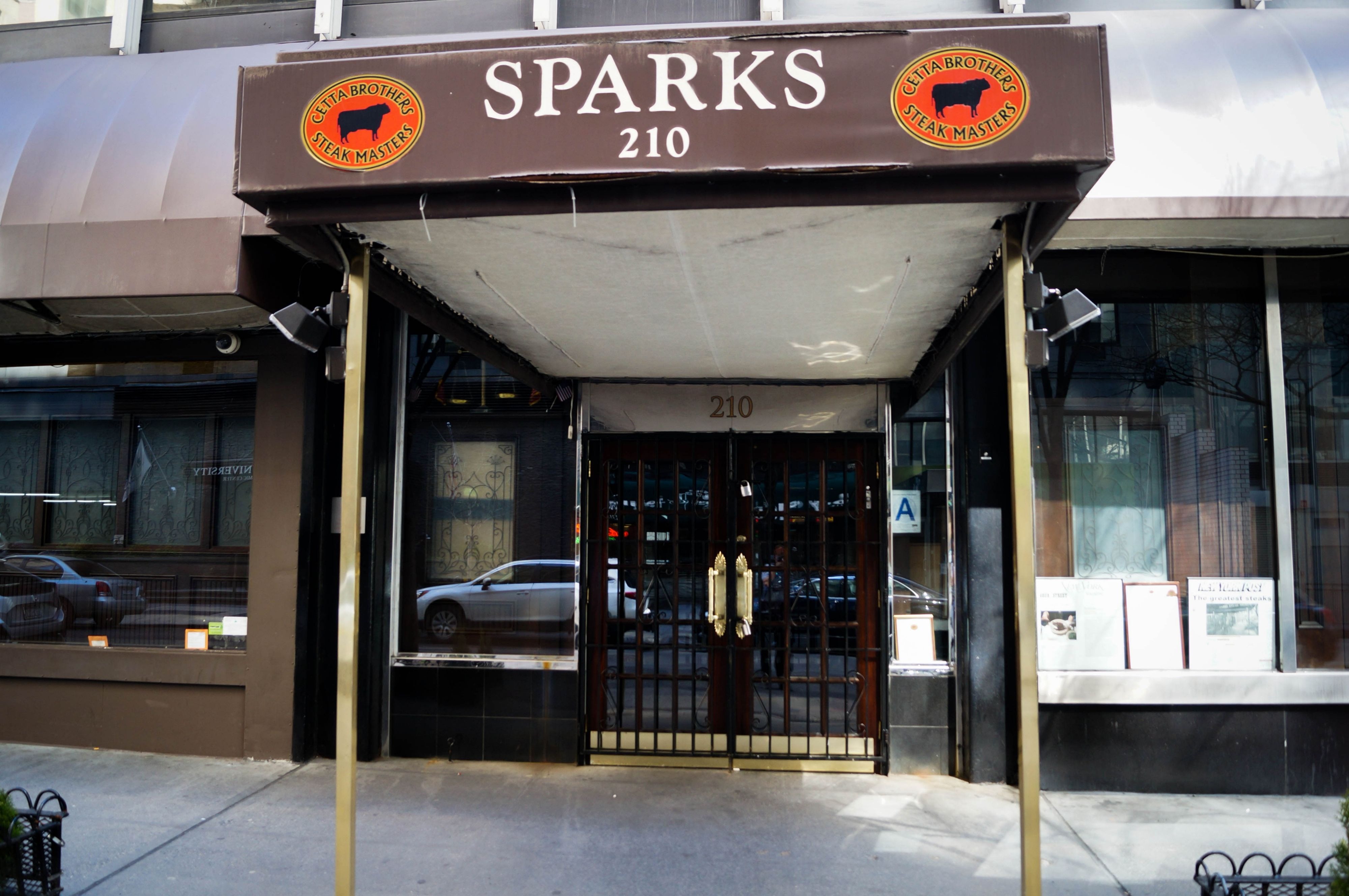 In 2017, the owner of Sparks told the NY Post that the murder remains "part of the restaurant's mystique."
870 7th Ave and 55th St.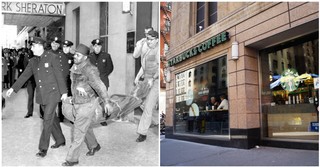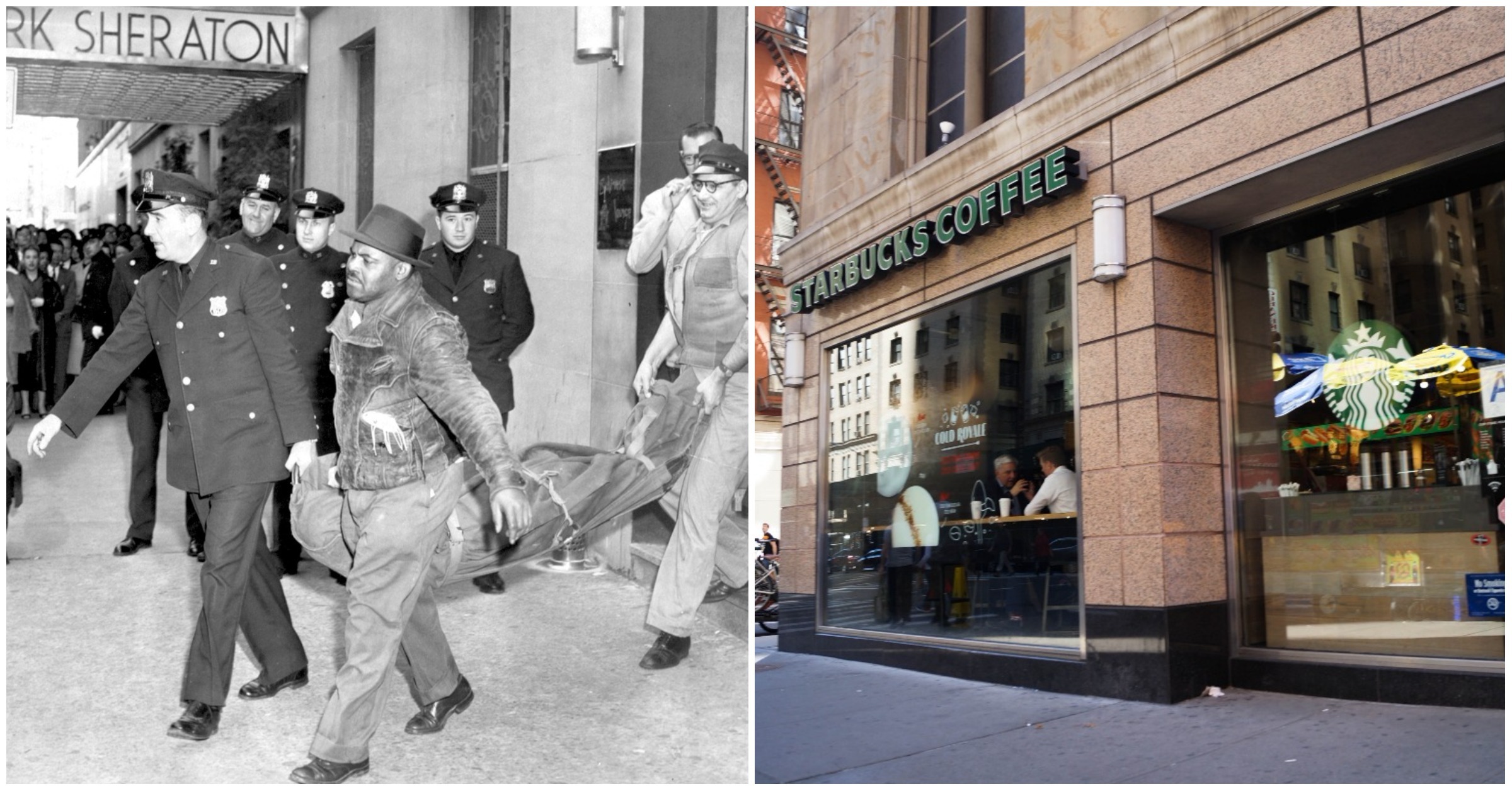 "Did you know a murder once took place at this Starbucks?" I asked the barista. "No, I didn't," he replied, adding, "Do you want your coffee cake heated up?"
At 10:30 AM on the morning of October 25, 1957, Murder Inc. chief Albert Anastasia sat down in Chair 4 at the barbershop inside Park Sheraton Hotel (now the Park Central Hotel).
Two gunmen in aviator sunglasses rushed in. The barber stepped out of the way, and the men began shooting. Despite being riddled with bullets, Anastasia stood. The gunmen continued to fire.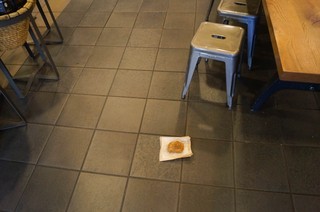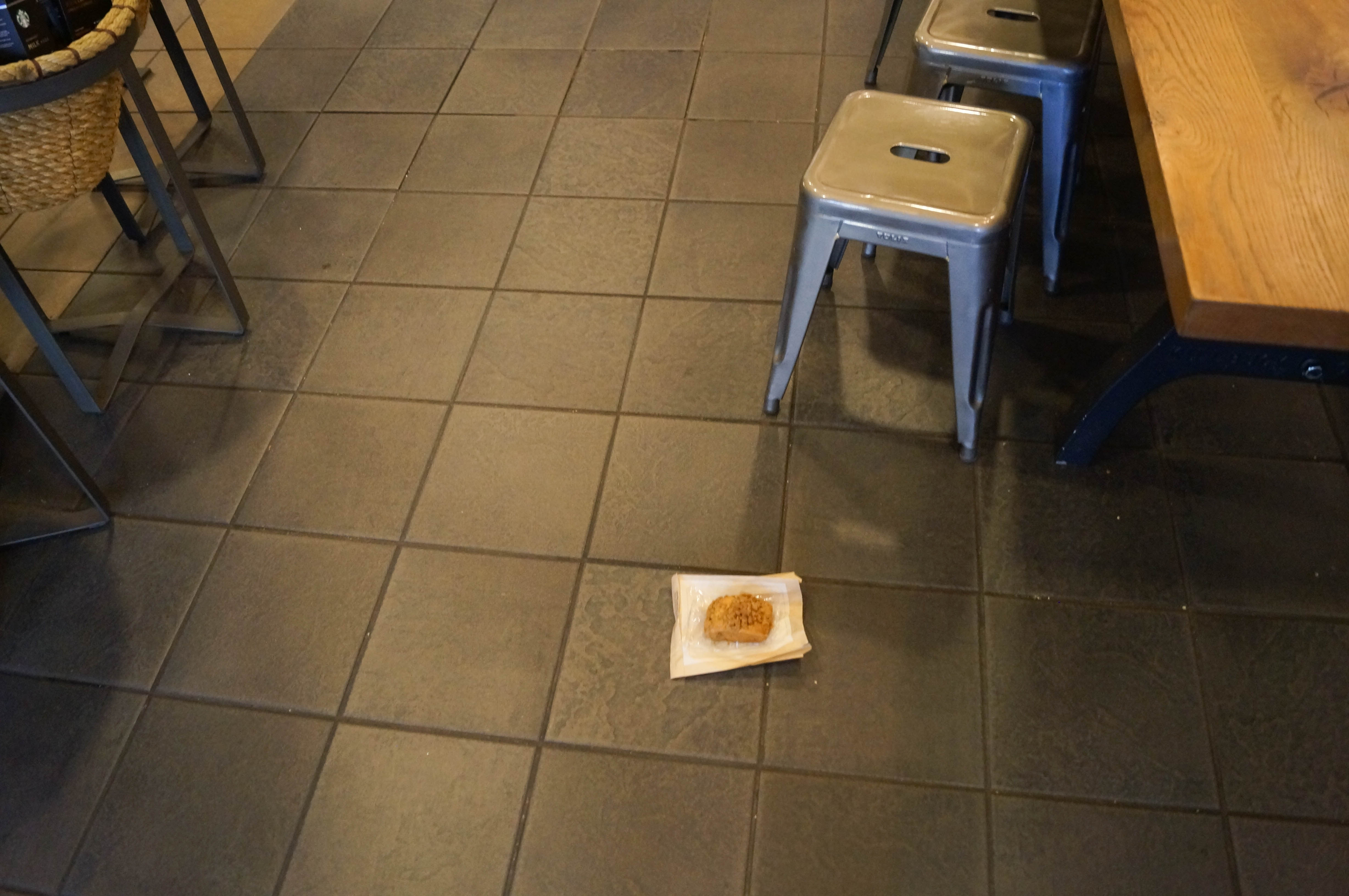 In the photo above, I used my coffee cake to mark where Anastasia's body fell to the floor. No one was ever charged for the murder.
1 West 72nd St. and Central Park West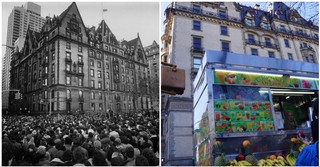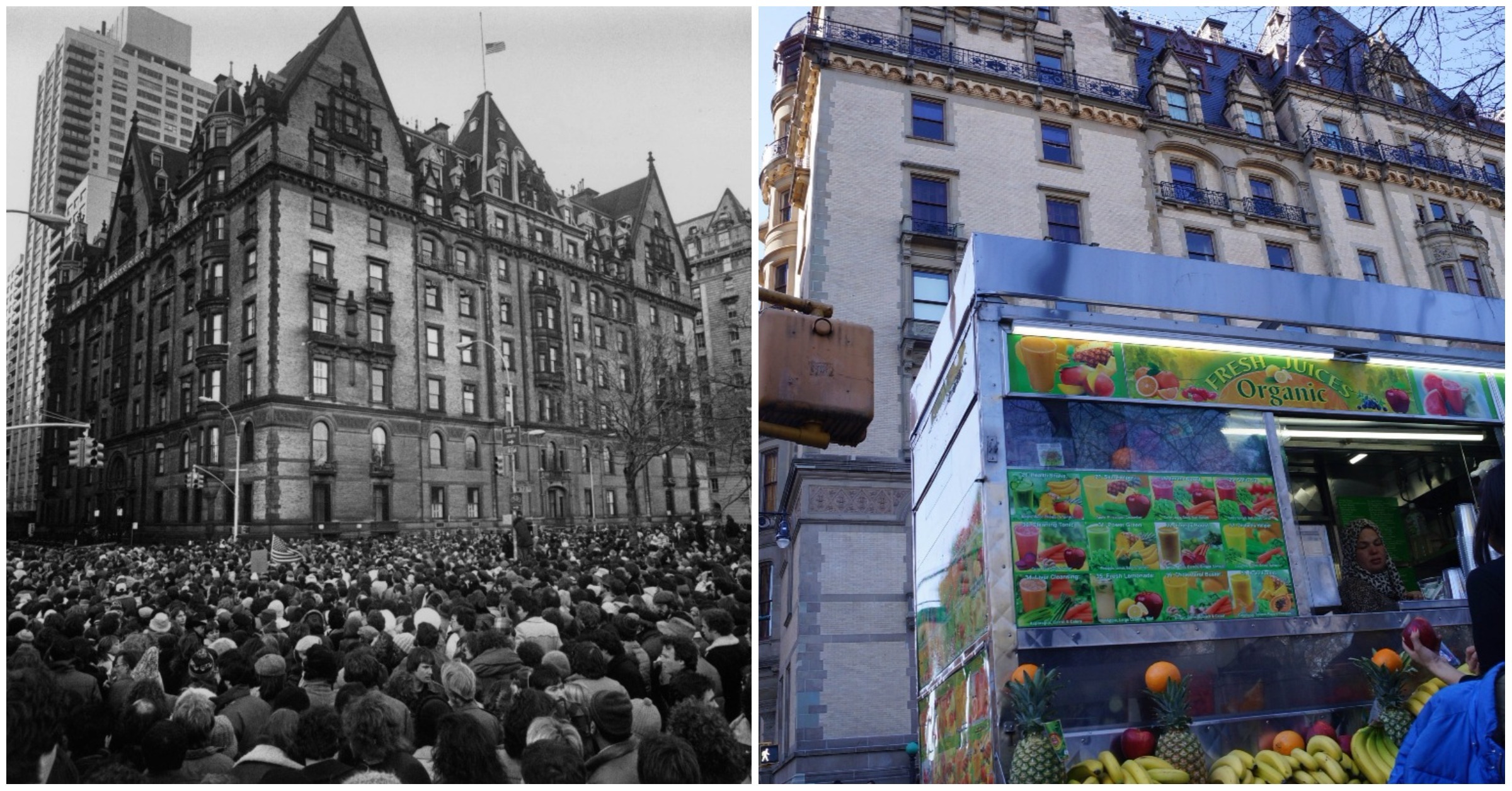 I ordered something called a "Banana Rama" from the juice stand on the very street corner where John Lennon and Yoko Ono once stood for a photo in front of the Dakota, their place of residence on the Upper West Side. The gothic apartment building had previously come to prominence as the setting for the 1968 movie Rosemary's Baby.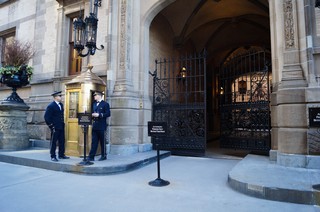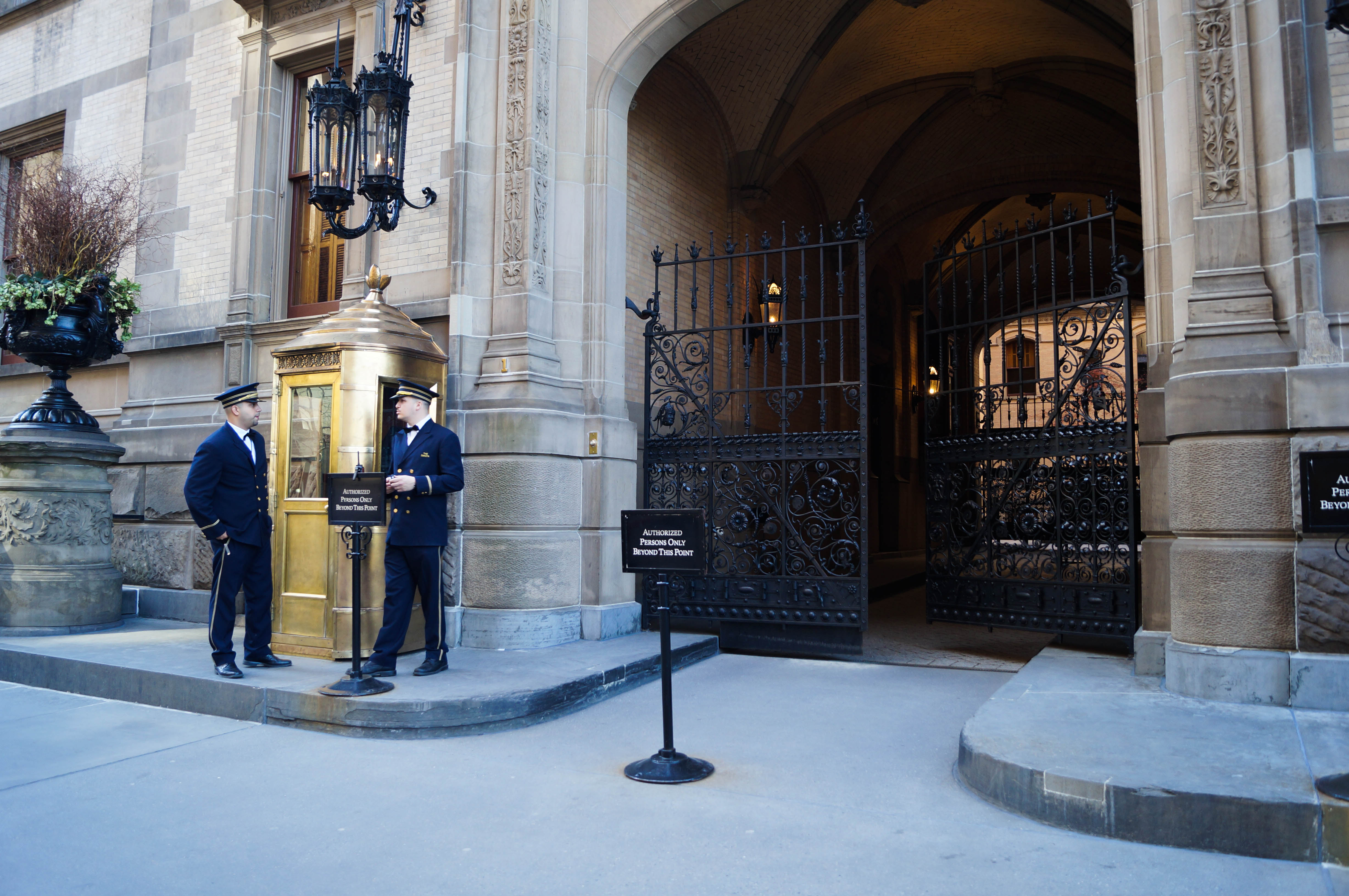 On December 8, 1980, the former Beatle had just exited a limousine when he was fatally shot by Mark David Chapman. Tens of thousands of people gathered together outside the Dakota for a vigil following the shooting. Tourists still flock to the locale, where you can still see the same security into which a wounded Lennon staggered.
1616 2nd Ave and 84th St.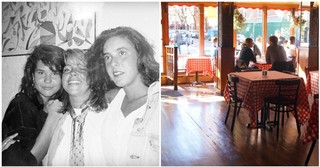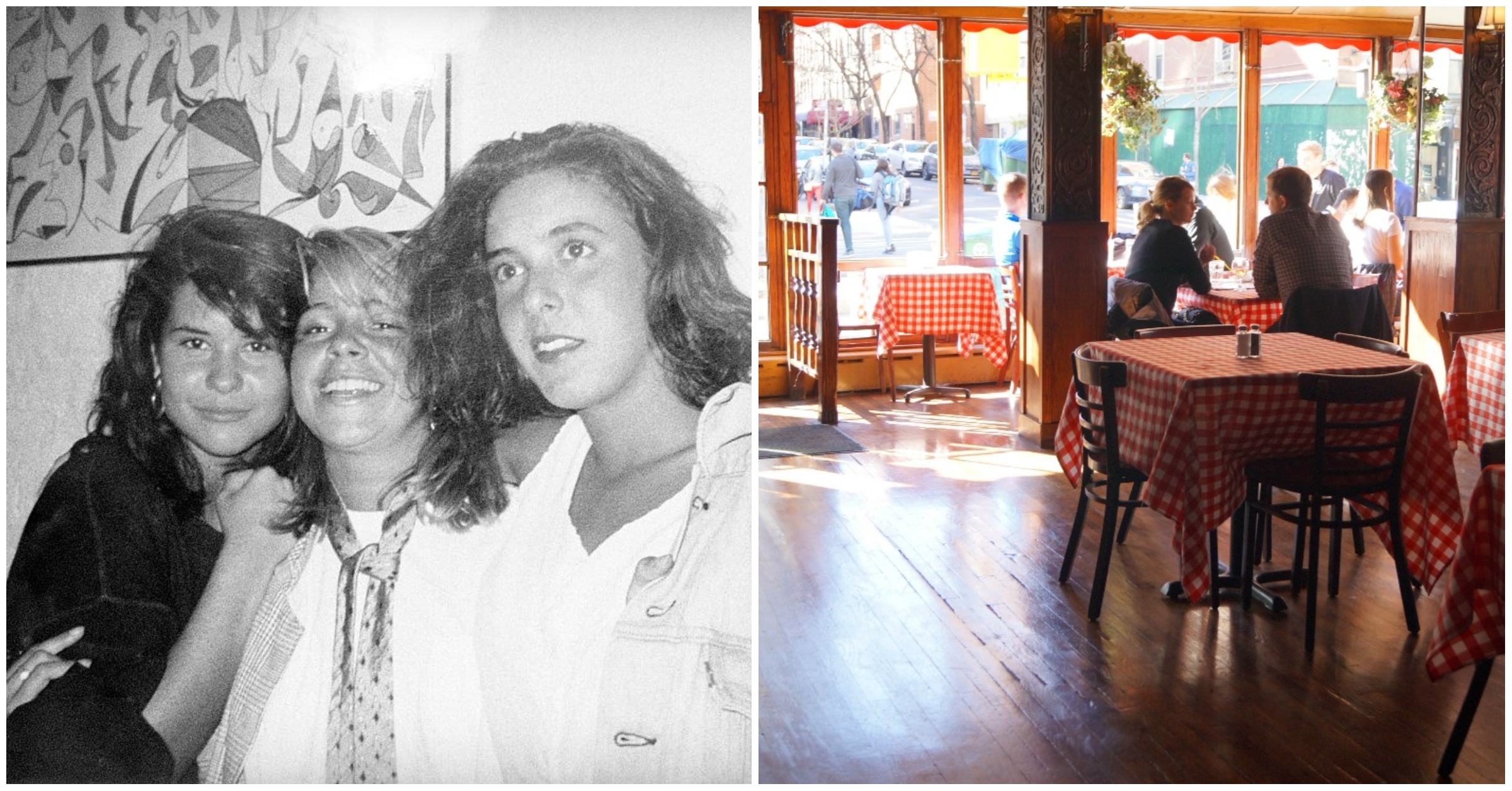 On the posh Upper East Side, I stopped into Dorrian's Red Hand for a quick pint. Back in 1986, this was where "Preppy Killer" Robert Chambers met his victim, Jennifer Levin. The two had casually dated over the summer, and both moved in privileged circles.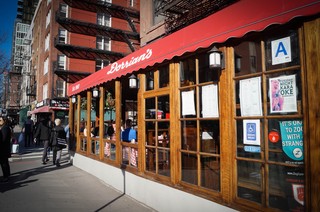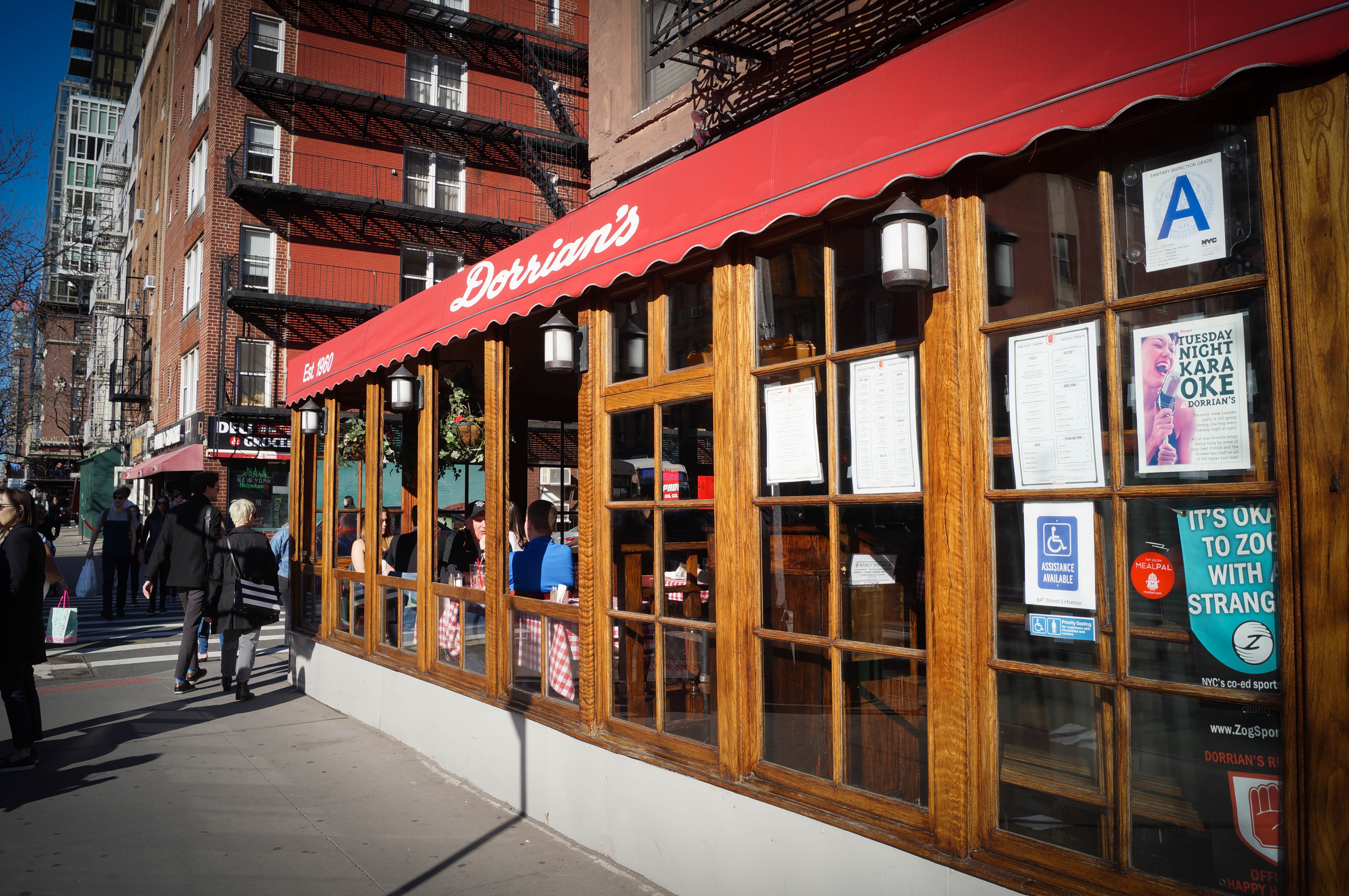 As I sipped my Guinness Animotion's 80s electronic hit "Obsession" came on the jukebox. "This is a good song!" exclaimed an older man who sat at the end of the bar. Perhaps he was here at Dorrian's on August 26, 1986, when Chambers and Levin left the bar around 4 AM. According to Chambers, he and Levin went to Central Park to have "rough sex," as he described it. He ended up strangling her to death.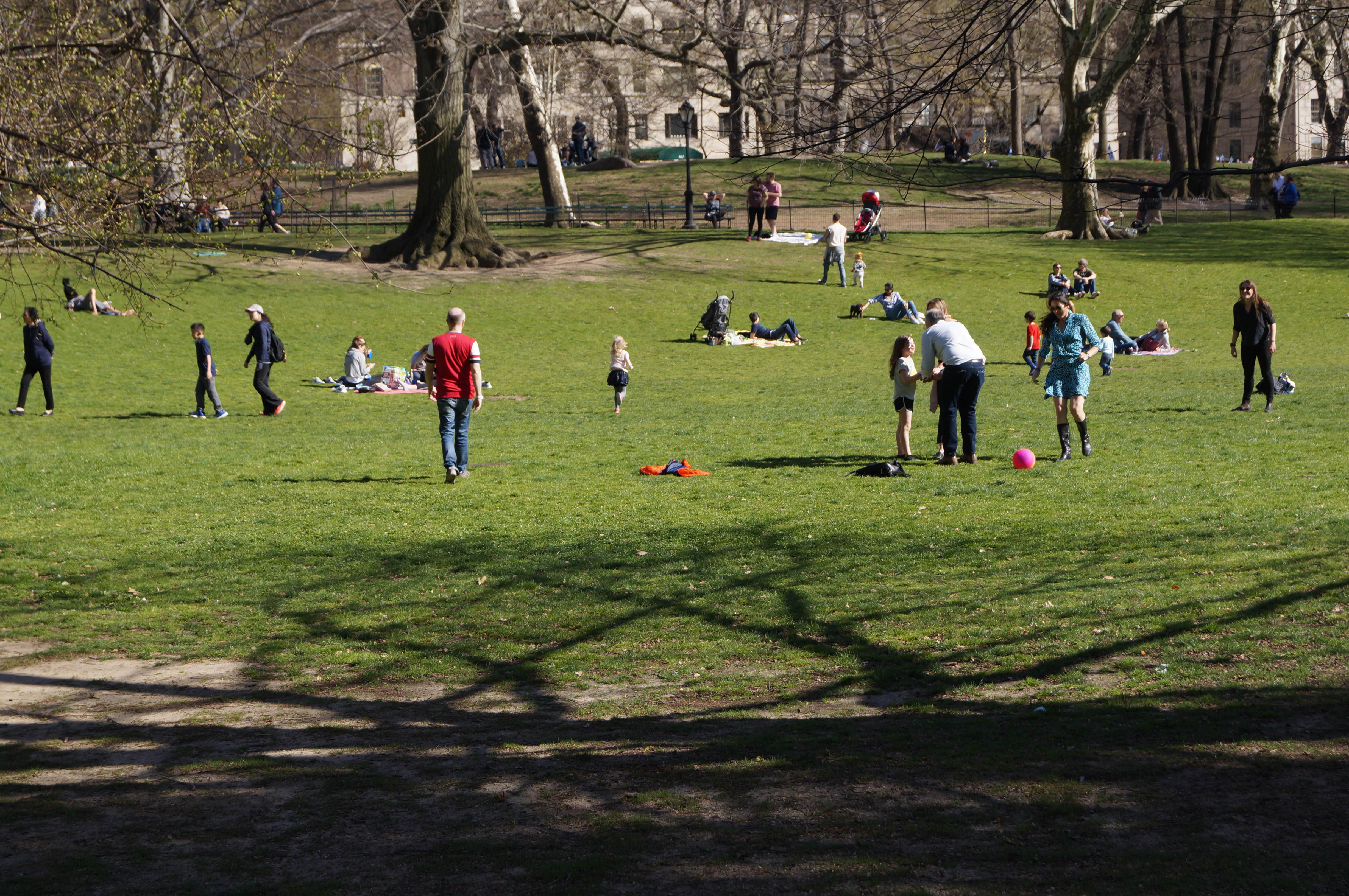 Around 5th Ave and 83rd St., just behind the Metropolitan Museum of Art, is the Central Park spot where a passing cyclist found the 18-year-old Levin's body around 6:20 AM. Chambers claimed the murder was an accident, stating that Levin became violent with him. Medical examiner Dr. Warren Spitz later testified that Levin was strangled with her own blouse.
106 W 139th St. and Lennox Ave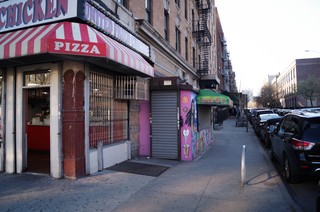 On February 15, 1999, Lamont Coleman, better known by the rap moniker Big L, was shot nine times in the face and chest in a drive-by outside his childhood home in Harlem. At the time, Big L was just 24 years of age, and on the verge of signing a deal with Roc-A-Fella Records.
Today, L is hailed as an influence on superstars from Kanye West to Beyoncé. He made rap history with Jay-Z in 1995—their freestyle on the Stretch Armstrong and Bobbito Show is considered one of the greatest freestyles ever recorded.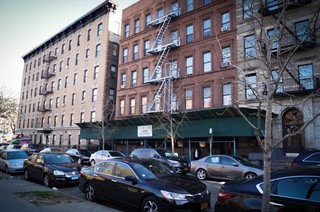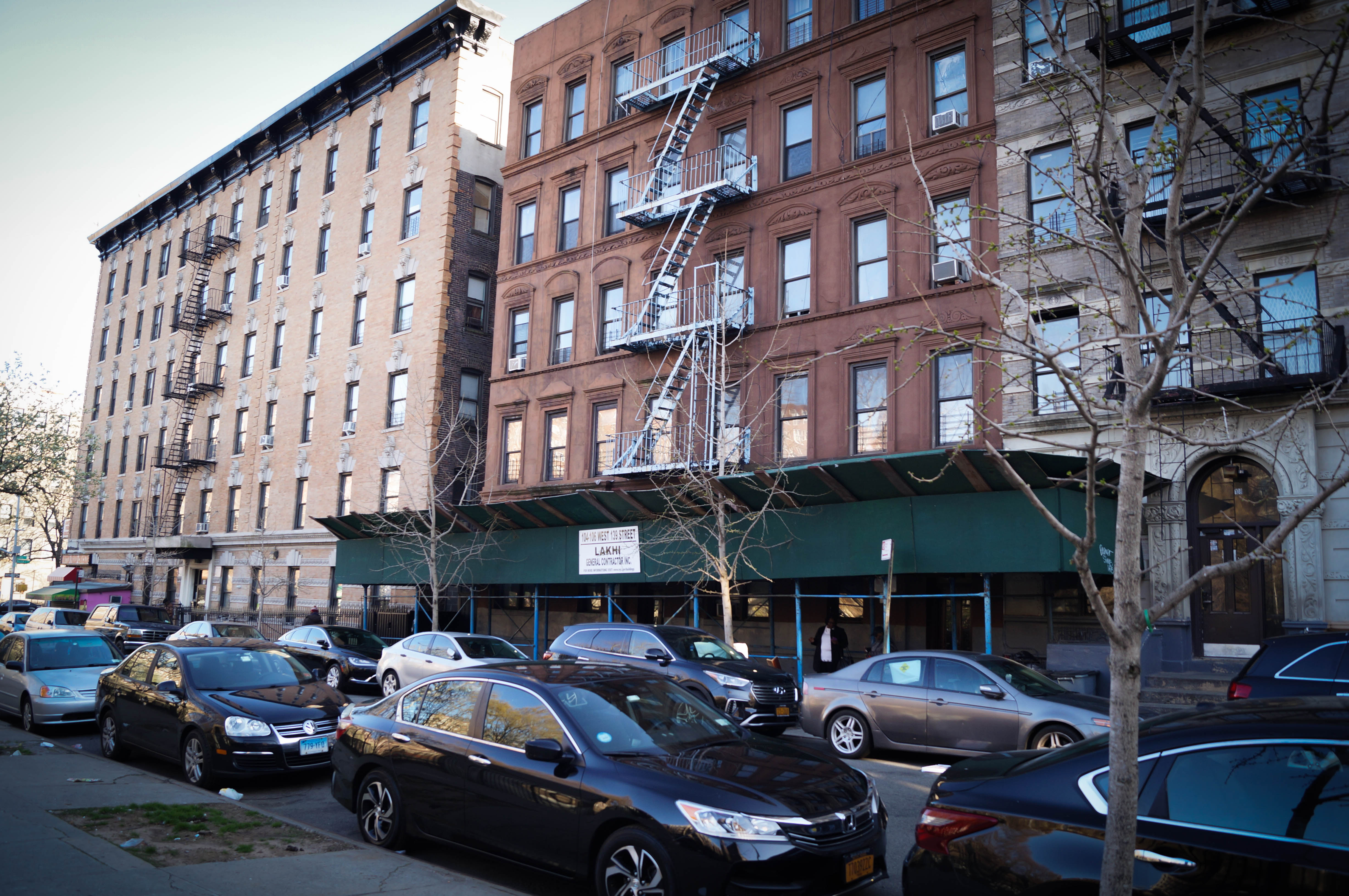 Though Big L's childhood friend Gerard Woodley was later arrested for the crime, he was eventually released, and the case remains unsolved today. On June 23, 2016, however, Woodley was also gunned down in front of Big L's childhood home on 106 W. 139th St.
3940 Broadway and 165 St.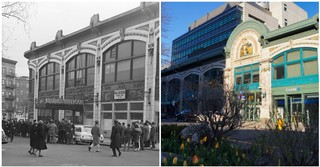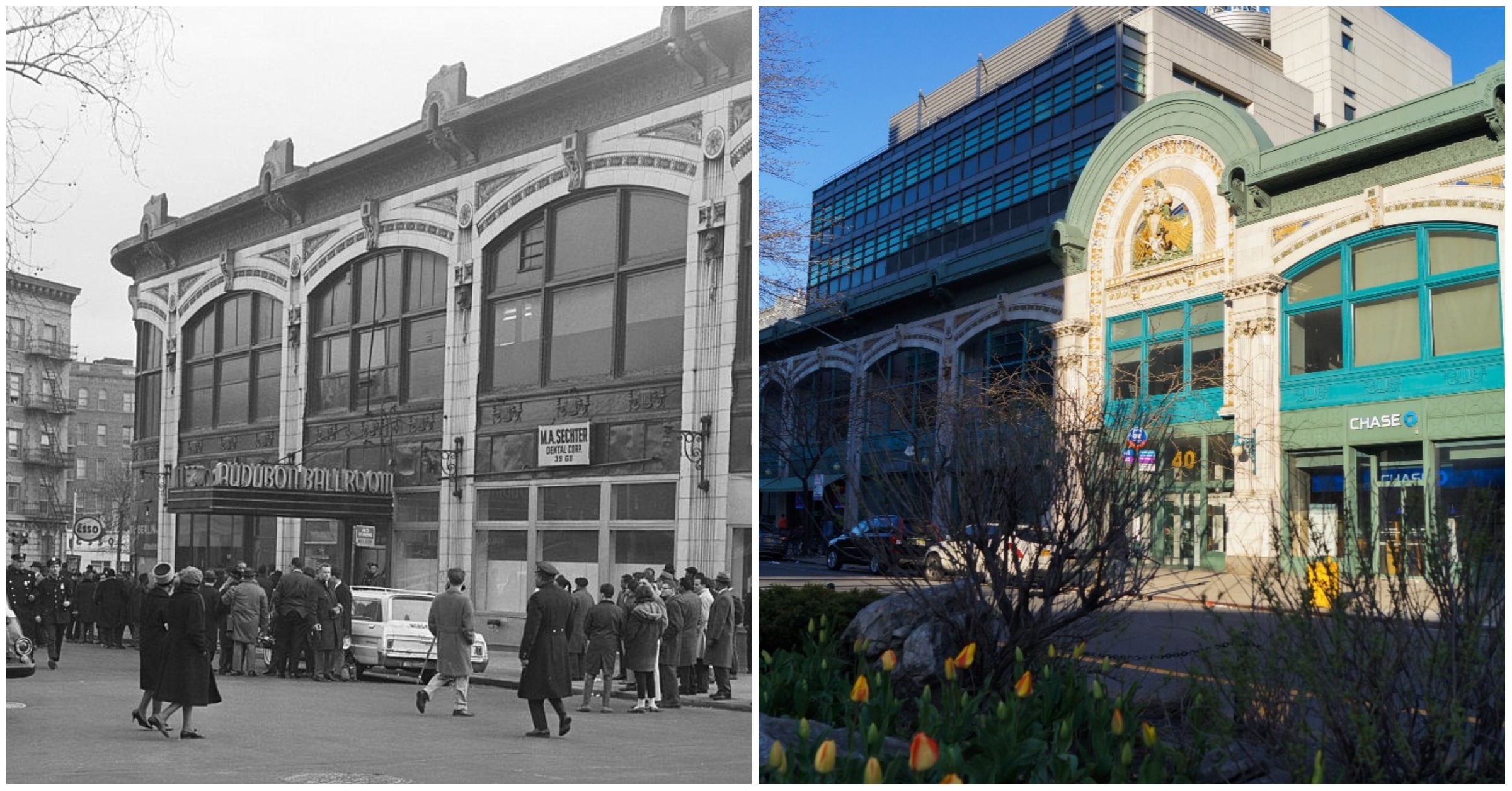 Mere blocks from the 165th St. A Train stop, human rights activist Malcolm X was assassinated inside the Audubon Ballroom. Built in 1912, the venue's been used as a vaudeville house, a movie theater, and a meeting hall. On February 21, 1965, Malcolm X was preparing to address the Organization of Afro-American Unity, a group he had co-founded, when a man rushed forward and shot him once in the chest with a sawed-off shotgun. Two other men also charged the stage firing semiautomatic handguns.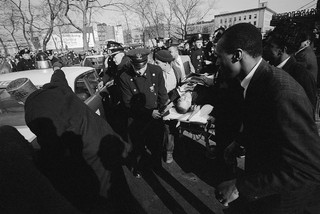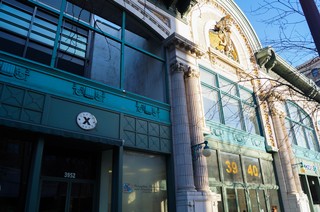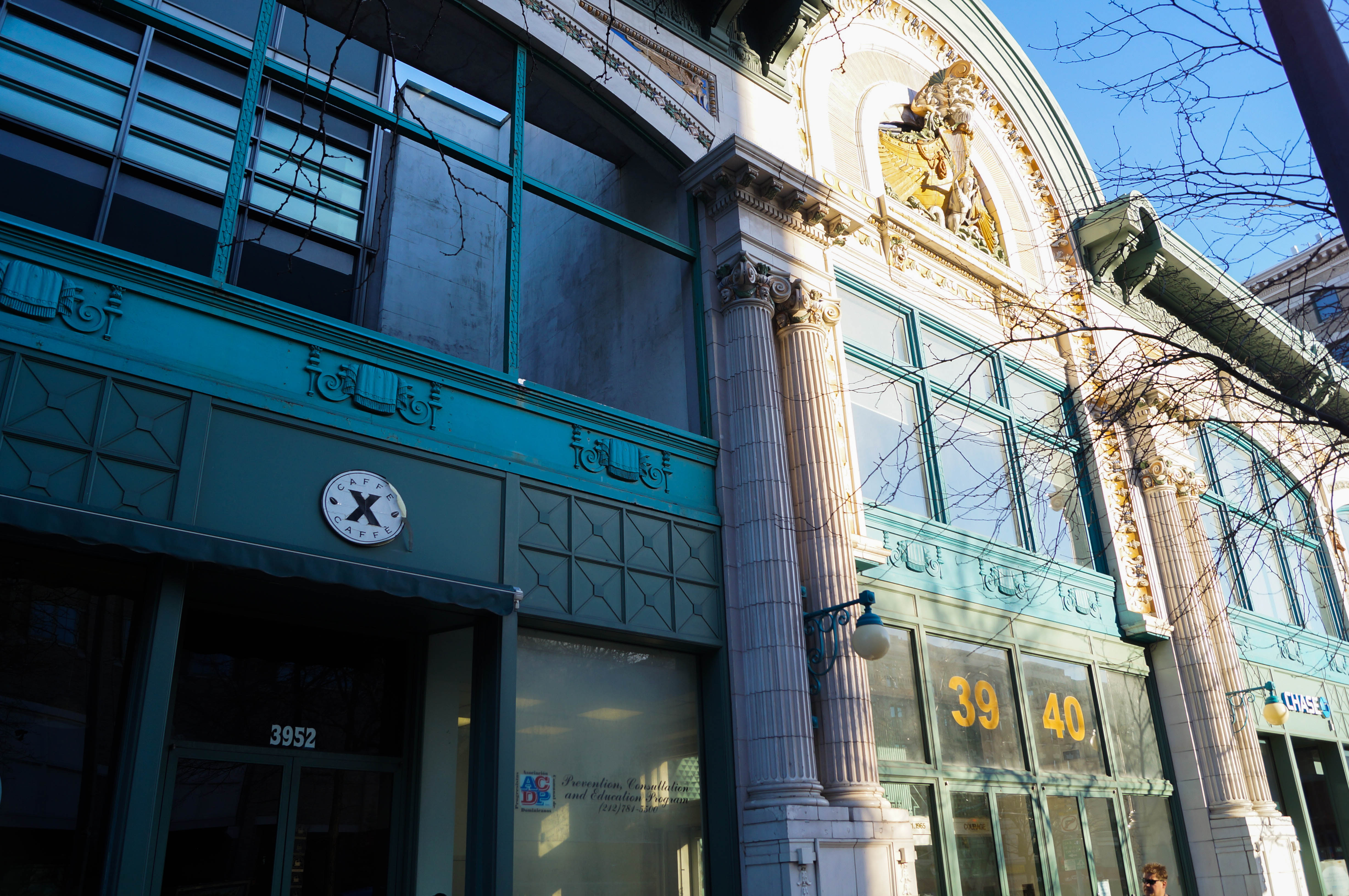 Shortly after arriving at Columbia Presbyterian Hospital, located blocks away at 630 W 168th St, Malcolm X was pronounced dead.
Today, a Chase Bank sits on the spot where Malcolm X's followers caught and pummeled two of the assassins. A Yelp review about the Chase Bank branch: "Everyone seems to be complaining about the long lines, but those are mostly during their peak times."
82-70 Austin St.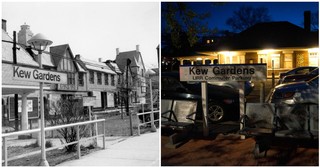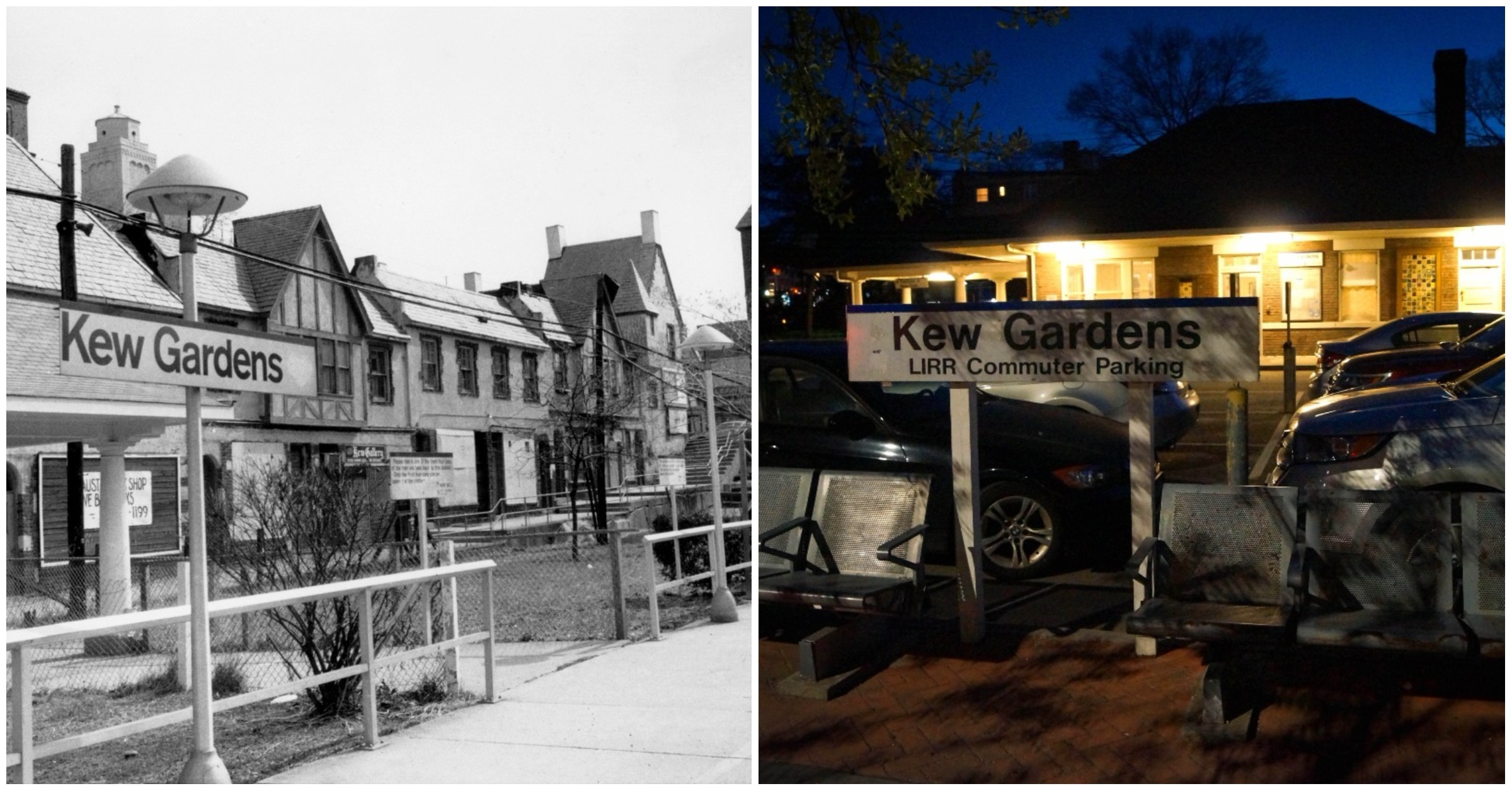 The March 13, 1964, murder of Kitty Genovese is the stuff of American legend, in particular how her cries of help were ignored by apathetic neighbors. It was originally reported that nearly 40 people watched the young woman get stabbed to death, but did nothing about it.
Today, Kew Gardens doesn't feel much like New York City. Genovese's apartment building also looked much nicer than I expected. Passing the Long Island Railway lot where Genovese parked her car moments before her murder, I noted how much this quiet, upscale Queens neighborhood felt like the suburbs.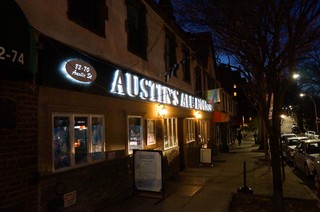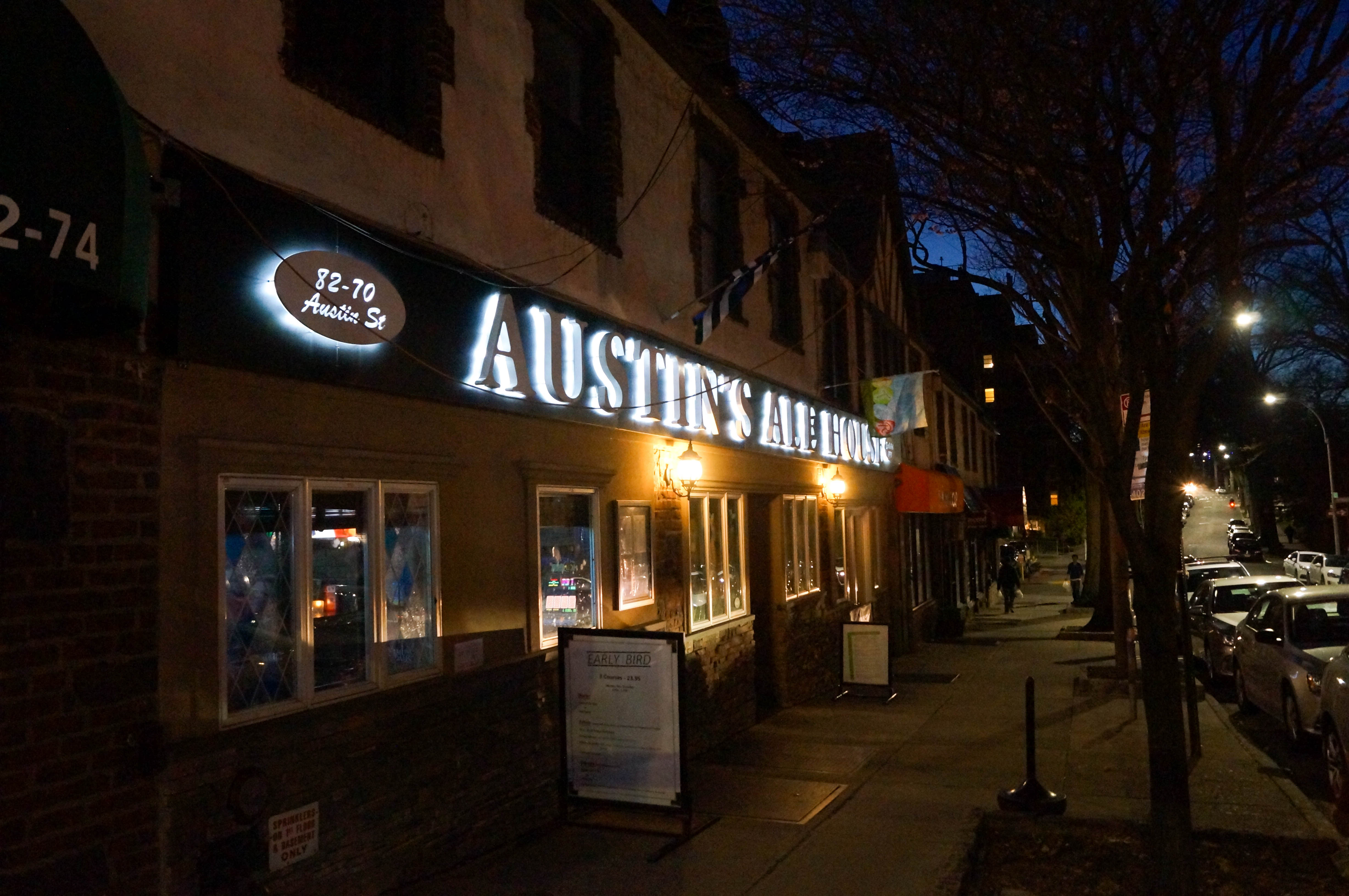 Genovese had only a 100-foot walk to her door when, after 3 AM, her assailant Winston Moseley lunged with a hunting knife. Genovese ran to the front of the building where Moseley's assault continued. As the story goes, she screamed, "Oh my God, he stabbed me! Help me!"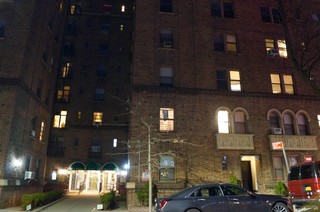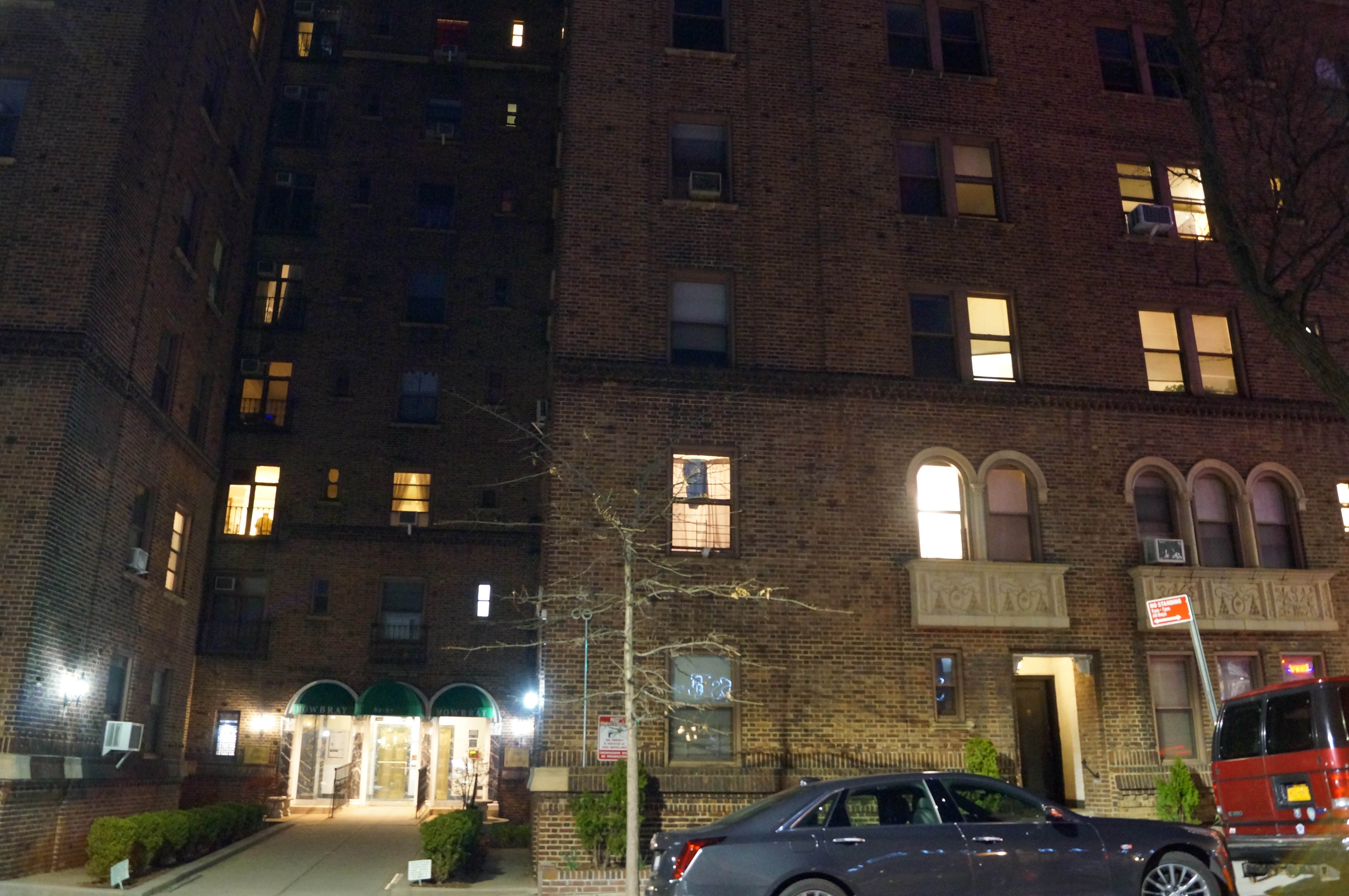 Moseley ran off after a neighbor yelled for him to stop, only to return moments later to rape and finally murder Genovese. Contrary to the initial New York Times story, two witnesses did call the police, who arrived on the scene at around 4 AM. Genovese was picked up by an ambulance and died en route to the hospital.
69-11 Exeter St. and 1 Station Hills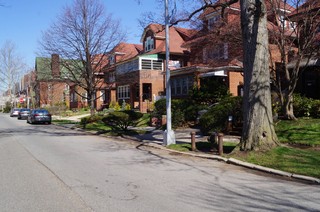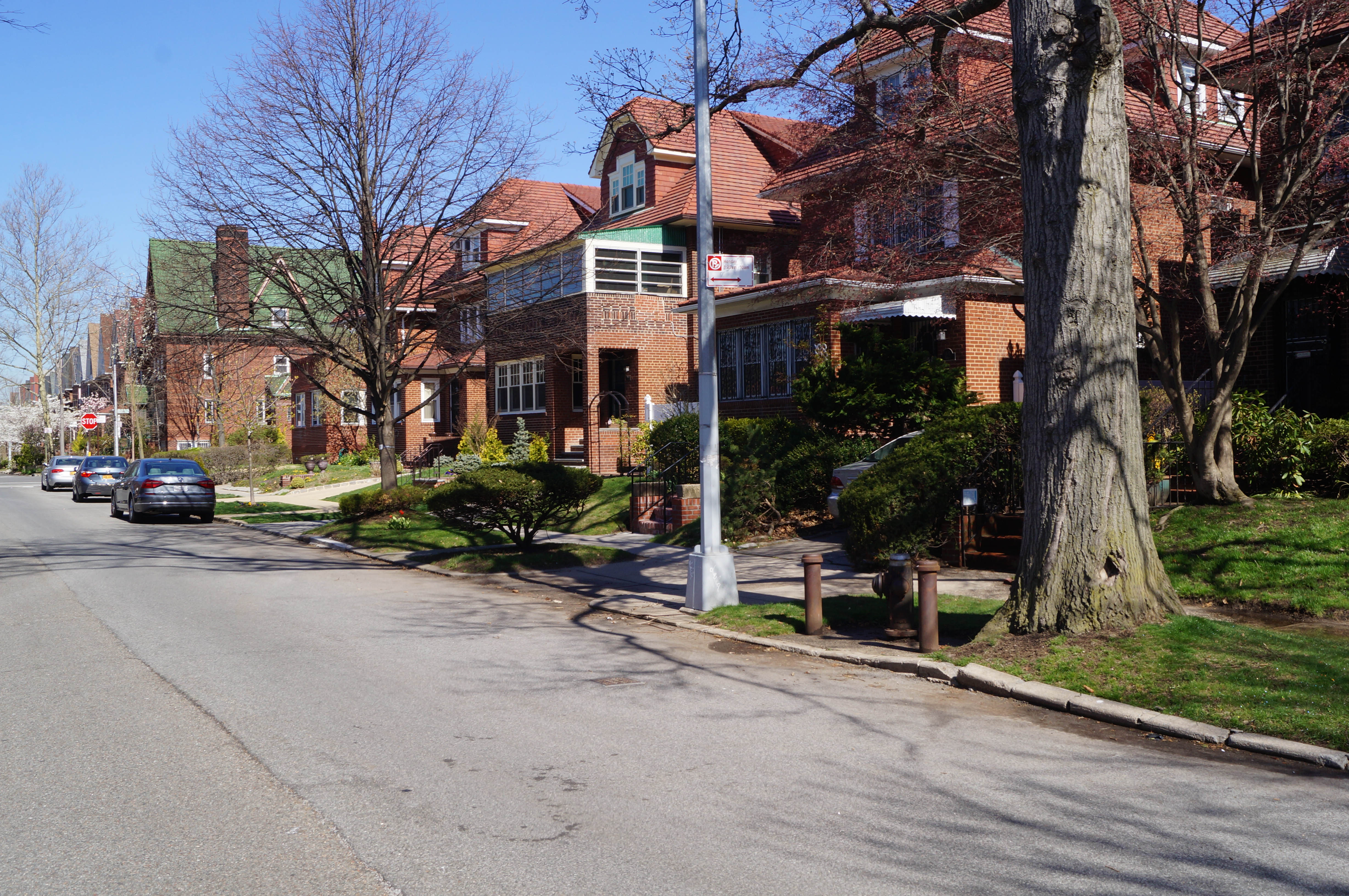 From 1976 to 1977, David Berkowitz, a.k.a., the "Son of Sam," struck fear into the hearts of New Yorkers. Claiming his orders came from demons who spoke through a neighborhood dog, Berkowitz primarily shot teenagers and couples who were seated in parked cars in the wee hours of the morning. Two of the murder sites can be found in Forest Hills, Queens, an upscale neighborhood with Tudor-style homes. It's the kind of place where people look at you suspiciously when you stand outside with a camera, like I did at 69-11 Exeter St. This was the spot where, on March 8, 1977, Berkowitz shot 19-year old Virginia Voskerichian in the face at point-blank range as she headed home from school.
The Son of Sam picked his target sites in advance and would sometimes taunt/warn the police where he might strike next: "This is Son of Sam. Next week I'm going to hit Bayside" he told a switchboard operator in 1977.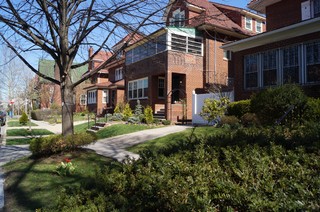 Voskerichian's body was found alongside the hedges near her home. Five weeks earlier, and just mere blocks away, 26-year-old Christine Freund was killed in a parked car with her fiancé, John Diel, at 1 Station Square. The couple had just seen the movie Rocky. Berkowitz crept up and fired three shots through car window. Diel survived, sustaining minor injuries.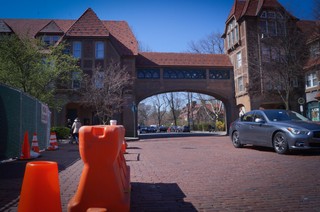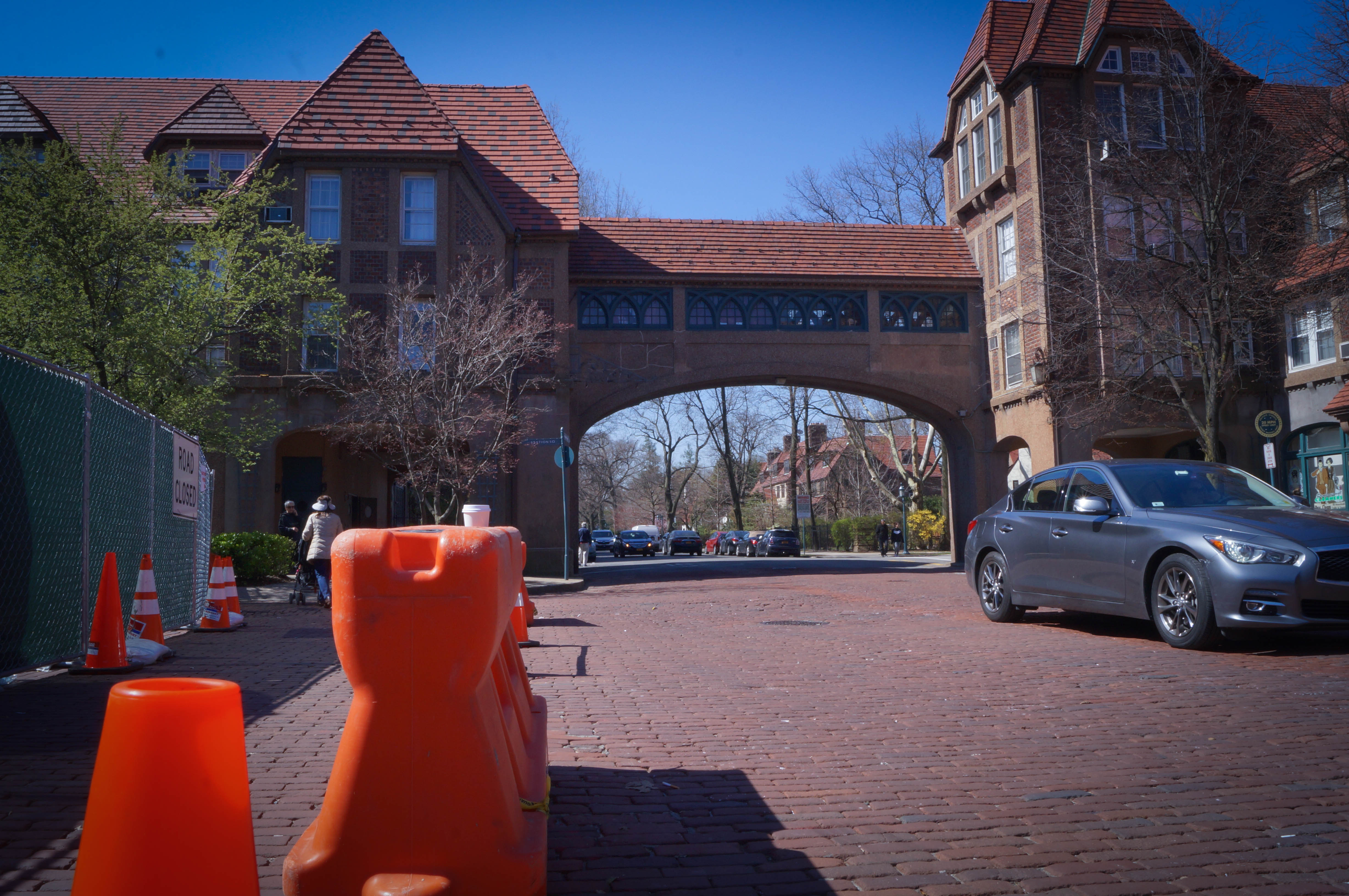 Despite a high-profile investigation and a series of taunting letters sent by Berkowitz, it took months before New York police finally nabbed the Son of Sam while leaving his home on August 10, 1977.
Sign up for our newsletter to get the best of VICE delivered to your inbox daily.
Harmon Leon is the author of Meet the Deplorables: Infiltrating Trump America. Follow him on Twitter.