Mr. Dead Is the World's Best Rapping Horror Movie Makeup Artist
Welcome to the world of the cult underground rapper from Brooklyn whose other is a special effects artist on horror flicks.
Mr. Dead is boasting about his uncanny ability to fill his mouth with a large amount of fake blood before spitting it out at a wall to replicate the splattered aftermath of a gunshot wound to the face. A striking figure with a shock of wild hair mirrored by a grey untamed beard, he's sitting at a bar in Williamsburg, Brooklyn, recalling how the last time he called on this talent he was standing shoulder to shoulder with 50 Cent, who was filming a scene for the drama movie Before I Self Destruct at an eerie abandoned housing project in New Jersey. "It was two minutes before I could get all the blood down my mouth, damn near all the way down to my throat," he says. Then he gleefully explains how a New Jersey police officer complimented him on the way his blood spray patterns matched the calibre of the weapon used in the fake shooting.
This is a standard snapshot of the curious world the 51-year-old Mr. Dead, whose real name is Chris Davis, has created for himself: He's etched out a role as a cult underground rapper who often records under the group name Metabolics and has collaborated with producers like Prince Paul and Dan The Automator; this is balanced by a gig as a special effects makeup artist on horror flicks, with his company Deadworld Effects. As he basks in the success of working on the newly-released update of Francis Ford Coppola's Dementia 13, he also teases that a fourth solo album is on the way, which will include tracks he recorded with Blowfly, the "original nasty rapper" who passed away in 2016.
In person, Mr. Dead cuts a gregarious character. In between devouring tankards of sour mash ale, he leans over to ask three other patrons to touch his nose, which is soft and gummy, as if missing a nose bone. He also claims his eyes are so far apart on his face that you could fit a third eye between them. This, he contests, gives him excellent peripheral vision—just like the exotic animals he's kept as pets over the years. He wisely sold an albino Israeli scorpion with a death sting after handling it a couple of times, and has counted reticulated pythons and anacondas among his collection.
Working at a pet store in Jamaica, Queens led to Mr. Dead breaking into the horror industry—and his appreciation for the finer details of blood and gore would eventually open doors to a music career. After seeing George Romero's zombie flick Dawn Of The Dead in 1978 when he was 12-years-old, he became intrigued by Tom Savini's makeup and special effects work. Step by step, Mr. Dead taught himself to mimic the effects in movies like Fright Night where Jerry Dandrige gets a pencil stuck through his hand. He built up and carried around a portfolio of "all these horrendous pictures."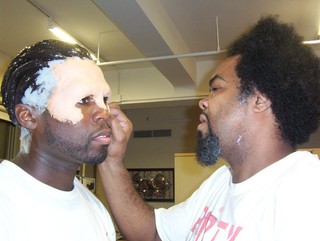 One day, a customer came into the pet store to buy some rats to feed to his snake and asked Mr. Dead if he could procure him an armadillo for a movie he was working on. When he mentioned he needed the animal as part of his job as a special effects artist, Mr. Dead showed him his portfolio. He wound up being offered work on Sgt. Kabukiman NYPD, a 1990 movie facilitated by Lloyd Kaufman and Michael Herz's Troma production company, best known for The Toxic Avenger. Along with makeup duties, Mr. Dead wound up designing a creature that appears in the climax of the movie after Kaufman saw him hanging out in the basement drawing. "They wanted it to be evil so I told Lloyd how about a creature so evil that instead of hands he has Hitler heads where the fingers should be," he says.
Mr. Dead's musical career was sparked by another chance meeting. One day while attending Five Towns college on Long Island, he noticed Prince Paul in the canteen. Recognizing Paul as the DJ in Stetsasonic, he approached and offered him a DJ battle. Mr. Dead lost—although, he points out, not quite as heavily as he might have expected—and the two struck up a friendship. Part of their bond came over a shared love of the '70s Troma movie Bloodsucking Freaks. (Long-time De La Soul fans will recall the movie being referenced on the group's debut album, which Prince Paul produced.) When Prince Paul was invited to tour Europe for his experimental 1996 Psychoanalysis project, he invited Mr. Dead along to be part of a show that mixed up live skits and comedy with music.
"It was me doing things like putting a mustache on Paul and just being like his Igor assistant," Mr. Dead recalls. "I'd run out into the crowd and get them to touch a brain and lick a brain, which was sort of a homage to Bloodsucking Freaks." While in London, he also managed to help steal a boat and ferry it along Camden Lock before it nearly sank.

Creating a buzz for himself on tour, Mr. Dead was offered a chance to record a debut album on the WordSound label. Teaming up with a fellow MC named Big Pat, they called themselves Metabolics and crafted 1998's The M Virus—an album themed around the concept of wanting to "infect everybody with this different type of underground hip-hop" in an era that Mr. Dead saw characterized by "lots of drab music." The vibe of the music combines Mr. Dead's horror knowledge and imagery with hip-hop's unceasing obsession with lyrical superiority.
Scotty Hard produced the raw and funky "Create And Define" for the album. He met Mr. Dead at a show where he had turned up "dressed as Shrimp Daddy Pimp, one of his many characters. It's possibly his greatest as it involves some serious make-up. It was so convincing he said he rode to the show on a senior citizen fare on the subway!" Over production that Scotty Hard says was intended to be "a kinda hype-banger," Mr. Dead spits: "Yo, there's nothing to fear, there's no time to panic/ It's another installment from your local schizo-pathic-psycho-phrenic/ Leaving your brain cells demented/ My lyrical damage that did it/ Your style's pathetic." Then comes the kicker: "What's worse than death, son? Lyrical deprivation." (Looking back on the album, Mr. Dead jokes how a friend recently told him that he'd never heard someone use the word "lyrical" so many times on an album.)
Metabolics Volume II: Dawn Of The Dead followed two years later, this time with Big Pat taking a back seat role and Mr. Dead showcased as a warped creature prowling around a cemetery in a pimp suit on the cover. Dan The Automator contributed production for the dusky, low-slung "Chemically Imbalanced." His first impression of Mr. Dead, whom he met through Prince Paul, was of "the coolest illest dude who you couldn't place in any category or box." Describing the vibe of the track, Dan says, "It was supposed to drive hard so the flow could be realized while at the same time it broke down to bring out the whimsy and let folks catch their breath." He adds that, as an MC, Mr. Dead always "radiates his personality" when rapping.

After the release of MV3: Dynamic Tension in 2006, Mr. Dead stepped back from the music scene "and slipped more into the makeup aspect of me." The realigned focus allowed him to immerse himself wholly in a world full of portable silicone blood pools (which you can rip off the floor and reuse), trips to taxidermy spots to buy animal eyes for models of disemboweled cats, and refining the intricate details of creating gunshot wounds. A recent side gig included turning the adult video star Morgan Lee into "an 80-year-old Asian man" so she'd be able to attend a convention without being recognized. Then came a gig on "the biggest film of my career," Dementia 13, which happened thanks to an ongoing work relationship with the director Richard LeMay.

In one gruesome scene in the film, the actor Christian Ryan's character is shot in the face by his wife, played by Ana Isabelle. Mr. Dead says sculpting the effect took about a week, including a freaky protruding white tooth. "It's hard to get pieces to stick to that part of the face plus also get some depth on it," he explains of the science. In another explicit moment, Isabelle's character receives an axe through the chest. This required Mr. Dead to finagle a chest piece with a tube running through it. "When you see her get hit, she's leaning up against a gate and I'm right on the floor pumping the blood," he explains. "I'm hands-on like that."

Then with a laugh and a swig of his beer, Mr. Dead says that while watching films he's worked on with his wife at the Brooklyn home he calls The Parlor, he likes to pick them apart from a special effects point of view. After viewing Dementia 13 around nine times, he noticed a gaff. "I realized that when she gets hit in the chest with the axe and it pulls back out, there's no blood on the axe," he says. "That's one clean-wipe axe!"
Phillip Mlynar is a writer in NYC. He considers himself the world's foremost expert on rappers' cats. His work has appeared in Deadspin, NYLON, RBMA and Catster. You can find him on Twitter.
Stories