Chance the Rapper Smashed It on 'SNL' Last Night
In his first ever stint as a 'Saturday Night Live' host, Chance was wry, versatile, and funny-as-hell.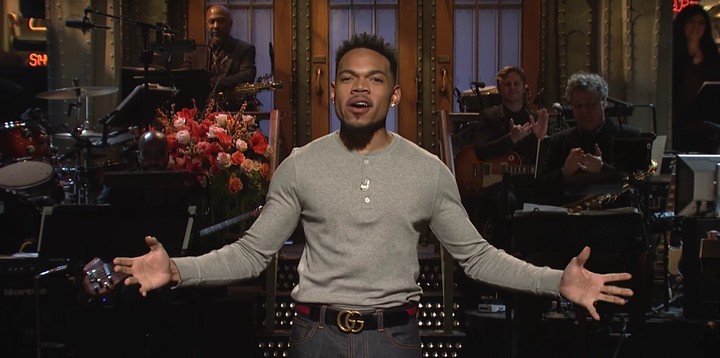 Image via screenshot
There was no reason to believe that Chance the Rapper's heartwarming (and groundbreaking) musical performances over the past two Christmases would translate into success as a first-time Saturday Night Live host. Last night, he'd have known the location of the dressing rooms; he'll have known most of the cast by name. That's about it. Being personable and having a background in the theater isn't enough to carry a performer through a four-minute monologue and 90 minutes of sketch comedy. Even the professionals can get that horribly wrong.

But Chance was great last night. He was wry, versatile, and funny-as-hell. He leaned into his inexperience and used it to his advantage. He took control of the set when he needed to and dropped back when the cast sparked up. He seemed completely at ease, even when sketches threatened to stall. He turned a potentially difficult night into one of the best shows in recent SNL history.
His monolog relieved a lot of pressure. Hatless in public for the first time in months, Gucci belt around his waist, he said that he didn't have anything to promote, and that he just wanted to celebrate Thanksgiving. It's the type of line could have come off as cloying and cutesy–a sign that Chance was doubling down on the almost-too-wholesome family values side of his previous guest spots. Instead, he cut through the sweetness with some self-effacement, pretending that he didn't have the $1 million to give to Chicago's public schools. The idea behind his Thanksgiving song wasn't new, but his commitment—and Leslie Jones's creepy gun-wielding—made it seem fresh enough.
The pre-recorded "Rap History" segment, featuring guest spots from Common and Questlove, had Chance shouting down a Lil Pump avatar called Lil Doo Doo, played by Pete Davidson. ("My influences? Sometimes I listen to old school hip-hop, you know, like Soulja Boy, Bow Wow, sometimes Nick Cannon.")
Alongside Kenan Thompson and Chris Redd, he revived last year's musical tribute to Barack Obama. This time, we got a 90s slow-jam called "Come Back Barack." It's been rattling around my head all day and I'm not even tired of it yet.
Playing Steve Harvey's secret, moustachioed child, he kept his shit together, even when Thompson pushed him close to a mid-sketch giggle.
"Career Day" was a little slow-paced and repetitive, but Chance's impression of an awkward, over-excited, unnecessarily horny high schooler was a highlight.
In a sketch that I'm guessing Donald Glover had a hand in, Chance starred as a kid getting mad at Batman for his heavy-handed, broken windows approach to misdemeanors.
Ummmm, here's Chance as a porn star.
The sketch that hammered it home was "Sports Announcer," in which Chance played a Knicks ringside reporter struggling to understand hockey. It relied wholly on Chance's timing and delivery. He smashed it.
Maybe I shouldn't have been so apprehensive. Maybe I should have paid more attention to the fact that Chance ran through sketches with Donald Glover before last week's pitch meeting. Maybe I shouldn't have been so annoyed by the idea that Eminem was the musical guest when Chance was standing right there. (I am still annoyed by this). But there was no way of knowing that Chance would be this good. Watching him settle into superstardom is brilliant fun.

Follow Alex Robert Ross on Twitter.
Stories