Nearly 21.3 million refugees have been displaced from their homes, and over half of that number are under the age of 18. The endless bureaucratic process that welcomes asylum-seekers and refugees on arrival in host countries like in the United Kingdom, leaves many hopping from detention center to park bench to hostel for months and years on end, without the ability to work.
VICE Impact met with young people in London, who have offered their spare rooms (sacrificing some Airbnb cash) to refugees who have experienced bloodshed, loss and tedious journeys across Europe at the hands of smugglers. These are their stories.
Ahmad and Nina
After arriving in the UK, Ahmad Al-Rashid, a Syrian student who studied English Language and Literature at Aleppo University, immediately declared himself to the authorities and applied for asylum.
"I was put in accommodation with other asylum seekers. After three months I was given refugee status. However, that meant I immediately had to move out from government accommodation. I didn't have money or a National Insurance number [necessary to find work] as it takes months for all the paperwork to be finalized. I was on the streets," he said.
Ahmad decided to post a message on Facebook asking if anyone could help. His post caught the eye of Nina Kaye, who immediately got in touch with him. She had a spare room and moved by the plight of refugees crossing the Mediterranean that summer, agreed to host him. The experience (for both) was so positive that he became Refugees at Home's first guest. Founded by Nina in 2015, the charity helps connect people with spare rooms with refugees in need of accommodation. Since first hosting Ahmad in 2015, Nina's charity has helped connect more than 500 refugees to hosts, for an equivalent of nearly 30,000 nights combined.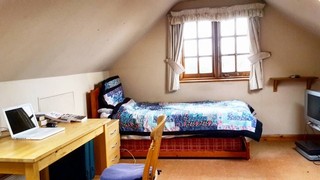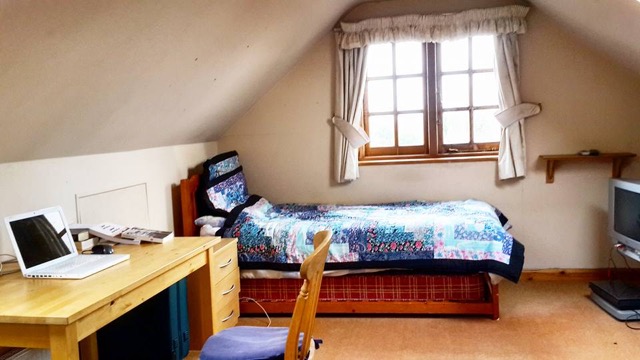 "It was a fantastic experience for me," Ahmad tells VICE Impact. "I met English people, learned about their culture and language, learned how they dressed, spoke and interacted,"
His most awkward memory? At Christmas, Nina left to go to Latin America for four weeks.
"When she was away, I was invited by some of her friends to have a Christmas lunch," he said. "After we finished, they came with the Christmas pudding and then set fire to it! I was thinking, what is happening? How are we supposed to eat this? I said no way, I can't eat this, it's fire. It tasted terrible but it was very funny."
Ahmad first fled Syria to the Kurdistan region of Iraq in 2012. There he volunteered teaching English in Syrian refugee camps and later joined the UN to work for both the Syrian refugee response and the Iraqi displaced people response. He worked with Christians, Yazidis, Kurds, Arabs and Turkmens fleeing war in both Syria and Iraq.
---
Check out more videos from VICE:
---
"When Mosul, where I was working, fell to ISIS I fled back to Syria but I couldn't go back to Aleppo because I would've had to go through Raqqah [under control of the Islamic State at the time]. So I went to Turkey, phoned a smuggler and crossed the Mediterranean to Kos in Greece and then to mainland Athens," he told VICE Impact. "I bought a fake passport and flew to Marseille, France and then took the train to Calais [to the infamous unofficial refugee camps].
He ended up paying a smuggler who put him in a tank full of bread flour with 70 other people and told it'd take two hours to get to London. After 11 hours they were let out near the Italian border. The tanker had gone the wrong way.
"I jumped on the back of a lorry to go back to Calais, ended up in Germany and after a few nights and more smugglers arrived in the UK in Hull, where I applied for asylum," Ahmad recounts sitting in the cafe at SOAS University of London, where he is currently studying for a master's degree in Violence, Conflict and Development.
After four months, he moved out of Nina's place to move in with his wife and two daughters who were able to join him from Aleppo after months of waiting. His post thanking Nina went viral on Facebook and inspired many others to open their homes.
Having heard about Ahmad's story, Kajsa Soderlund, a young Swedish London-based production designer signed up to Refugees at Home and was quickly introduced to Arnold, a refugee from Sierra Leone.
Kajsa and Arnold
Unlike Ahmad who had recently arrived in to the UK, Arnold had been in the UK for more than two decades.
"He'd been really messed over for years. The system is so bureaucratic, it's just too slow. Refugees at Home offers immediate relief, support and comfort while the endless paperwork drags on," Kajsa told VICE Impact.
"During the ten weeks he lived with me he studied so hard and passed his tests with flying colors and quickly found work for a human rights charity."
"I told him: 'Let's go for coffee first, before we agree on anything' and he was really happy to do that. We immediately connected. He's such a great guy. He volunteers for the Red Cross, is a chef in a homeless soup kitchen, I realized this was the least I could do for him," Kajsa continues, "a couple days later he moved in."
But the first hurdle wasn't normal roommate squabbles. It was something more feline: "Turns out he was scared of cats, but there was no way I was getting rid of mine! He ended up loving them and that was so sweet, " she laughs.
Arnold had worked as a lawyer in Sierra Leone but hadn't been able to practice in the UK. "During the ten weeks he lived with me he studied so hard and passed his tests with flying colors and quickly found work for a human rights charity." Having a home address also helped when applying for jobs, Kajsa notes.
Since Arnold moved out, the freelance artist has hosted five refugees from war torn places like Syria to Sudan.
READ MORE: Refugees are Redefining the Future of Work in Glasgow
People ask Kajsa whether she has ever felt threatened hosting asylum-seekers and refugees who tend to be men. "It's so absurd," she said. "Most people in London find flatmates and ask for very few references, if any. These refugees need you more than you need them. Why would they put this opportunity, living in a safe space with a warm person, at risk? They wouldn't do it."
Kajsa emphasized that hosting a refugee doesn't have to be a long-term commitment that only retired people with large houses can fulfill. "If your flatmate is away for a couple weeks or a month, why not lend that space to a refugee? That's what I've done. Sometimes I'll put it up on Airbnb and sometimes, if I hear a refugee needs a space, I'll offer them that space."
Lucy and Loujean
In September 2015, Lucy Pavia, the entertainment editor at Marie-Claire magazine, signed up to similar group called Homes for Syrians, which specifically connects Syrian refugees looking for a room in the UK, and was introduced to 22-year old Loujean Al-Saman from Damascus.
After meeting up in a coffee shop, Lucy and Loujean, hit it off. "She moved in a couple days later. It was kind of a bit nuts really," Lucy remembers.
"She's studying now and living in a big student flat but she does come back here for long weekends. We're sort of like a parents' house."
"The language barrier was a bit difficult to begin with. Loujean spoke English but it was fairly broken. We got into watching Pride and Prejudice and tons of rom-coms with subtitles, to help her English. After only a month, I realised, oh my god, we're not having these staccato conversations anymore, it'd already become a lot easier to communicate," Lucy told VICE Impact.
After six-months, Loujean moved out of Lucy's home but she comes to visit her and her husband Will from time to time. "She's studying now and living in a big student flat but she does come back here for long weekends. We're sort of like a parents' house," Lucy said.
Loujean, similarly to Arnold, wants to become a human rights lawyer and is studying law in London.
"She's a really creative person and writes beautiful poetry, so I was surprised that she wanted to study law. But actually she says it means a lot to her to be in a country with a legal system that is comparatively fair so she feels strongly about that, she really wants to become human rights lawyer and I think she'll be a great one," Lucy concludes.
Since January, these refugee-hosting platforms have been flooded with US residents offering up their homes. Rooms for Refugees, for example, another UK-based charity that connects refugees with hosts received more than 300 spare room offers in the space of 48 hours and now have 545.
However, without a US-based partner organization, the group is unable to link these spare rooms up with refugees. If you're a US-based refugee support agency or non-profit, then Rooms for Refugees would love to hear from you.