This post originally appeared on VICE Australia.

If Perth, Australia, has one defining feature, it's the vast empty spaces between its urban and suburban centers. Forget cramped, inner-city life—in Perth, you live in a big house with a big backyard that's an hour drive away from the CBD along a desolate highway dotted with bars and high rises. Paradise.
Town planning in Perth has become about connecting suburbs with long stretches of asphalt. This is how the Roe 8 project—a proposed $1.5 billion highway extension connecting the city's industrial precinct with its coastal one—came to be. Unfortunately, like a lot of public works projects in Western Australia, Roe 8 is expensive, environmentally destructive, and requires demolishing land of spiritual significance to its traditional owners. In this case, the Beeliar Wetlands have been used by the Noongar people for more than 5,000 years.
Concerned citizens have been protesting Roe 8 for months, staging lengthy sit-ins and placing their bodies in front of bulldozers. The #Roe8 protests are Western Australia's version of Standing Rock. And as with the Dakota Pipeline, activists have had little success in changing the government's mind. Construction of the road has already begun, and a lot of the wetlands are already flattened. But none of this is exactly surprising: Building a highway on a 5,000-year-old sacred site is actually the most Perth thing ever.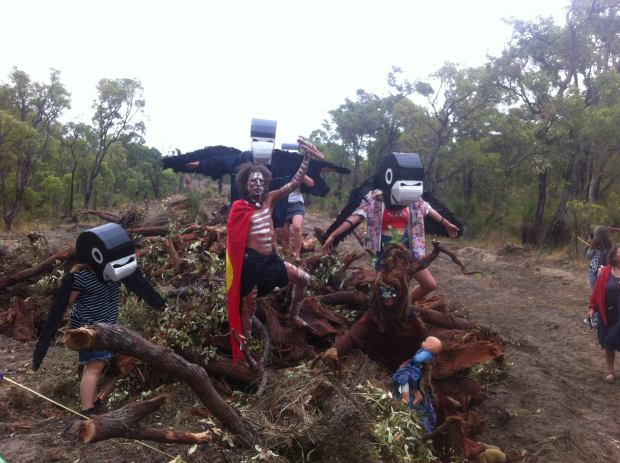 "You'll find there's been a lot of care taken with some quite small bits of European heritage in Western Australia, but not so much with Aboriginal heritage," University of Western Australia archaeologist Dr. Joe Dortch tells me. "It's certainly very confronting when Aboriginal heritage is treated so badly. Some of us try and acknowledge and record it, but other people seem to think it doesn't matter."
He's right. Perth's primary tourist attraction is the Bell Tower, an underwhelming blue triangle installed by the Swan River in 1999, which houses several "historic" bells imported from Trafalgar Square in London. Perth isn't a city that pays tribute to anything other than a colonial past—a massive public foreshore development completed only last year, Elizabeth Quay, was tellingly named after the Queen.
For an archaeologist like Dortch—one who's more interested in studying artifacts of the oldest living culture on Earth than those from colonialists who docked their tall ships on the Swan River—work can be pretty tough in Western Australia. The state government has long waged war on places of indigenous cultural significance, literally changing the definition of what constitutes a "sacred site" in order to deregister several of them for mining. "Somewhere between 30 and 80 sacred sites have been taken off the register, and, on top of that, a grand total of 3,200 other significant sites were taken off the register in recent years. That's pretty unprecedented," Dortch says.
But the Beeliar Wetlands isn't just another archaeological site. In the 1970s, an expansive dig uncovered stone tools and carvings there that were estimated to be as old as the pyramids in Egypt. The state government has attempted to discredit these findings or claim that the area has been so disturbed in the decades since that its archaeological value has been lost. Dortch and his colleagues beg to differ. Although they've been barred from digging in the Roe 8 corridor, cursory excavations in the immediate vicinity have revealed more stone tools. Dortch estimates these to be at least 5,000 years old. "There's nothing certain in archaeology," he explains. "But the artifacts are made of a certain kind of rock called 'chert,' which is sourced from places that became submerged around 6,000 years ago."
Dortch stresses that his and his team's investigation of the area was extremely superficial—but given more access and resources, who knows what else they could have found. He also explains the state government did make its own obligatory archaeological investigation of the area but didn't try very hard to find anything. "We dug 20 small pits and found artifacts in six of them, so that's a one in three chance of getting artifacts. And they were only concentrated in one area," Dortch says. "They only did one 20-centimeter shovel pit, which doesn't tell you much at all."
Of course to truly understand the special significance of the Roe 8 site, you need to speak to its traditional owners of the land. Beeliar Wetlands custodian and Whadjuk Noongar woman Corina Abraham have worked tirelessly behind the scenes of the Roe 8 protests, even lodging an unsuccessful legal challenge against the Western Australian and federal government under section nine of the Aboriginal Heritage Act. "We're doing a white man's fight through the courts, but we're never going to win as First Nations people," Abraham says. "When elders were consulted [about Roe 8] back in 2010, sadly, a few of them didn't even come from this area—and yet they were allowed to make a decision on it."

The entirety of Perth is technically built on Noongar land, but the Beeliar Wetlands site is of particular significance to indigenous people. "There are many cultural sites, but this is the crucial one, the only one south of the river. The damage that this will do [to our community] is great," Abraham explains. "Our history there goes back over thousands of years. My ancestors lived and gathered on country around here, and our mythological significance to the area is through our dreaming, our spiritual connection to country. And that's the important thing. Bibra Lake is the resting area for our Wagyll so that connects us to the country as well. And we continue that through our stories and our song lines and in person."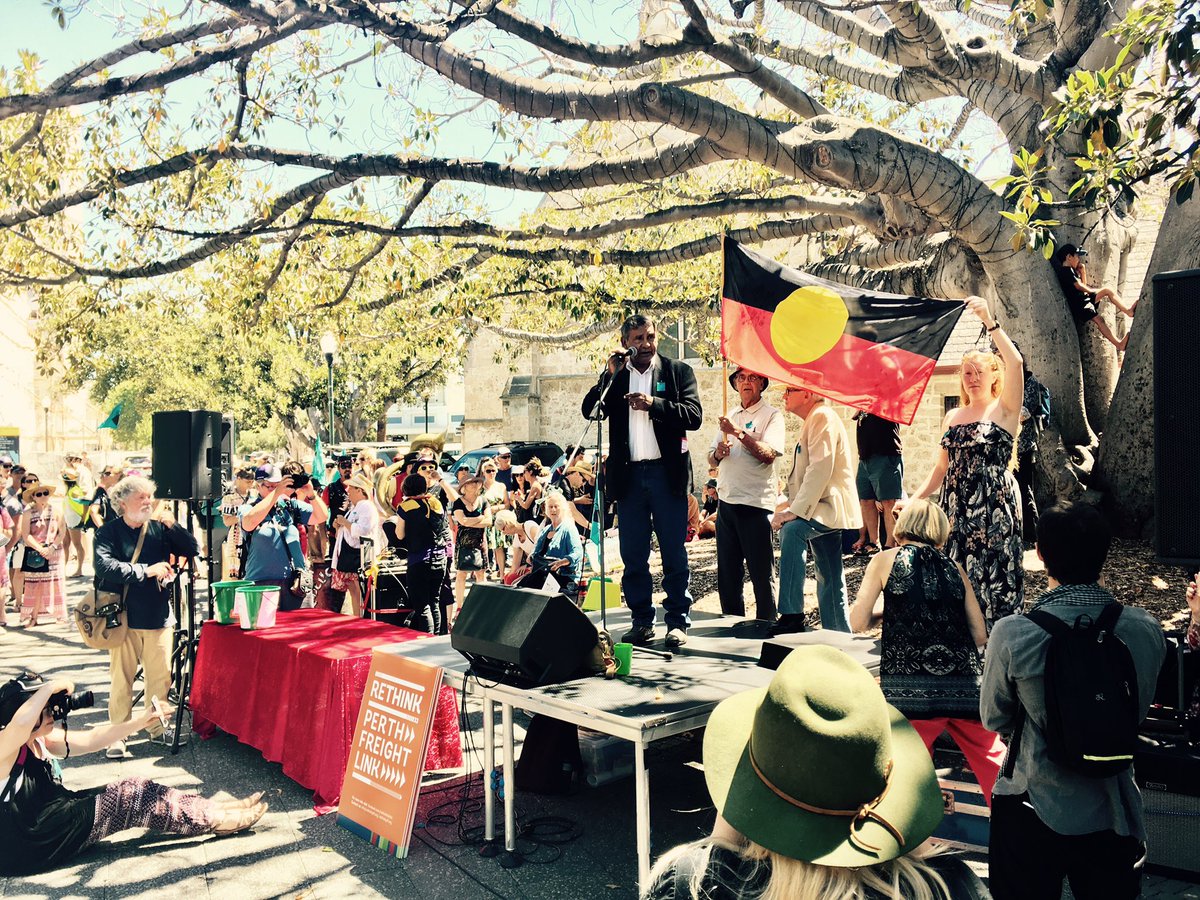 Archaeologists like Dortch are fine with Roe 8 being built—in theory. They simply want more time to study the area and archive what they find before the bulldozers come and destroy everything. But the area's indigenous owners want the destruction stopped altogether. The Beeliar site is old, but it's also still being actively used by Noongar family communities in the present day. "It's a birthing area for women, it's a men's area, it's an area where many clans congregated for corroborees, it's an area where ceremonial gatherings have occurred over thousands of years," Abraham explains emphatically. "This area is as significant to us as what a church is to Catholics or any other religion. It's our church, it's who we are, it's where we come from."
For many Noongar people, Roe 8 feels like the final straw. "It gets devastating. It stresses me out every time I drive out there and see the desecration of our country. What was left of our cultural heritage after colonization, you know?" says Abraham. "It's about maintaining what we have left, the unique bushland that only grows here. That's unique to us as West Australians."
According to polls, Western Australia's Liberal government is going to lose an election this month. If it does, the incoming Labor party has promised to scrap the Roe 8 project altogether. But by then the damage will have been done. A little more of the uniqueness that Abraham talks about has already slipped away forever—in a pattern of destruction that, ironically, makes Perth pretty distinctive.
Follow Katherine Gillespie on Twitter.