DJ Hijo Pródigo's Favorite New Music is a Body Jacking Mastery of Chaos
The Last Record: the Chicago-based DJ and producer shares five of his favorite tunes by artists from across the globe.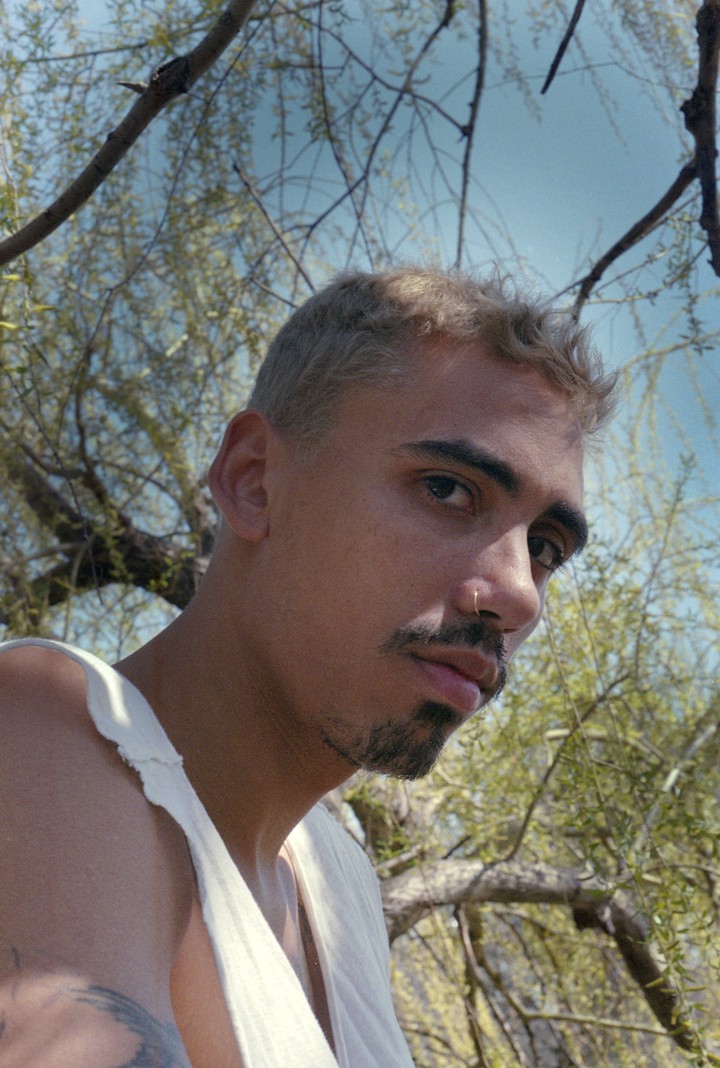 Photo of Justin Mitchell by Angel Harold.
Whether it's for playing out at a club or listening at home, DJs and producers typically have an encyclopedic hoard of music, new and old. In The Last Record, they tell us about the last three songs or albums they've purchased, and why these were important additions to their music collection.
This week, we spoke to Justin Mitchell, a Chicago-based DJ and producer who performs as Hijo Pródigo. Mitchell has spent part of the year in Kobe, Japan working on commissioned music for a project by choreographer Darrell Jones for the Kyoto Experiment festival. Mitchell took a break from club gigs to explore club sounds in non-traditional environments. "At a certain point, I felt a lot of anxiety and pain and I communicated it in these sets," Mitchell said. "Maybe the club isn't the healthiest way to channel that energy. Maybe there are other ways to take those feelings and take those ideas and communicate them in a way that is healing."
Mitchell is a DJ for Banjee Report and signed to FUTUREHOOD, a label developed by fellow Banjee Report members Mister Wallace and aCe. Catch Mitchell on July 8 at the TRQPiTECA party at White Rabbit in Chicago.
---
Dinamarca - "Resurrection"
One of the reasons why this is a song that speaks to me is its tone. It's really somber and kind of summons the in-between time in the day: the crossover from night to day, the rising of the sun, that moment right before the sun. It also speaks to this trend of dembow pulling from 90s rave, which is something that we're seeing more and more. Producers are tapping into that whole 90s rave moment, but flipping it a little bit. I love the browning of that.
One of the things that connects me to music is the way that it makes me want to move. I don't consider myself a dancer, but I love to dance and this is definitely one of those things that touches me emotionally and makes my body ecstatic. It has this nice progression and then breaks into dembow that unleashes everything. There's this buildup and this culmination of everything that happens through the night and then it explodes and that's why I love this song.
Bonaventure - "Free Lutangu"
What appeals to be about the whole project is this sense of sonic displacement. It's jarring for the body as a mover and I like that. One of the things that this dance company that I'm working with practices is disrupting patterns to practice liberation. I really feel that in this project. The project as a whole really tackles African identity specifically, but it speaks to blackness and a response to white supremacy in every way.
It also pulls from things that are super familiar. There are clips of Biggie, 50 Cent, Genuine, Beyonce, Busta, Rihanna all kind of sandwiched with this apocalyptic choral moment. It's visceral, it's abrasive and it's relevant.
D.J. Clent - 100% Ghetto
The first thing I knew about Chicago before I knew anything was, "bang bang bang skeet skeet skeet." That was relayed to me from a classmate who talked to me about the music in Chicago and the scene. At first, I couldn't really conceptualize it, but she said it was like the club music in Philly. I grew up in Philly and Philly is very influenced by Baltimore club music. My classmate had connected this "bang bang bang skeet skeet skeet" to that style of music, so when I came here and encountered juke and footwork, I understood. It speaks to this legacy of black street music and variation on a more formal form. It's hip hop samples. It's fast. It speaks to something in the body that feels inherited. .
Jlin - Black Origami
This came out while I was in Japan and It feels very influenced by Japan. I have no idea what Jlin's actual connection to the country is. It's even tied to the title Black Origami. It's something intricately folded to create this beautiful shape and it speaks to the work on the album.
[The tracks are] all really percussive and lift footwork in this way where it's not formulaic. When footwork started, it was this new form that fucked people up for a little bit and now it sounds like a pattern. I've been in Japan and seen Japanese footwork DJs playing off of this global fascination and not really doing anything new with it. And Jlin just blows that out of the water.
It disrupts the body and it's really hard to move to when dancing. There's something about it that I love. It has these instruments that naturally speak to my body, arranged in a way that forces me to really consider the communication.
Jasmine Infiniti - "Hapocalypse"
Jasmine has this mastery of chaos. She's really flipping these ballroom sounds. She's flipping the "ha", which is a heavily-sampled signifier. It doesn't explicitly constitute the vogue sound, but it's one of the references. She just warps it into this cacophony apocalypse. The way it swells and then the bass hits feels like doom in the best way. Like take me now. I'm ready to go. That really bodied me.