A supernatural Japanese monster is the inspiration behind the goings-on in the video for British band The Wytches' new single, "C-Side," taken from their second album, All Your Happy Life, due out 30 September on Heavenly Recordings. It features the band playing their new song while a man watching TV begins to experience, let's say, a little neck pain.
This is, however, no ordinary binge-watching-acquired stiff neck, because this guy's waddle begins to expand, snaking away from his body in a freakishly inexplicable, winding growth. This expansive nape was created by John Nolan, a director and animatronics effects specialist who's created robots, prosthetic make-up, animals, props and other practical effect for films like Where The Wild Things Are, Harry Potter, Hellboy, War Horse, and The Brothers Grimm, and worked on animatronic projects for Lady Gaga, as well as Björk's "Mouth Mantra" music video.
"I wanted to play around with the human form and create something that looked normal from one angle but growing into something completely freakish as the camera moves across it." Nolan says of the music video. "Elongating the neck proved to do this brilliantly and it led me to research into rokurokubi, a type of Japanese apparition where the human head leaves the body stretching out the neck. The act of the head separating from the body represents the spirit's soul wandering."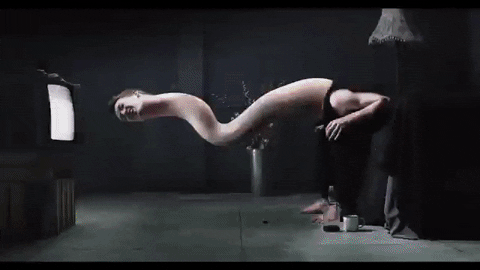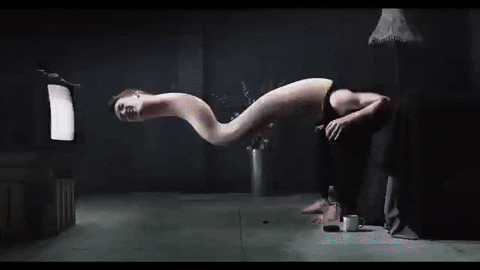 GIF by author, via
Nolan also took inspiration from The Wytches' other music vids, which have a low-res feel and feature the band messing around and dressing up. But, being an FX guy, he wanted to add in some creature FX, too. The actor who plays the rokurokubi-esque TV watcher is Conor Craig-Stephens, who also played the lead creature in The Hallow, a film Nolan had created the effects for. To turn him into this strange Japanese folkloric form, they spent five weeks at Nolan's studio building a fully mechanical animatronic head and long neck that they blended into Craig-Stephens' clothes.
"The face was controlled by two puppeteers using radio control transmitters and the head and neck movements performed by either Conor or lead puppeteer Rob Tygner," explains Nolan. "The film uses a number of effects disciplines including animatronics, puppetry, motion control camera work, rod removal and a full CGI neck animation in the final outro, so with a very low budget it was ambitious, to say the least."
You can check out the music video below.
The Wytches new album All Your Happy Life is out Friday, September 30, on Heavenly Recordings. Pre-order All Your Happy Life here, and visit John Nolan's website here to learn more about his work.
Related
Björk's New "Mouth Mantra" Music Video Is Trippy AF
Meet the VFX Artists Behind Mad Max: Fury Road
How 'Game of Thrones' Pulled Off Last Night's Shocking Twist