While New Yorkers were marching through Manhattan celebrating pride in Sunday's annual parade, New York Governor Andrew Cuomo unveiled designs for an official new monument honoring the LGBTQ+ community. The site specific installation, designed by artist and photographer Anthony Goicolea, is slated to go up in Hudson River park, on the eastern edge of Greenwich Village. The new monument will be comprised of nine modified boulders, a handful are bisected by clear, laminated, borosilicate-glass that will act like prisms reflecting sunlight onto the surrounding lawn as rainbow patterns. The Governor said, "his stunning design complements the landscape and communicates a timeless message of inclusion, and this monument will serve as an enduring symbol of the role New Yorkers play in building a fairer, more just world."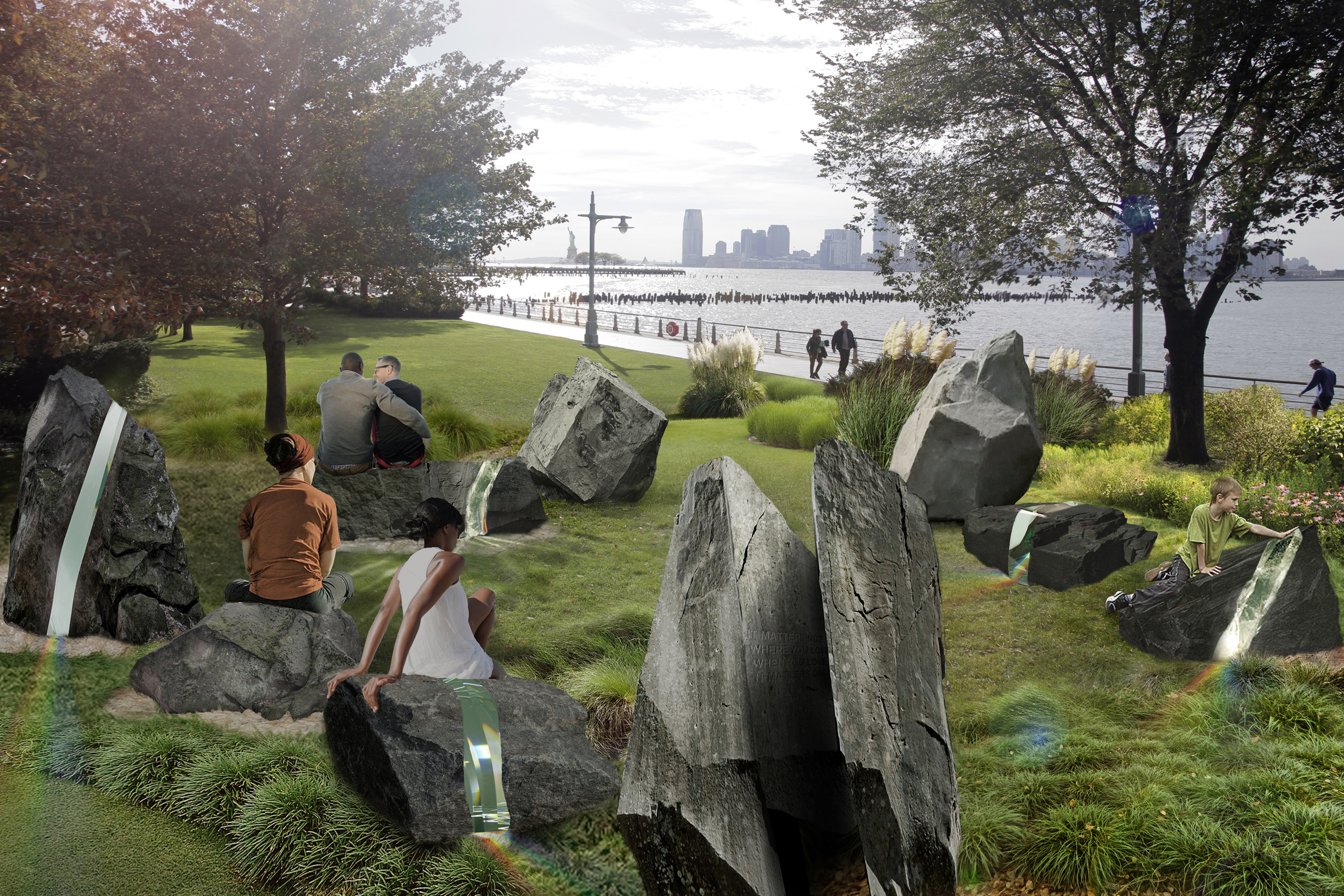 In the wake of the tragic shooting in Orlando last June, the governor issued an Executive Order establishing the LGBT Memorial Commission with the intention of designing and installing a memorial that honored, "the LGBT community, those lost in the Orlando Pulse nightclub shooting in June 2016, and all victims of hate, intolerance and violence," according to a statement released by the Governor's office. The commission started taking in proposals for the new monument in October of 2016. Each proposal was judged by its, "interpretation and clarity of the theme, creativity and originality of depicted theme, quality of artistic composition, site compatibility, and constructibility, among other factors."
The Commission ultimately landed on the proposal submitted by Anthony Goicolea, an American-Cuban photographer and multimedia artist whose works address issues surrounding sexuality and identity. The artist writes, "I am honored to join Governor Cuomo and the LGBT Memorial Commission on this important project to remember those who have been victims of hate, violence, and intolerance, while celebrating the beauty of the LGBT community. This monument will serve as a communal space filled with light, color, and hope where the visitors can sit, mourn, love, and remember for years to come. I am grateful to the Governor and his administration for the opportunity to be a part of this historic moment."
Learn more about the monument here.
Related:
These LGBTQ+ Films Put Diverse Queer Voices on the Big Screen
Openly Gay Skateboarder Brian Anderson Bares All in His First Zine