The CDC Will Hold an Info Session on Nuclear War
This month's "grand rounds" topic for public health professionals is, uh, timely.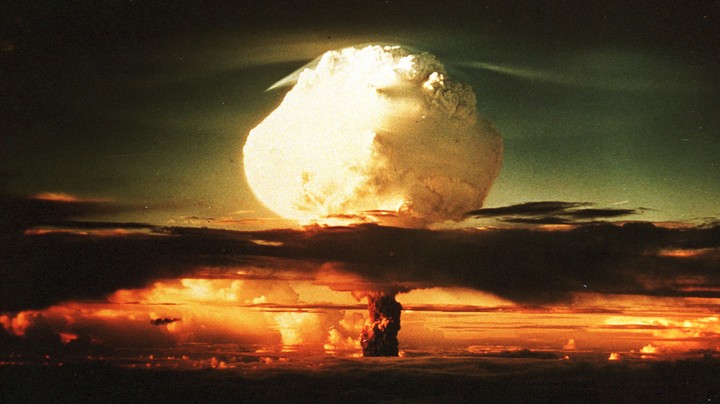 The first thermonuclear test on October 31, 1952. Joe Raedle/Getty Images
In a move that's surely not connected to current events in any way whatsoever, the Centers for Disease Control and Prevention announced that it will hold a teaching session for doctors, nurses, pharmacists, and other health professionals on the public health response to nuclear war.
A CDC spokesperson told STAT News that the event, slated for January 16 in Atlanta, has been in the works for months—meaning that it's not actually a reaction to Donald Trump's latest aggressive tweet, a gasoline-on-the-fire message, which had the nominal leader of the free world comparing the size of his "nuclear button" to that of the despotic North Korean leader, Kim Jong-un. (Worth noting: there is no button.)
The event page says that while a nuclear detonation is unlikely, planning can help reduce the number deaths and illnesses. "For instance, most people don't realize that sheltering in place for at least 24 hours is crucial to saving lives and reducing exposure to radiation," according to the CDC's website. The event promises to teach attendees "how planning and preparation efforts for a nuclear detonation are similar and different from other emergency response planning efforts." The page, helpfully illustrated with an image of a mushroom cloud, describes a series of talks, including one called "Preparing for the Unthinkable."
The CDC holds its teaching sessions, called "grand rounds," every month, on topics ranging from maternal mortality to emerging tickborne diseases. A previous session on radiological and nuclear disaster preparedness happened in March 2010. The CDC spokesperson pointed out that planning for its nuclear teach-in began last April, when agency officials joined in a "radiation/nuclear incident exercise" led by the Federal Emergency Management Agency (FEMA).
So, again, the timing is unrelated to, say, former Vice President Joe Biden saying the United States closer than ever to nuclear war with North Korea. (That sentiment was echoed by Mike Mullen, a former chairman of the Joint Chiefs of Staff.) As the spokesperson told STAT, "State and local partners also have expressed interest in this topic over time." You don't say.
The presentations will be streamed live online from 1 to 2 pm on January 17 (and archived on the event page a few days later), but if you're in a hurry you can always revisit our coverage of how to survive the first hour of a nuclear attack and what happens when your body is exposed to radiation. You know, just in case.
Read This Next: How to Survive the First Hour of a Nuclear Attack
Stories