Derek and Alexis as kids.
The first time I saw Sleigh Bells—alongside 200 other awestruck audience members—Alexis Krauss and Derek E. Miller were backlit, their sonic onslaught was brutal, all ricocheting programmed beats and a wall of raw, distorted riffs amped so high the tiny venue's ill-equipped soundsystem seemed edging towards implosion with each song. With each record—the newly released Bitter Rivals being their third—the Brooklyn-based duo have maintained their tough-as-nails aesthetic, tempered by Alexis' candy-coated vocals. There's the Johnny Marr-inspired noodling and beat stuttered pop of "24," the glam rock stomp of "Minnie," while "Love Sick" showcases Sleigh Bells' songwriting nous: they know exactly when to take the foot off the accelerator.
Some people are sniffy about the juncture between fashion and music because hey, shouldn't it always be about the songs, maaan? No actually, that's bullshit. All the best artists—from Bowie to Blondie to Guns N' Roses to Grimes—understand if you cement a relationship between sonics and visuals your work will hit harder and last longer. With this in mind, I caught up with Alexis, the day before their two month long tour to talk about her early style influences, her current touring wardrobe, plus a recent encounter with Kanye and Courtney Love.
I love this picture of you and Derek from when you were kids. You kind of look exactly the same!
I do don't I? This was around six or seven years old. That picture of me in the leather jacket and Derek in the camo and the acid wash was just too perfect. Clearly we haven't changed much. As soon as I was interested in fashion I always gravitated towards tougher, tomboy-esque fashion. I always had had my Converse, jeans, a flannel shirt, leather jacket. I liked keeping things basic, feminine but not girly. I had a ton of awesome leather jackets and sweaters and when it was school picture day, all the other girls were in silly dresses and I was in a ripped sweatshirt and a denim jacket, like, this is me!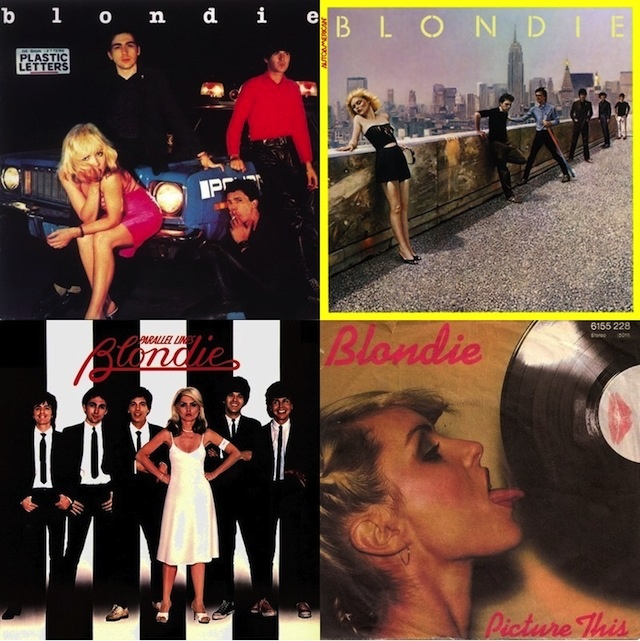 When you were a kid who was the first artist who you admired both musically and the way they presented themselves?
Cyndi Lauper, like most people my age or older. She was so strange and foreign to me, but also her aesthetic looked like an extension of her music and I really loved that. I have an interesting relationship with Blondie because my mom she grew up with them and the keyboard player Jimmy Destri and they dated for many years and he's a family friend. So we had all the Blondie records and I remember looking at the cover of Parallel Lines and thinking Debbie was the coolest person on the planet. It just seems so effortless for her. Nothing was contrived or overthought and she was a huge influence on me. Also I was really into the Ziggy Stardust. I was super intrigued by Bowie's aesthetic, which was very over the top. That was around the time when I really started thinking about the connection between fashion and music.


RubyBlue.
So how was it when you were a teenager in that girl band RubyBlue? Were they putting you in outfits that you hated?
Definitely. You're awkward enough as a 14-15-16-year-old and then having to conform to what other people think you should be and what they think you should look like didn't make for a very pleasant combination. As with the music, it just felt really forced and that's what ultimately lead to that projects demise. We felt like caricatures of ourselves and that's not to say there wasn't a lot of creativity and wonderful things that came out of that, but it's never a good thing when someone's telling you how to look.



Alexis and her nails.

Do you work with a stylist now?
I work with friends now like Liz Olko from Obesity & Speed and she's always hooking me up with really great things, and one of my closest friends is Ria Lopez, who is a really great nail artist. So our relationship has gone from her doing really bad ass nails to her now helping with dying things—she's very talented. One of the great things about this industry is you get to meet people. Like I just met Alexander Wang for the first time when I was at his show and he was kind enough to send me a few things. I don't really work with one particular stylist, I find I like to collect lots of different pieces on my own. I don't hoard clothes, I don't have a ton of them, it's not something I've ever been super-comfortable with. I would much rather work on a piece that I know I'm going to wear and love as opposed to just having someone send me stuff that just going to sit around. The process of styling myself is just another part f the music, and you just need to put the time energy and care in.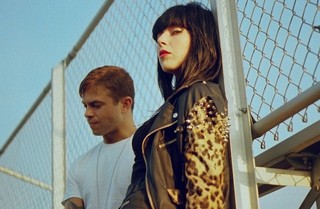 Sleigh Bells by Petra Collins.
Front row at fashion week must peculiar experience and such a spectacle.
It's very surreal. I always feel slightly uncomfortable at some of the events because there are so many insanely huge celebrities around, it's like, should I go say hi? I did, in a very bold moment, go over to Kanye West at the Wang show and introduce myself and he was very lovely. I'm getting better, like, "Okay, I can exist in this world as well." Also Courtney Love was sitting next to me and she was quite entertaining.
I bet that was interesting. When I interviewed her she just talked and talked and talked, she was driving it, 100%, and then at the end of the chat she was like, "Okay, you can ask a question now."
She was very sweet. She kept introducing me to people as: "This is Alexis from The Sleigh Bells." I was like, "Oh my God, this is not happening. I'm now in a band called The Sleigh Bells, according to Courtney Love. It was quite amusing!
As far as your live shows go, are their tour clothes that you map out for each record?
I do collect new pieces for every record. On this record I was definitely inspired a bit more by the 90s, a little more lace and plaid and more grungy things going on. I also feel like when I'm onstage, I'm becoming a character. I'm true to myself, for sure, but I'm definitely more bold in that version of myself. I wouldn't wear a lot of that stuff on the street and I'm lucky in the sense that I can have two different wardrobes.
Where do you like to shop in New York or online?
Online, there's Unif. They're stuff is rad and they're blowing up. They have some really great pieces. I really like Courtshop Denim and I've been talking with them about maybe doing a little capsule collection. That's not definite, but I love her work, it's very classic, that are updated slightly, but nothing that's too trendy. I still don't know if that's going to come to fruition but it would be an exciting prospect. Also Obesity & Speed. I love stores like Search and Destroy in New York, you can just go in there and find old pieces and rework them.
Are you trying to bring Lycra cycling shorts back into fashion? This is what the "Bitter Rivals" video suggested.
Yeah, you know those girls were really good sports about it. I really wanted them to wear the cycling shorts and crop tops and they were like, "Can we put something else on?" and I was like, "No." The whole aesthetic with the wigs and everything is a little off and a little weird. I wanted something that was playful, but off-kilter, and not hyper-styled. The fact that I'm there with a bunch of back-up dancers is kind of off to begin with and I didn't want it to look like we were trying to be legit popstars, with polished dancers. All the girls are wonderful singers and they're going to be doing some back up work at the shows.


What's your favorite piece in your wardrobe?
Right now it's the robe that we had customized for the "Bitter Rivals" video. I'm thinking I'm going to come out in that every night on tour. We wanted it to look as close to a boxer's satin robe as possible. I think it's a really fun piece. Although I'm not walking out the door in my hooded boxing robe!
Sleigh Bells Tour Dates
10/4/13 Pittsburgh, PA @ Mr. Smalls
10/10/13 Vancouver, BC @ Commodore *
10/11/13 Portland, OR @ Roseland *
10/12/13 Seattle, WA @ Showbox at Market *
10/15/13 Santa Ana, CA @ Observatory *
10/18/13 Los Angeles, CA @ El Rey *
10/20/13 San Francisco, CA @ Treasure Island Music Festival
10/22/13 Salt Lake City, UT @ The Grand *
10/23/13 Denver, CO @ Bluebird *
10/25/13 Tulsa, OK @ Cain's Ballroom *
10/26/13 Dallas, TX @ Granada Theatre *
10/27/13 Austin, TX @ Stubbs *
10/29/13 Atlanta, GA @ Center Stage *
10/30/13 Jacksonville, FL @ Freebird Live *
11/1/13 St. Petersburg, FL @ State Theatre *
11/2/13 Fort Lauderdale, FL @ Culture Room *
11/4/13 Orlando, FL @ Firestone *
11/5/13 Athens, GA @ Georgia Theatre
11/6/13 Raleigh, NC @ Lincoln Theatre *
11/8/13 Nashville, TN @ Marathon Music Works *
11/9/13 Columbus, OH @ Newport *
11/10/13 Chicago, IL @ Metro *
11/12/13 Detroit, MI @ St. Andrews *
11/13/13 Toronto, ON @ Phoenix *
11/14/13 Buffalo, NY @ Town Ballroom *
11/16/13 Boston, MA @ Royale *
11/17/13 Albany, NY @ Upstate Concert Hall *
11/19/13 Washington, DC @ Upstate Concert Hall *
11/20/13 Philadelphia, PA @ Union Transfer *
11/22/13 New York, NY @ Terminal 5 +
w/ Doldrums *
w/ Danny Brown +

Kim recently tried to fit into some cycling shorts she used to wear in 87. It was awkward. Twitter - @theKTB.

Style Stage is an ongoing partnership between Noisey & Garnier Fructis celebrating music, hair, and style.