Get Possessed by Vodun's Super Heavy, West African-Inspired Psychedelic Rock
Stream the eclectic, feminist, and very spiritual London trio's new album, 'Possession' (out 3/25).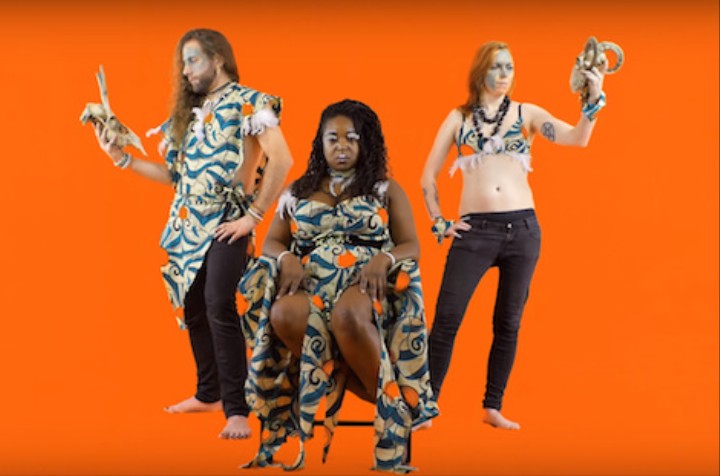 Screenshot via "Mawu" video
Vodun was born in West Africa, and was first practiced by Gbe-speaking groups from Ghana to Benin as they strove to understand the world around them. The spiritual religion eventually made its way to the New World via the African Disaspora, where it took root and flourished in places like Haiti (where it became "vodou") and Louisiana (where it became "voodoo") and remains a driving cultural force and deeply-held belief system for many people.
Vodun the band hails from the considerably less sunny climes of Southern England—London, to be exact. The trio wows with a wholly unique and positively electrifying take on heavy metal-tinged, hard-charging afro-psych, led by a powerful vocalist who considers herself "the conductor at the center of the destruction and chaos," and whose commanding, acrobatic pipes recall both Jill Scott's molten soul and Christian Mistress' Christine Davis at her bluesy best.
Their new album, Possession, boasts strong feminist undertones, and is devoted to exploring "the magificent and complex past of Vodun cosmology." As vocalist Oya explains, "The music is made to represent how we see Vodun and understand its beautiful, complicated and powerful history. Exploring how Possession itself might feel in its binding and opening of the soul, we've taken our view of the world and married it with how the Spirits, Gods and Goddesses might entangle themselves in our own lives. The movement of the music is us bearing our souls, reflecting how something that has been demonized for so long can actually be something to wholly embrace."
The album is out on March 25 via Riff Rock Records, and pre-orders for the physical and digital versions are available now. Lose yourself in Possession below (and check out the sweet, dizzy video for "Mawu" while you're at it).
Catch Vodun on tour with Limb acrioss the UK this April.

Fri 1st April - Sheffield, The Washington
Sat 2nd April - Manchester, Rebellion (NOIZ ALLDAYER)
Sun 3rd April - Milton Keynes, Craufurd Arms
Wed 6th April - Coventry, The Arches
Thurs 7th April - London, The Lexington (Vodun album launch)
Fri 8th April - Bristol, The Stag & Hounds
Sat 9th April - Oxford, The Wheatsheaf
Kim Kelly is chasing spirits on Twitter.