The lineup for the final day of Riot Fest Chicago was weaker than its two predecessors. It simply didn't have the same edge nor draw as the previous two nights, instead opting to focus on a few big rap acts, a stage dedicated to reggae, some festival standbys, and a good deal of indie rock.
Many took that weakness as an opportunity to sleep in Sunday morning, with the grounds quiet for the first few hours of the afternoon. I took it as an opportunity to leave my comfort zone and check out some new bands (or bands at least new to me). At least, that was the plan at the outset, though plans tend to change at festivals.
I ventured to the smaller Revolt and Radicals stages that I had not even seen up to this point. There, I found Philadelphia's Cayetana pumping out an energetic set of indie pop punk goodness to a small but engaged crowd. It didn't take long for me to become one of them, taking in a solid set from the trio.
Then it was a small walk back to the bigger Rebel stage to catch the end of The White Buffalo, a folky singer-songwriter Americana sort of act that has been around for more than a decade that reminds in some ways of Chuck Ragan, if he skewed a bit more country.
The Dwarves later took the same stage to play the entirety of Blood, Guts & Pussy, which, being a collection of Dwarves songs didn't take much time at all, so the band played more than a few more. And anyone who thought they were safe at the all-ages fest early in the afternoon were given a not-so-family-friendly reminder of just how brash the Chicago-formed band can be, with some indecent exposure and frontman Blag Dahlia trying to get a rise out of the crowd by encouraging folks to do drugs and then kill their parents.
De La Soul may have been the day's highlight, bringing old-school hip-hop to the growing masses. They bested their rap counterparts by actually rhyming well, working together to lay down melodic phrasings over their beats. The antics also helped win over the crowd, much like Living Colour on Friday, with De La Soul making a concerted effort to engage everyone, from the fans at the corners of the stage to the photographers in the pit to the blue-shirted security guards. It paid off for a memorable set.
What came next, though, between the main stages, was an onslaught of festival regulars—Less Than Jake, Andrew W.K., and Cypress Hill—who all played technically fine sets. It is just hard to find a festival nowadays that doesn't have these guys on the bill, and the shticks rarely change. I unfortunately got stuck in the middle of a big Cypress Hill crowd, and even their biggest fans seem less interested in the music than the first major excuse of the day to light up a joint.
In the midst of it, though, those wandering to the smaller stages—or first savvy enough to notice a major gap in the scheduling, then some question marks on the app, then about an hour before an official posting for the worst-kept secret of Riot Fest—found a special treat. Taking Back Sunday, who headlined the Roots stage just the night before, appeared on the Revolt stage to rip through another set. Love 'em or hate 'em, it was a cool move to see the headliner from the night before perform again in (almost) secret to a smaller crowd, though word had clearly gotten around by the time they hit the stage.
Riot grrrl-influencers L7 performed a tight set, exchanging vocal duties and joining in the day's apparent theme of having some fun with the photographers and just generally being rock legends but ending their own set ahead of schedule.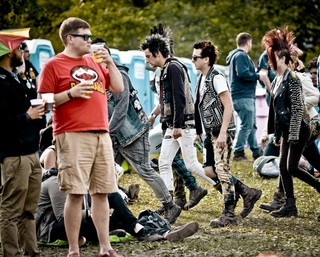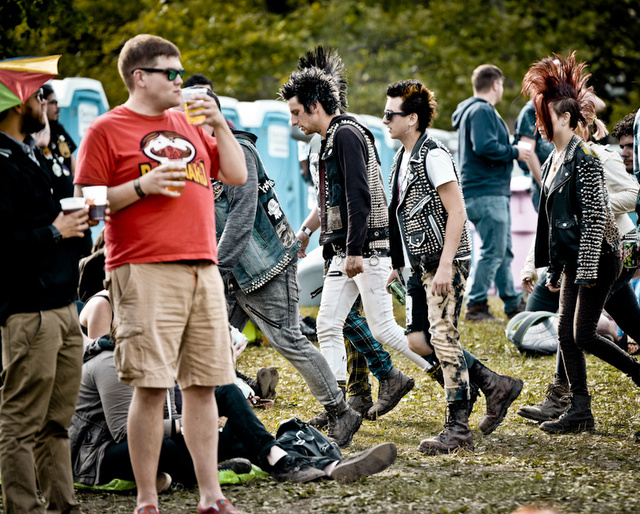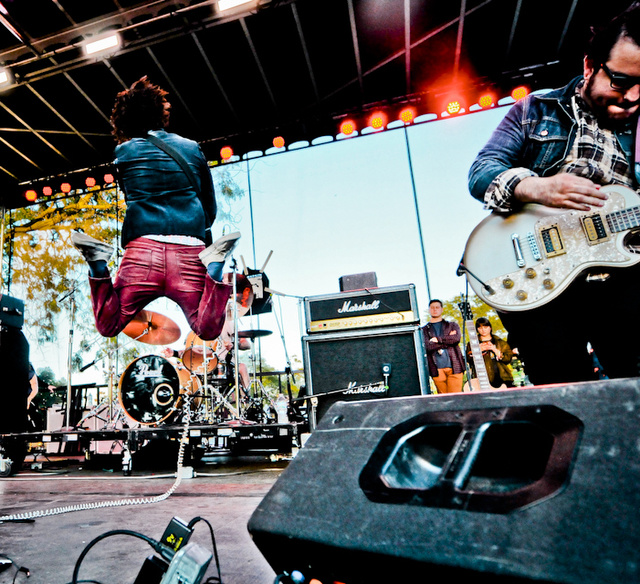 After that run of bands, fans had a choice between Tenacious D and Snoop Dogg, who was slated to perform Doggystyle in full—a seemingly tough choice of where to start, with Doggy Dogg expect to kick things off with "Gin & Juice," and the D opening with "Tribute." Smart fans started with the D, where they could have caught a half-hour without missing a beat of Snoop's set, as he took the stage late, even then only after endless hype work from his crew.
When he finally strolled out onto the stage, sucking on a blunt, there would be no convincing fans—who had been booing and throwing their trash just minutes earlier—that it was crap, but the same lazy (and stoned) attitude that saw Snoop take the stage late pervaded his set, which was just another excuse to smoke some weed. Unlike De La Soul, who earlier earned their reputation, Snoop was simply riding on his, lackadaisically rapping over his laid-back beats until Riot Fest—rightfully, and with no sympathy—cut his set to make way for the evening's headliners, Modest Mouse.
At that point, I cheered the decision to cut Snoop's mic, but I wish it was to make way for a more engaging act. I invited a friend, a Modest Mouse fanatic, along Sunday to try to put them in context, convince me of their greatness, act as a guide. He explained some things about many fans splitting allegiances before and after Good News for People Who Love Bad News but said he liked it all while admitting he wasn't entirely sure why he liked it so much.
The lights virtually drowned out all members of the band, who worked far back on the stage, as Isaac Brock tried to sound as disinterested in his music as I was. The set list was technically a good one, from what my buddy explained to me. I decided to walk the crowd for the bit, working my way up front, and what I mostly saw were people weakly swaying back and forth (some to the music, some because of the alcohol and drugs), a few girls dancing a little more passionately, but in comparison to the carnage that was System of the Down the night before—as well as the fun and hard rocking of No Doubt and Motörhead, respectively, the night before that—Modest Mouse lived up to its diminutive name, with a set that felt more like putting the audience to bed than sending them home with something memorable.
To meet their Virginia Woolf reference with some paraphrased T.S. Elliott, the Washington indie rockers sent Riot Fest off not with a bang, but a whimper.