Photo by Mike O'Shea.
I'm a product of the internet music generation. The first punk and indie rock bands I found when I was younger came through various MP3 sites and SoulSeek, which was a peer-to-peer file sharing program that was a bit more personal than KaZaa and BearShare, with chat rooms geared specifically toward fans of different genres. As a kid hearing all kinds of independent music for the first time, it was an incredible tool for a broke 15-year-old nerd that I wouldn't have had otherwise.
One day, I downloaded the Jazz June's The Medicine on a whim. As soon as the pounding drums and choppy guitars hit on "Viva La Speed Metal", and all the way through until the discordant closer "Balance" broke down into a freeform jazz session, I was hooked on the band and their style. Front to back, The Medicine was a total departure from the "emo" that I was just getting into at the time, and yet the Jazz June still held a striking similarity to contemporaries like Cap'n Jazz and Braid, the bands that I was learning were the benchmarks of "emo." The only difference, though, is that no one talked about the Jazz June. And even today, not many bands in the "revival" come to mind as having an obvious Jazz June influence. They were a wholly unique band.
Over the years, that record remained one of my favorites, but for whatever reason, I didn't seek out of any of their other records – until this past October, when they reunited for a show with Braid in Brooklyn. It rekindled my interest in the band, where I ran through a bunch of their records and quickly realized that they were much more prolific than most of their peers, with four full-lengths and an EP spanning eight years.
Now, the Jazz June is returning with their first new song in 12 years, a split with Florida punk band Dikembe (Topshelf/Tiny Engines). Noisey spoke with the band and their friends about the past, the present, and the future.

This is the story of the Jazz June.

THE BAND
Andrew Low, vocalist/guitarist – now lives in London, England
Bryan Gassler, guitarist – now lives in Charlotte, North Carolina
Dan O'Neill, bassist – now lives in Philadelphia, Pennsylvania
Justin Max, drums – now lives in Philadelphia, Pennsylvania
FRIENDS
Tom Mullen, Washed Up Emo
Bryon Lippincott, Mid Carson July/New Bruises guitarist, owner of Kiss of Death Records
Jonathan Van Dine, Ladder Devils/Cruiser drummer
Ross Brazuk, Snowing/Street Smart Cyclist guitarist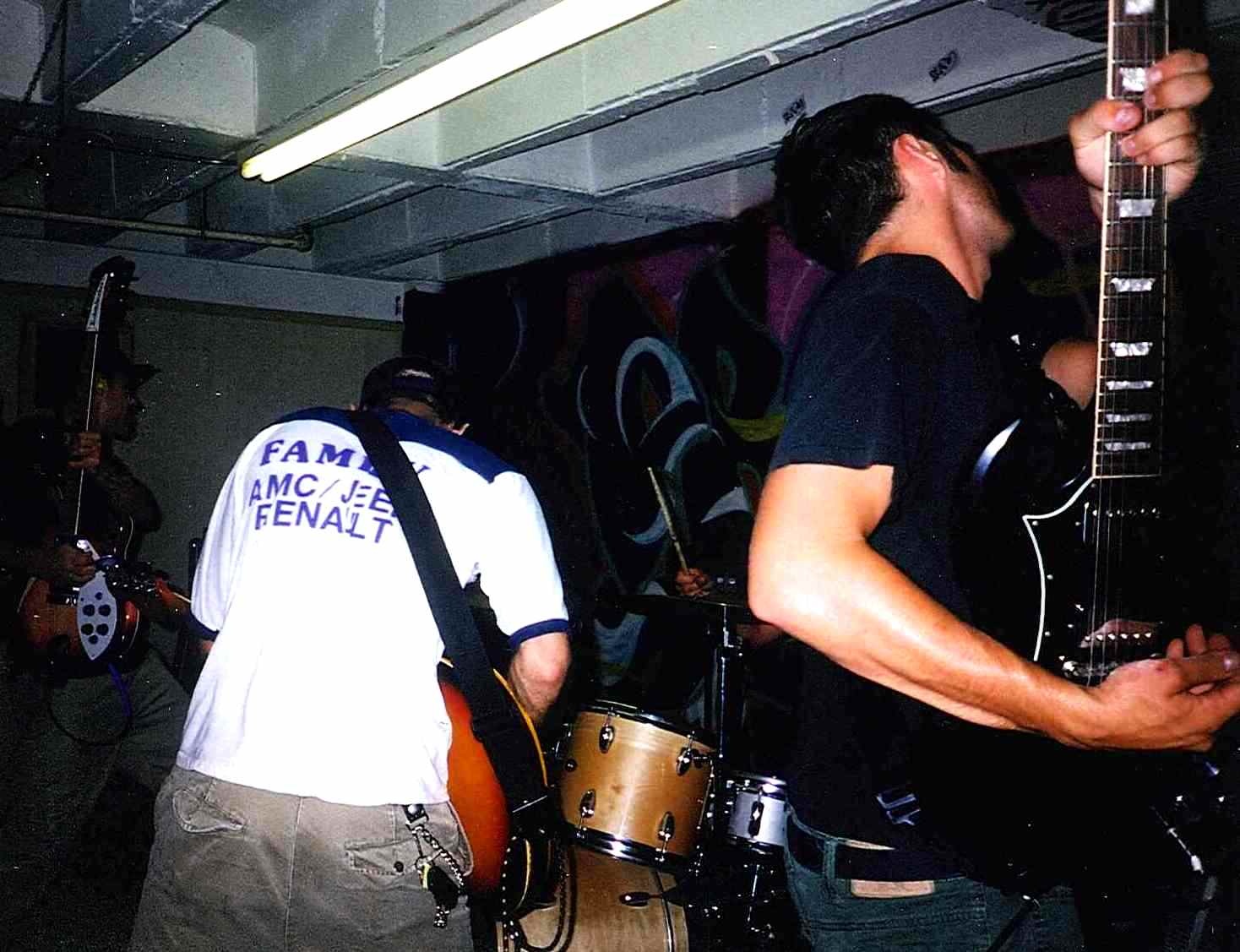 Dayton, OH. Circa 1997. Photo by Steve the Roadie.

WHEN THE DRUMS KICK IN
The Jazz June formed in 1996 at Kutztown University in the Lehigh Valley area of Pennsylvania. The members had been in hardcore and punk bands in the area for a few years, but as was common in the mid-90s, emo and hardcore were inexplicably linked. They started touring and playing shows, and released their first record, They Love Those Who Make the Music, a year later.
Andrew Low: When we first started, it was [inspired by] bands like Christie Front Drive and Cap'n Jazz and Superchunk. We were all from the hardcore scene, but when we went to college, started reading books, and smoking pot, I think we all wanted to write music with the same aggression as hardcore but with a more experimental spin on it. We also started listening to John Coltrane, Charlie Parker, Miles Davis, and Dave Brubeck and aspired to write music with more complicated rhythms and structures.
Justin Max: There were a lot of great bands coming out of the hardcore scene trying to create new sounds. I know for me, some of those early influences were bands like Hoover, Trans Megetti, and Kerosene 454.
Bryon Lippincott: When I was playing in Mid Carson July, we got invited to play a show in Kutztown, PA in a basement. I believe it was a house that some of the guys lived in. While watching them play that first show, I remember just how well it all clicked. They wrote perfect songs and delivered them live in such a way that drew in the audience in making them feel connected. It seemed to come so natural to them. They were amazing songwriters and not only could Andrew sing, I think the lyrics were written in a fashion I wished I could have written.
Andrew Low: It was my second year of Kutztown University, so it was 1996. We were all going to school there and started playing in the house that Justin and Dan lived in just off campus called the Cliffs. Our first show was also in that house. We had only practiced about 3 or 4 times and hadn't planned on playing the gig, but the bassist from Rain On The Parade was stuck in traffic or something, so we just jumped on and played so that people didn't leave while we waited for him to arrive. I was in an SXE Hardcore band called Atari at the time, which had just played a set. I hadn't even told them I was in another band yet, and then there I was on stage playing indie rock after a raging SXE set with big black Xs on my hands. We did an East Coast tour with Mid Carson July sometime before Christmas in 1996. Half the shows were cancelled, but we all got the taste for touring, began booking tours every time we had a spring, winter, or summer break from school.
Dan O'Neill: What I remember most was the time spent with what would become my closest friends in my life. Crammed in a van, laughing and playing music that we wanted to play.
Tom Mullen: I remember seeing their name in the Initial Records catalog and with labels back then, you trusted the name. I got their records through the college radio station I worked at so once their record came in, I knew it was something I had to check out because it was Initial. What I remember being so memorable was that it didn't sound like anything on Initial, it didn't sound like emo, it didn't sound like post-hardcore. It really stood out as something truly unique. I am not sure if in today's world, a band like this would have survived. The Jazz June fit in wherever they went because they never fit in, if that makes any sense.
Andrew Low: There was a big backlash from the hardcore scene, because even though we operated by the same DIY, punk ethics, they thought we were selling out or trying to get on MTV, I guess. We had a lot of people talking shit on us for being in bands that played "music for girls and pussies."
Jonathan Van Dine: I first heard the Jazz June in my sister's car in the winter of 1997. She was on winter break from college. I was on winter break from elementary school. She pulled out a CD and said, "Hey, listen to my friends' new record!" It was "They Love Those Who Make the Music", and I didn't really get into it since, at the time, I was 11 or 12 and only cared about Rage Against The Machine.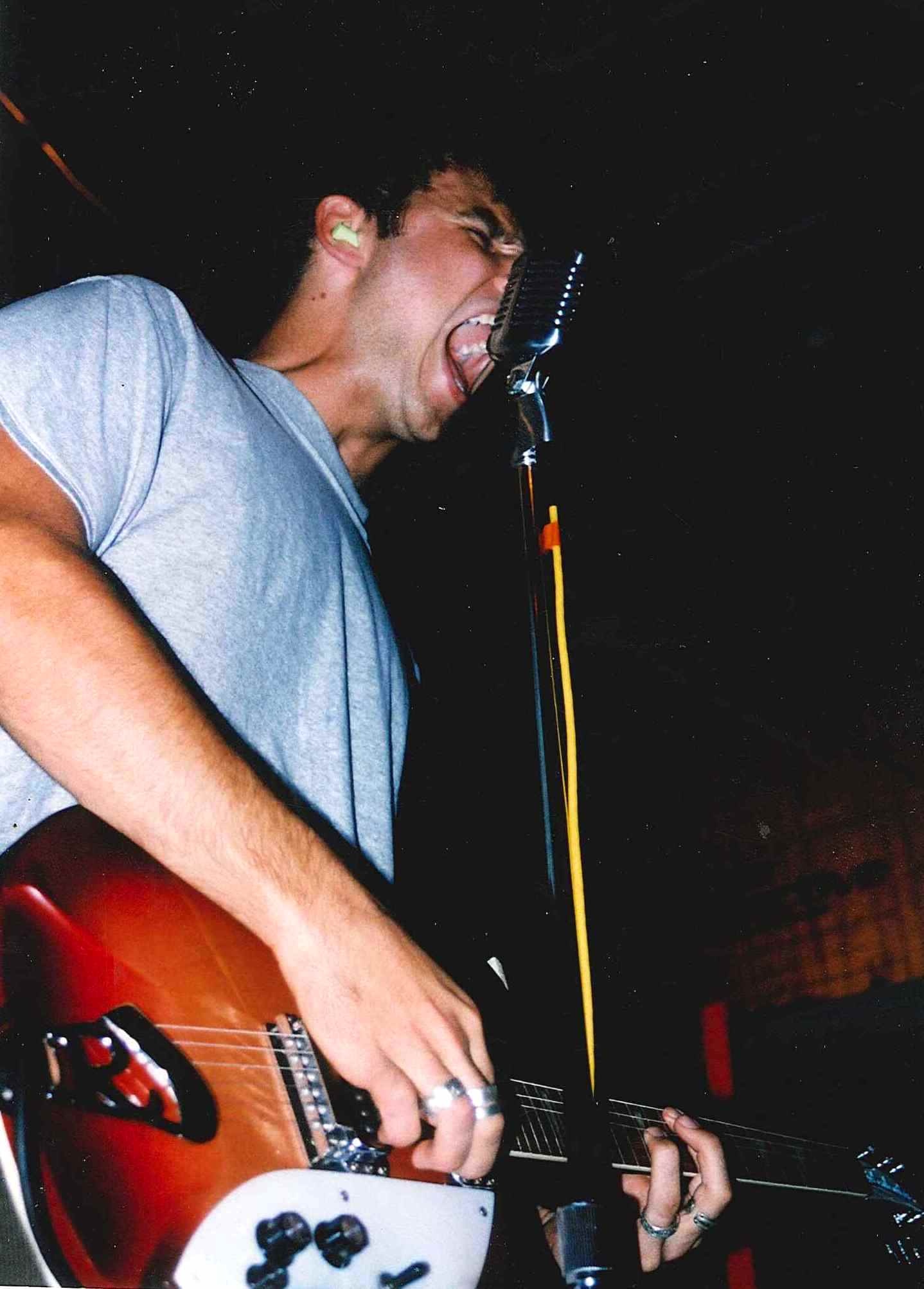 Circa 1998. Photo by Steve the Roadie.

AND THE BASS STARTS RUMBLING
The band parted ways with guitarist Nat Duncan after the release of The Boom, The Music, The Motion EP and kept touring and recording. Slowly, "emo" started gaining more and more popularity, and although the band never reached the popularity of peers like the Get Up Kids and Braid, they did end up in some surreal places.
Andrew Low: I have to say there was never really a moment when it just went off. If we played a festival there would be tons of kids there, but we stopped playing before the scene really blew up, so it was always very patchy.
Bryan Gassler: Eva (Alexiou-Reo) from Fata Booking definitely booked us onto quality shows, but as Andrew said, it never went off. Still waiting for that.
Andrew Low: It was always lots of dudes in tight shirts and girls with librarian glasses. But that is what we looked like as well so it was always like playing to a room full of our friends. I do remember playing a show in North or South Dakota and there were a lot of younger kids there who were really into Hot Rod Circuit. Those guys were signing autographs and I remember thinking that was really weird and new for the scene.
Bryan Gassler: I think it was Initial Records marketing that landed us the sticker spot in Joey's room. It was visible for like a hot second.
Andrew Low: The best tour was probably the first one we did with Hot Rod Circuit. We toured the US for three or four weeks with those guys and had the best time ever. The biggest show was one of the Krazy Fests when we played just before the Vagrant Records summer tour lineup: Saves the Day, Dashboard Confessional, and Alkaline Trio. There were over 3,000 people watching us and my hands didn't stop shaking throughout the entire set.

WHEN THE SHIT KICKS IN
In 2000, the Jazz June released what is widely considered to be their best album, The Medicine, recorded at Inner Ear Studios in DC with legendary producers Don Zientara and J. Robbins. The band toured heavily on this record, by themselves and with other bands such as Elliott. Still, the band never completely broke out of the scene that was launching poppier contemporaries like Dashboard Confessional to stardom.
Bryan Gassler: We were prepared to do this record; we did pre-production at a friend's home studio, we road-tested most of the songs when we were out with Hot Rod Circuit and we went in to Inner Ear ready to work fast. All of the songs were done as live takes with very minimal overdubs and working with J. was awesome. He was the first engineer that really gave a shit about our songs, he pushed us to do better.
Andrew Low: This was one of the best experiences for the Jazz June. We were working with J. Robbins at Inner Ear and hanging with Don Zientara, asking him about recording Minor Threat records. "When The Drums Kick In" was on a comp that was widely distributed (Initial Records' "Extreme Music Sampler") so kids always request that one, and "When in Rome" from They Love Those. The Medicine is definitely either the entrance point for a lot of people for the Jazz June, or the record they like the most.
Dan O'Neill: J. Robbins was awesome. Being at Inner Ear was like realizing a childhood dream. Dischord bands were the soundtrack of my youth and it was surreal for me to be there.
Bryon Lippincott: If you would have asked me what my favorite Jazz June record was in the early 2000's I would have said They Love Those Who Make The Music because it was such a perfect record that stood out in that time period. Years later, I discovered that The Medicine became my newer favorite. It is funny how it works but I listen to that record pretty frequently. I don't think it clicked for me when it first came out and later on it was like a light bulb went off above my head in cartoon like fashion and I got it. It was like Fugazi's The Argument for me.
Andrew Low: When the record came out, it was cool at first because we got go play venues with nice sound systems, but then it got to the point that we couldn't get a gig if you didn't have a booking agent and a manager. All the shows were moved from VFW halls and basements to rock clubs and we had to deal with some real asshole bouncers and promoters. I actually got kicked out of the club when we opened for Built to Spill and missed their whole fucking set. I was so pissed off because they are one of my favorite bands and I had never seen them before.
Bryan Gassler: I don't think popularity ever really happened. We just got lucky and ended up working with like-minded people that put out our records or helped us book shows. We were always on the fringe of something bigger, but that something never broke out.
Jonathan Van Dine: They let me tag along with them when I was 18 to Krazy Fest in the summer of 2003. It was the first time I saw them play live. I got to watch such amazing bands that weekend like the Locust, the Rye Coalition, Hey Mercedes, Fairweather, Cave In, etc. One night, they all went out to the bars and left me behind with some weirdo drugged-out girl who was staying in our hotel with the Cave In dudes.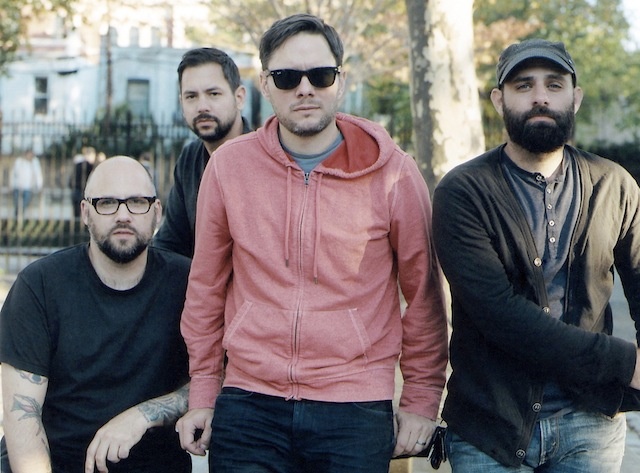 The Jazz June in 2013, Photo by Mike O'Shea.

THIS SOUND DROWNS SLOWLY
In 2002, the band followed up the success of The Medicine with Better Off Without Air, a challenging record that was a marked departure from their earlier emo efforts. The band explored jazz even further, as well as progressive rock and the weirder reaches of the Dischord discography. By 2004, however, the band's time together was coming to an end.
Bryan Gassler: We were all losing our hardcore roots and getting deeper and deeper into music that had experimental underpinnings. Benny Clark from Elliot turned me on to Can's 1971 prog rock masterpiece Tago Mago, and after that I was never going to play emo riffs ever again.
Andrew Low: We just wanted to do something totally different and new. The indie/emo scene was becoming mall-bought-punk-rock joke and we wanted to do something more in the vein of the Dischord/Thrill Jockey bands. I don't know if that comes across in the songs, but it was definitely a different sound we were going for. Also, 9/11 happened just before or during the making of the record so there was a fear and anxiety about the future that created a tension that is embedded in those songs.
Bryan Gassler: The whole experience writing and recording that was different for us. We graduated from Kutztown; we're living apart from each other and starting to go in our own unique directions. There are songs on Better Off that I play on and Andrew doesn't and vice versa – that's weird. We toyed with changing our name before we released it, but then decided we are the same people making this record and we are the Jazz June, and this weird thing we recorded would be titled "Better Off Without Air" which, looking back, was really a subliminal message that the band was coming to end. Better Off Without Air should have been an EP, but it's too late for now so we'll live with it.
Andrew Low: When the emo scene got huge it was just really hard to do anything. Also, Initial Records shut down so we didn't have a label, and we fell out with our booking agent. In many ways, it felt like we were starting from the beginning again, and we all had finished school and taken full time jobs so we didn't have the time to put into the band and touring.
Dan O'Neill: We never really "broke up." We just have long breaks between shows, albums and recording.
Andrew Low: We never really had a meeting when we all sat down and said, "OK, this is our last show." We just got busy with life and put it on the backburner, and then some of the guys started families so it was impossible to get together.
Jonathan Van Dine: The Jazz June mean the world to me in so many ways. Their music changed the way I played music, listened to music, and became the soundtrack to my high school days. They all went to Kutztown University in the mid-to-late-90s with my sister and brother-in-law and I always heard awesome stories of the music scene there. They were playing a ton of house shows and it just seemed like a really cool place for music. When I ended up going to Kutztown in 2003, there was no music scene whatsoever. Inspired by the Jazz June and the experiences I always heard about from my sister and brother-in-law, my friends and I started putting on house shows in our basement in my junior year.
Justin Max: I don't know why, but anytime I've tried to write music with other people after the Jazz June, it just never seems to come naturally. It's always painful. There's just an unspoken communication that happens through the music that is unique to this combination of people.
Bryan Gassler: Plain and simple, we are best friends and we don't let life's bullshit get between us.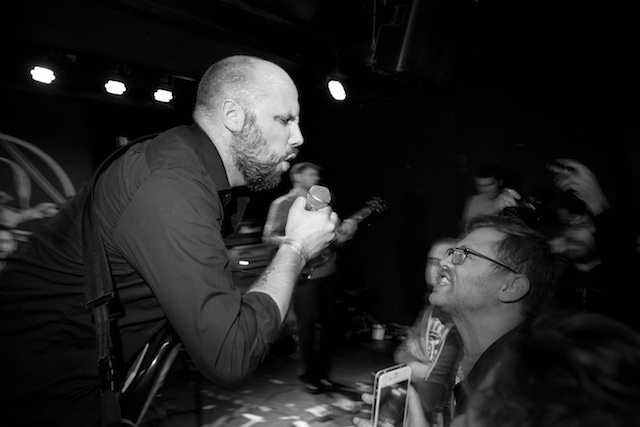 St. Vitus, Brooklyn, 2013. Photo by Mike O'Shea.

THE MUSIC OF WHO WE ARE
In 2007, the band's longtime friend Adam Gerhart was diagnosed with brain cancer. The band decided to reunite as a benefit for Gerhart, and later, a CD/DVD collection of live and unreleased songs was released called The Scars To Prove It. Then, the band lay dormant until 2013, when they reunited during CMJ in New York at the Topshelf Records showcase with 90s contemporaries, Braid. Now, the band is witnessing a rebirth and writing new music after a 12-year hiatus.
Ross Brazuk: I can't pinpoint when I first came across them exactly. It was definitely in high school, probably on mp3.com or something equally as ancient and forgotten. I really got into them in college, though. I went to Kutztown University, which is where all or some of the members of the Jazz June went to college. A bunch of my friends ended up renting the house they lived in, and doing shows in the basement. So I had a weirdly physical connection to this band that I never had seen up to that point, just because they were kind of engrained into this place I was playing shows and hanging out at.
Dan O'Neill: When we heard our roadie Adam was diagnosed with a brain tumor, we immediately started making plans to do a benefit shows to raise money for him and his family.
Bryan Gassler:I was with Justin at an Eagles game in South Philly and Adam called me out of the blue. He wasn't talking right; he was messing up words and stuttering while he trying to tell us about this life-threatening brain cancer he had been diagnosed with. Justin and I immediately thought about the impact this brings to someone's life and came to the realization that the band could be a vehicle to help Adam. So we rallied up and did what we knew how to do best to help our inspirational leader. We ignited the punk community and played music to raise funds to help support Adam's rising medical costs.
Ross Brazuk: My favorite show was the only time I got to see them. I feel like I saw them play at some point while I was in high school, but didn't really realize it. They did one show in maybe '06 or '07. I think Andrew was moving to England? Anyway, they wanted to play a show before he moved across an ocean, and they asked Street Smart Cyclist to play. The Progress played that show as well, so I met the now-very-famous Evan Weiss that night as well. John also quit the band that night. Just a very crazy convergence of past, present, and future. It was so goddamn surreal playing with this band that only really existed on my iPod and in my mind to that point. That's still one of my favorite shows ever.
Andrew Low: Adam is alive and cancer-free. The love, support and compassion shared by all the people who came to the shows eased his pain and helped him get through the tough moments of his recovery. That kid is a fucking warrior. He was going to chemo and then riding his bike to work straight after. I don't know anyone on this planet who is as strong as that guy.
Tom Mullen: I run a podcast dedicated to these late 90s/early 2000s bands from the emo/post-hardcore world and one day randomly saw on Twitter that the Jazz June were tweeting. I just @ replied them thinking nothing but to chat and maybe they would be down to tell their story. I immediately heard back, which I think the band was taken aback by the Washed Up Emo name of my account. After a few direct messages, we set up the interview. Come to find out after it posted, there were a ton of fans of this time period that had wanted to know what happened to them too. Bryan Gassler, from what I'm told, reconnected with the rest of the band members after realizing that people and bands of today did care. To make it full circle, they are now playing shows, going to release a new album and making music. From that one tweet, it was a pipe dream to think a band would feel inspired again to play music. That's why I do this site, podcast, and DJ night. If I accomplish nothing else with Washed Up Emo, I can say I had a part in getting the Jazz June back together.
Dan O'Neill: [The reunion show with Braid] blew my mind. There were people there to see us that were only 10 years old when The Medicine came out. It was hard to grasp that we have had that type of longevity.
Andrew Low: It was fucking amazing. I saw people who I hadn't seen in years and new people who have recently discovered the Jazz June, and I honestly had one of the best nights ever.
Bryan Gassler: We never had that many people sing along to our songs before. It was awesome.
Andrew Low: Our guitarist Bryan was the catalyst. He opened up the discussion over email and got us sharing tracks online. He also began feeding us music from this new wave of bands, like the Tiny Engines and Topshelf roster, who are playing music similar to ours with a punk ethic. Also, Dan started a Facebook page a few years ago and people have been getting in touch to ask about shows and new music. I have been in bands and writing music every day since the last Jazz June show. If people want to hear new songs from the Jazz June and the technology allows us to write together from different places in the world, there really is no excuse not to.
Tom Mullen: The Jazz June is important to me because they weren't the usual-sounding band. In college, hearing that they were on a hardcore label but they weren't hardcore meant a lot. It was the notion of doing your own thing and going with your heart will lead you were you want to go. It wasn't paint by numbers, it wasn't a band you could instantly hear what their influences were. You really had to sit down and analyze it and take it all in with no distractions. I like that about a band. They showed me when I was in bands that I didn't always have to go down the familiar road. Make 'em think a little bit.
Paul Blest is on Twitter, being nostalgic. - @pblest

Also check out these articles for more of your emo revival needs:

Starting Something New: How Evan Weiss' The Progress Made Progress

This Conversation Is Ending Right Now: Knapsack Say Farewell

There's No Emo Revival, You Just Stopped Paying Attention