Cheatahs' Guide to Touring America
These guys live in London and they'd never toured America until they joined Wavves and Fidlar on the road for six weeks. This is what they learned on their journey.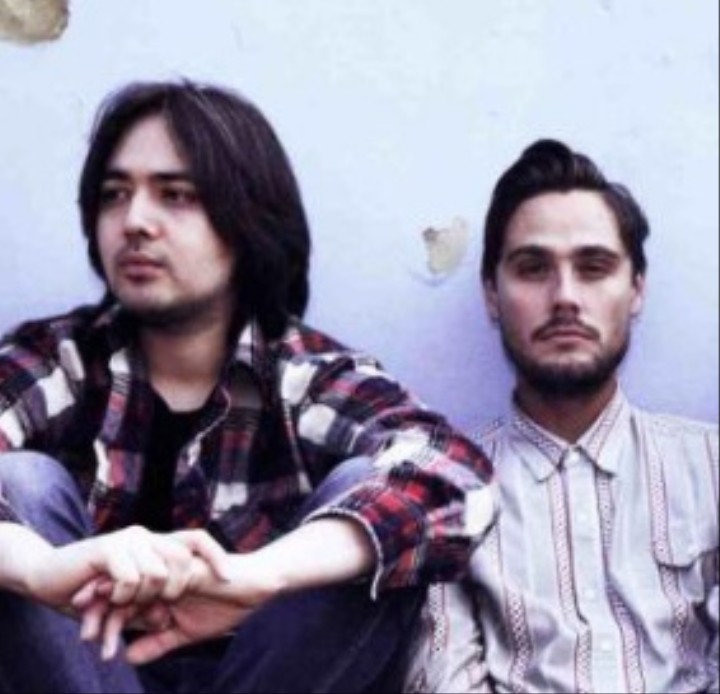 Cheatahs strolling through the Grand Canyon. Clockwise: Hoppie (tour manager), Marc Raue (drums), Dean Reid (bass), James Wignall (guitar/vocals), Nathan Hewitt (vocals/guitar).
Cheatahs finally popped its America cherry. The London-based band just finished zig-zagging the States, starting with a week at SXSW before joining Fidlar and Wavves on tour for a further five. Not that they're actually from London—the quartet originally hail from California, Canada, England, and Germany—and their sound is wrapped in the fuzzy, happy-sad embrace of 90s American lo-fi: heavy on the Big Muff and drummer Marc Raue's pummeled beats. Remember in My So-Called Life when Jordan Catalano had a band called Frozen Embryos that we never ever saw perform because Jordan kept fighting with the flakey singer Tino? Well this is what Frozen Embryos should have sounded like, i.e. insanely awesome.
Of course the Cheatahs boys lost a portion of their brains to PBR and whiskey and the monotony of driving through the heartland plains, but they also treated their maiden American voyage as an excellent excuse to visit some of the country's biggest tourist spots, as well as its more off-piste destinations. Here's what they learned on the road.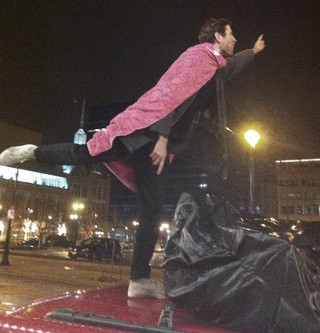 "This was the night of my first Juggalo experience. I can't remember why I turned my towel into a cape. Maybe I was subconsciously trying to fit in with the absolute surreal scenery we were confronted by. Or maybe I was just drunk." - Marc.
DON'T GO BACK TO MILWAUKEE
Marc Raue: In Milwaukee we played this enormous venue where in one room there was us, in another there was a Juggalo concert, in another there was a rave, and then there was this Big Sean show. So there was a huge variety of people turning up.
James Wignall: I'd heard of Insane Clown Posse but I didn't realize it was a whole movement.
Dean Reid: It was fascinating seeing this whole other part of America that you're never exposed to if you live in London.
James: In the dressing room downstairs there were people doing meth in the bathroom. The place looked like the hotel in The Shining so I'm kind of not surprised there were people doing meth down there.
Dean: You can't have a place like that without someone doing meth. They're just part of the decor. There was no segregation, which was good. Everyone was mixing. Or punching each other.
James: I did see a Juggalo getting beaten up because he disrespected the security. There was a shooting as well, although I think I might have been at Taco Bell at that point.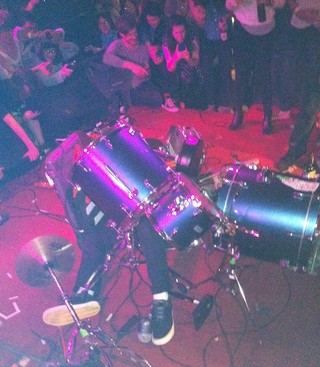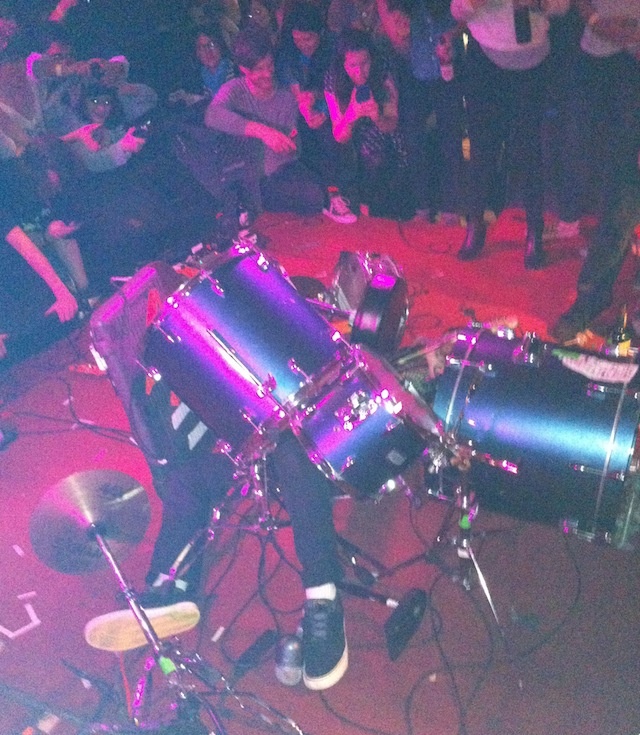 Nathan from Wavves.
ALL AGES SHOWS RULE
Dean: We don't play too many of them back in London. We mostly play local venues or bigger places when we toured with Dinosaur Jr. and The Cribs. Wavves and Fidlar fans are a specific demographic of young, very energetic fans and that's a new thing for us. In Santa Barbara, we had the first stage dive of our career. We shed a solitary tear.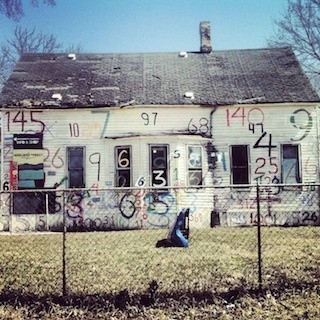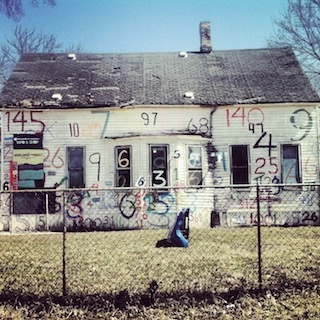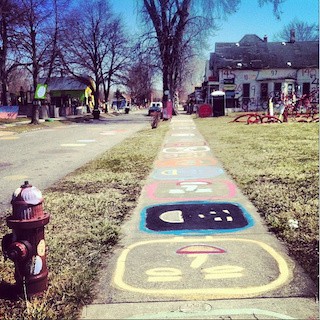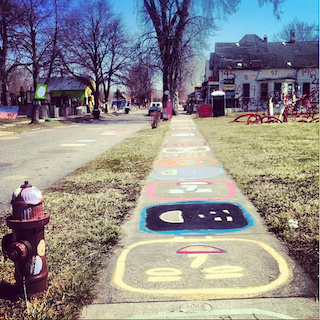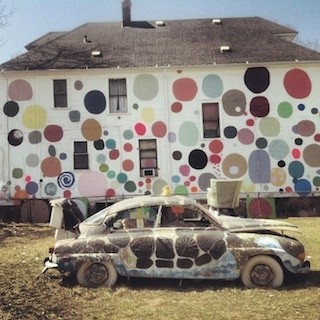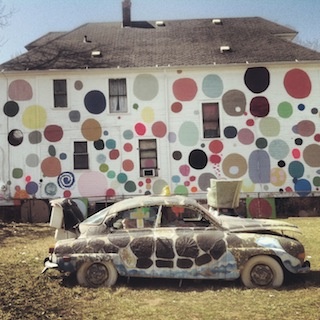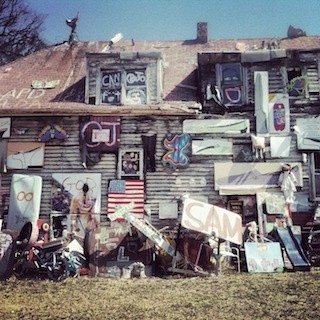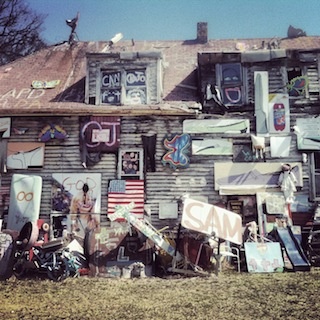 IF YOU'RE EVEN REMOTELY NEAR DETROIT, GO TO THE HEIDELBERG PROJECT
Dean: The Heidelberg Project is insane. This guy in the 80s took over a derelict street and did this to it. It's two blocks of crap everywhere. I would definitely spend the extra gas money.
James: It's like a Basquiat painting come to life.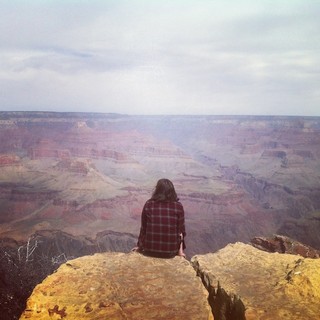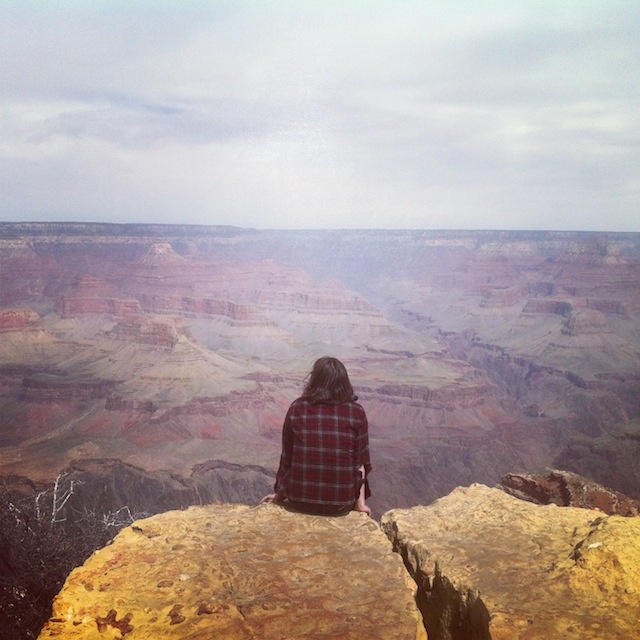 Dean living life on the edge.
THE GRAND CANYON HAS HEALING POWERS
Nathan Hewitt: Our tour manager Hoppie really wanted to go because last time he went with a band, they drove an extra day and it was so foggy they couldn't see four feet in front of them. I'd had a really bad morning, but then we got there and it was like, "Oh My God!" It totally changed my mood. You can't not be astounded.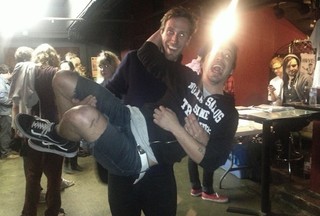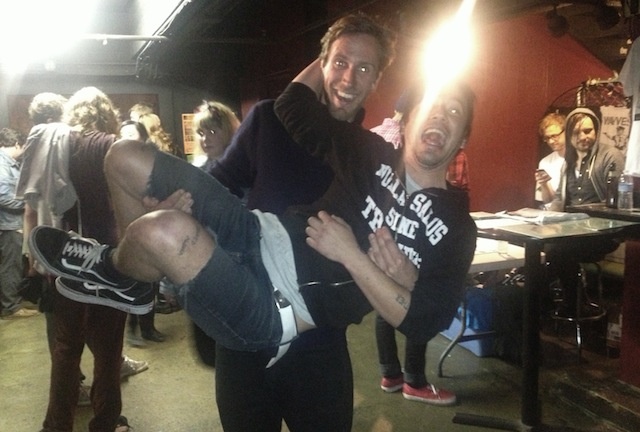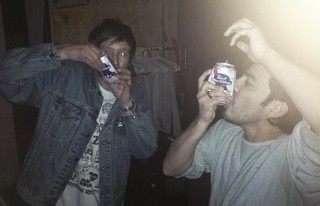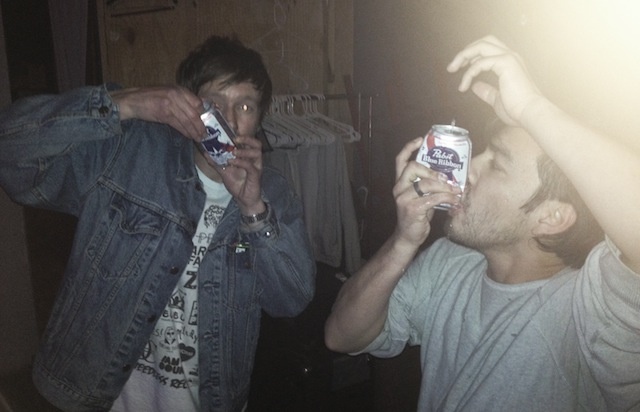 Marc and Zac from Fidlar, man-tussling.


James and Zac shotgunning PBRs.
ALWAYS TOUR WITH FIDLAR
Dean: They're just the best guys.
James: They don't just go out to have a couple of quiet drinks. Their M.O. is to go out and get fucked!
Marc: Zac and I started a routine where we'd have a shot before I went on and a shot afterwards.
James: Zac was definitely the feeder when it came to Marc.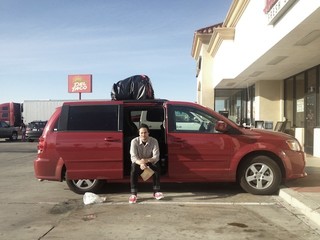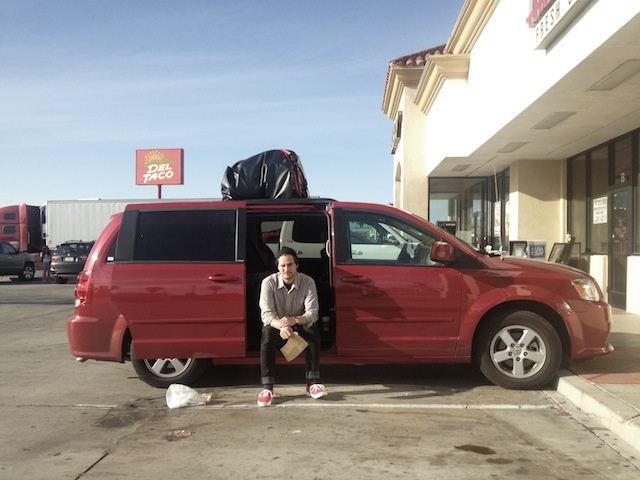 Nathan and the soccer mom-mobile.
MOM-MOBILES = THE BEST TOUR TRANSPORT
Nathan: It's the best van I've ever toured in. Automatic doors, AC, light on fuel, great stereo. And it's red, so it's awesome.
Marc: I drove with Fidlar from Philly to NY and I so prefer our car. They haven't got any legroom.
Dean: We call it our mom-mobile.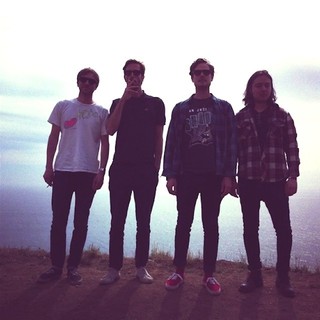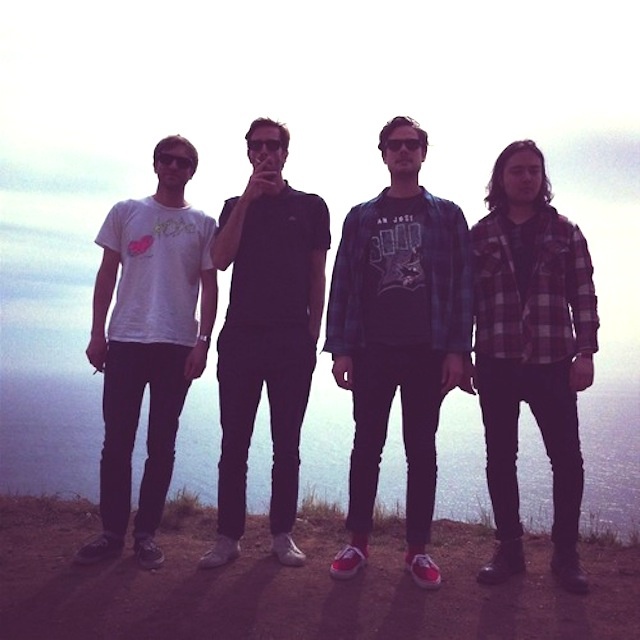 Cheatahs at Big Sur.

Nathan, Dean, and Hoppie at Big Sur River Inn.
SWING BY BIG SUR RIVER INN
Nathan: Big Sur is like this milestone place for me. I've been a few times and done the same thing every time. Sat down with a beer with my feet in the river and reflected. Things are moving along. I was there ten years ago and then again a year ago when I was on holiday with James—we weren't in a band together at that point—and then I went when I toured [as the guitarist for] Male Bonding, and then this time. It's really beautiful, but there always has to be one douchebag playing a djembe. One djembe spoils the broth. It should be outlawed.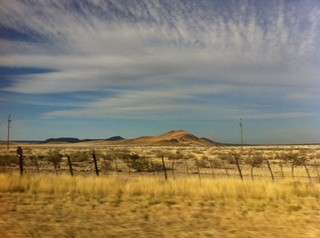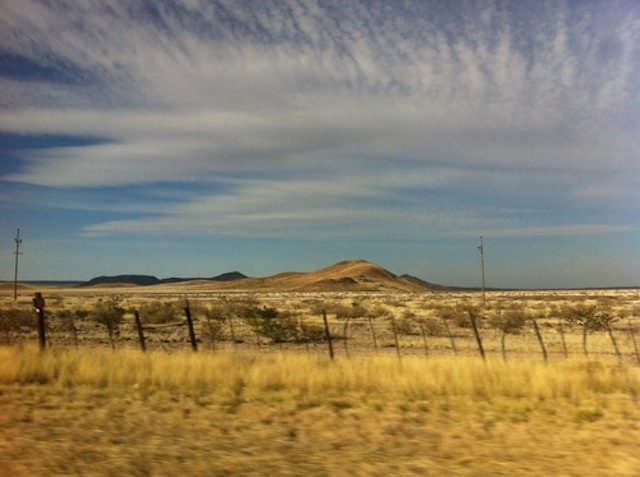 BRING BOOKS AND STOCK UP ON TV SHOWS. OBVIOUSLY.
Nathan: I watched a lot of Friday Night Lights. It's an American TV show about a town in Texas and its high school football team. It's done really well, but I was so into it I found myself almost crying after every episode. I did 25 episodes in three weeks. It's such a rollercoaster of emotion.
Marc: I finished five books in three weeks. It's awesome. I never really read in London, but traveling in your own mind in that little vehicle is really good. I read a collection of essays called Pulphead by John Jeremiah Sullivan and I also read The Great Gatsby. Although James un-recommended it.
James: It's a good book, but you only need to read it once. I found it quite a hollow piece. There are beautiful passages and amazing moments, but as a novel it felt quite empty.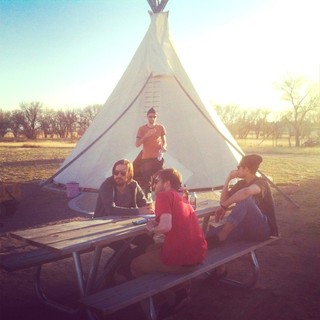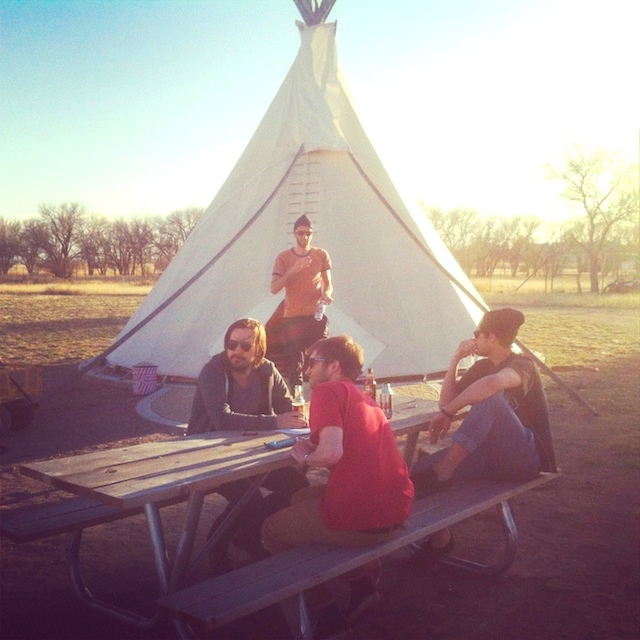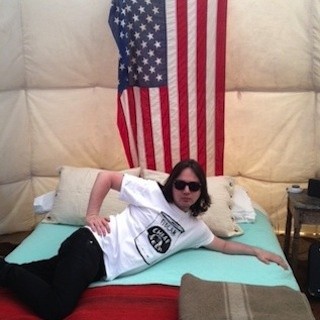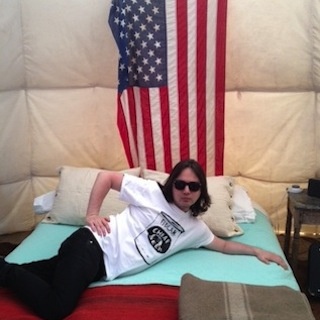 Teepee time. And Dean. Lounging.
GET HOPPIE AS YOUR TOUR MANAGER
Dean: Hoppie's took us to some cool locations. Even if they're slightly off course, he's down for the extra drive.
Nathan: Every day we've seen something weird and amazing.
Marc: Marfa was my highlight. It's a tiny town in Texas that has lots of art installations by Donald Judd.
James: The campsite was called El Cosmico which used to be a big hippy destination in the 60s. We all stayed in a teepee. Marc and I had the double bed, and Nathan and Dean were on the floor.
Nathan: There's lots of people who go there on vision quests. You know, they take loads of acid and "find themselves."
Dean: A vision quest is actually an ancient Native American Indian thing. You go and take peyote in the desert.
Nathan: When we were there there was just a bunch of 18-year-old English girls looking to hook up! Did we go on a vision quest? We've been on one for about four and half weeks.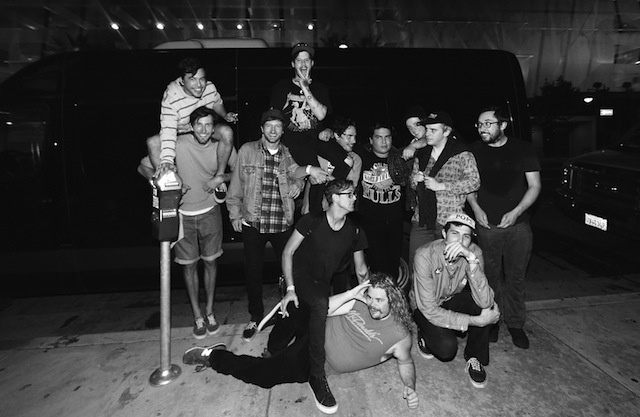 Wavves + Fidlar + Cheatahs + the whole touring crew. Photo by Alex Baxley.
Kim had never heard of a vision quest. She's planning one next Thursday. She's on Twitter - @theKTB