Last Thursday night, I was sipping free prosecco on a 210-foot yacht named the Hornblower Infinity, awaiting the arrival of the Jonas Brothers. We were docked close to the PNC Bank Arts Center in Holmdel, New Jersey, where Nick, Kevin, and Joe had just played their first hometown show in three years. Now they were running late, in part because the yacht had to relocate after too many people found out about the after party and stormed the marina. On the floor below me, one of the attendees—telling anyone who would listen that she was in a Jonas Brothers music video—was already throwing up in the bathroom.
The day before, the Jonas Brothers' publicist emailed me to ask if I wanted to exclusively cover the band's "sexy" after party on a yacht, and almost as an afterthought, to attend their concert. When the JoBros make you an offer it's hard to say no, so I scrapped my pre-existing plans and agreed to meet her at the corner of 12th and A the next night, where a black Suburban would be sent by the label to drive us to Holmdel.
Bro! Mance! Bro! Mance!
There were a few other girls in the car already—another publicist, a British writer working on a cover story about the band, and her friend—and it felt like my dad was driving me and my friends to our very first concert all over again (except this time I wasn't seeing Green Day and Blink-182, or wearing bell-bottom jeans and a spaghetti-strap tank). We giddily bumped some Z100 and talked about boys and watched the verdant, factory-blighted New Jersey countryside pass us by.
We got there just in time to miss opener Karmin, the YouTube sensation(though we heard enough of her attempts at white girl rap while walking through the parking lot) and get double whiskey-Diets from the bar, where the bartender showed me his Harley-Davidson tattoo and rambled about how awesome the Grateful Dead were when they played there last week. He gave me the stink-eye when I asked for a little more Diet Coke, but no matter: there was a roar from the amphitheater, and it was time for the Jonas Brothers.
The sun never sets on being badass, or Joe Jonas.
I've sliced my finger open on an electric bread slicer and suffered years of debilitating migraines, but nothing hurts more than the PNC Bank Arts Center's capacity of 17,500 people, mostly girls, screaming at the top of their hormone-ridden lungs. Many of them had cut out green "Welcome home!" signs with glowing Christmas lights stuck around the perimeter and wore white denim cutoffs, and a few defeated dads slumped in their seats. Other than the volume, however, the crowd was pretty well-behaved: there were no Beatles stampedes or Belieber hordes of stalkers, not even when Joe Jonas emerged under the spotlight wearing all white, looking a bit like Kevin Richardson.
Putting on my music critic's hat, I tried not to get distracted by seeing an honest-to-god boy band for the first time (Good Charlotte was about as close as I ever got). Objectively, they put on an impressive show, bounding across the stage and titillating with whiz-bang visuals of a marching band for "Pom Poms" and lead-ins like Nick's: "This song was written for someone who did not treat me very well. I won't name names." (If we're talking about Nick's heartbreaker ex-girlfriends, my bet's on Miley Cyrus over Selena Gomez, but I guess we'll never know.) That song, a Weeknd/"Bye Bye Bye"-like number called "What Do I Mean To You," is a bitter taste of their forthcoming album, V. I'm sure "You've got the moon to guide you/ Who needs a star?" will be among the lyrics that high schoolers tweet, Frank Ocean-style, when the album arrives.
After their set, a taxi whisked me and my new friends to the Hornblower, a 210-ft hybrid yacht, three stories tall and decked out with pink and purple lights on the outside; inside, there were chandeliers and glass railings and blue wall-to-wall carpeting. There were also like four buffet tables per floor loaded with pulled pork, chicken wings, and cornbread. Some of us went up to the deck to smoke cigarettes and found the real VIP lounge, a round glass-walled room behind the cockpit with unlimited booze and more expensive food, like cheese and steak sandwiches.
The Jonas Brothers finally got there at 11:30 or so and the Hornblower set sail. They set up shop on the dance floor, where they strummed an acoustic medley of covers like Coldplay's "Yellow," "Locked Out of Heaven" by Bruno Mars, "Get Lucky," "the Thong Song," some Stevie Wonder and Rolling Stones—songs your average wedding DJ might play. In all fairness, their target audience probably wouldn't have appreciated some Bruce Springsteen deep cuts, but they still could have shown a little more ingenuity. At least their rendition of Frank Ocean's "Thinkin' Bout You," which I had been waiting for all night, was sublime.
Afterward, we all went back up to the deck, avoiding Karmin and their entourage, who had taken full advantage of the open bar and were now grinding all up on each other. Wilmer Valderrama, of all people, was also there. He was kind of schmoozing his way in my direction but then Nick Jonas was standing right in front of me, and I'd take a Jonas over Fez any day. Nick was shorter than expected, a close talker, adorable, and unfailingly polite. We talked for about five seconds: I complimented him on the show, he was glad I enjoyed it, and then he thanked me for coming and turned toward the people clamoring for his attention behind him. At least I got a hug out of it. I haven't washed my clothes since.
BONUS PICTURE: Watch as Joe Jonas and Wilmer Valderramma compare five o'clock shadows.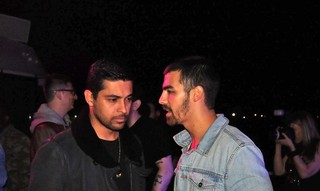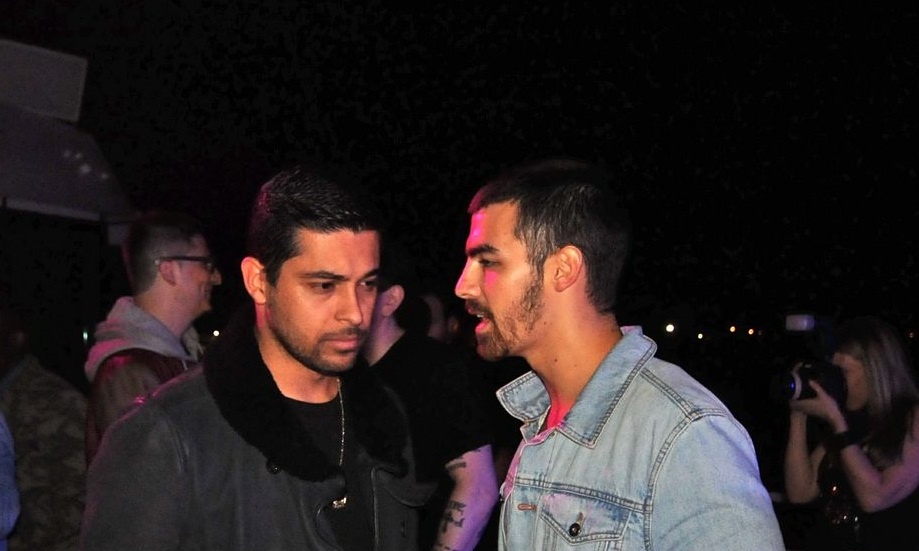 Find Harley on Twitter - @harleyoliverb