The More Bravado the Better: Meet Sample-Happy Electronic Auteur Bruce Smear
Tommy Davidson makes stoner surf rock as the bass player in Beach Fossils by day but razor-sharp experimental soundscapes as Bruce Smear by night.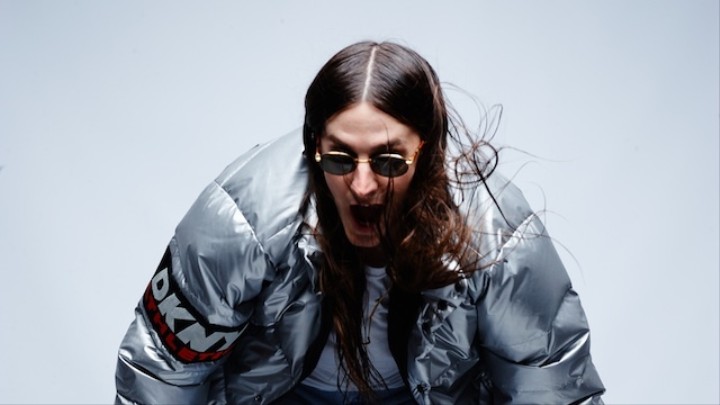 Photo courtesy of Bruce Smear
Bruce Smear has spent the last few months bubbling upward ever since catching ears with a scintillating mix for DIS. Smear deals in warped sounds and effects, with seasick voices growling amid bouncing balls and lip-smack drums. Yesterday he released his new video for "Pick & Roll," starring a melange of hallucinatory shellfish and liquid metals. It complements the song's bouncy sideways vision of percussion as an elemental property.
Bruce Smear is the warped alter ego of Tommy Davidson, better known as the bass player in Beach Fossils. Stoner surf rock by day, razor-sharp experimental soundscapes by night—I had to know more.
Tell me about Bruce Smear. Who is this persona?
Smear was likely born out of my obsession with The Fifth Element and Stomp. That type of playful maximalism is something I have always gravitated toward. The swagger of Seal's 1991 album cover or the attitude in Michael Jackson's "Scream" music video—that's what I live for. From Cornelius to Scritti Politti to Art of Noise, there is always this frantic energy in the air and it's intoxicating. What's the fun in practicing subtlety? The more bravado the better.
How do you approach your work as Smear separately from your role in Beach Fossils?
It's definitely night and day. Although they couldn't be more different, they both are essential to my creative well being. When writing and playing with my bandmates, it is a collaborative and organic experience: very liberating and completely present. In the Smear universe, I'm a masochist using most my hours to toil away on minute details in the production suite. Smear tracks are written second by second, sample by sample. All in all, it is a healthy dichotomy. I'd grow dull if I didn't have both.
Smear is just one in a long line of electronic alter egos. When did you first get into electronic stuff?
Man, I think I have Generation MTV to thank for that! A notable standout being Chris Cunningham's "Come To Daddy" music video for Aphex Twin. I couldn't have been the only kid running away from the TV with equal parts horror and fascination. Little did I know how much of an impression it would make on me in the future. Same goes for all the 90s music video greats: The Prodigy's "Smack My Bitch Up," Fat Boy Slim's "Praise You," the list goes on.
Can you tell me about some of the other alter egos?
Variety is the spice of life, but I truly feel Bruce Smear is what I have been working towards this whole time. I have a defunct project called Dream Cop, kind of a mix of shoegaze and experimental pop with vocals that I did throughout my college days. I also have been making hip-hop beats for years just as a production exercise, although some may be seeing the light of day in another form in the future. Will keep you posted!
What's up with this video? Who made it, and why do you think it reflects the song well?
This video has been a labor of love for director Anton Tammi and I ever since the summer of 2014. We wanted to build a story loosely based on sci-fi themes found in movies like Prometheus and 2001: A Space Odyssey: a.k.a. menacing alien life form invades and/or attacks protagonist. Now as far as casting is concerned, we loved the idea of using insects, crustaceans, or any other earth dwelling 'alien' life forms. Since their natural movements and expressions are so dramatic when filming up close, we knew we could use that to our advantage on screen. The loveable crabs would be our David, the scorpion our Goliath, and the ominous silver liquid as our source of mystery. "Pick & Roll" is the perfect audio accompaniment for this scene because Tammi tied the editing to each and every sound so beautifully. From the alarm sounds to the trumpet honks to the vocal jabs, every little detail creates personality for these creatures, and the end result is as funny as it is frightening.
This song draws a lot on sound effects—basketballs bouncing etc. What inspires you to work with these sounds?
About 95 percent of the material I use for Smear is sample based, and I'm always searching for a new texture. Something familiar but bent in a weird way so you can't exactly place it. A metal can kicked across the ground as a snare or pitched up steam pipes as a clanging synth line. My heroes, superproducers Jimmy Jam and Terry Lewis, really paved the way in the 80s for this type of industrial sound and percussive experimentation. Long live Rhythm Nation! Also, have you watched Stomp Out Loud? I swear there is a beat the percussionists are making in the kitchen with pots and pans that has been stuck in my head since middle school.
What's next for Smear?
Anton and I have something else up our sleeves for the summer. Get ready to put on your 3-D glasses.
Ezra Marcus is Ezra Marcus's alter ego. Follow him on Twitter.
Stories