Photo by Dennis Kyosuke
I first met Prince Harvey at the now defunct yoga lifestyle and spiritual doodads repository Body Actualized Center in Bushwick, Brooklyn for a discussion about polyamory. He lay languid in a purple satin jacket listening respectfully until the end of the talk when he interjected with the most succinct, beautiful argument for polyamory I'd ever heard (even though he had never been in a polyamorous relationship himself). Prince has experienced the gamut of human experience and on the other side of it all presents himself with a natural grace and respectful weirdness that permeates everything he makes. A self-made artist and self-taught musician who doesn't wait around for handouts but roots out in his environment the necessary tools or bringing his message to the world, Prince Harvey is one of the only true, passionate artists I've ever met. Prince Harvey is living on the edge to show us we can live our passions too. And be happy, safe and free.
NOISEY: Where did you grow up?
Prince Harvey: I grew up in Dominica. Not to be confused with Dominican Republic! It's in the Caribbean. I Born in LA but lived in Dominica because that's where my parents are from then moved to New York when I was 14. My parents weren't together. They were married to other people. I lived with my mom and three sisters and my mom was always a boss bitch.
When did you first start making music?
Wrote my first song when I was 8 and had just got turned on to BET and MTV. Back then Juvenile's "Back That Azz Up" was my favorite song.
What instruments or tools did you begin making music with?
Pen and paper. I've always been a poet. As a teenager in the Bronx I was always writing songs about my experiences. Mostly rap about cutting school, guns and drugs because that's what I was surrounded by. But as when I graduated high school I stopped listening to contemporary rap music and got into 90's era Nas and the discographies of Bob Dylan, Patti Smith, Led Zeppelin, Bob Marley and the Beatles. Those were my muses and I studied their songwriting techniques.
Was the music you made in response to your environment?
Very much so. I've always felt the need to express myself. The album I'm putting out, 'PHATASS', is completely a cappella. People can't tell because the beats are highly processed and don't sound vocal. Most people just think they're regular beats made in some program. With this album I sought to emphasize the voice as our most important instrument.
How has the way you grew up influenced your creative process?
I had really strict parents. When I say my mom was a boss, I mean she always handled whatever came her way, and if I ever got out of line I'd be the one getting handled. She taught me discipline, above all, and I always took myself seriously. That said, my music is very purpose-driven; I want to inspire people to do whatever the fuck the want. And because a lot of people are scared to be themselves and put their heart out there I put myself out as much as possible hoping others will follow.
I learned you were homeless for a bit. What was that like?
Yeah, I've been homeless, but which time are you referring to? In New York there's a housing crisis among the poor at the same exact time the real estate game is booming. Seems like if you don't own property or have a lease on an apartment, you haven't fully committed to living in this city. In less than a two year span, I've had four different residences sold right under me. In June 2013, I lived in a house with these other queer kids, and the landlord sold it, giving a month for us to move. That fall I moved to a loft in Bushwick, Brooklyn and when the lease ended last summer, the landlord kicked us out to make condos. So, I moved yet again to another loft in South Williamsburg, which lasted for a month and a half before it was sold. After that, I decided to get out of Brooklyn and moved to Harlem, but it was only two months before the building was, yet again, sold. Being denied the basic human right of housing is really painful, but because I have a lot of friends, I've never slept on the street or train for too long, but there's always those nights where you're assed out riding the train from the first to last stop like 5 times. By the same token, there'd be times I was sleeping on the train at night, but walking around with four figures in my pocket. This city is weird like that. Kanye West said it best: "New York.. you ain't know you gotta be rich just to be poor there?"
How did your artistic practice change during your time of homelessness?
It didn't really change. I think home is where the love is and for a long time when I was still a teenager living at home with Mom, I was in the streets because that's the only place I really felt love. I felt homeless and placeless long before I didn't have a bed to sleep in. Part of my artistic process is being outside: I write most of my songs in the street, just walking around.

Is it true this album was created at an Apple store because you didn't have a computer?
PHATASS stands for Prince Harvey At The Apple Store Soho. The Apple store was just a place I'd go to hang out and use the Wifi. A lot of kids from the outer boroughs would go there. Because of its popularity as a chill spot, the store has a 15 minute browsing limit for their computers, so, when I first started making my album there, I would get kicked off a lot. But there were two employees that believed in my project and stuck up for me so the other workers kinda stopped bothering me after that. I was there five days a week like clockwork. I'd go in the morning at 9AM and leave around two in the afternoon. It was really tough because I would be standing the whole time, and after a while I'd start to feel the weight of my jacket pull down my shoulders. And the dichotomy was weird too, because there I was "stealing" time while people would come in and drop two grand on a computer. Also, because I made all the beats on the album with my voice, I'd always get weird looks especially when trying to recreate a bass sound or a horn. When I was just rapping with curse words really loudly the tourists would straight up think I was crazy. Had to keep my headphones on max to drown out the bullshit.
Did you ever encounter any major difficulties due to the nature of working in such a public area? Twice I had to start all over. The first time I lost my hard drive and had to start again from scratch. The second time, one of the employees rushed me off the computer during a fire drill and deleted my files from that day. I only lost one song during the fire drill, but I was still really upset. After that, I was informed that I was a liability to the store because I could potentially sue them for lost property if my portable hard drive malfunctioned while using their computers. But I wasn't about that life. They didn't owe me anything. I just wanted to make music.
What role would you say you have in the current landscape of NYC based artists? Who are you and who is your crew?
I'm here just trying to push culture forward. I feel like my job is to get people excited about the future and to remind heads that this is our time and our world. We can change our world to whatever we want and I feel like it's my job to jolt people who are super content into action. Nah, you can't accept shit the way it is! We gotta create the world we want our kids to live in. And as far as my crew goes? I roll with a bunch of weirdos. Check my Instagram. While I was making PHATASS, two producers took notice of me, AMB and BengFang, and we've been making music together. I'm also collaborating on songs with Rain Love and Xhosa.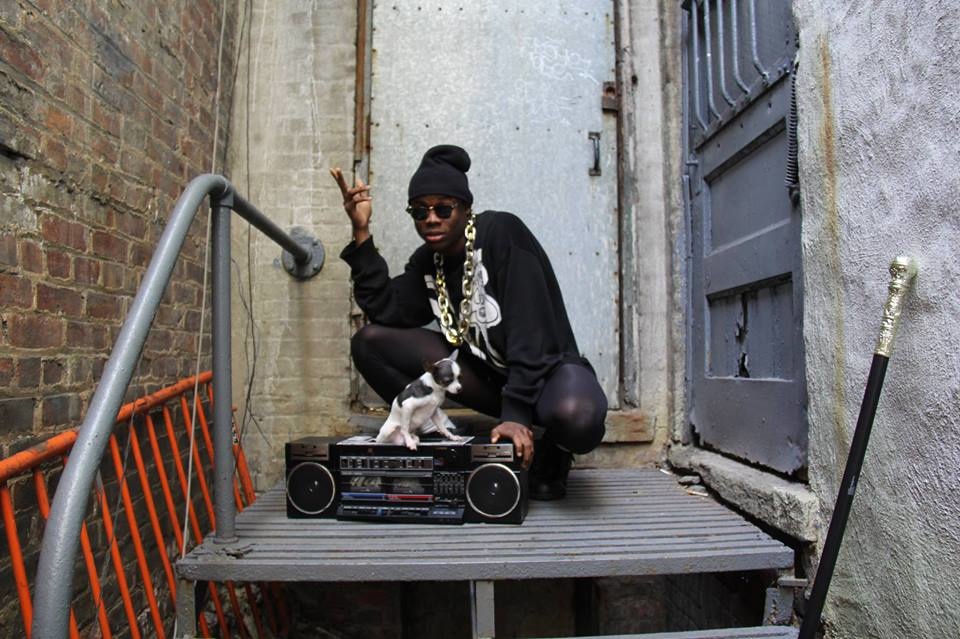 Photo by Ishmail Thoth Ra

Do you identify with any one group of people?
The freaks. The weirdos. Anyone trying to do some new shit.
Have you ever encountered racism in the NYC art scene?
Black people, white people, orange people, even pets have expectations of you. Racism is just a bunch of expectations. The same reason people give you opportunities is the same reason people try to withhold them from you: because they expect you, desire you, to be a certain way. In this scene there are a lot of people who expect me to be really successful and I'm thankful for that.
The video we are premiering features you walking the subway tracks barefoot, which is beyond brave and totally gross. It's also beautiful as fuck. Why'd you do it and what's the message of this video?
Thank you, I'm glad you liked it. The video began as an ode to Bob Dylan and "Subterranean Homesick Blues." I asked my friend Gretchen Robinette to shoot me dropping cue cards through cars on a moving train, and since she's a Dylan fan I knew she'd be down. Alex Seel also shot some scenes and was kind enough to lend me his camera on the days he couldn't shoot. Whatever shots I'm not in, I shot myself. From that Dylan homag, eI developed this concept of "What if life only existed underground?" You may notice that turnstiles or anything above ground isn't captured in the video. New Yorkers spend so much time underground commuting that I just wanted to capture that feeling. When I'm sitting on the edge of the platform, it's a proxy for sitting at the docks just dangling your feet. Waiting. Relaxing. To most people walking in the tracks is dangerous because the train can come at any minute, but for me it's very serene. I'm kicking my shoes off and taking a breather from all the hustle bustle. I edited the video myself and it features Xhosa, Rain Love, Aissata Richards, Shaun Paige, Ramsi Tora, and Go Push Pops.
What's your deepest fear?
Abandonment.
Who're your greatest inspirations?
Musical: Kanye West, Patti Smith, Bob Dylan, Bob Marley, Outkast, Led Zeppelin, Dev Hynes
Non-musical: Robert Mapplethorpe, The Coen Brothers, Balenciaga, Frida Khalo, My mom
Where are you as you answer these questions?
I'm on a flight from Texas to NYC leaving South by Southwest. Departing 81º Texas weather for a snow storm on the first day of spring in New York City. It was raining when we left the Lone Star State and I got kinda scared because 'cause I'm really not trying to die like Ritchie Valens. My Mom's favorite movie is La Bamba, and I've seen it so many times but I still I always cry when Valens' mom finds out he died over the radio. I hope when I die my Mom doesn't find out about it watching TMZ.

Lindsey loves her Mom too and can be found on Twitter at @LLkoolGurl