Carl W. Heindl captures the feel of Toronto, whether you've been there or not. The Canadian photographer (who now pursues a career in firefighting) has spent the majority of the past decade armed with a camera, shooting bands, artists, compelling landscapes, and surreal city fragments which are both haunting and somewhat otherworldly.
As it has been said he has shot everything from exploding cars to trampolines, Heindl has also shot a ton of fashion stuff, landscapes and self-portraits, but nothing quite compares to his music photography. It all has a chaotic almost comic sense to these moments, from backstage snapshots to, sweaty live shots.
Whether it is musicians busking on the corner of Queen Street or dub reggae jams in small clubs, Heindl has kept an indie diary. Instead of chasing after hot celebrities or big names, he seems to capture the magic of whatever crosses his path. That includes a friendship with Fritz Helder from Azari & III, styled shoots with Toronto bands like Odonis Odonis and The Coast as well as live shots of Benga, USS, and Maps & Atlases.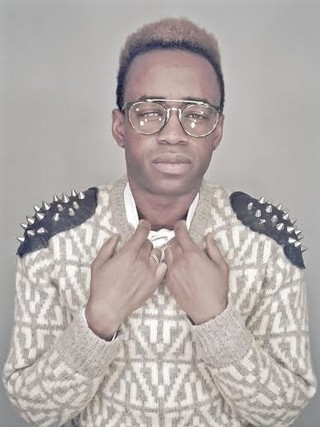 Heindl has said to use a 1950s Graflex Century Graphic, among others, and a D.I.Y. flash made from a recycled futon. A huge fan of analogue photography, he relishes in the surprise of the not-so-instant shot. From puddle pants to bands standing on a bar, we here take a walk through memory lane with Heindl's music photography.


Fritz Helder from Azari & III. All photos by Carl W. Heindl.
Noisey: Fritz Helder from Azari & III, this is a real soft portrait of him, why this series and how did it come about?
Carl Heindl: Fritz and I go back a few years. He is a great person and friend, I've always produced great work when we get together. I met him at a VICE party I think back in 2008, we just started to shoot, he liked what I was doing even though I had just kind of started out, I was often brought along to many events to shoot his band, Fritz Helder & The Phantoms, places and parties I wouldn't normally have even been invited to. Great people and those times definitely helped me expand both my work artistically, and socially. This series was one of the last I put together. I used a medium format rangefinder and build my own light ring setup out of an old futon. I'd use strangers and I'd use friends. I'd just have the person over, we'd drink a bunch and shoot the shit while I shot a roll of film. It's funny, the shot I'd pick to use from the roll was almost always either the very first or very last photo I'd taken of the night. I'd fog out the room and come up with this really great flat effect. I really loved that series and wished I could have shown them all somewhere.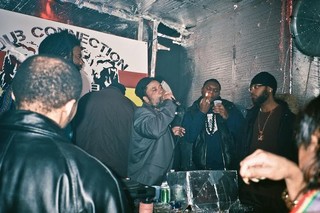 Dub connection reggae party.

Where and when was this?
That was from a Dub Connection party in the dungeon at Rainbow Palace a few years ago. My buddy Joda really introduced me to Toronto's dub and reggae scene. It's all I've listened to for years. These were crazy parties. You'd show up real late, and it was just getting started. They'd have beer, spiked punch and homemade stew for sale. Everyone just bumping to great tunes, eating stew, and smoking up. They'd have guest MCs and toasters from Jamaica sometimes. We used to make it out to all of these, but there was a shooting unfortunately in the alleyway and they cooled off for a while. They still go on, great jams. Closest I'll get to real deal Jamaican reggae parties until I get a chance to go.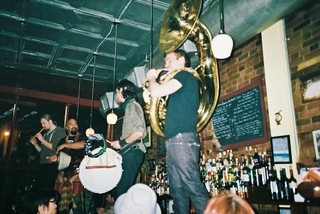 Why is there a band playing on top of a bar here?
I think we strolled into that place and stayed for one drink, it looks wild with a band on top of the bar I know. Probably why I squeezed off a shot. For whatever reason though I remember leaving because we just wanted a dark, quiet place to have a pint.


Whoa! What is happening here? Why are his pants wet?
Haha, that guy was epic. My sister and I had a band a couple years ago, Mean Blood. We never got very good, but we got to play some secret shows that turned out to be pretty wild. That night in particular, we played with this band. It was pissing rain and I remember we had the drum set raised on some shipping skids, the legs of the drum set kept falling through the cracks. We played terribly and I kept falling over trying to drum. That guy was just right hammered. He is wet because that was when he fell over in a cold puddle playing a solo, just spent but so into it. I wish I could remember the cat's name. A friend of my buddy Kai who's now doing pretty well now singing with his band Spectre.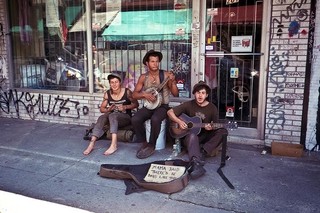 Buskers in Toronto, photo by Carl W. Heindl
Who is the most famous musician you've ever shot? Does it differ from moments like this?
That was an awesome bluegrass-ish street band busking Toronto a couple summers ago. Such a good sound. When it came to shooting bands and such years ago, I just kind of would shoot anybody who asked and seemed interested in letting me try some ideas with them. I only ever got paid a handful of times. When I began this, I was good buddies with David Waldman and he shared some of his photographic wisdom with me. He is a master of the live show. I often took a camera out with me to shows I enjoyed and would use the chance for practice. You learn to work fast, and develop your eye more with dynamic subject matter as opposed to staged and posed work, it's a really great exercise. In terms of shooting famous folk, I don't know. I never kept my ear to the ground to see who ended up famous, or even who's still a band. I'm just glad to have shot some great work with them. After enough of getting paid in beer tickets, I started to shoot more serious, more personal photography. Got heavy into only working with 35mm and 120mm film and just did portraiture and landscapes for myself, often a lot of just everyday candids or interesting visual moments. It's been a long time since I shot a band or a show, but from the music days, I'm proud of these shots.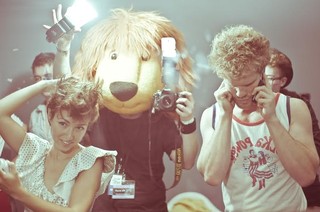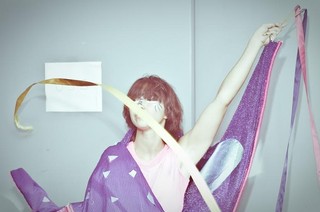 USS backstage.
Why are you wearing a dog mask backstage with USS?
I was booked by a music news blog to cover a big show down at Kool Haus featuring them along with Dragonette and Down With Webster, it was full of teens and was pretty bad. I was starting out with music photography and took the job for no pay, but we got to have some fun and goof around backstage. I nabbed one of their props and started shooting them all get war-painted up for the show.

Ty Segall in Toronto.
Ty Segall shot is pretty genuine. Is it dangerous getting that close during live sets?
Pat McGuire (atVICE Canada) used to do these wild roof parties for his magazine launches. I could be mistaken if that was what the event was for, but I know that Ty played on his roof a couple summers ago. I love small parties with live acts, best kind of shows. It was just a handful of people there.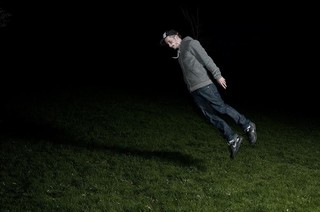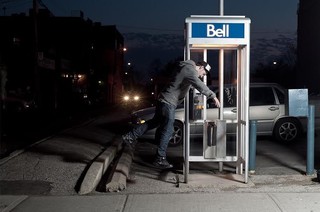 XI.
How did you do this shoot with XI—is this a magic trick? You've got me.
Christian (XI) is an old friend who is now doing pretty well as a producer as far as I hear. I remember we talked about a promo shoot and all the info he gave me to work with was that he "really liked outer space." So we did some fun floating shots. The phone booth one was trick photography, but the field one I literally just got him to launch himself in the air and I had my strobe set up to help catch it. It really looks like he was flying because he kind of was. I should have got a landing pic, ha.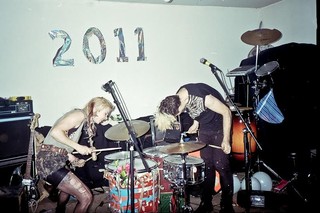 Alexandra Mackenzie and Tomas del Balso.
I remember these guys. Was this a New Year's party?
That was a New Year's party. I believe its Alexandra Mackenzie (now Petra Glynt) and Tomas Del Balso bonking on some drums. Not sure if it was an official project they had or not. Coincidentally, I'd shot them both earlier that year for OCAD's Sketch magazine's feature.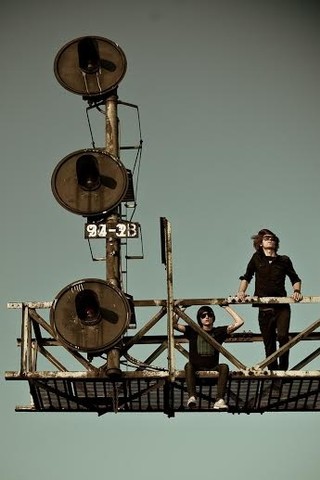 Jeremy Glenn (L), DJs Violca and Barletta (R).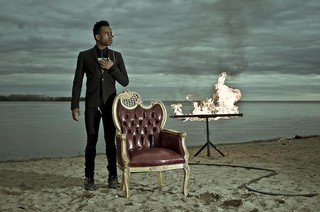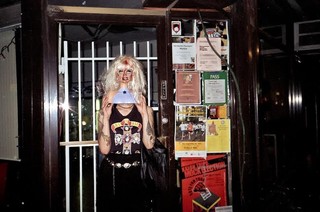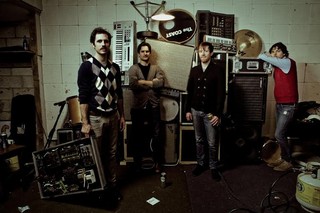 Fritz Helder from Azari & III.




The Coast.
Want more Behind the Lens? Check out our interview with video directors, Skinny, for a behind the scenes look on the set of their Angel Haze video.
Nadja is a wonderful writer based in Berlin and she's on Twitter - @NadjaSayej.