Photo by author.
Electronic music and live audiovisuals have been partners in good times for many, many years. Peering into a crystal ball to see what their future might look like is Marshmallow Laser Feast who teamed up with indie electronic record label R&S Records, Absolut, and Protein for a "mixed reality exploration into the future of nightlife" called Electrik London.
There are three rooms: one is a chillout place with a volumetric laser sculpture that changes its form over time and is part virtual, part physical. There's a virtual reality room, and then a main room, where they live audio feeds are interpreted in different ways on huge wraparound LED screens.
"Back in the day we were doing loads of live audiovisual projects with electronic musicians. So we did loads of stuff early on with Warp Records," explains Robin McNicholas, one of the creative directors, along with Barnaby Steel, of MLF. "There's a nice crossover between Warp and R&S because the early Aphex Twin stuff was published on R&S. Recently R&S have had a real resurgence and they've got some wonderful musicians. Lone is one of my fav electronic musicians today, also people like Moiré. Essentially the whole line up compliments what we're doing which is audio analysis and visualizing that in 360."

The hologauze and LED screens. GIF by author.
The visuals in 360 are in the main room, and along with the sound reactive LED screens there's also a hologauze holographic display in front of the DJ, which creates a kind of 3D box where audiovisual phantoms fizz in front of the decks. "We're thinking and designing dynamic stuff for a 3D environment," McNicholas says. "Personally I think this notion of the immersive experience is overused, but we like putting people right slap bang in the middle of the AV environment."
While the main room is more along the lines of what you might expect in a club, the VR experience is unique for a live club night. It's not often you sit in a room with a headset on peering at reactive animations as part of a night out.
MLF again visualize audio for the experience, which, although experienced individually, you take in in groups of six seated in a circle. The journey begins with a Kinect feed. Once you put the headset on, you see the other people sat around clutching their headsets. McNicholas says they like to begin their VR experiences paired with reality, showing you something that is similar to the world around you, but reduced and abstracted to a point cloud.

The VR headset. Photo via MLF.
"We then animated the point cloud which causes a tornado to set in and blasts your body apart into small smithereens and then it takes you to a different world and that world is sound reactive, there's loads of spacialized 360 audio," explains McNicholas. "Over time you see the entire world around you is responding to the different frequencies."
MLF worked with R&S Records' Synkro for the experience, which is highly collaborative. They created a score based on a mashup of his work, sent it over to him, he responded, and then sent them the stems and they spacialized it all. Finally, the spacialization is paired to the visuals.

The LED installation in the main room. Photo by author.
"I think there's a definite future in AV experiences in the live environment, especially relating to music," says McNicholas. "What I think is interesting is people's personal behaviours are changing, with social media a lot of the time now people are having experiences individually instead of en masse and sharing that indivdual experience. We found it quite an interesting challenge to bring a VR experience to a live club night. But hopefully those stories spread in different ways."

The hologauze and LEDs. Photo by author.
The group also films the whole night in 360, so it may go on to become it's own VR experience. "We've embraced VR big time, especially real-time dynamic 360 environments. What we find most compelling is when we bring generative graphics with video together, hybrid stuff. It's a great way of creating experiences that people haven't had before because the tech hasn't been up to speed."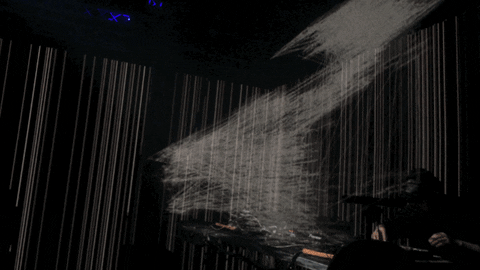 Click here to learn more about Marshmallow Laser Feast.
Related:
Finally, Virtual Reality Lets You Become a Mystical Forest Creature
Marshmallows, Vodka Syringes, and Lasers, Oh My