I know the feeling of helplessness wrought by a headline. Then two headlines. And, before you know it, even more: 26 dead in massacre at elementary school; gunman kills nine at church Bible study; active shooter has YouTube headquarters on lockdown.
The shooting at Sandy Hook Elementary changed me. I live in Newtown, Connecticut, the small picturesque town that used to be known for its incredible ice cream, not mass murder. On December 14, 2012, the day of the attack, I was in sixth grade at Reed Intermediate School, which is down the road from Sandy Hook. But I still feel its repercussions. I'm in high school now, and instead of prom and SAT prep, I'm thinking about gun violence prevention. Celebrating my Sweet 16 feels wrong when I could be planning forums and writing speeches.
I didn't choose this path, but when you lose a friend or see the impact of murder on a community, you have no choice but to do something. The shooting at Sandy Hook killed my neighbors and friends. It had me scared for my life for five hours and made me feel like the world was my enemy.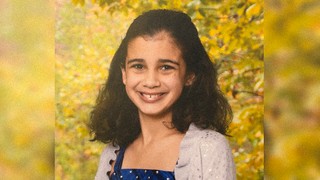 I will never forget the tone of the principal on the loudspeaker when he told us to "get into lockdown." Our teacher beckoned us in a hushed tone to get under the computer desks in the corner and stay quiet. We sat under those desks playing hand games for what seemed like forever.
The cell phone in my teacher's pocket rang endlessly. When he finally decided to answer it, he was told what was happening three miles down the road at Sandy Hook Elementary. The look on his face told us we had something real to be afraid of. When we were finally allowed to leave, a barricade of teachers shielded us from the open hallway.
My mom was waiting outside. I'd never seen her cry like that before. We spent the rest of the afternoon calling our friends to check that their younger siblings at Sandy Hook made it home. For 20 families whose children were gunned down, the answer was unimaginable. They never got to grow up, never hugged their moms again like I did.
My peers and I have been dubbed the "Mass Shooting Generation." I hate that label, because it defines us by what's being done to us instead of what we are actually doing: demanding change. Teenagers all over the country are sick of waiting for legislators to keep us safe. We're taking gun control into our own hands.
After Sandy Hook, I felt compelled to do anything—no matter how small—that might make a difference. My sister and I organized bake sales around the country to raise money for the Newtown Memorial Fund. As 11-year-olds, selling cupcakes in front of Walmarts made us feel like we were taking action—and helped us heal a tiny bit.
My high school, Newtown High, is like any other: kids are busy with homework, sports, clubs, and jobs. But we're also trying to chip away at our own feeling of helplessness by giving back. We write letters to other victims of school shootings to make them feel less alone. It sounds cheesy, but a handwritten note to a grieving teen—or a note to demand action from a member of Congress—can have a huge impact.
We're also working to change gun laws through the Junior Newtown Action Alliance. The most tangible way to enact legislation is to get people to vote. We're working so kids like me, who are still too young, can automatically get a voter registration form on their 17th birthday.
Another aspect of our work with the Junior Newtown Action Alliance is raising awareness. One committee is filming videos of students recounting their Sandy Hook stories. A few friends and I are working on an Instagram page called @HumansOfNewtownCT to put a face on the impact of gun violence and show how one AR-15 affected so many more people than those who were actually struck by bullets. I believe if we can get the world to empathize with us, the opposition will have no choice but to listen.
It feels like we are finally beginning to move forward. The fact that this is becoming a national issue instead of one that's clustered around small towns and groups of people who feel uniquely affected is huge. It seems like America is finally on our side—and that factions of gun violence prevention movements are unifying. The baby steps we were making before are becoming big leaps.
---
---
Now I'm interning at The Avielle Foundation, founded by the parents of Avielle Richman, a girl who was murdered at Sandy Hook. They're studying the science behind violence and compassion to try to understand what drives people to kill.
But beyond understanding why these things happen, I wanted to be capable of literally saving lives. I decided to become an EMT, and for five months, in four-hour adult classes, three nights a week, I learned how to be a first responder. For what it's worth, this was well before Rick Santorum absurdly suggested teaching children to perform CPR on wounded friends as a way to reduce casualties from school shootings.
Moving forward, teens need to continue to put pressure on politicians who are taking money from the NRA. We need to keep exposing them, because it could have a tremendous impact on the way people vote. We also need to keep sharing our stories. This issue is so much more widespread than people think. By combining our efforts with teenagers from Chicago and Harlem, we can amplify our voices that much more.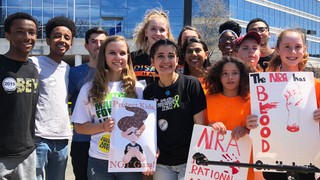 I had the pleasure of meeting Aalayah Eastmond, a student from Marjory Stoneman Douglas High, and Ramon Contreras, a student from Harlem, at a protest at NRA Headquarters last week. They are organizing a Youth Over Guns march in New York City on June 2 to raise awareness of gun violence in communities of color and nationally. We are hoping for a large turnout to really take a stand and give places that get overlooked by the media a chance to tell their stories.
In Newtown, we're still scared. We had a fire drill today, and even though it was scheduled, I felt a flash of panic and thought to myself, "In Parkland, he pulled the fire alarm to get students out of their classrooms." My apprehension to walk into the hallway and out of the school, is not exclusive to me—it's felt all across America. What people need to realize is that we're not scared of mental illness or unarmed guards, we're scared of guns and inaction. We need to come together and do something about gun violence now, before another community is torn apart and another town becomes known for mass murder.
Sign up for our newsletter to get the best of VICE delivered to your inbox daily.