Potential is a big deal in the fight game, and we as fans are pretty good at giving a fighter's career prospects a stay of execution in our head based on the hints of excellence in his winning performances. But results are all that matter in the business of prize fighting. The best thing that a heap of unrealized potential can get a fighter is a fleeting look in on a pub conversation about fighters who could have been great. It's a form of immortality, just a kind of rubbish one and it comes with no garish gold belt or money.
This weekend we see the rematch between Gegard Mousasi and Uriah Hall, two fighters who embody the frustrating nature of potential. Hall was touted as the next great striker in MMA based off of his exciting performances in The Ultimate Fighter. A wheel kick knockout, flying knees galore, and a ludicrous reach with a pounding jab on it, surely something good would come of that. But starting his UFC career proper, Hall built a reputation for struggling to pull the trigger. His lacking ringcraft—circling along the fence with his hands down and dropping his hands after attacks even when he hadn't left striking range—continued to cost him as he was knocked out in his last fight in exactly the same way as in his first loss back in 2010. We examined Hall's strange decision making in Waiting for Uriah.
Hall does hold one notable victory though, that over Gegard Mousasi. In terms of potential to do great things, Mousasi is among the most frustrating fighters in the world. He has been around forever, fought a who's who of talent, and has better than average abilities in every area of the game. He cruises past ailing old timers like Dan Henderson and Vitor Belfort, but when he was put in with Lyoto Machida in 2014 he was bewildered on the feet, and then Ronaldo 'Jacare' Souza suffocated him on the ground in the same year. 'The Dreamcatcher' has managed to squeeze six more fights in since that loss to Souza and it has all gone off perfectly... except that loss to Hall. And if you had stopped watching five seconds before the end of that bout you would assume that Mousasi had just continued to dominate the clearly overmatched Hall.
Hall spent the entirety of the first round being smothered by Mousasi. Mousasi simply walked Hall down towards the fence, where Hall has always had a habit of getting stuck, and as soon as Hall lashed out with an ill advised push kick, he was on the floor. Mousasi got to work slicing through Hall's guard and threatening arm triangles. A nice kimura into an armbar from the bottom was Hall's sole moment of effectiveness and it lasted for less than ten seconds, then Mousasi was all over him again and finished the round on Hall's back with a body triangle locked in. As the second round started, Mousasi advanced on Hall once again but was lanced by a stiff jab. Mousasi continued advancing and suddenly a blow to the head sent him stumbling and he was quickly finished. What was the blow? Hall's usual jumping back kick, an intercepting counter kick to the midsection which is a standard appearance in Hall's fights. Except Mousasi had ducked as Hall had started spinning and taken the kick on his head.
A flying knee had followed on the reeling Dutchman and put him on his rump for the finish. Just as when Renan Barao's back kick to the body caught a ducking Eddie Wineland in the head, the post fight talk focused on the nature of a lucky punch. The old saying goes that if you're trying to hit a guy and you hit him, there's nothing lucky about it. But when you hit the wrong target and it somehow works out better? It didn't matter though, you cannot appeal to the umpire in MMA based on the opponent's intention. Mousasi had been starched and Uriah Hall finally had a big name on his record.
In the rematch most are expecting Mousasi to get the fight to the ground again and to attempt to linger on the feet even less—though he was hardly taking his time there in the last fight. Mousasi's recent confidence on the feet as he walked down and busted up Vitor Belfort was encouraging, especially with all the trouble Hall has when he is not allowed to strike out in the open.
Perhaps the most intriguing factor of this fight is that Mousasi is in the unenviable position where he should have won. Given this rematch Mousasi might get carried away in trying to prove a point and expose himself to another embarrassing loss against Hall who, while flawed, still has the ability to strike through the smallest opening and turn a fight in an instant. Mousasi would do well to review the pair of fights between Joe Schilling and Hisaki Kato. Schilling had every advantage as the rematch was signed under kickboxing rules rather than MMA ones, but instead of using the kicks and knees that he had used to trouble even Artem Levin and Simon Marcus, Schilling waded in swinging his hands from down by his hips. Kato knocked Schilling out and not only was all the wind gone from the sails of Schilling's young MMA career, the American is left struggling to rebuild his kickboxing career where he was once considered among the world's elite.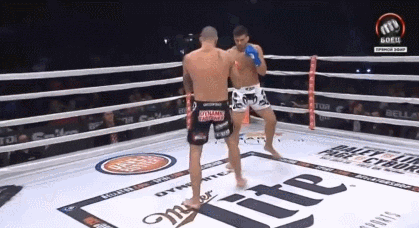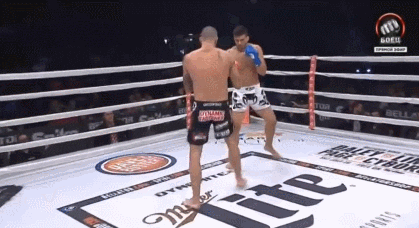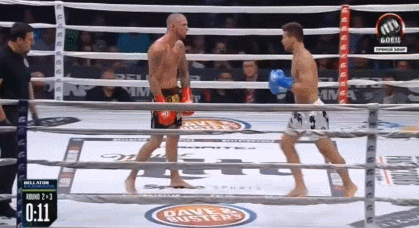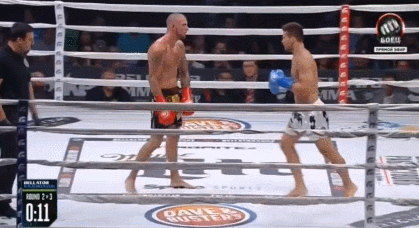 Mousasi vs Hall is decently interesting fight but is pretty much a do-over for the sake of it. Mousasi has put together some wins since the first, where Hall is on a two fight skid. If Hall wins he is 1-2 in his last three, if Mousasi wins it does little for his position in the division. It is still hard to consider either man on the level with the handful of fighters at the top of the middleweight heap.
Elsewhere this weekend Ryan Bader fights notoriously wrestler averse Antonio Rogerio Nogueira at the top of a very dull card. It seems like a tune up for Bader due to Nogueira's history with wrestlers, but when Rashad Evans was supposed to wrestle all over Nogueira on the rebound from a loss to Jon Jones we were treated to three rounds of bizarre non-action, so don't get your hopes up too high. Then we continue the bizarre trend of Brazilians getting very obvious tune ups at home as both Thomas Almeida and recent title challenger Claudia Gadelha take on opponents with only six victories to their names, on the main card. Perhaps worth getting excited for is the return of Jack Hermansson, who looked terrific in his Octagon debut on the Barnett – Arlovski card in September. A rounded striker with terrific distancing and movement, Hermansson could be a treat to watch on this card.
The people's main event of the Mousasi – Hall card is the rare match up between top ten flyweights: Kyoji Horiguchi vs Ali Bagautinov. Horiguchi is one of the most exciting strikers in the game, blending point karate with boxing beautifully.
Bagautinov is the classic Dagestani wrestler, standing on the fence and blasting in with a right hand or a double leg when the opponent steps in on him.
The big MMA fight of the weekend is actually happening over in Bellator, where Benson Henderson challenges Michael Chandler for the Bellator lightweight title. The matchmaking Henderson has received has been a strange thing to watch, fighting a giant welterweight and then a small featherweight, we still have no idea of how Henderson will stand up to the Bellator lightweight division. Meanwhile Michael Chandler has looked better than ever after rebounding from his losses to Will Brooks, and his booming right hand keeps getting sharper. And if you tune in early enough you can watch Michael 'Venom' Page take on the most legitimate test of his career, Fernando Gonzalez in a bout which has been signed three times and still not occurred. But before you get too excited about Page being tested it's worth remembering that the six foot three Page has nine inches of reach on the five foot nine Gonzalez.
Alternatively you could watch the hotly anticipated match up between two of the best boxers in the world: Andre Ward and Sergey Kovalev. This is likely the reason the MMA cards this weekend are so-so, Ward vs. Kovalev is the highlight of the weekend for the general fight fan. But there's plenty going on across the multiple promotions this weekend so get back here on Monday and we'll only talk about the good stuff.