Memoriam Resurrects Bolt Thrower's Death Metal Supremacy in a Crushing New Song
Listen to "Reduced to Zero" from the old-school death metal supergroup, which features members of Bolt Thrower, Benediction, Sacrilege, and Life Denied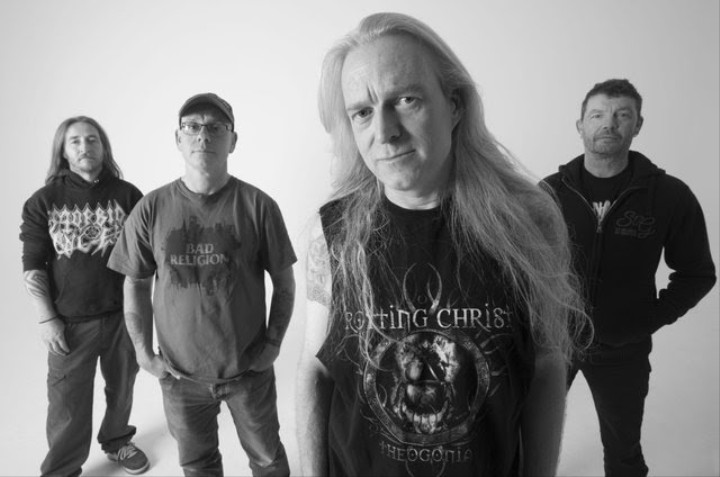 Ever since Bolt Thrower's much-mourned demise, the world of death metal has felt a little... empty. Plenty of massively interesting things have been going on within the genre's bloodied borders (hello, Blood Incantation), but losing Bolt Thrower hit us hard, and no one band has stepped forward yet to fill that gap—until, perhaps, now. Their nascent career is still in its earliest days, but the seasoned veterans behind old-school death metal supergroup Memoriam have their eyes on the throne. Of course, it certainly doesn't hurt that the band features the very welcome return of now-former Bolt Thrower vocalist Karl Willetts and his inimitable world-eating roar.
Comprised of Willetts, bassist Frank Healy (Benediction, Sacrilege), drummer Andy Whale (Bolt Thrower), and guitarist Scott Fairfax (Benediction, Life Denied), Memoriam's sole focus is on crafting old-school, head-down, meat (or seitan) and potatoes death metal ripped straight from the past. The band has just released the first single off of its upcoming full-length debut, For the Fallen, and it's a belter. Memoriam offers more or less exactly what you'd expect a band made up of Bolt Thrower, Benediction, Sacrilege, and Life Denied to cook up—purposeful mid-tempo grooves, slowly roiling riffs, thunderous percussion, crusty production, hoarse growls, and a fine coat of apocalyptic grit. It's steeped in the 90s, it's satisfying, it's gritty, and it's absolutely crushing.
It's got a message, too. As Karl Willetts also explained, instead of looking back to past glories and bygone wars, the song's political origins are rooted in the present. "Reduced To Zero' is a comment on the times that we live in. In a world that is dominated by fear, hatred and intolerance, the song is a direct result of Brexit and Trump and the general rise of right wing nationalistic xenophobia."
In other words, Memorian's new tune provides an excellent soundtrack for both headbanging and fascist-smashing (or both!). Blast "Reduced to Zero" below, and keep an eye out for the full album—it's out March 24 via Nuclear Blast Records, and preorders are live now. The band will also release a seven-inch single, The Hellfire Demos II, on January 21.

Kim Kelly is engaging the killchain on Twitter.
Stories