Jeff Sessions Officially Recused Himself from Investigating Trump's Campaign
The Attorney General made the announcement Thursday afternoon amid calls for his resignation following reports he met with the Russian ambassador in 2016.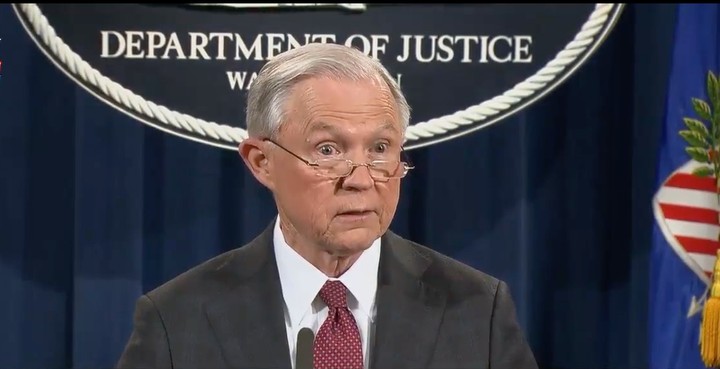 At a press conference on Thursday, Attorney General Jeff Sessions recused himself from all investigations involving the Trump campaign amid reports that he met with the Russian ambassador twice in 2016 while working for the Trump campaign, despite suggesting he had no contact with Russian officials during his confirmation hearings.
"I have decided to recuse myself from any existing or future investigations of any matters related in any way to the campaigns for President of the United States," Sessions said.
Sessions recusal follows reports that he met with Sergey Kislyak—the same official former national security adviser Michael Flynn had contact with—publicly in July and again, privately, in September 2016. At the time, Sessions was a member of the Armed Services Committee and one of Trump's foreign policy advisers on the campaign trail.
When Sessions went before the Senate in January, he was asked if he had knowledge of any connection between Trump campaign officials and the Russian government. He replied, "I have been called a surrogate at a time or two in that campaign and I did not have communications with the Russians."
Since the allegations were made, a growing number of lawmakers on both sides of the aisle called for Sessions to recuse himself from overseeing an ongoing investigation into the Trump campaign's alleged contacts with Russia. Some Democrats, including House Minority Leader Nancy Pelosi and Senate Minority Leader Chuck Schumer, have insisted that he resign. President Trump, however, announced Thursday that he had "total" confidence in Sessions.