Woman Makes Burrito Wrapper Wedding Dress to Wed at Vegas Taco Bell Chapel
"We're nachos getting married, it's going to be a Las Vegas tacover."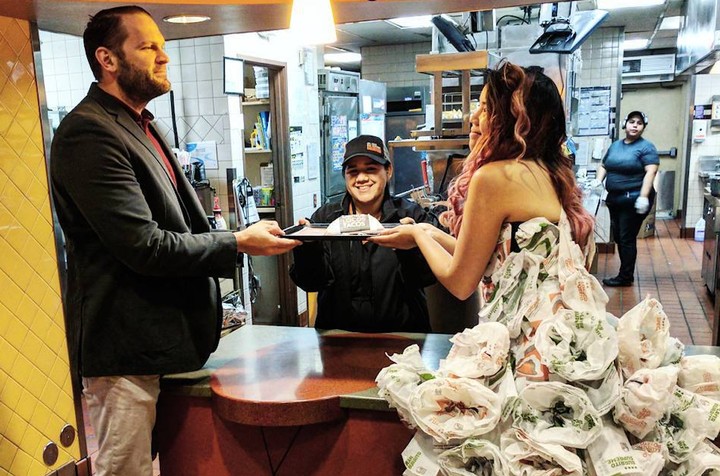 Photo via Instragram user @dianesaurusrex.
For whatever reason, Taco Bell tends to intersect with a lot of strange human behavior.
There was, for instance, the Jacksonville prostitute who offered a blow job to an undercover cop in exchange for two soft shell tacos, or the cowboy who rode his horse right in the front door of a Texas location. Taco Bell is the food that people ask for when they come out of a coma and that many women ingest to induce labor.
But Taco Bell also has the power to bring people together—forever. And nothing says eternal, monogamous love like getting married in Vegas in a taco chapel.
In an apparent effort to demonstrate that she loves her fiancé Nick as much as she loves Taco Bell, Diane Nguyen made a wedding dress out of Taco Bell burrito wrappers donated by a "friendly" restaurant manager. The DIY dress is part of Nguyen's tactic to win the Mexican food chain's Love and Tacos contest, which would see her and Nick tie the knot at the Taco Bell Chapel in Las Vegas.
Her submission to the contest was accompanied by a Reddit post and photo featuring Nguyen looking like she fell into the dumpster behind the restaurant and Taco Bell employees whose body language screams, "Not this couple again." Not only is Nguyen crafty with burrito wrappers, but she is also quite the wordsmith.
"It's time to spill the beans. We have been engaged for 4 years, and together for 10. Taco Bell has been there through the years, from the after school runs, to late meals after work (or a night of partying). Our love for each other is as cheesy as a quesadilla. We're nachos getting married, it's going to be a Las Vegas tacover. Lettuce celebrate our love at the Taco Bell Chapel in Vegas, cuz we are ready to guac and roll."
For those not willing to make a dress out of wrappers to win a free wedding at the Taco Bell Chapel, you can fork out $600 instead and get, among other things, a ceremony in the chapel inside the restaurant with an ordained officiant "within as little as four hours," a sauce packet garter and bow tie, a sauce packet bouquet, Taco Bell branded champagne flutes, and a Taco 12 Pack.
Antacids not included.
Stories