On August, 2, 2017, Victoria Scalisi, vocalist of seminal crust pioneers DAMAD, succumbed to cancer, surrounded by those she loved and who loved her. Vic was as real as they come, and that was apparent within minutes of meeting her. She made sure of it. If she liked you, you'd know, because she'd punch the hell out of your shoulder every time you happened to cross paths. Then she'd hit you something completely different: her signature laugh; it was big and booming and extremely infectious, as was the smile that accompanied it.
As the words below show, what most struck people about Victoria was her stage presence. From her early days in Savannah's Rogues Gallery (with Phillip Cope of DAMAD, and later, Kylesa), she commanded attention with her guttural growls and raspy screams. She was one of the genre's first female vocalists to utilize such an aggressive style, and gave most men a run for their money as far as that was concerned. DAMAD helped establish and define 'the Savannah sound,' which went on to empower bands such as Black Tusk and Baroness. She blazed her own path and, in doing so, opened many doors for others like her. Her influence reaches far and wide, and can be heard in many bands today.

Victoria left an indelible mark on extreme music as a whole, as well as on those who knew and loved her. Her spirit and attitude will live on in the recordings she made, and in the hearts and minds of her fans and those lucky enough to have called her a friend.

Read on for a series of memories, stories, anecdotes, and remembrances from a few of her many friends, fans, and bandmates. May she rest in power.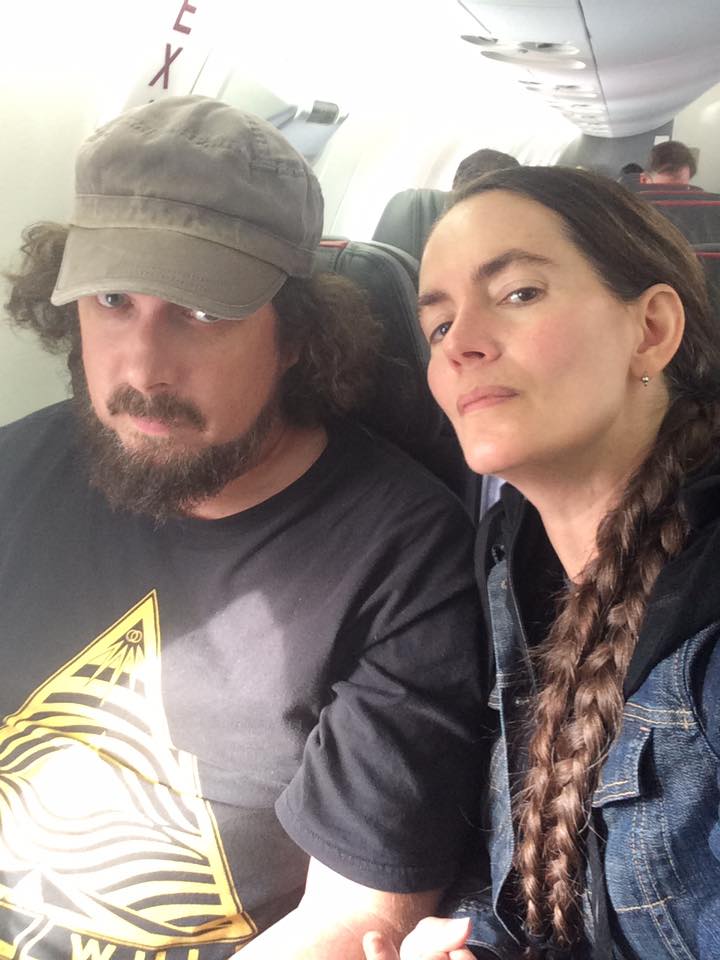 "This photo was on the way to the last show DAMAD would ever play. To say I'm grateful for that time is an understatement. We had hopes for more to come but that time we had was priceless. Victoria wasn't just a bandmate and a friend to me she was like a big sister...and not just to me but the entire Savannah punk and metal scene. She was there from day one until now. She had everyone's back and treated everyone like family.
The first time I heard Victoria lay down vocals for DAMAD I got goosebumps. I was blown away even though I was familiar with her talent from our previous band, Rogues Gallery. We had decided to go in a heavier darker direction with DAMAD. I wasn't sure what to expect; she had told me she wanted to go lower with her voice, like what a lot of the crust and death metal guys were doing. When we first started playing, a lot of people were shocked, as they had never heard a women with a voice like that. It was pretty awesome seeing the looks on people's faces at shows in the early days.
Her hard work and support paved the way for so much that happened and came out of Savannah. My heart goes out to her family, friends and brothers in Lies in Stone. Our loss today is just gutting, but she will never be forgotten. Those of us who knew her special laugh will never forget it."
- Philip Cope (DAMAD/Kylesa)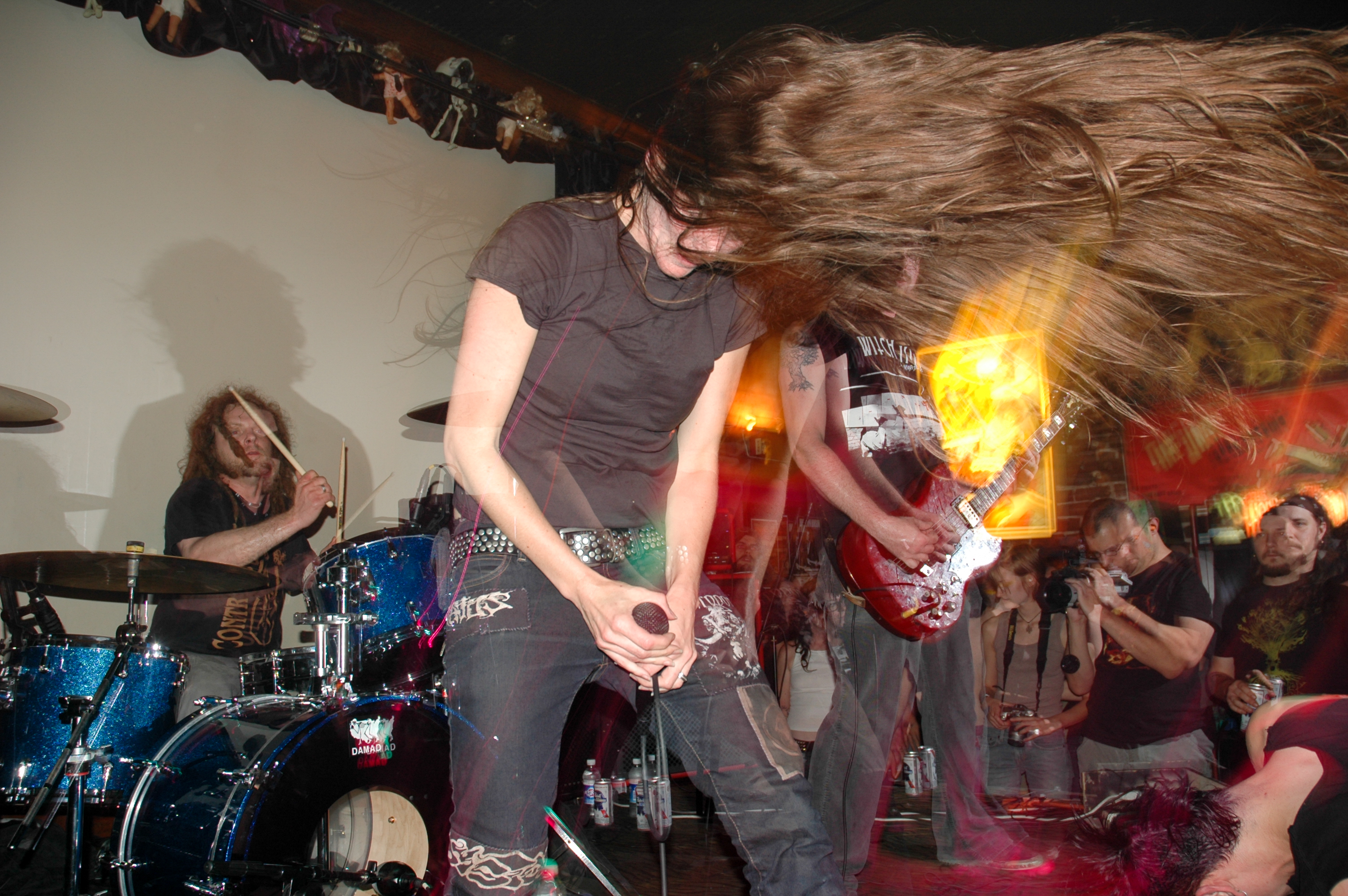 "From the south lands of Savannah, GA DAMAD steamrolled through the 90s linking members from Antischism and Kylesa and bridged the world of punk and metal creating some of the heaviest crushing brutality with some of the most gnarly awesome female vocals ever. They put Savannah on the map in the world of DIY punk and Southern heavy music. In 1996 DAMAD played at ABC NO RIO in NYC and I met Victoria for the first time and solidified a long lasting friendship. We were pen pals for years, kept in touch, and saw each other when DAMAD would come to town.
In 1998 they came through Richmond twice and we set up their shows. Victoria and DAMAD stayed with us and those shows, days, weekends spend with Victoria and her band are highlights in my life. On their December tour in 1998 Victoria was several months pregnant and just as fierce on stage as ever. As always, she was a warrior and an inspiration. I remember giving her a herbal pregnancy book and chatting before she turned in early. Then in 2006, DAMAD did a reunion show in Savannah, and a group of us from Richmond made the trek South. This time I was several months pregnant and Victoria gave me a portable baby stroller that her 8 year old daughter no longer needed. I loved that even though years had passed - we shared our pregnancies with each other in this way.
I was so very much looking forward to getting to see her and DAMAD again this past January. There was a circular connection to our 10 year gaps and reunions. I bought tickets for their NYC show the minute they went on sale. When I got the news that the show was cancelled, sure I was bummed, but I was more concerned because I knew that something was wrong. When I found out about Victoria's illness, my heart broke. I'll be honest, I didn't think that we would have to say good-bye.
Victoria was a generous soul, a talented artist, a fierce vocalist and an overall bad-ass warrior of a woman. She was a wonderful mother and and dear friend to many. I treasure the little time we had together and value the huge impact and inspiration that she had on me, and everyone who she touched in her life. Her legacy will not be forgotten. Rest in Power. " - Chris Boarts Larson (Slug & Lettuce fanzine)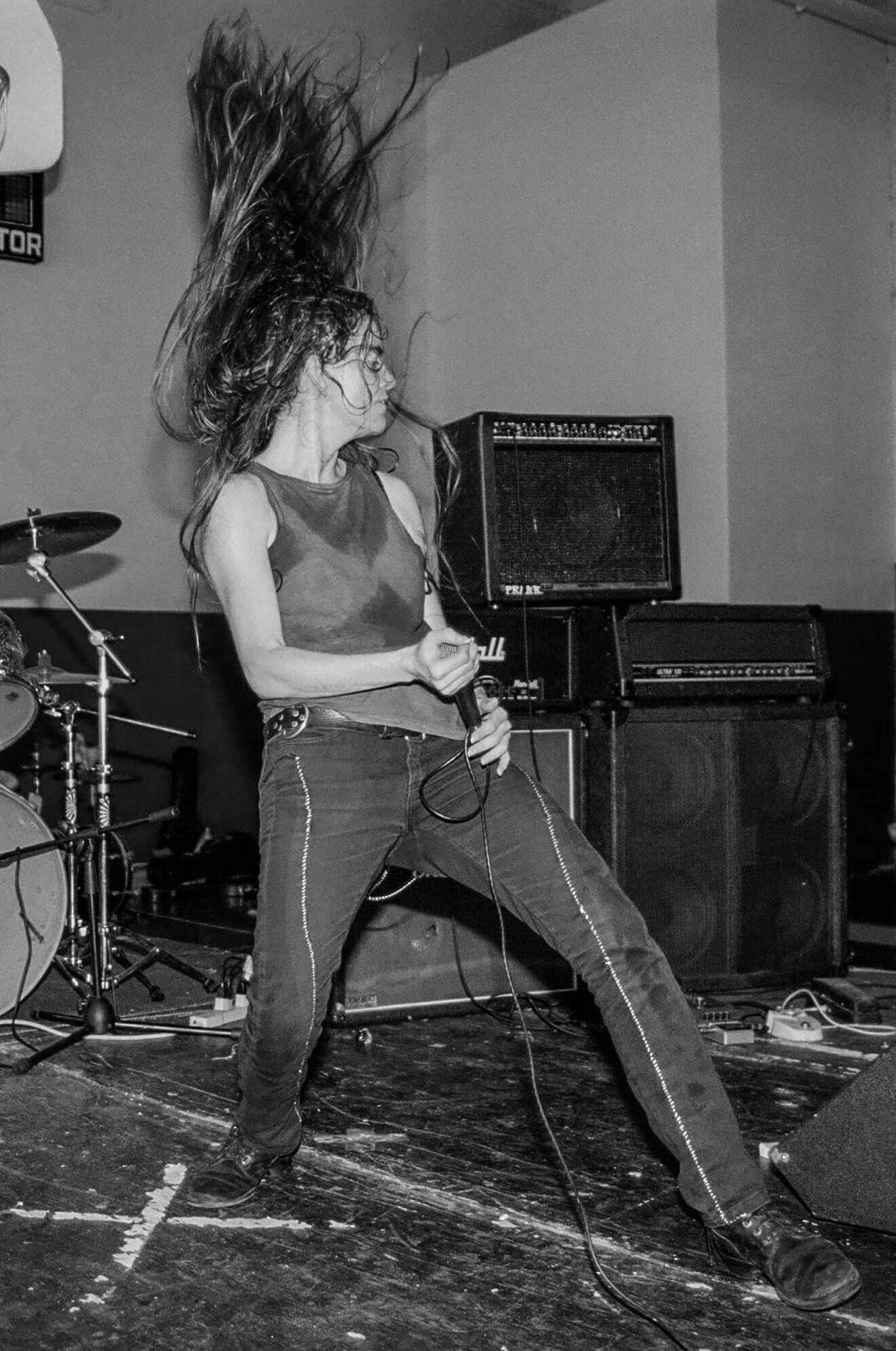 "If you were a part of the heavy touring American underground in the 90s, you undoubtedly encountered the legendary hospitality of Savannah, Georgia's DAMAD. They were a godly band, emotive, crushing in every sense of those words, but more importantly, they were genuine and sweet and down to help anyone who was willing to come through. Victoria, their vocalist, was an anomaly, an absolutely gregarious and welcoming soul off stage that could summon a feral witch demon when the amps went on. One thing I will always remember was the violence; the weird way she demonstrated her joy and affection might be to simply kick your ass. One night at a party at DAMAD'S house, after much alcohol, I was the recipient of a perfectly executed roundhouse kick to the ear that sent me flying across a table littered with empty bottles. I was initially embarrassed and angry, but as I came to know Vic, I knew it was endearment, not to mention, it was so well done and I most likely deserved it. Victoria was rowdy in the best way, but when you needed her to listen, or advise, she never failed. Many nights staying up late discussing art, music, family... I am extremely grateful for that, I'm also selfishly pained in the knowing that it will never be again.
She was a spark, a living avatar of drive and passion, and I shudder to think of the countless young woman who saw her perform, met her afterwards and were inspired to action. The last time I saw her, Agalloch had just finished a somewhat disastrous set at The Jinx in Savannah. Our sound dude, Billy, who also was close to Victoria, was standing at the side of the stage with a giant grin, "Look who I found," he said. She immediately delivered a swift punch to my gut followed by a deep hug that made up for the years since I last saw her. That night it occurred to me that the punch in the belly and the warm embrace was the very duality was Victoria in essence, a truly rare and magical being. The universe seems darker now." - Aesop Dekker (VHOL, Khôrada, Extremity, Worm Ouroboros, ex-Agalloch)
"Words are hard to come by right now. Not for lack of things to say, it's just that my head is flooded with so many thoughts….
The last time i saw Victoria was in 2014 while I was on tour, at the Jinx in Savannah. It had been a few years since we saw each other, and well before we rolled into town, I had decided I was going to get her to come to the show one way or another. I forget exactly how it happened, but either through a mutual friend, the internet or telekinesis, it happened. As we were wrapping up soundcheck and doors were about to open, i felt a familiar hair pull from behind and a familiar voice said "Hey muhfugger!!!" I knew it was Victoria before I turned around, and that was one of the coolest feelings I've ever had. We immediately went and found Aesop, who I had earlier told of my plan to invite Victoria to the show. He was as elated as I was. It took about 30 seconds until we were swimming in childish jokes, cloudy memories, and tomboy hair-pulling. With proud disregard for my job that day, I suddenly found myself running around introducing her to everyone who hadn't met her before. I felt like I was showing her off, and I was. I remember thinking that the way locals—from club staff to people simply passing by in the street—greeted and treated her, she could have actually been the mayor of Savannah…That was the funnest show of the tour, and it had nothing to do with the show.
I wanted to write a bunch of stuff about how Victoria pioneered a scene and influenced a generation of vocalists, female or otherwise. It's well known by most people that play or listen to heavy music—everyone except Victoria herself, who couldn't be more humble. Until that mic gets switched on…I also wanted to tell stories about walking in to Gilman St. after having heard but never seen DAMAD in person, and my jaw dropping when I realized the vocalist wasn't a 7 foot tall monster with a beard with tattoos as my mental picture had been painted. Or about how every time I saw her, whether recording their two albums in the studio, either in tears from laughing with her or being emotionally wrecked by her otherworldly vocal alter-ego, or on tour and causing trouble like little kids, and her pulling my hair and spitting water on me or her perfectly executed flying body tackles. I really wanted to talk about being genuinely blown away (difficult, even at the time, as I was already pretty jaded in 2000) when she arrived at Jam Room to do her vocals on the Burning Cold album. She arrived with some homemade food she thoughtfully made for the band and I that morning—and I realized the she was at least 6 months pregnant. After hugs, congrats and some delicious food, we started tracking. It went quickly as we had very little time to work with. I'm pretty sure we did a live vocal track. I do clearly remember and always will—a very pregnant Victoria, all 100 lbs of her, casually but brutally one-taking her vocals with a beat up SM58 in the tracking room like she was onstage in front of hundreds of people. That was amazing. She was a superhuman with another human growing inside her, effortlessly sounding like 10 non-humans with multiple personalities, with a shitty SM58 and likely a shittier headphone mix. That is forever burned into my psyche, and has boosted and guided me at times when I really needed it, both professionally and personally.
I wanted to say a bunch of stuff like that, so apparently i did. That stuff is important, to me and many others in music that worked with her or played with her or witnessed her exorcise demons while holding a mic. But I truly feel that what's more important is the fact that Victoria was and is one of the kindest-hearted, hilarious, most loved, and all around genuine people I've ever had the pleasure of knowing. Music was how we were connected, but music was only a part of her life. She was a very deep person, and i feel no cliche or cheese when I say she was an old soul with a young heart, and had seemingly lived many years more than her age. Which is one reason her passing is so devastating to me and I'm sure many others—over the 20 years I knew Victoria, she didn't seem to age at all. She was one of those eternally young, naturally beautiful people who—besides the agelessness thing—seemed indestructible. Because of her tough-guy tomboy antics and her stage voice sounding bigger than five bouncers put together, I apparently took it for granted that she would just live forever and couldn't be touched by mere mortal afflictions.
I knew Victoria was battling cancer. I saw the GoFundMe thing on Facebook, and I will forever kick my own ass for knowing she was sick and not immediately writing to her, calling her or texting her to send love and best wishes; for being selfish and being too busy to find five minutes to reach out to an old friend who could probably use some old-fashioned cheering up and some words of support. This has (re)taught me a valuable lesson—always always ALWAYS tell people that you love and care for that you love and care for them, especially if you know they aren't doing so well.
Victoria may be gone form this plane for now, but only in a physical sense. The marks she left us and the inspiration, smiles, shock and awe she would humbly deny are true gifts from a place we won't know until we reach the other side. Which is where I hope to see her again and do some championship thumb wrestling or, if I'm lucky-hear some of her many brutalful voices infect my brain once again. Goodbye, Victoria. Miss you always and already. Much love." - Billy Anderson (Recording engineer)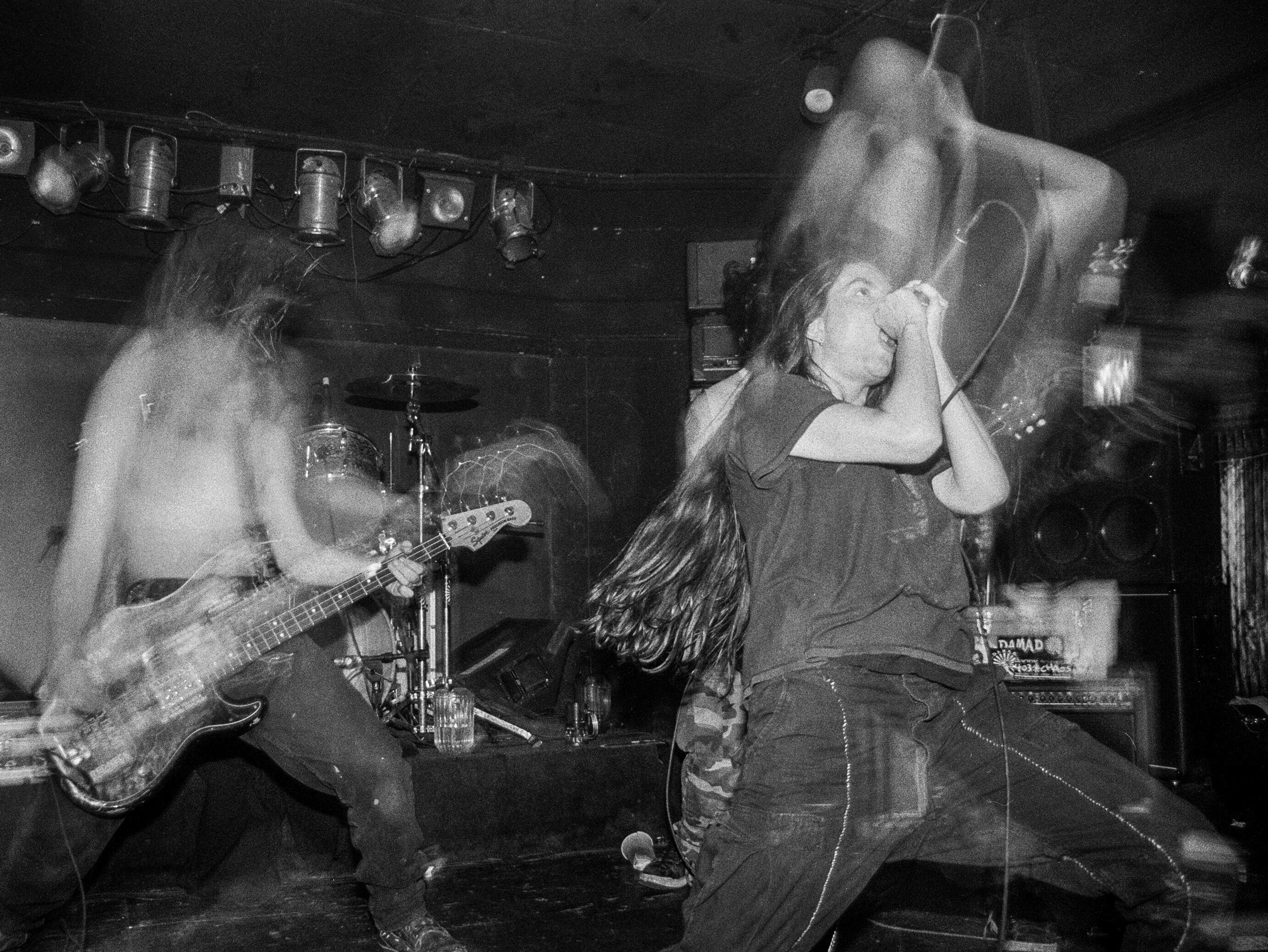 "I heard DAMAD before I saw DAMAD. To think that the vocals coming from those stereo speakers were from a woman was just awesome! I was all of 15 years old; we had just started the Unpersons, we were the young punks in the burgeoning Savannah scene, and the Savannah Sound that was lauded in the mid-2000s was being created! It was '98, and we'd snuck out a window to stand in front of the Velvet Elvis to watch DAMAD play. We'd been listening to them on repeat since we learned that there was this band from Savannah that was the heaviest, sludgiest thing I'd ever heard—and then to top it all off, there was Victoria growling out the vocals. She was menacing on stage, just... holy shit! Fast-forward to today, and I can truly say that knowing her and her bandmates and rest of the older Savannah punks shaped the musician I've become and continue to influence Black Tusk today. We were fortunate enough to play their benefit reunion show In October of last year for another friend of ours who's battling cancer. I didn't know then that it would be last chance I'd ever have to see them play and watch in awe of Victoria as she commanded the stage with her presence, but I sure rocked out like that 15-year-old old punk kid seeing them for the first time!" - Andrew Fidler (Black Tusk)
"The first time I saw Victoria was before a DAMAD show nearly 20 years ago. Pre-internet days meant word-of-mouth was king and the underground channels cloaked this band in a dark, punk/metal, swamp-hailing mystery. Without a physical record or tape, you took the word as gospel. I'm forever grateful I did, because that show changed everything.

Immediately I was struck by Victoria's presence, her air and aura in the room. She WAS the dark, punk/metal, swamp-hailing mystery. Her long hair and patched up bell bottoms broke all the silly "punk rules" imposed on me before.. and I fucking loved it. It was refreshing. She was ethereal, effortless, esoteric. She was also grounded, sure, and completely bad ass. Needless to say I was a bit star struck, gathering all these vibes before DAMAD even hit the stage. Then they played and I was truly blown away. It's as if that aura materialized in front of us. DAMAD was like a ritual. And that voice. That voice. I don't think there was a closed jaw in the place...a sea of awe struck converts and I was definitely one of them. Still am.
I wish I could've told her that she altered my path that night. That she made me feel like I had found my tribe. I am only one in that vast sea of converts who's been touched by her power. Even though we didn't know each other super well, it took very little to feel she was a kindred like no other. This plane lost a truly influential and otherworldly creature. The chasm is felt. Damn... Rest easy, Victoria. DamadAllDay." - Mollie Hatchet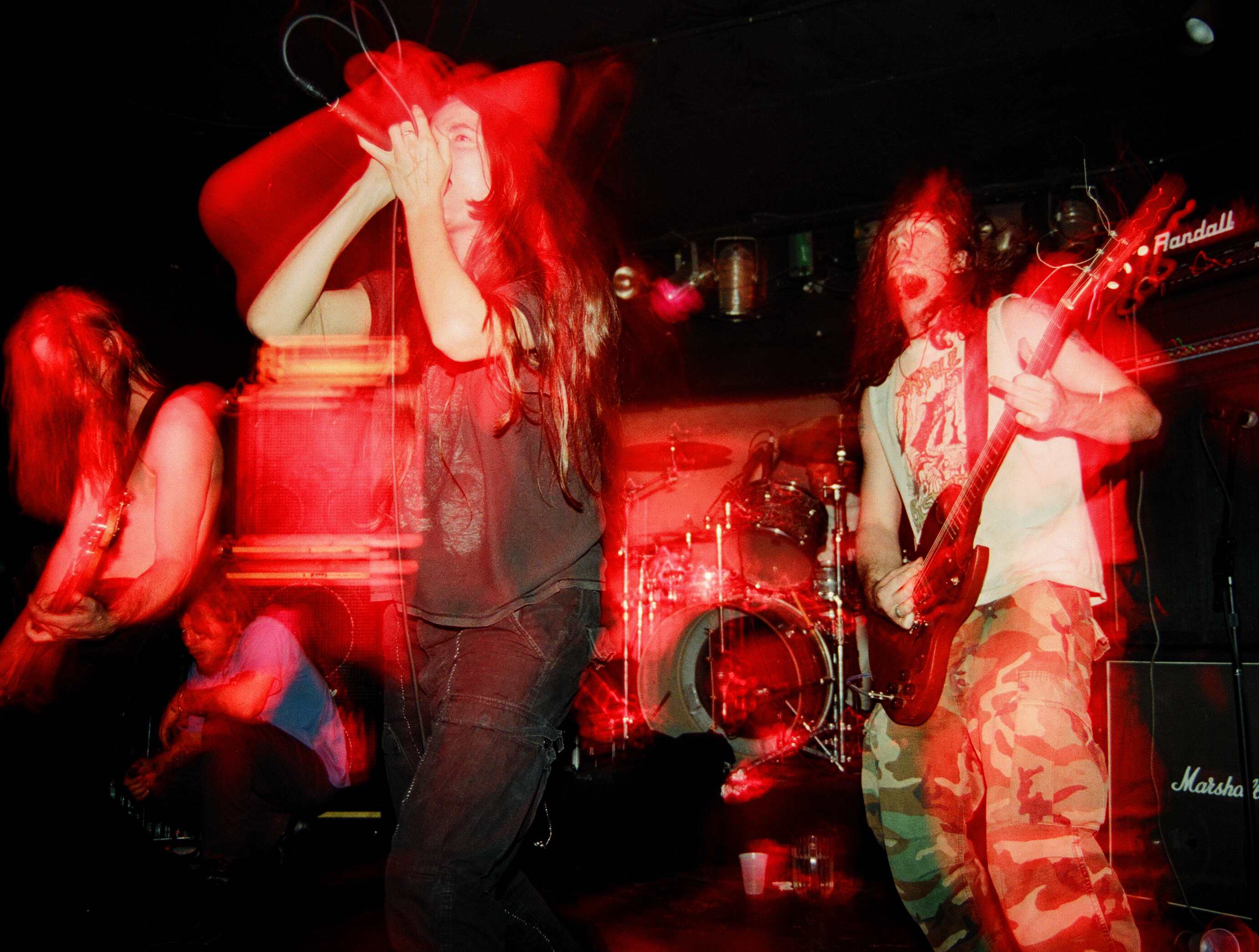 "My first encounter with Victoria was in 1996, on the first Crispus Attucks tour. We were in Atlanta at the beloved C11 warehouse. Crazy lineup—Logical Nonsense, Facade Burns Black, Panthro UK United 13, Kill Your Idols hopped on at the last minute, and of course DAMAD. With so many bands, the show obviously went on for a long time. We were out front horsing around with the Panthro guys, drinking and playing grabass, when I heard DAMAD go on. Having never heard them before, I was blown away, even from outside the venue. A pummeling wall of sound, a low end rumble like some dragon beating a war drum. and then the vocals came in. At the same time, the vocal was both roaring and howling. Even amidst all the crazed cacophony surrounding it, the vocal could be heard clearly. There was a perfect place carved out for it. At this point I was still outside, but completely entranced. I had to see this band! So I pushed my way through the crowd, past the front room and into the warehouse beyond. And at last I got to the front, to see this insane dervish of hair and power.
She was like nothing I had ever seen in the punk scene in DC. At home, yeah, there were guys that got crazy on stage, but while that was cool, it also sort of always seemed like so much performance. That it was a required part of the show, and not always entirely genuine. And most of what I had seen, at that point, of women on stage was generally more staid, less aggressive. This was pure ferocity. She prowled the stage (actually it was the floor), occasionally throwing herself from one point to another. I'll never forget that set as long as I live. It showed me what an artist, totally committed to their craft, can be: terrifying and inspiring." - Bill Dozer (Trenchgrinder, The Acheron)

"There are plenty of bands out there who are unpredictable, but ones that come across as genuinely dangerous are much rarer, and DAMAD's fury always seemed like it could explode at any given second of any given song—which of course it often did. Victoria Scalisi's vocals bridged a gap between grindcore, punk, doom and sludge in a way that few singers could hope to do, precisely because she didn't give a thought to bending to the conventions of genre so much as tearing holes in them to bludgeon DAMAD audience and/or general listenership as directly as possible.
That she had these many accomplishments in the boys-club-of-boys-clubs, the extreme/heavy underground, is significant, but her gender is only one reason for which she should rightly be considered a pioneer. 20 years on, Rise and Fall continues to scathe, and her performance on it is essential to that. Condolences to those who were fortunate enough to know her and those who were fortunate enough to see her on stage. She will be missed." – JJ Koczan (The Obelisk)
"Well, I know this for certain. Other than playing with a few bands with girl singers such as Spitboy and The Insaints mostly on the West Coast, I hadn't heard a voice so powerful come out of a pretty and very considerate woman such as Victoria. I can't remember the exact year but when DAMAD first opened for Buzzoven, it started out with some good riffage via Phillip Cope and Brian on bass and I was digging it, and then Victoria leaned back and let out that first growl and I was in awe. The low end and depth of her voice, you would have never imagined coming out of that long-haired, wiry frame. I think the impact that Victoria had on the heavy music that was just blossoming in the early 9s was that she showed, for one, never judge a book by its cover, and she definitely empowered some women in the scene to realize they could also penetrate this mostly male metal/punk music. Victoria was one of the few people who stuck out to me on our countless tours back in the early 90s. Her and DAMAD were definitely a band that didn't get the recognition they deserved.
Victoria, besides having that commanding voice, was like a Mom in a way, I know definitely to the people we knew in Savannah, but even to us whenever we rolled into Savannah—always right there in the front row rocking out and supporting. She was someone who I respected and knew that she would be sure we were taken care of whenever down her way. They were very few women in metal bands back then, unlike now, where it seems often you hear female-fronted metal bands. Whether those women of today were or weren't influenced by Victoria and DAMAD or were even aware of her, she paved the way for them and set a very high standard of an artist and even a higher standard for being a kind, helpful, compassionate, funny, and just all around supportive human being. She definitely left her mark and will not soon be forgotten. I bet she's up in Heaven trying to get Jeff Hanneman from Slayer to join up with her and [former DAMAD bassist] Brian [Duke] to start the most brutal band in the afterlife." - Kirk Lloyd Fisher (Buzzoven)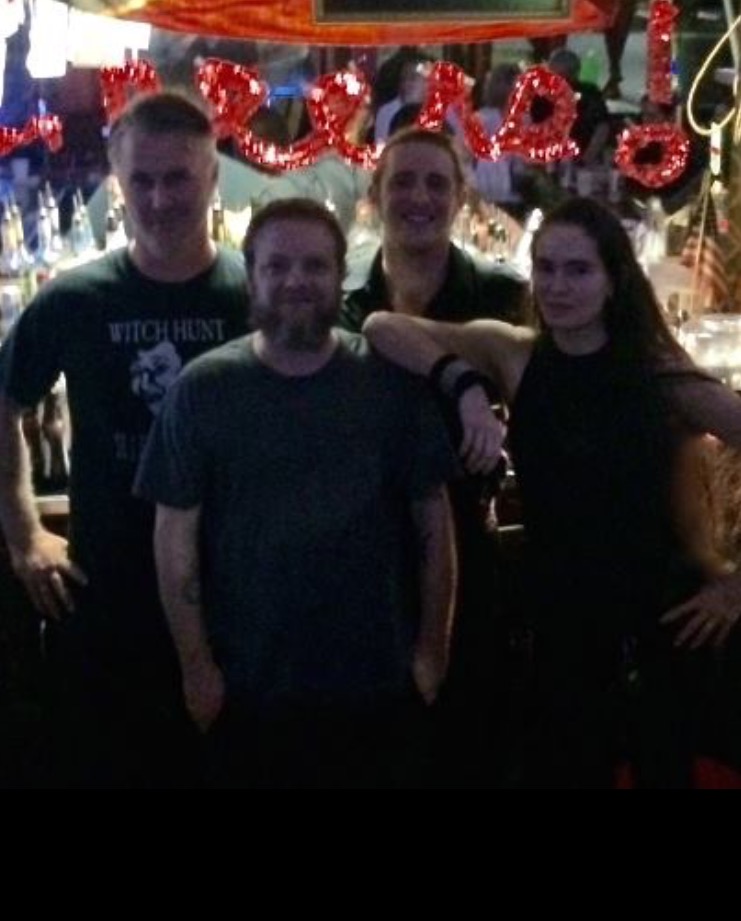 "From her high-pitched unique laugh to her friendly love punches to your arm, Vic was truly an amazing person. She captivated her audience with her visceral vocals, and the the crowd was either in sheer terror or falling in love. Usually it was a little bit of both. It was an absolute honor to share the stage with her over the last few years, and her untimely passing has left a big hole in our hearts. Vic, we love you, and we miss you so much already. Thank you for letting us be a part of your life. Respect!"
- Your brothers, Ben, Burke, and Scott
Lies In Stone